The Salted Nutella Butter Bars are every bit as amazing as they sound!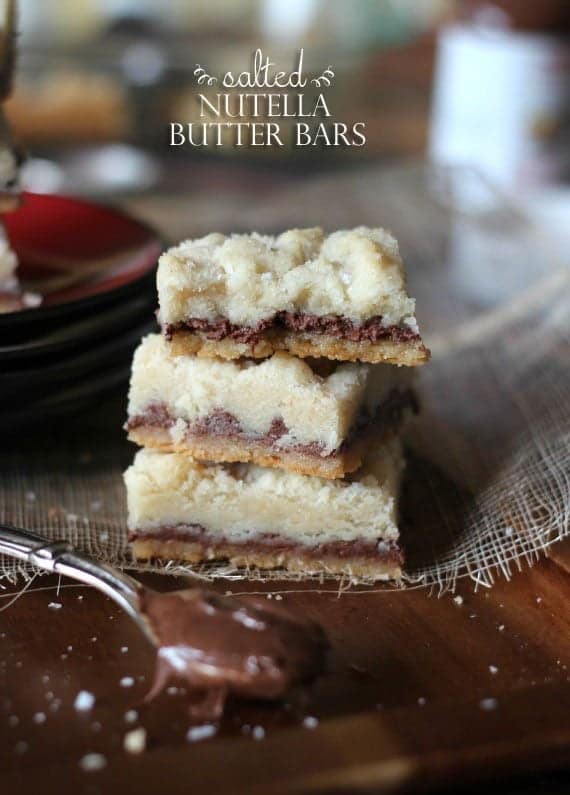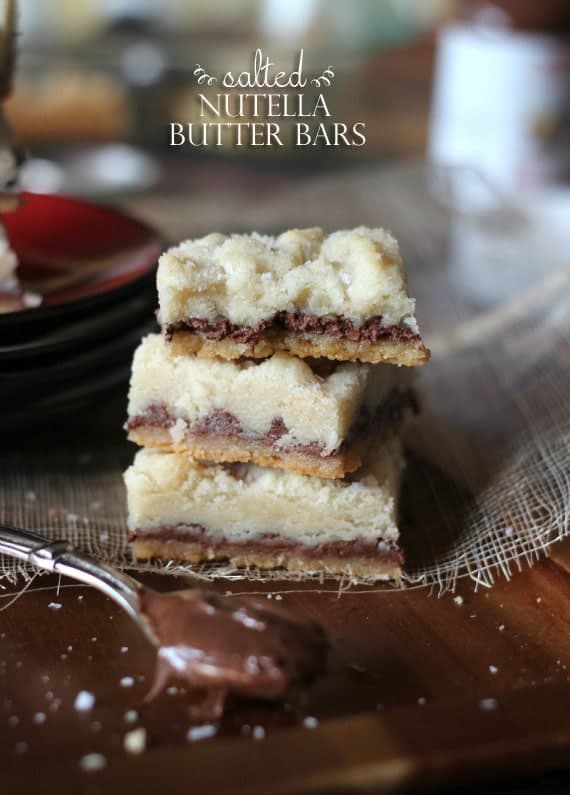 Sometimes things are just obvious. But you can't really see them…I mean, until you do.
Like the fact that your sunglasses are on top of your head when you've been searching for them for 15 minutes. Or your keys being in your hand while swearing you didn't lock them in your car. ORRR the fact that you are wearing 2 different shoes. And yes, all these things happen to me pretty much on a daily basis.
Which is why it has taken me 3 years to make these bars.
They are a version of these Salted Caramel Butter Bars, which are one of my most favorite treats as well as one of my most requested. So the obvious thing to do would be ask myself, "what other types of butter bars does the world need?"
But since "obvious" doesn't seem to be my thing, it's taken me 3 years.
Three years.
But finally, on Friday, August 2nd, I asked myself. And answered myself as well. Nutella. Major duh.
So here, today, we have Salted Nutella Butter Bars. Three years in the braining.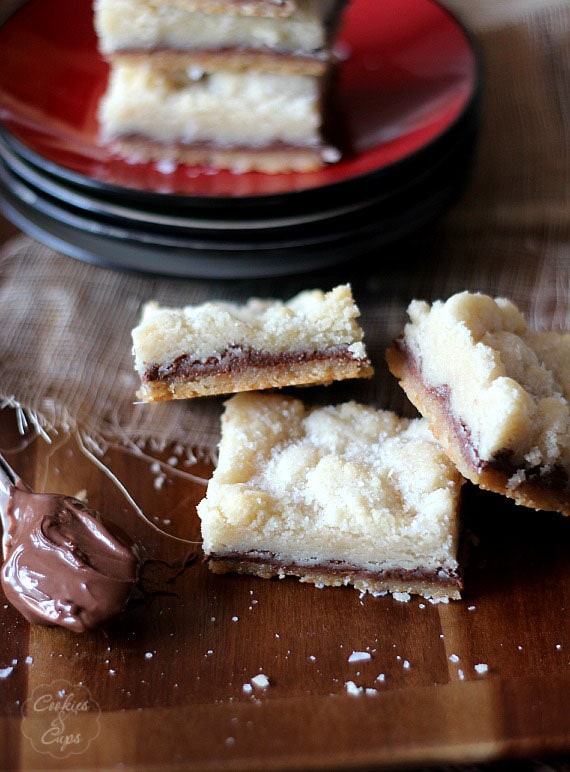 The dough comes together really easily!\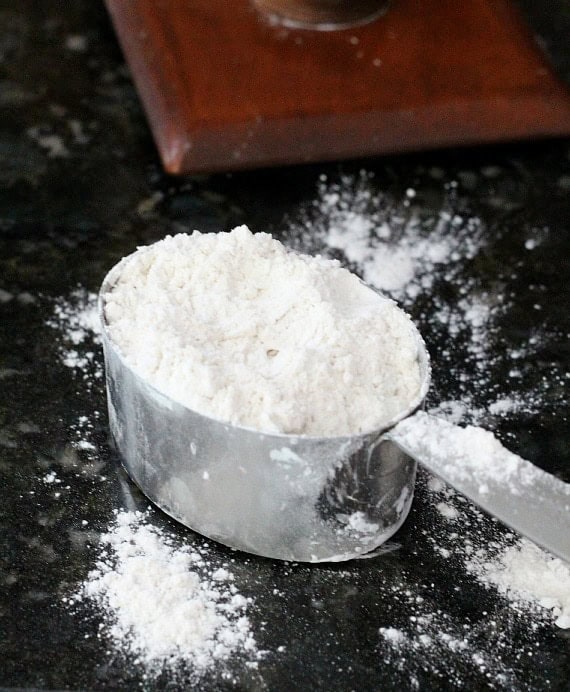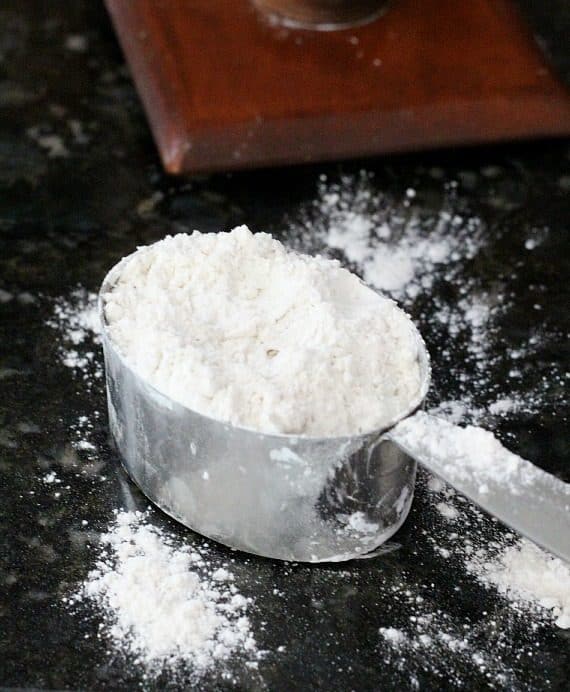 It's great for anyone with egg allergies, because it's basically shortbread.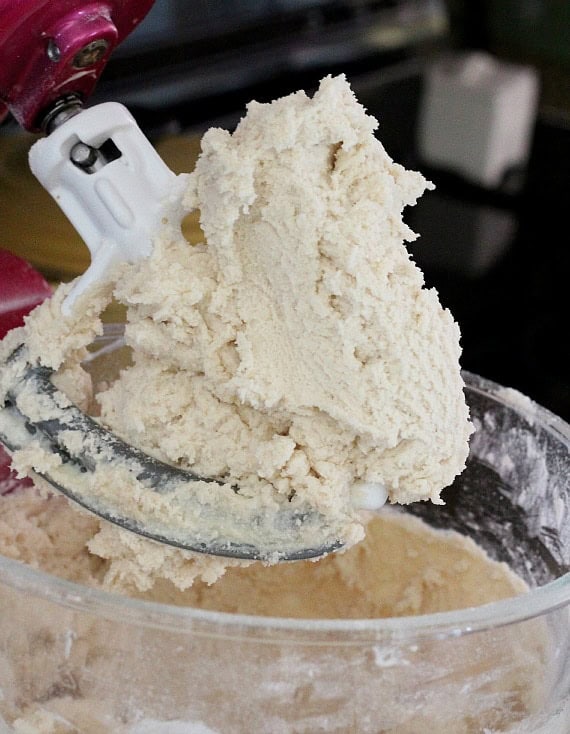 Divide it into thirds when you're done. It doesn't have to be exact, trust me.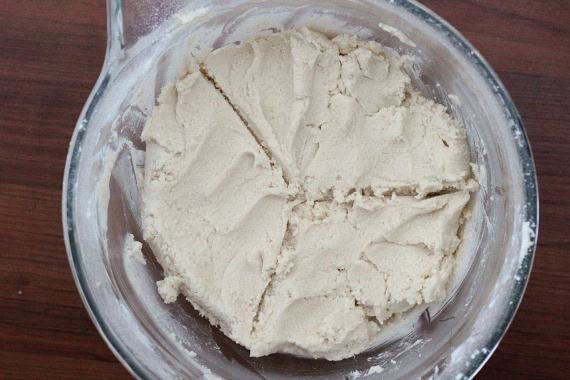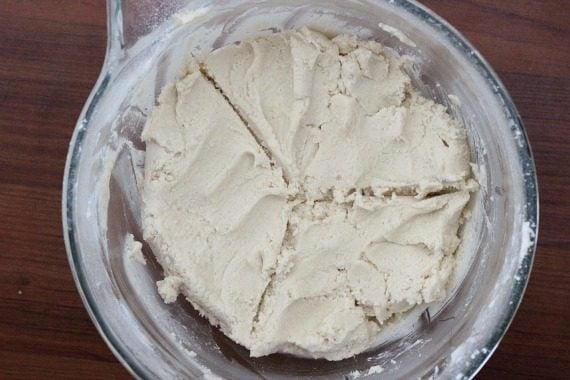 Press about a third of the dough into the bottom of a greased 9×13 and bake it.
If you add more than a third, it's totally fine. Please don't bother getting out your scale or scientifical instruments.
Put the other 2/3rds-ish in the fridge to chill.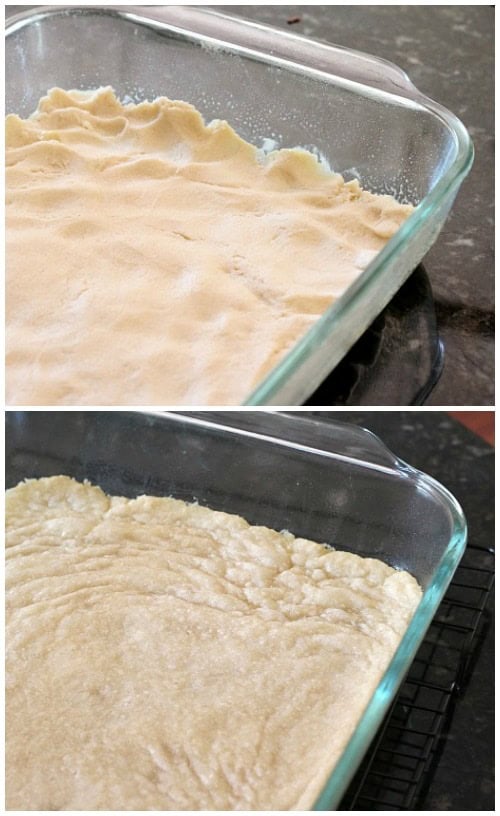 When it's cooled for a few minutes spread your Nutella all over…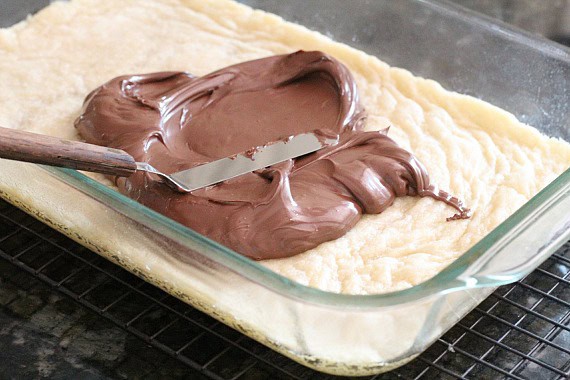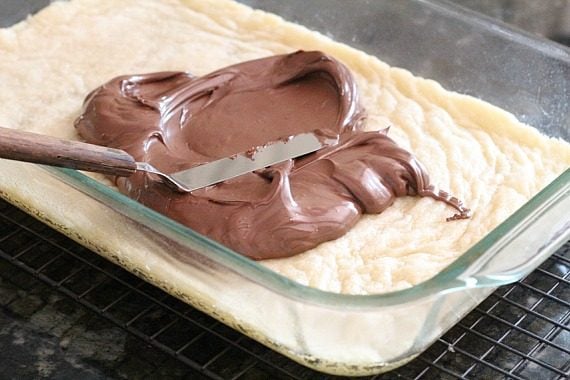 Just leave a space at the edge of the crust so the Nutella doesn't hit the edges.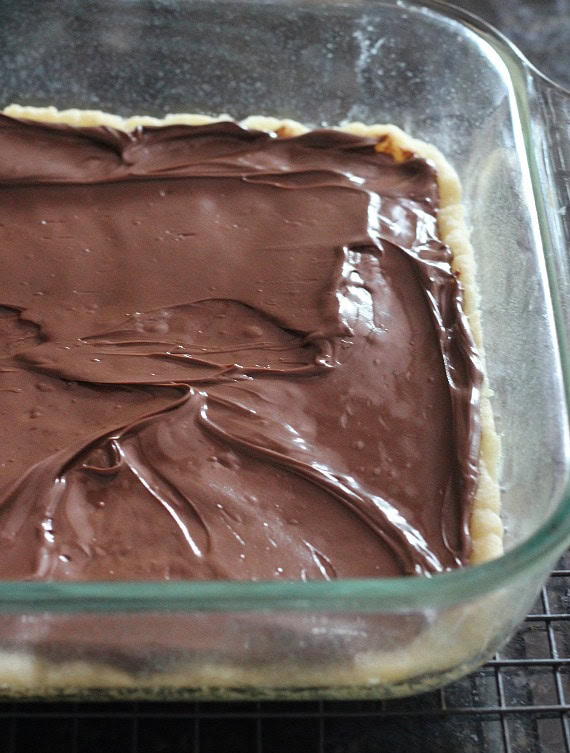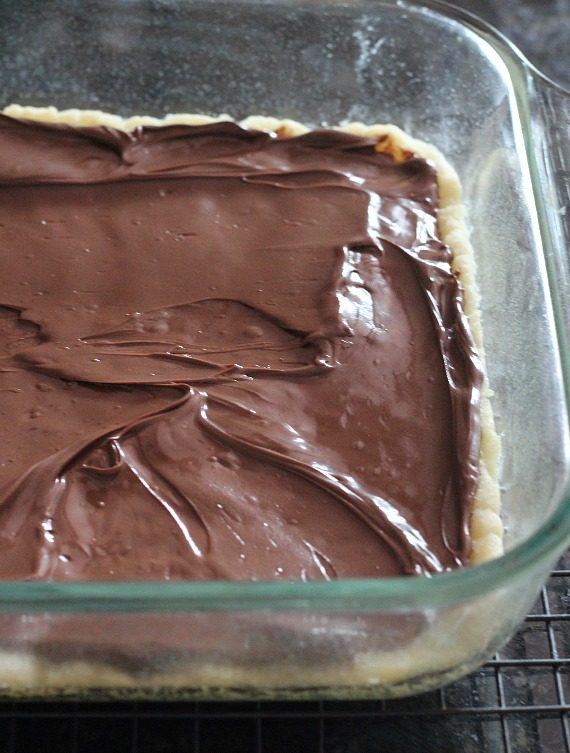 Then grab the rest of your dough out of the fridge.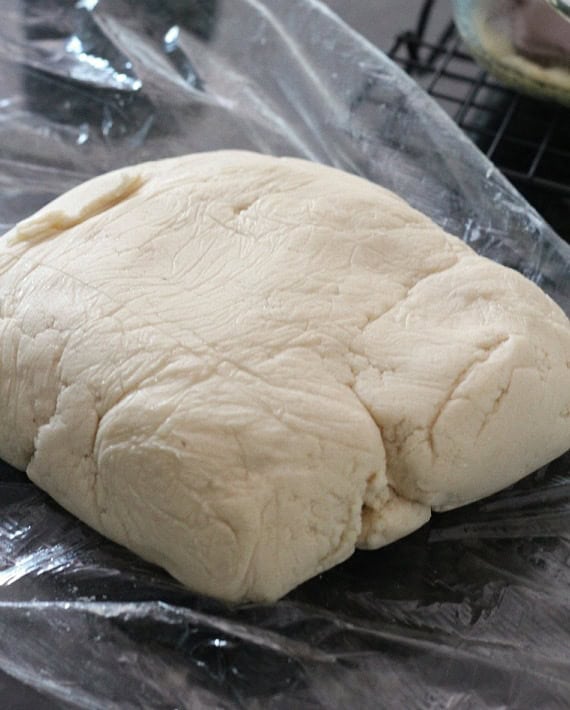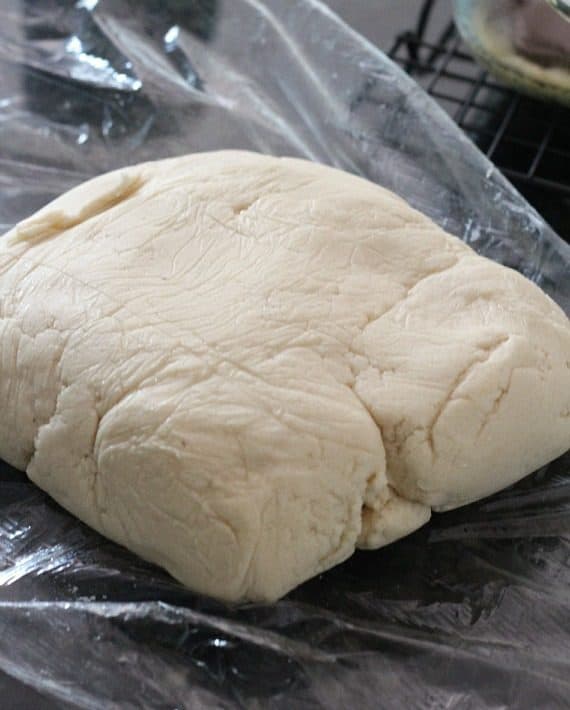 And sprinkle that on top…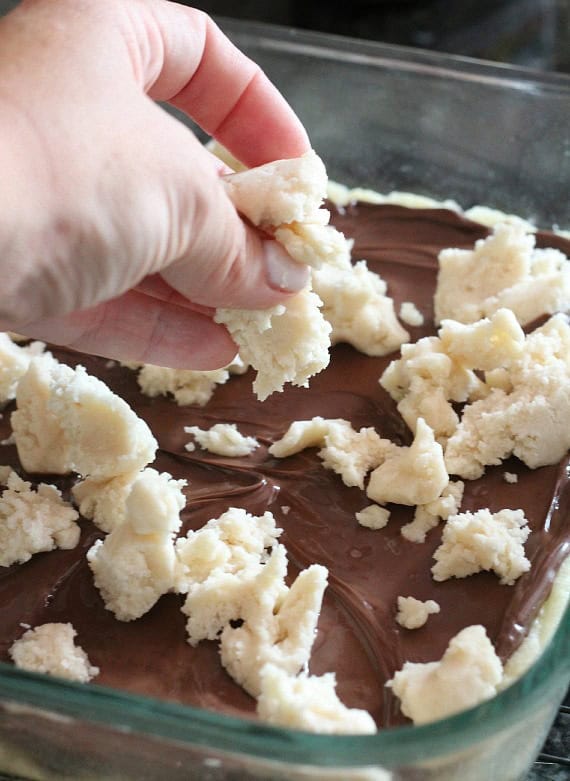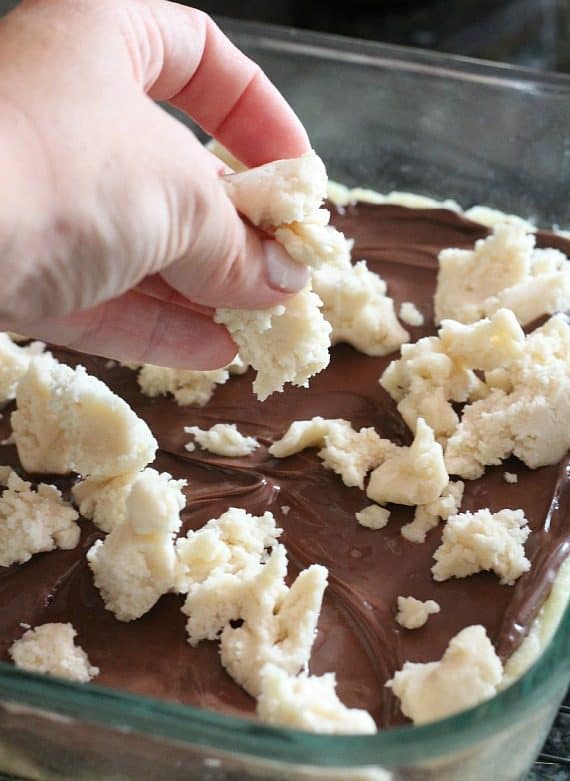 Finish baking until it's a light golden color.
And if you like stuff a little sweet/salty, sprinkle flaked sea salt all over the top. I use THIS FLAKED SEA SALT in case you're interested. It has lasted me forever and it's great for sprinkling on brownies, cookies etc.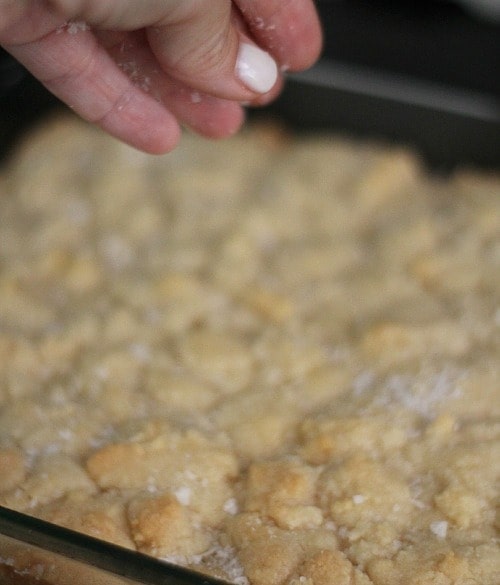 Let them cool and then cut into squares!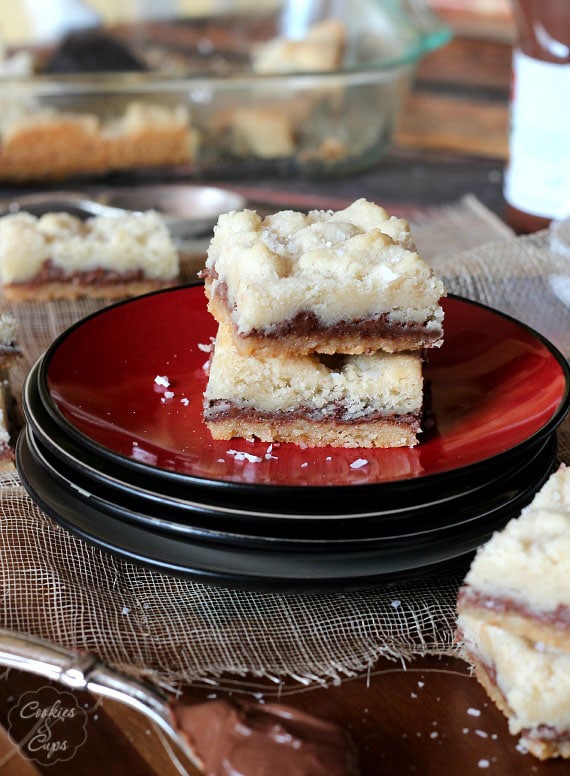 People will be totally impressed.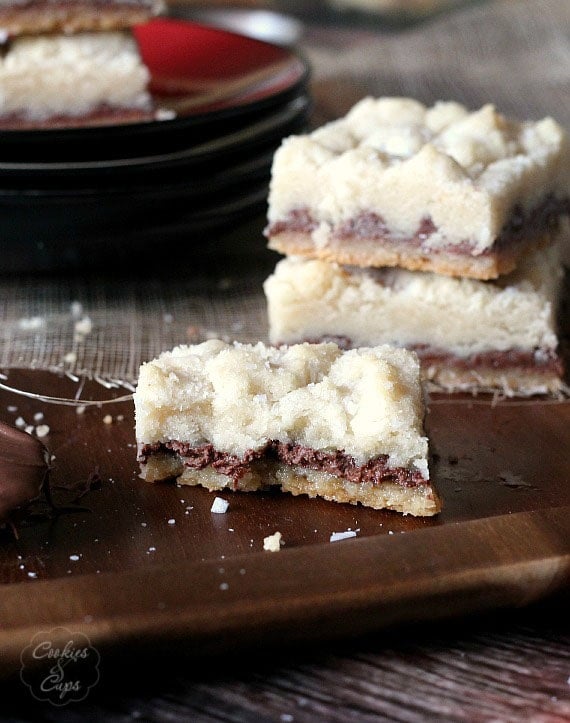 I mean if you care about obvious things like that 😉
Here are some other fun Nutella recipes I've got…
Browned Butter Nutella Swirled Blondies
Print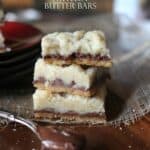 Salted Nutella Butter Bars
---
---
1

lb. salted butter room temp

1 cup

sugar

1½ cups

powdered sugar

2

Tbs vanilla

4 cups

AP flour

1 cup

Nutella
*1-2 tsp flaked sea salt (optional)
---
Instructions
Preheat oven to 325°
Grease a 9×13 baking dish with butter or cooking spray. Set aside.
In bowl of mixer combine butter and sugars. Using mixer on medium speed, beat together until creamy. Add the vanilla and beat until combined. Slowly add the flour into the butter mixture stirring until dough combines together.
Press about one-third of the dough evenly into the pan to form a bottom crust. Wrap remaining dough in plastic wrap and chill in refrigerator.
Bake crust until firm and the edges are a pale golden brown approx 12-14 minutes. Transfer pan to a wire rack and let cool about 15 minutes.
Spread Nutella evenly over crust, about 1/4 inch away from the edge of the crust.
Remove remaining dough from refrigerator and crumble remaining dough on top. Finish baking 20-25 minutes until top is set and lightly golden.
Sprinkle immediately with flaked salt, if desired.
Cool and cut into squares.
---
Want To Save This Recipe?
Find more recipes like this: