These Skillet Apple Biscuits are so easy and delicious! I used canned biscuits to save time. These are a crowd pleaser for sure!
I am so excited to share today's recipe with you.
First off, there are apples involved. And we're pretty much knee deep in apple season, aren't we?
Secondly it's made in a skillet. My favorite.
Thirdly there is a sugary, creamy glazy all up on that joint, which basically makes me weak in the knees.
They are Skillet Apple Biscuits and they are fantfreakingtastic.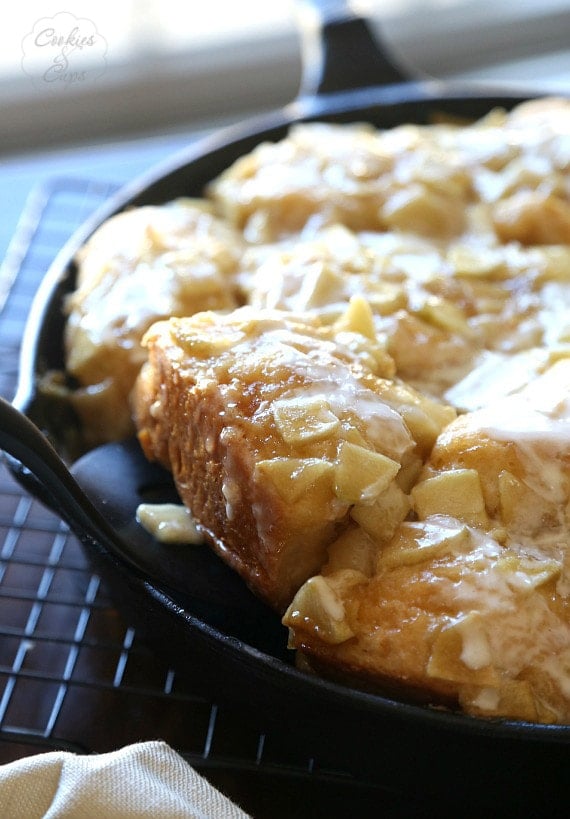 I will start by saying that I used canned biscuits here. Yes I did.
If you don't want to, no problemo…just make your own biscuits. Everybody loves an overachiever…ahem.
Next, when you've made peace with your biscuit station in life grab you some Granny Smiths.
Large dice 'em up…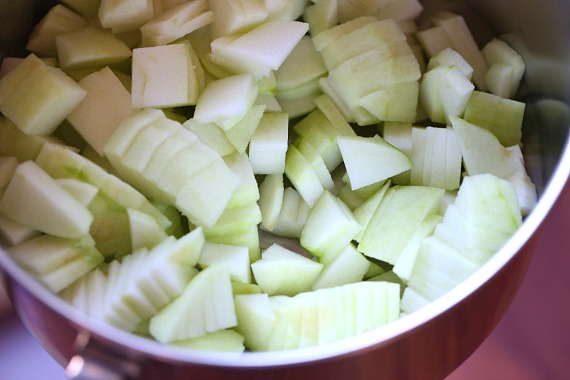 Then mix in some butter, heavy cream, sugar etc and cook those apples to make a quick apple pie filling-type mixture.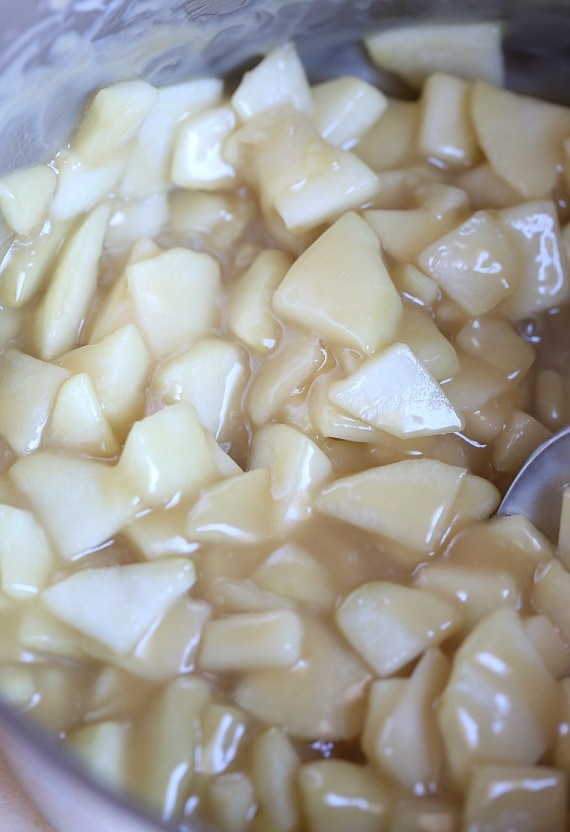 Grab your skillet…I used my largest one, it's a 10 incher. And place 12 biscuits in there. I had to overlap them a bit.
If you only have a 9″ skillet just use a few less biscuits. It will be fine I swear. You won't have to change the amount of apple mixture or anything. This is easy baking today, people.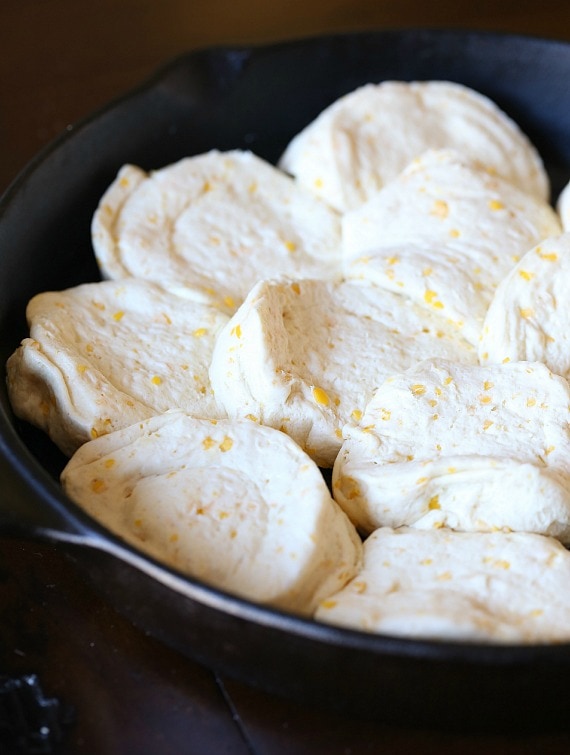 Also, if you are using the canned biscuits don't buy the "flaky layers" ones. Just the regular Southern or buttermilk ones will do.
Once you have them in your pan top them with your apple mixture…then a little bit more brown sugar and bake until they are puffy and golden brown…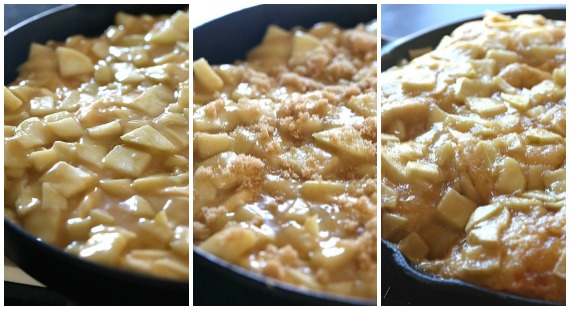 Ok, now for the bestest part. The sugary, creamy glaze that makes life worth living…
It's just heavy cream and powdered sugar. Stir it up and drizzle it alllllll over.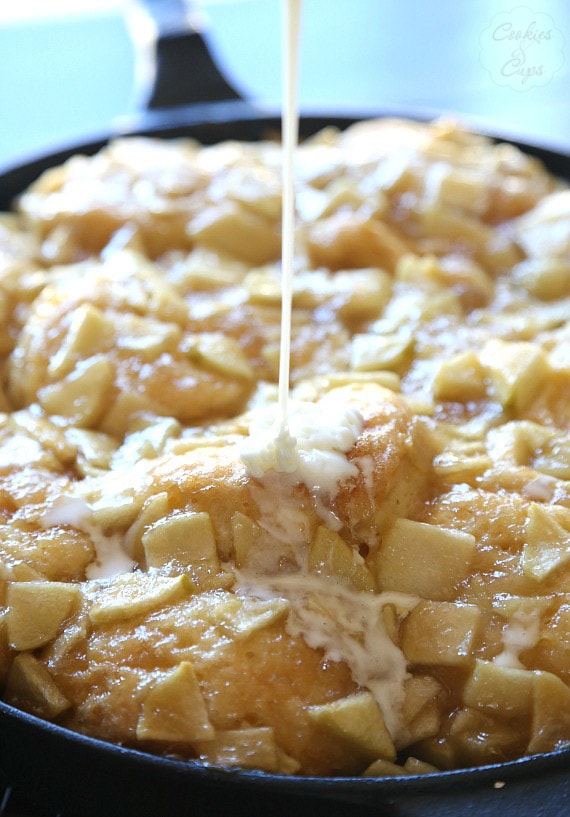 And you should probably serve it warm. And eat it immediately.
And then die of happiness.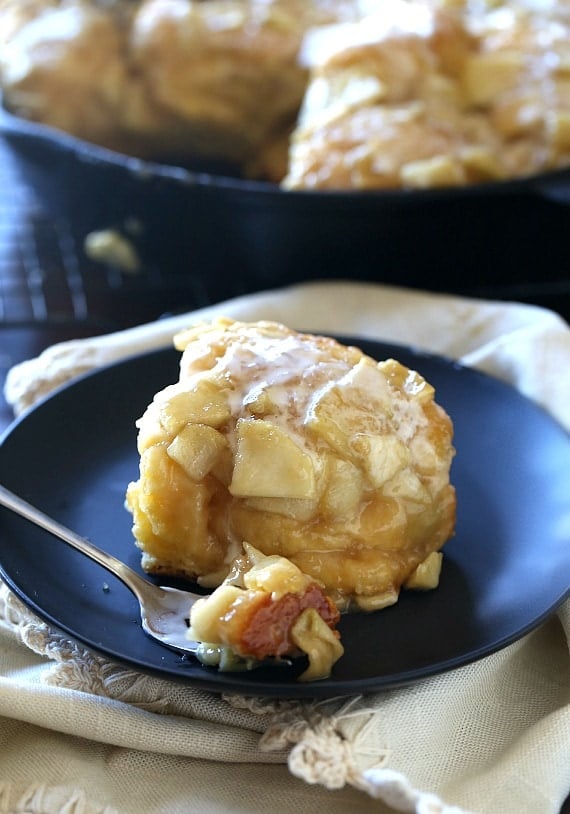 Print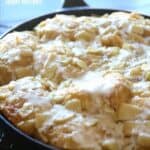 ---
Description:
makes 12 biscuits
---
Ingredients:
3

medium Granny Smith apples, peeled and large diced

1 tsp

lemon juice

3 Tbsp

butter

1/4 cup

heavy cream

1 Tbsp

flour

1/2 cup

light brown sugar +

2 Tbsp

reserved

1 tsp

cinnamon

1/4 tsp

salt

12

large biscuits (I used canned but not flaky layers)
Glaze
2/3 cup

powdered sugar

1/4 cup

heavy cream
---
Instructions
Preheat oven to 350°
Grease a large (10″) cast iron skillet with butter, set aside.
Put diced apples into a medium sauce pan and sprinkle with lemon juice, stirring to coat. Add in 3 Tbsp butter and heavy cream. Set aside.
In a bowl whisk together flour, 1/2 cup light brown sugar, cinnamon and 1/4 tsp salt. Add this to apples and stir to coat. Heat mixture over medium low heat until apples soften and a thick sauce is created, stirring frequently, about 7 minutes. Remove from heat.
Place biscuits in pan, completely covering bottom and overlapping slightly, if need be.
Pour apple mixture evenly o top of biscuits and sprinkle with reserved 2 Tbsp of light brown sugar.
Bake for 30-35 minutes until biscuits are golden brown.
Glaze
Mix powdered sugar and heavy cream in a small bowl until smooth and drizzle on top of biscuits.
Serve warm.
Want To Save This Recipe?