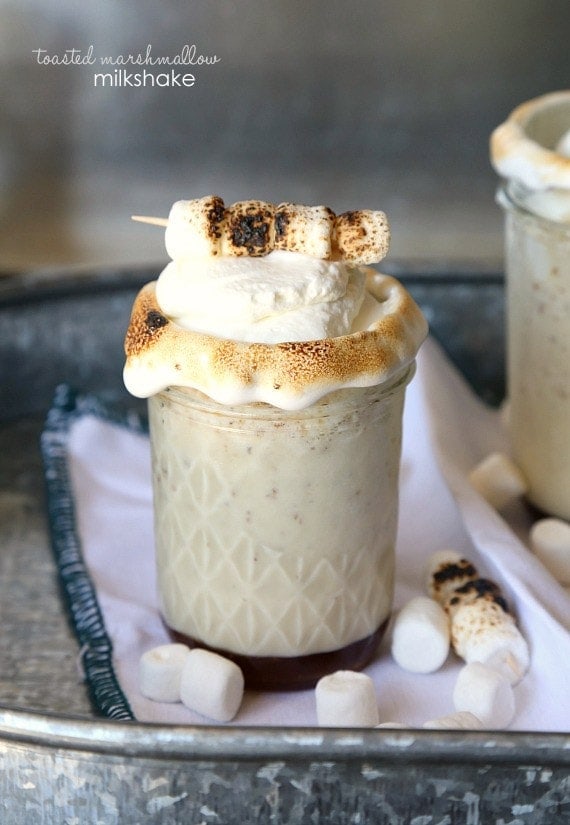 Toasted Marshmallow Milkshake
Well, we're finishing off milkshake week today.
Kinda sad…but I have to say that we usually don't drink a lot of milkshakes around here…so my kids have been super happy at all the taste testing.
I mean, my husband is a Vanilla Milkshake connoisseur…
At least he thinks so.
And the only time he will deviate is for a soft serve vanilla cone.
Scandalous.
But anyway, today's Toasted Marshmallow milkshake isn't something he would drink. While claiming he only likes vanilla…he also says he doesn't like marshmallows.
I don't understand life sometimes.
BUT joke's on him. This milkshake rules the world. And I added caramel. Because caramel is always a good idea.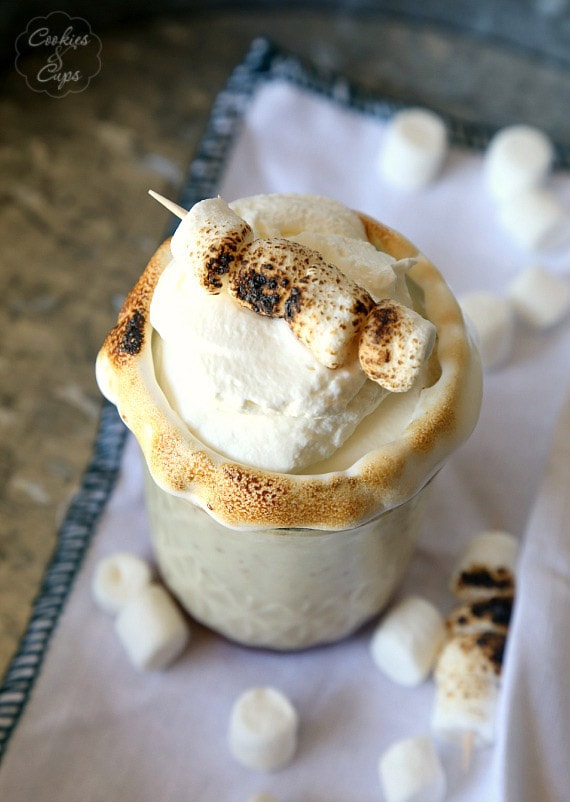 I got super fancy with this one…I dipped the rim of the glass in Marshmallow Fluff and toasted that with a kitchen torch.
Besides making it extra yummy it's also ridiculously pretty!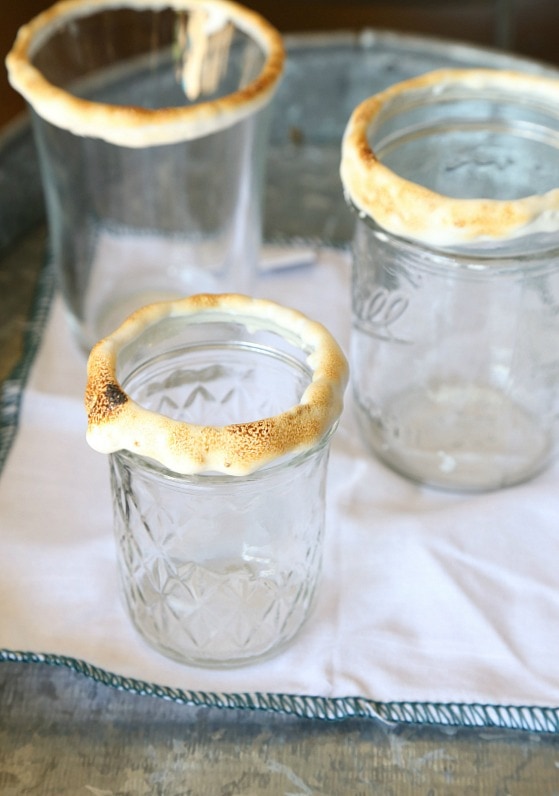 The milkshake itself is a pretty standard vanilla. You're going to need to get the milkshake mostly done before the marshmallow part, so when you add them they don't cool off. That way they will melt and blend nicely into the milkshake!
And I grabbed some large marshmallow and cut them in half…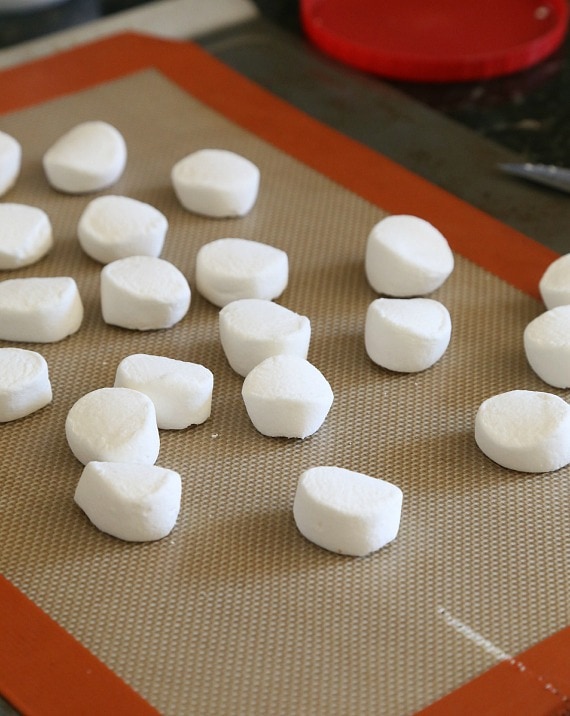 The reason I like to cut them in half before toasting them under the broiler is so they get melted all the way through. If you do the large ones under the broiler heat it's easy to taoast the outside while still leaving a solid marshmallow nugget in the inside.
I know, these are the problems I am dealt.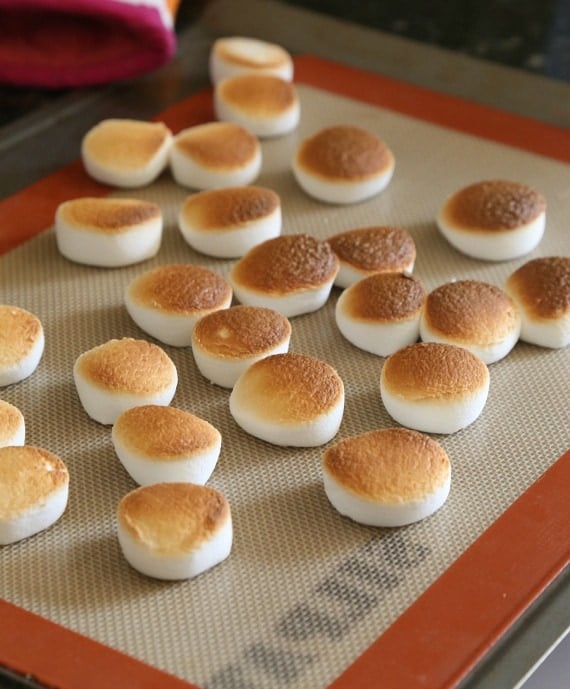 Then immediately blend these in the milkshake.
I put some caramel at the bottom of the glass and topped the who she-bang with whipped cream and a little toasted mini marshmallow skewer.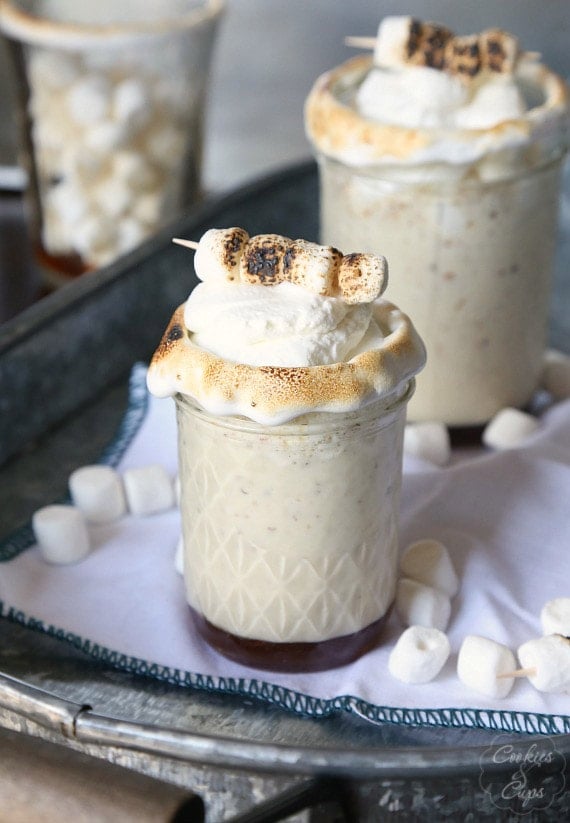 Possibly the perfect milkshake!
Print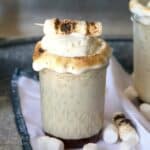 Toasted Marshmallow Milkshake
---
---
2 cups

vanilla ice cream

1/4

–

1/2

cup milk depending on consistency you prefer

9

large marshmallows
Caramel ice cream topping
optional ~ Marshmallow Fluff to rim glass
optional ~ whipped cream
---
Instructions
Set oven to broil.
If using Fluff to rim the glasses, do this first by dipping the glass into marshmallow fluff. Toast the fluff with a kitchen torch if desired. Place 1-2 Tbsp caramel sauce at the bottom of each glass. Set aside.
Line a baking sheet with parchment or a silicone baking mat. Cut large marshmallows in half. Set aside while you combine milk and ice cream in blender. Blend until creamy.
Immediately place marshmallows under broiler for 20-30 seconds until browned. Remove and immediately place into blender. Pulse the marshmallows until they are mixed with the ice cream.
Pour into prepared glasses and top with whipped cream if desired.
Lightly toast another marshmallow to place on top of whipped cream to make it pretty.
---
Want To Save This Recipe?
Find more recipes like this:

And don't forget to check out these amazing milkshakes happening around the interweb! Some of these make my heart go pitter-patter…