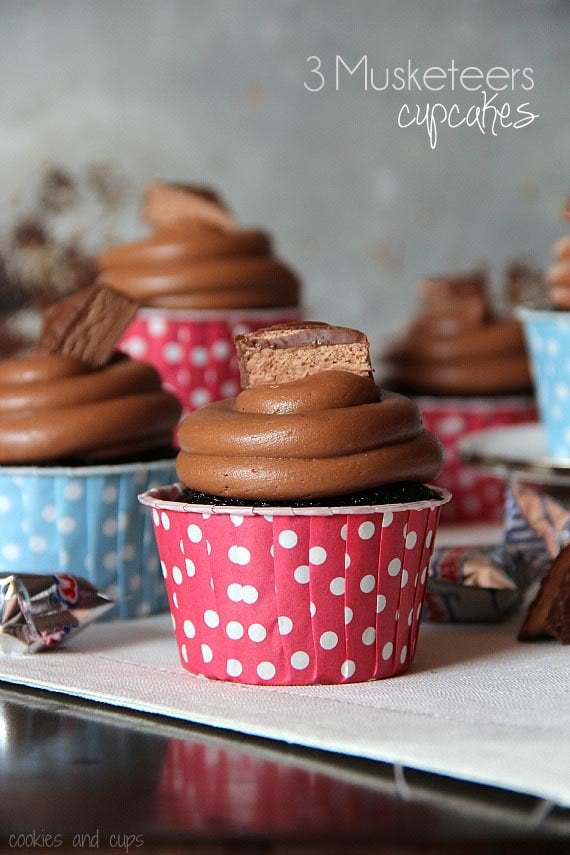 Here in the heat of the summer there's nothing I crave more than a heavy chocolate, sugary cupcake.
Ok, fine I lie.
A little bit.
But I try not to compartmentalize my desserts into seasonal quarters. I feel like that's kinda mean.
Apples aren't only for fall. Citrus isn't only for summer. Pumpkin…well…ok, you've got me there…
I 'm really not out to hurt any dessert's feelings. Nobody puts desserts in the corner.
Umm, too far?
So while you're enjoying your watermelon and popsicles, I say break up the cool, light treats with an occasional gut-buster. One won't kill ya.
Plus, aren't 3 Musketeers a sorta-healthy candy bar?
The commercials say that they are light and airy…which translates into healthy in my brain.
My husband tells me that I am a marketers dream come true.
Really, I'll take any excuse to eat a candy bar.
So basically what I am trying to convince you is that these cupcakes are based in health food…like banana bread or zucchini brownies.
Candy bar health food.
So make them, eat them and go put on your swim suit.
3 Musketeers Cupcakes.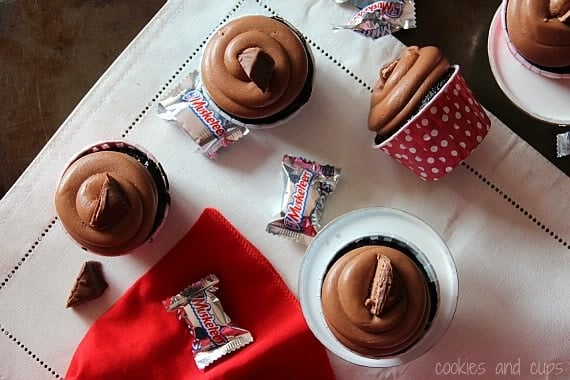 I used my chocolate cupcake recipe and halved it. The original recipe makes 36 cupcakes, so I made 18. Half.
Make your batter and fill your liners up just half way.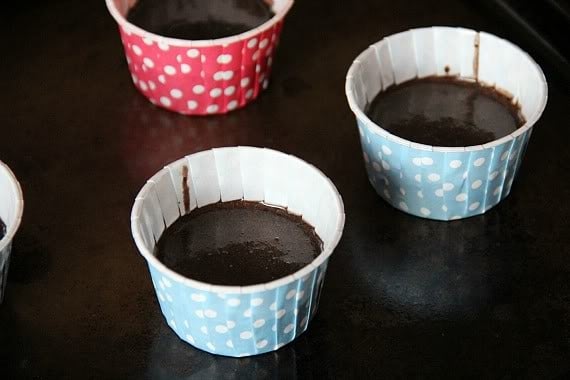 Bake them for 5 minutes and pull them out of the oven and drop in 1 miniature 3 Musketeers piece, pressing gently into the partially cooked batter..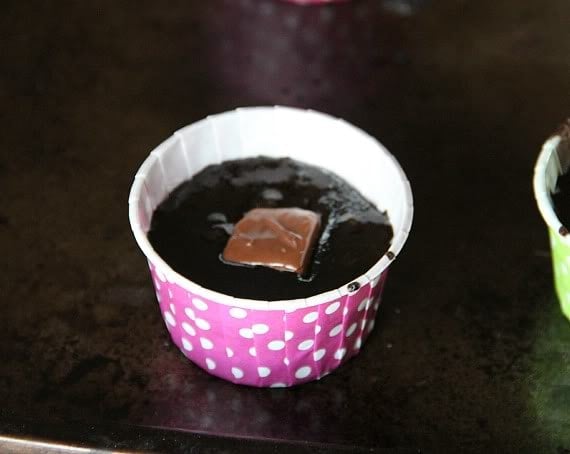 Pop them back in the oven for 10-15 minutes until the cupcakes are set. They will continue to bake around the 3 Musketeers piece.
Let them cool completely before frosting.
Now. 3 Musketeers frosting. It's kinda cool.
In a sauce pan on low heat, melt 15 oz. of 3 Musketeers pieces, or chopped bars, stirring frequently.
When the 3 Musketeers melt, they will be like a thick marshmallow consistency. Like the picture in the top right…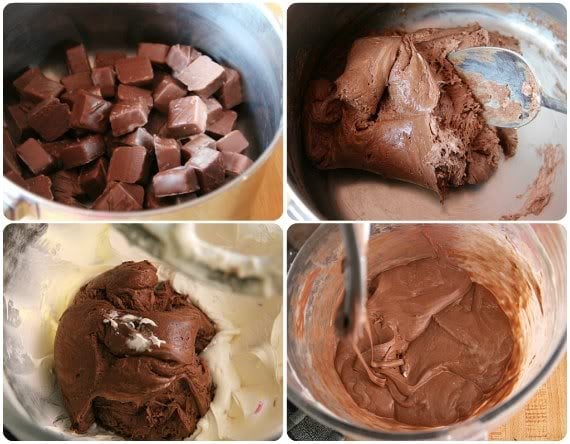 Meanwhile, in your stand mixer cream together some butter and Marshmallow Fluff. Add the melted 3 Musketeers to the butter and Fluff and mix away.
Add in some milk and powdered sugar and you're set!
Pipe or spread the frosting on your cupcakes…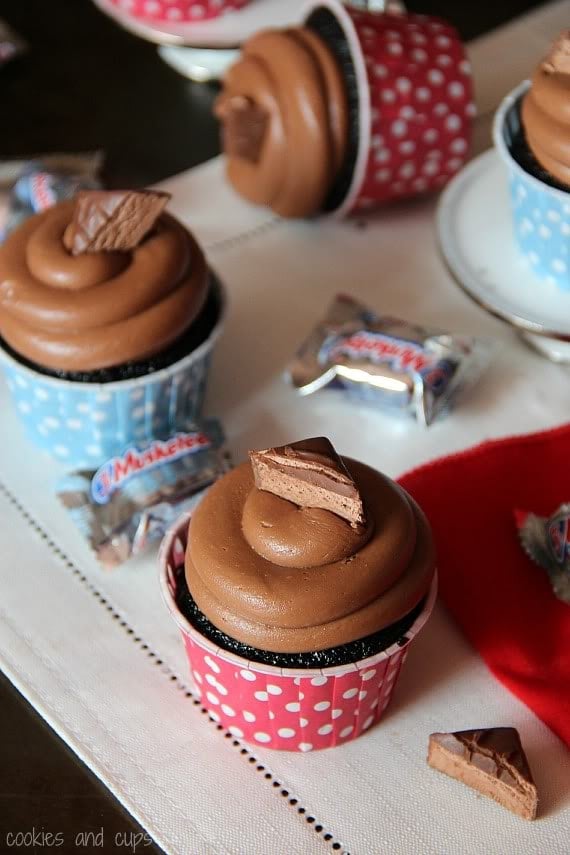 And if you're interested in how the 3 Musketeers looks on the inside of the cupcake…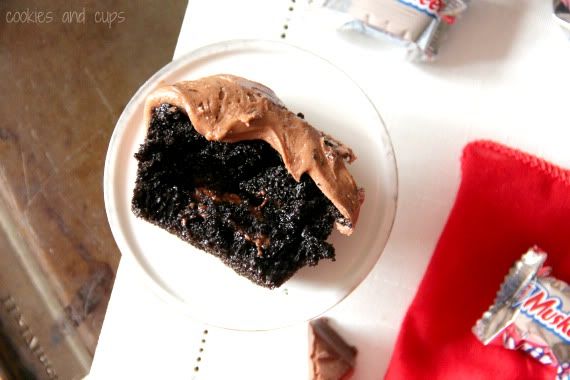 It gets melty, making the inside of the cupcake super gooey.
It's really summer food at its finest.
Click here for the chocolate cupcake recipe, plus you will need 18 miniature 3 Musketeers pieces to bake into the cupcakes.
The cupcake liners I used I got HERE
Print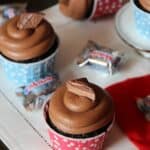 3 Musketeers Frosting
---
15 oz

. 3 Musketeers Bars (either mini or chopped)

1 cup

Marshmallow Fluff

1/2 cup

butter, room temperature

4 cups

powdered sugar

2 Tbsp

milk
---
Instructions
In stand mixer cream together Marshmallow Fluff and butter, approx 1 minute, until smooth.
In a large saucepan over low heat melt the 3 Musketeers candy bars. The mixture will resemble thick Marshmallow Fluff consistency when melted.
Add the melted 3 Musketeers bars to the butter/Fluff mixture and beat mixture for 1-2 minutes until evenly incorporated.
Turn speed to low and add in powdered sugar and milk.
Turn speed up to medium and beat until smooth.
The frosting consistency will be different than regular frosting and more "elastic"
Pipe onto cooled cupcakes.
---
Want To Save This Recipe?