This Baked Raspberry Oatmeal from How Sweet Eats new book, Seriously Delish is my new favorite breakfast! It's warm, cozy and comforting…plus it's super easy to whip up.
So I have to say, I'm a bit of a cookbook junkie. I have far too many to count.
I get excited to pre-order books…I get excited when they're delivered…I get UBER excited to actually go to a bookstore (gasp) and browse through the aisles choosing the perfect book or 4.
And what I get mostly excited for is when internet/blogging friends are given the opportunity to pour their hearts and souls into a book…
Reading someone's website everyday…learning about their life in relation to a recipe makes you feel like you're friends. Even if you've never met.
I mean,  do I feel like I know Ina Garten after years of watching her on the food network, reading her books, and making her recipes? I guess.
But do I know Ina's favorite color? Do I know what Ina watches on Netflix?
Do I really know how Ina feels about Kiehls or Rebecca Minkoff?
The answer to all those is no.
So yes, I do love Ina. But are we friends? Well no.
What does all this have to do with Baked Oatmeal? Well…give me a sec to bring this back around…
Jessica Merchant is the author, owner, curator, creative brain behind How Sweet Eats, and now Seriously Delish. I have read her blog for years. And over those years you develop a relationship…a kinship…a fondness. You feel like you know this person (whether you actually do or not).
Jessica is open, honest, funny and relatable. She's a girls-girl. And as a bonus she makes pretty badass food.
So does it matter what color lipstick she is wearing? Yes. It does.
Because friends know what kind of lipstick our friends are loving.
Sorry Ina.
When I opened the pages to Jessica's book, Seriously Delish I felt like I was opening the pages of a good friend's book. And I think that's how you will feel too.
And while I really love the recipes…I enjoyed the personal anecdotes before each recipe and the introduction equally as much!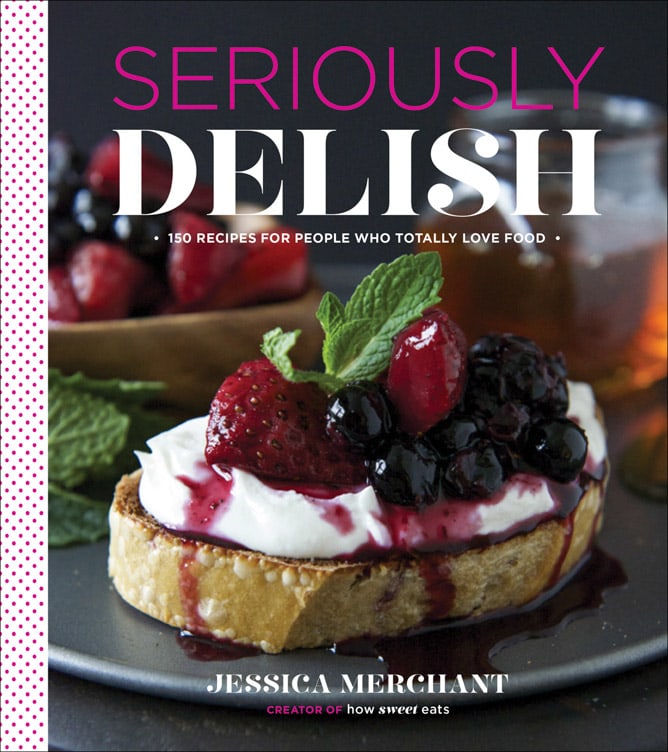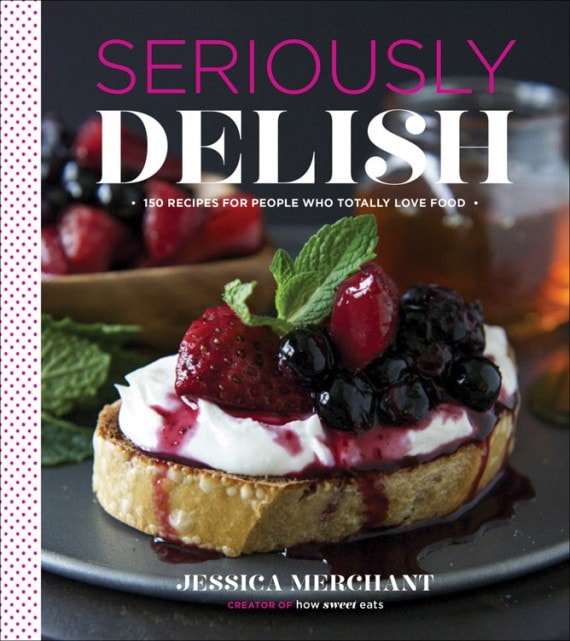 So here's the deal..it's a good book. You will like it. You will cook from it. And you will be happy you did.
And all the while you will feel like you are cooking with a girlfriend.
When I flipped through the pages there were so many things I bookmarked, but I kept coming back to this Baked Oatmeal recipe…maybe it's the change of the temperatures outside starting to cool off…but I just thought I needed a breakfast worth pumping my fist for.
We get into a cereal rut here in my house…so I decided to shake it up.
So glad I did..this recipe is possibly my favorite I've made in a long while.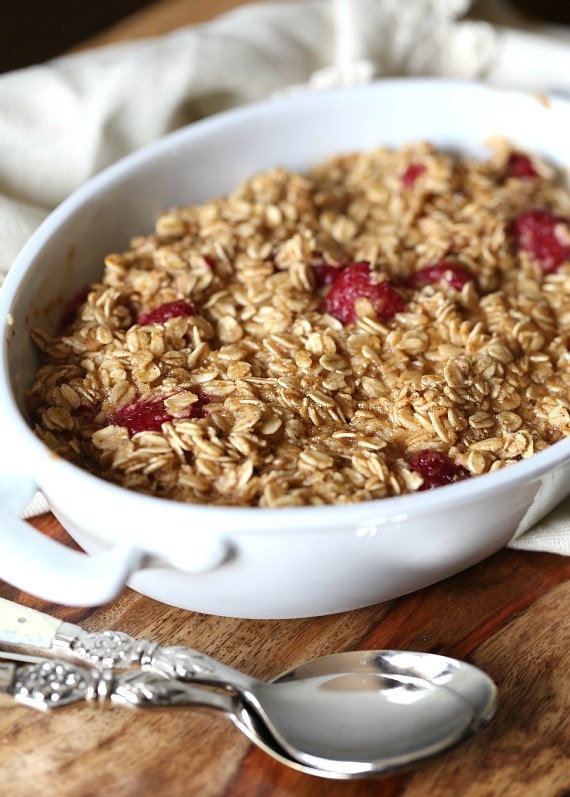 Yes, it takes a bit longer than an Instant Oatmeal, but I have even made it the night before, and just heated it up in the morning and it's just as good!
Really all you do is whisk together you ingredients…Jessica used coconut milk in this recipe, which I would have never thought to do, but LOVED!
I mixed in some fresh raspberries…but you could absolutely use blueberries, strawberries or even banana!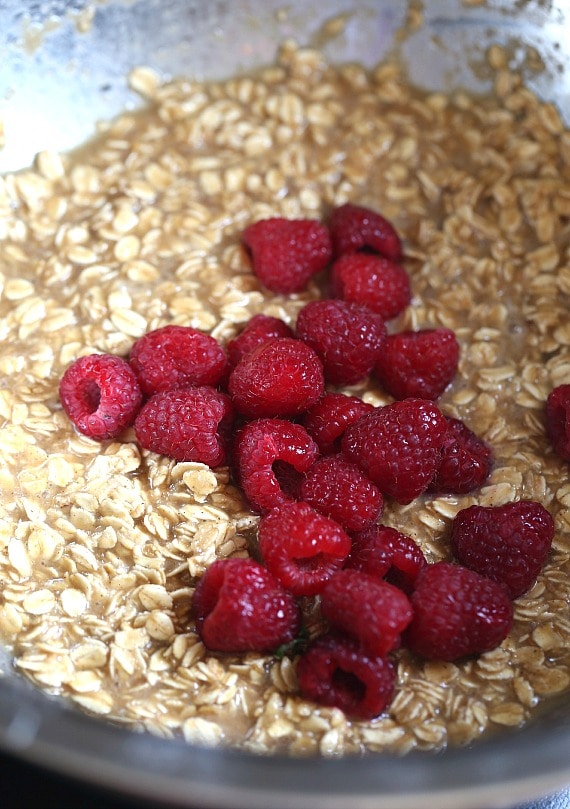 Just bake it in a small casserole dish and wait!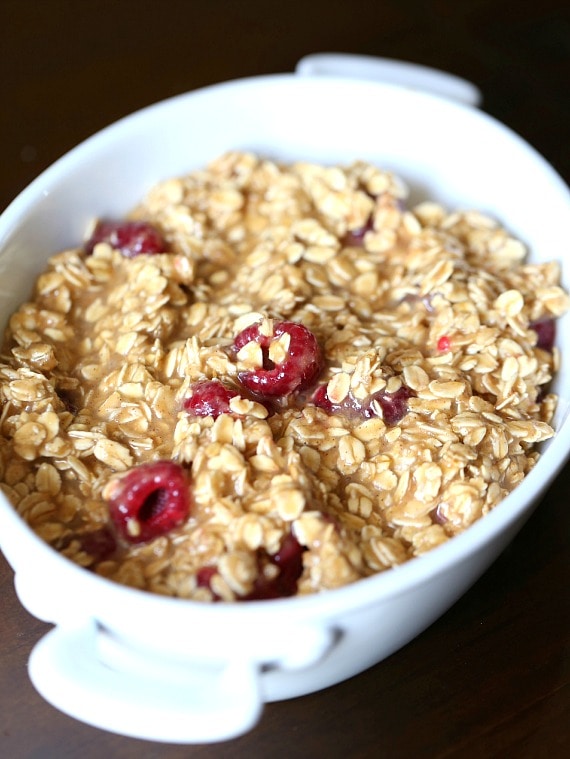 Also, Jessica's recipe is written to drizzle a little brown butter on top when it's done.. and I can't stress to you how delicious this would be. I actually omitted it because I was feeling a little lazy, and also trying to cut a few calories, but you should definitely try it!
The kids and I are obsessed with this stuff.
GIVEAWAY!!!!
And now, I want to let you know that I am giving away a copy of Jessica's book, Seriously Delish!
Just leave me a comment here and tell me what your go-to breakfast is…I need some inspiration!
Contest is open for 1 week and ends, September 23rd, 2014 at 11:59 pm
Print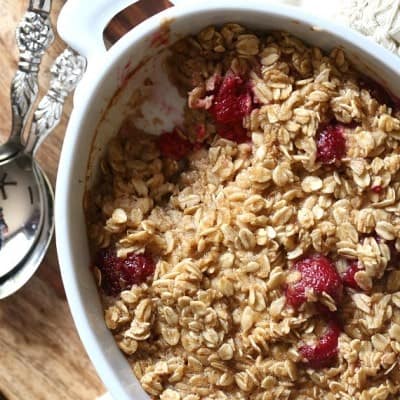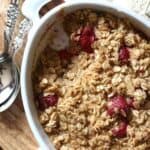 ---
---
Ingredients:
1 1/2 cup

s old fashioned rolled oats

1/2 cup

loose packed light brown sugar

1 tsp

baking powder

1/2 tsp

ground cinnamon

1/4 tsp

salt

1/2 cup

canned light coconut milk

1/4 cup

applesauce

1

egg

1 tsp

vanilla

1 Tbsp

butter, melted

2/3 cup

fresh raspberries
---
Instructions:
Preheat oven to 350°
Spray a small baking dish with spray. I used a small 2 serving round oval dish.
In a large bowl whisk together oats, brown sugar, baking powder, cinnamon and salt. In a separate bowl whisk together coconut milk, applesauce, egg and vanilla. Slowly add melted butter, whisking constantly. Pour this mixture into the oat mixture and stir to combine.
Gently stir in the raspberries and transfer to prepared dish.
Bake oatmeal for 25 minutes until top is lightly golden.
Drizzle with additional coconut milk if desired.
---
Notes:
recipe from Seriously Delish
Jessica's recipe also suggests drizzling 2 Tbsp of brown butter on top of the oatmeal. This would be AMAZING, I just opted not to, trying to keep the fat a little lower..but you should totally try it!
Want To Save This Recipe?