Wacky Cake is a classic egg and dairy free chocolate cake. NO mixer needed for this cake recipe, because it's mixed right in the 9×13 pan that it's baked in.You get a soft, chocolatey cake that you can top with any frosting you like!
Looking for a traditional chocolate cake recipe? Make sure to try my Chocolate Layer Cake!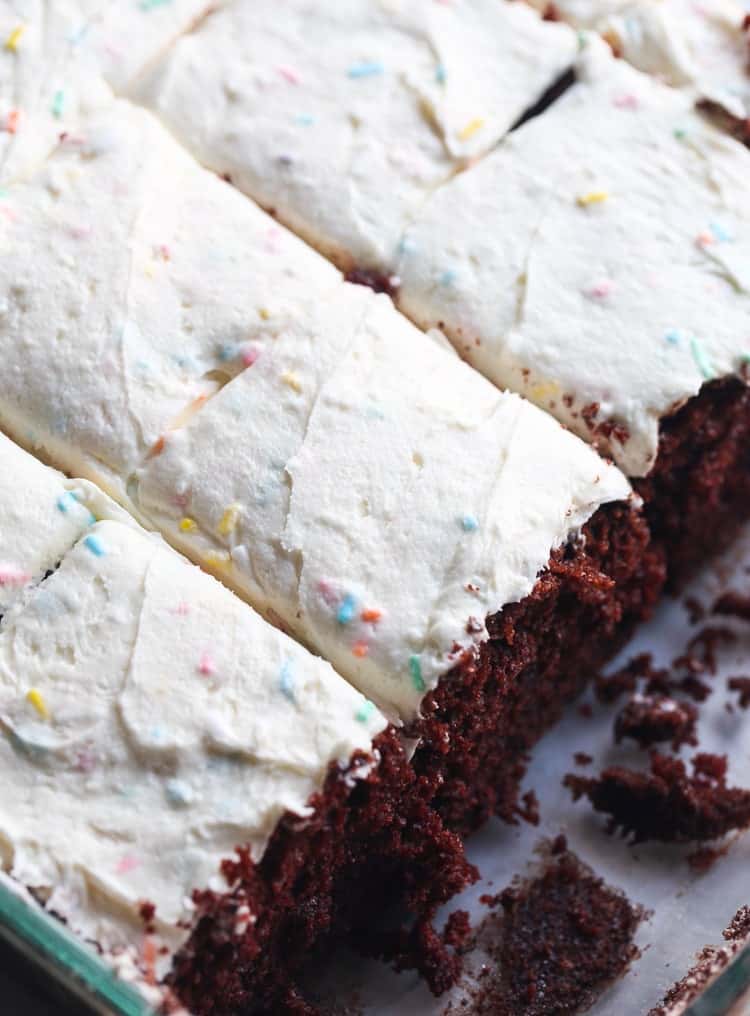 Wacky Cake Is The Easiest Chocolate Cake You'll Ever Make!
No mixer, only a few simple ingredients, and a 9×13 pan and you'll have a chocolate cake. It seems too good to be true, I know it does, but trust me on this! No eggs, dairy free…and did I mention you mix it right in the 9×13 pan you bake it in? I'll explain it all, I promise!
What IS Wacky Cake?
This recipe is a major throw back. I found a version of this in my mom's recipe box, and then after a quick google search, apparently everyone's mom probably made this one too.
And here's your history lesson for the day…It's also known as Depression Cake…and was created back in the Depression Era where ingredients were scarce and expensive. So this cake is actually made without eggs or any dairy…which makes it lighter on the wallet, but also great for anyone who suffers from an egg or dairy allergy! Of course I frosted it…and the frosting isn't dairy free…but the cake itself absolutely is!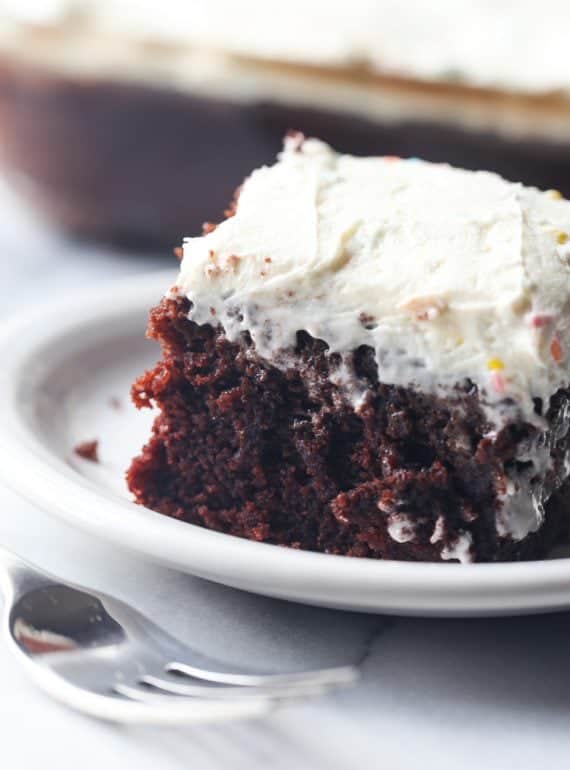 That's Right, NO Mixer Needed!
Crazy, right? A cake without having to use a mixer? Or at least another bowl? It's true. Pinky swear! A TRUE one-bowl cake!
When following my moms recipe I was a little skeptical about this…because not only do you use your cake pan as the mixing bowl, you don't grease the pan. I certainly envisioned a huge cake fail…but alas, it worked.
Let me show you…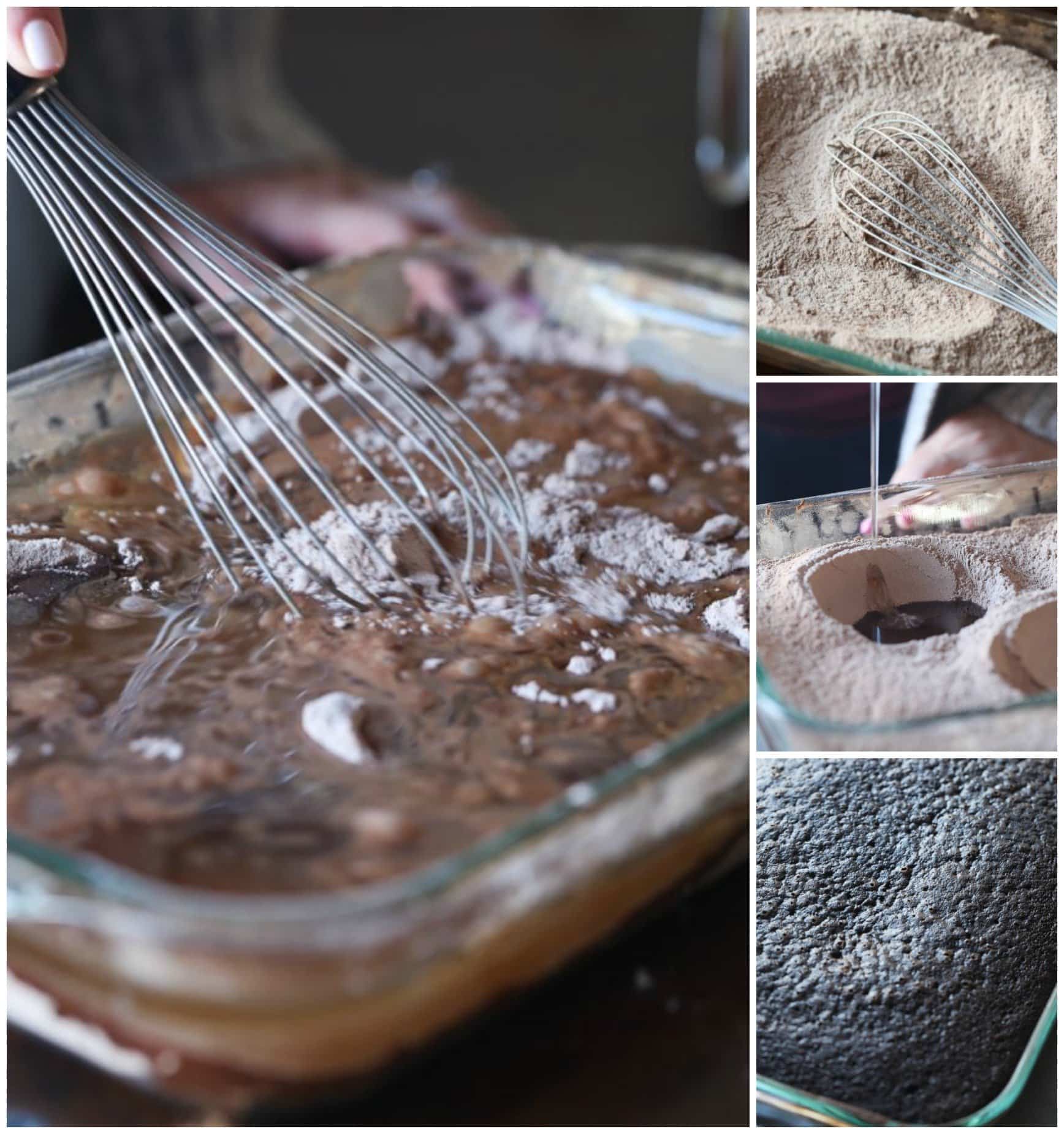 You Don't Have To Grease The Pan!
I know it's hard to believe. And yes, if you're not convinced you can absolutely mix the ingredients in a separate bowl and coat the pan with nonstick spray. But the point is, you don't HAVE to.
There is a tiny amount of sticking, but it's a sheet cake and it really doesn't matte, in my opinion!
Here are the simple steps:
Sift the ingredients right into the ungreased pan. Sifting the ingredients together is the easiest way to combine them. I also whisked them together too.
Make 3 "wells" in the dry mix. You pore vinegar in one, vanilla in another and oil in the last.
Then pour water over everything and whisk it together to combine. I found online that using a fork here works well too.
Once it's all mixed, go ahead and bake!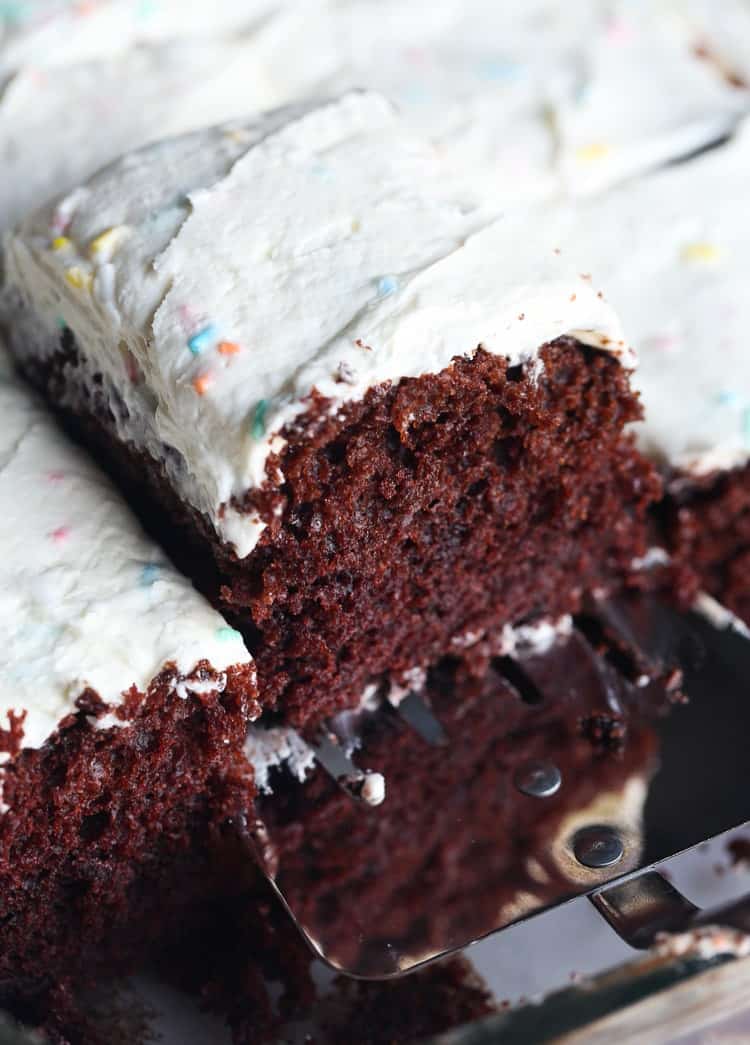 What Kind Of Frosting Should You Use On Wacky Cake?
Wacky Cake is a chocolate cake, so there are TONS of frostings that work well here.
If you are trying to keep this dairy free, my buttercream frostings might not be the best option, but you can sub the butter out for a non-dairy butter substitute!
Print
---
Ingredients:
3 cups

flour

2 cups

granulated sugar

2/3 cup

unsweetened cocoa powder

2 teaspoons

baking soda

1 teaspoon

kosher salt

2 teaspoons

vanilla

2 tablespoons

apple cider vinegar

1/2 cup

vegetable oil

2 cups

water
---
Instructions
Preheat oven to 350°F.
In an ungreased 9×13 baking pan sift together the flour, sugar, cocoa powder, baking soda, and salt. Whisk the ingredients together gently to combine.
Make 3 wells in the dry ingredients. Pour the vanilla in one, the vinegar in another, and the oil in the last. Pour the water all over the top. Using a whisk or a fork, stir the batter until smooth and combined.
Bake for 35-40 minutes, or until a toothpick inserted int he center comes out clean.
Allow the cake to cool and dust with powdered sugar or frost.
---
Want To Save This Recipe?
Save
Save
PIN for later: