Chocolate Chip Cram Cheese Scones are soft and tender…like the perfect muffin/biscuit hybrid!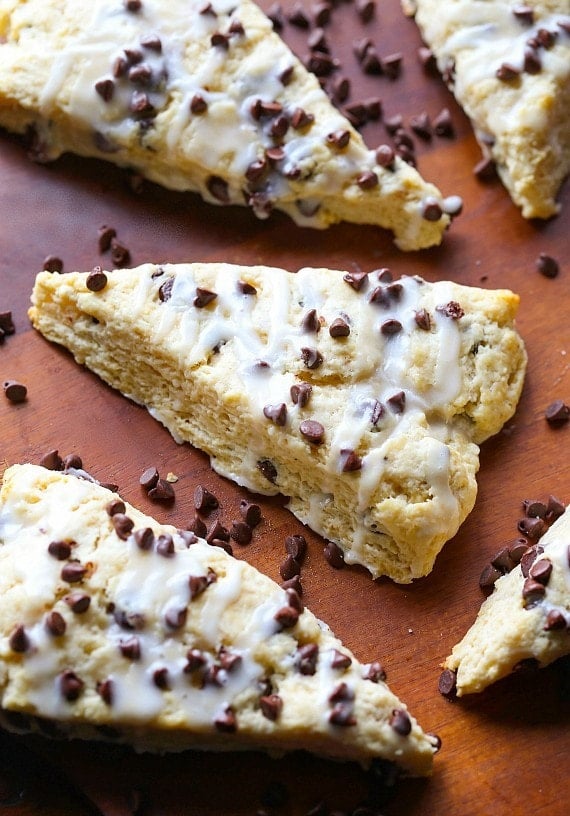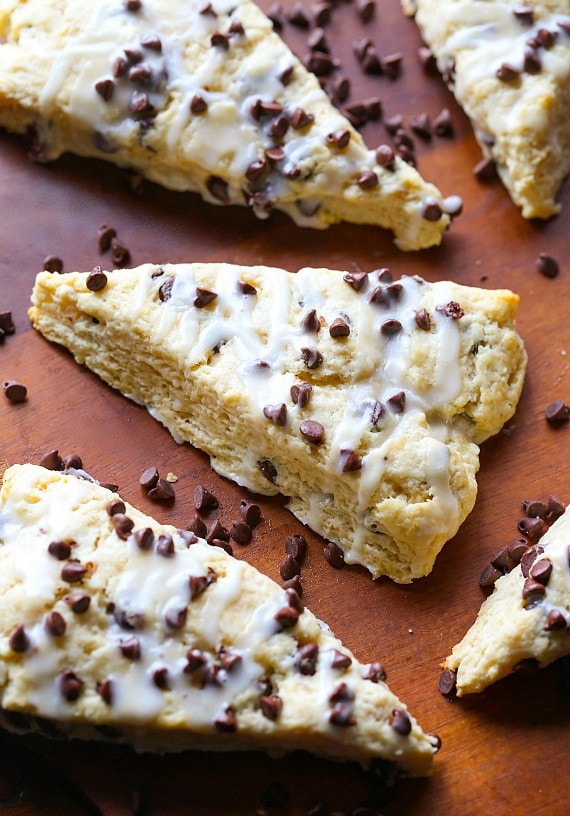 I have not always been a scone person. They seem a bit fancy, like a crumpet or some other British pastry that should only be consumed with tea and your pinky in the air.
And let's be honest, fancy pastries are never really that good. It's a fact. Never once have I been to a luncheon (do people still call them that?) where people are dressed in skirts and such and been served anything topped with hot fudge, caramel sauce or served warm in a skillet. Never.
I guess I understand the potential "mess factor" on a white tablecloth, but no one wants your plain crunchy cookies, fancy people. No one. I'll save my calories for the Little Debbie waiting in my judgement free pantry.
But the whole point of the matter is, the reason I was never a scone person before was because I had never had a GOOD scone. Believe me, a bad scone is BAD. But oh, a good scone is gooooood.
Scones should be tender and soft on the inside with a crunchy, buttery edge. Of course I packed mine with chocolate chips and a powdered sugar glaze, but that's not either here nor there. The cream cheese in the dough adds a richness that I really love and if you're going to do scones properly you need to have them warm. And I wouldn't be mad if you added an itty-bitty smear of butter. Not mad at all.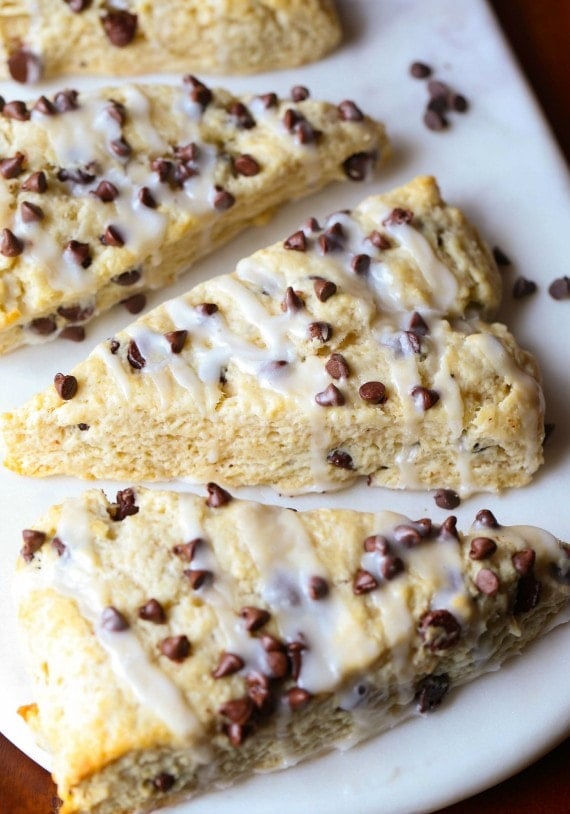 I describe scones to my kids as a kind of muffin/biscuit situation. It's the best description I can do. And luckily, they are as easy to make as biscuits…no mixer necessary.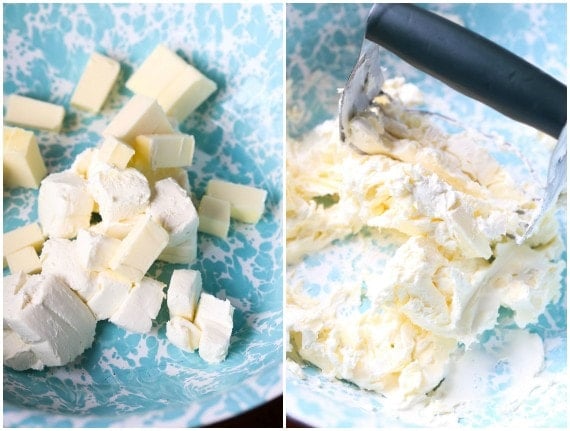 Cut you butter and cream cheese together a little bit with a pastry cutter. It will be sticky, but just get it partially combined before adding the dry ingredients.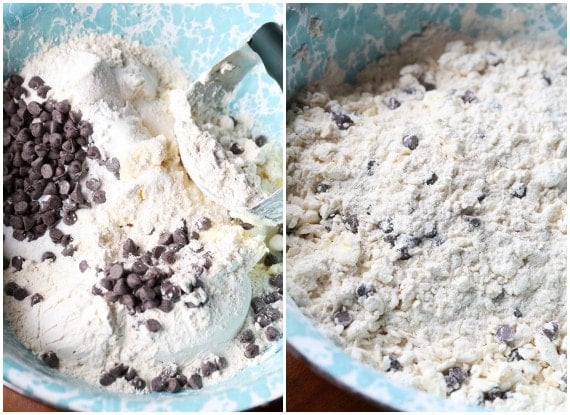 Next add in the sugar, flour, salt, baking powder and chocolate chips. I used regular sized chips inside mine, but you could use minis too. Cut the mixture together until is resembles coarse sand.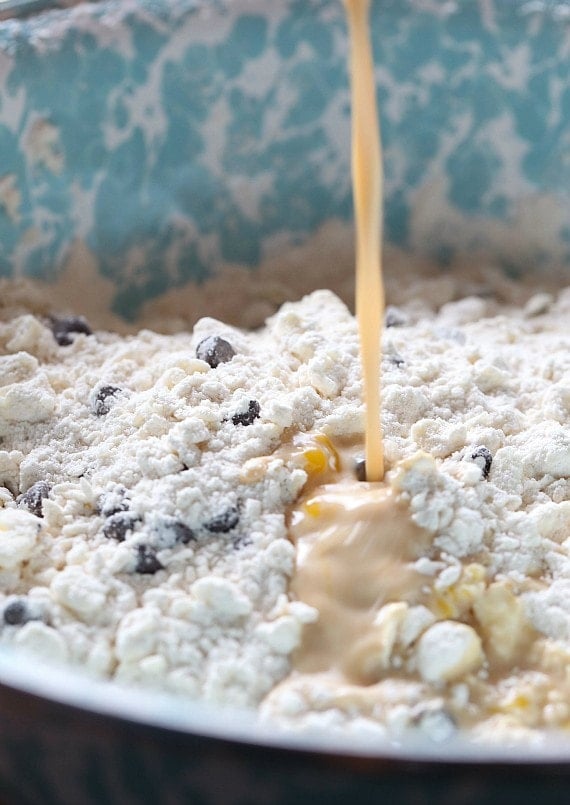 Then add in your wet ingredients and mix it using a wooden spoon and some elbow grease.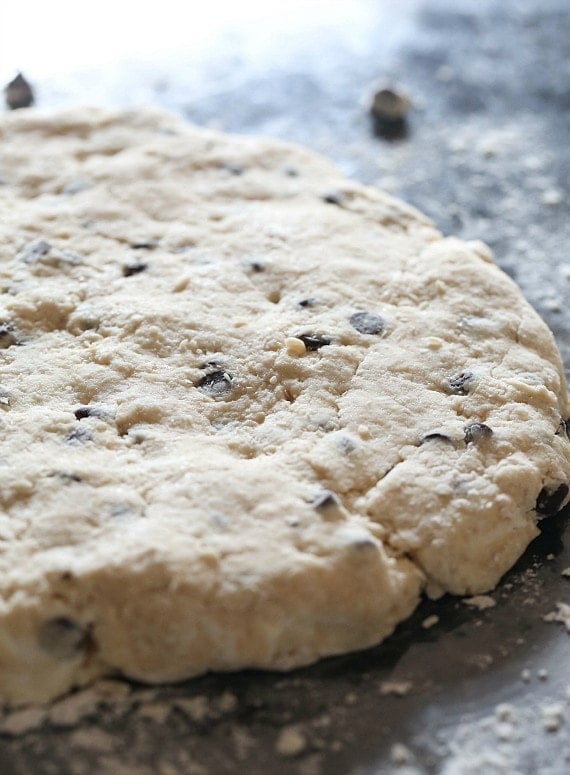 Turn the dough out onto a lightly floured work surface and knead it until it just comes together. he dough will be dry, but it should hold together. If it doesn't add in a teaspoon of milk at a time until it holds.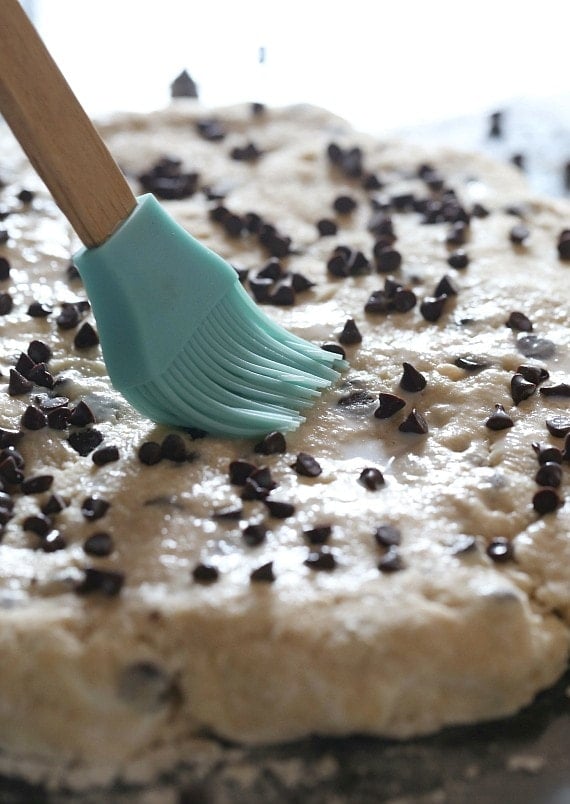 I decided to press some mini chips on top to make them extra pretty. Totally optional if you're not into pretty things.
Also brush the top with a little more milk. Place your dough on a parchment lined baking sheet and using a pizza cutter or a knife and cut the dough into wedges.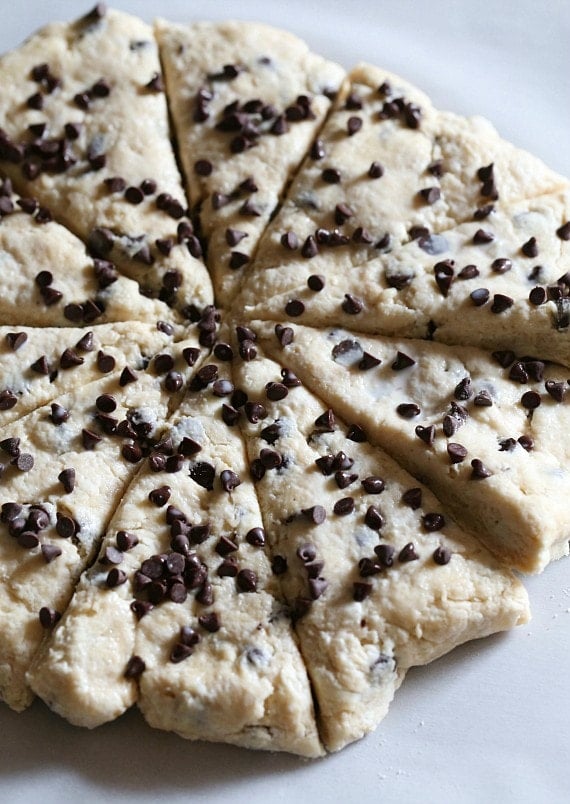 Pull the wedges apart so they have a little breathing room and then bake them up!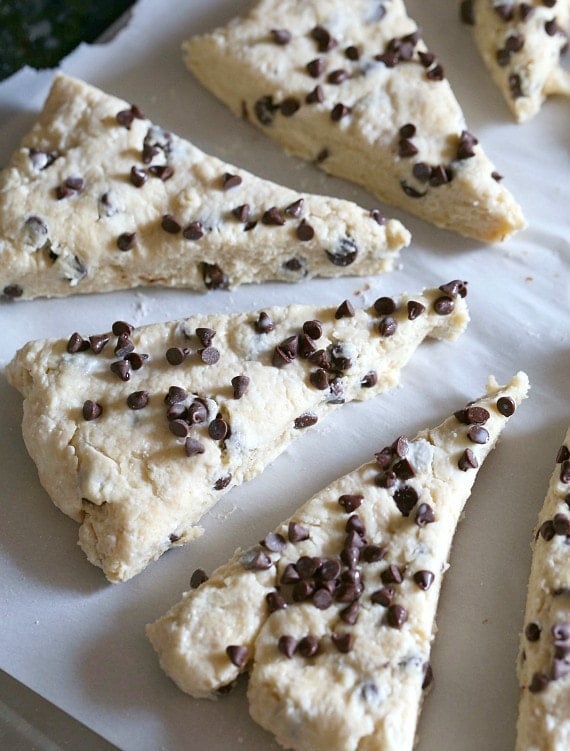 They will be gorgeously golden and ready to drizzle your glaze on!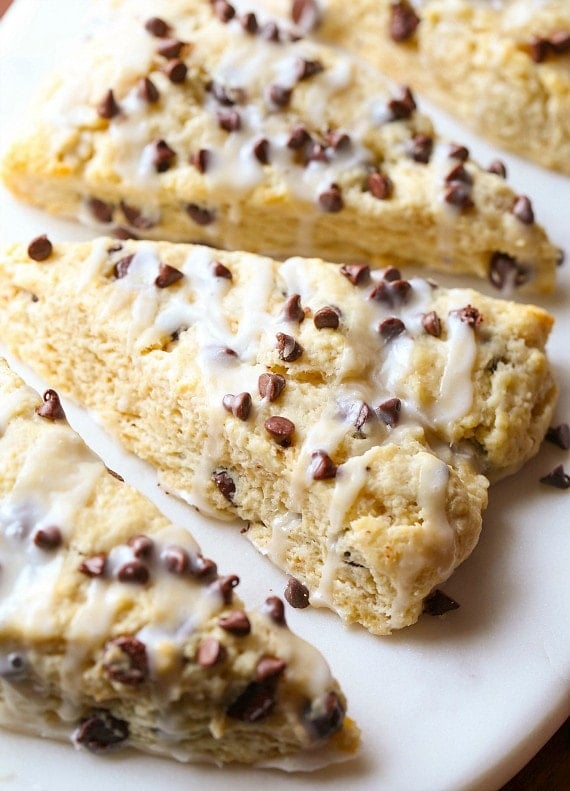 The insides are so soft and tender!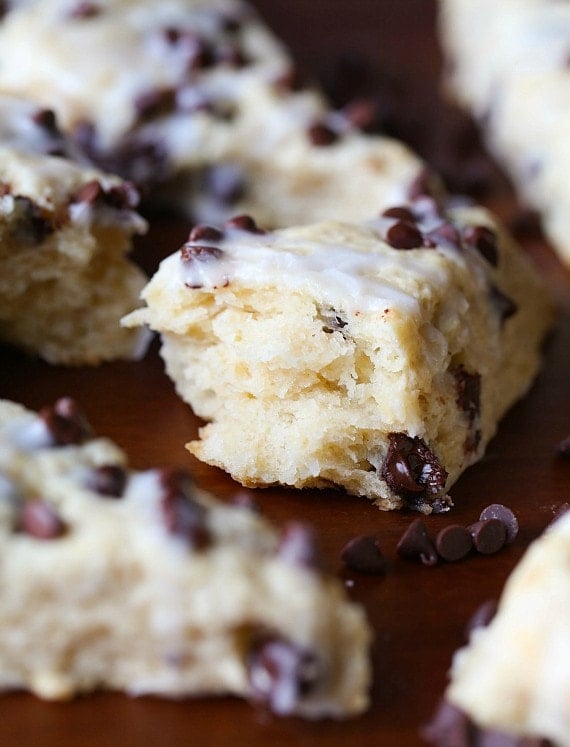 Go ahead, you should really try these! I've also made some epically delicious Bacon Cheddar Scones. Make those too!
Print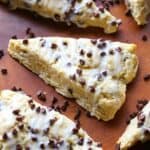 Chocolate Chip Cream Cheese Scones
Author:

Yield:

10

scones

1

x
---
8 ounces

cream cheese

1/2 cup

butter

1/2 cup

granulated sugar

3 cups

flour, plus more for dusting

2 teaspoons

baking powder

1/2 teaspoon

kosher salt

1 cup

chocolate chips

1

egg

2 teaspoons

vanilla

1/4 cup

whole milk. plus 1 tablespoon more for brushing.
Mini chips to garnish (optional)
Glaze:

1 cup

powdered sugar

2 tablespoons

milk
---
Instructions
Preheat oven to 400°F/200°C
Line a large baking sheet with parchment paper and set aside.
In a large bowl cut together the cream cheese and the butter using a pastry cutter or a fork until it's mostly mixed together. It will be very sticky.
Add in the sugar, flour, baking powder, salt and chocolate chips. Continue cutting the mixture together until combined evenly. Mixture will be crumbly.
In a small bowl whisk together the egg, vanilla and 1/4 cup milk.
Pour the milk mixture into the cream cheese mixture and using a wooden spoon stir the dough together. You can use your hands as well to help combine, if necessary. Dough will be stiff.
Lightly dust a clean counter with flour and turn the dough onto the counter, kneading just until the dough comes together. Note that scone dough is more on the dry side, but should stick together. If it doesn't add 1 teaspoon more of milk at a time until it holds.
Form the dough into a round disk, about 1-inch thick. If desired press mini chocolate chips into the top of the dough and then brush with remaining 1 tablespoon of milk.
Using a pizza cutter or a knife cut the dough into 10 wedges.
Bake for 17-20 minutes until lightly golden and the tops are set.
Remove from the pan from the oven.
Whisk together the powdered sugar and milk and drizzle on top.
Serve warm.
---
Want To Save This Recipe?