This month's Iron Cupcake challenge is "Soda". I was/am excited about this ingredient, but I have so many choices I am not sure what to do. Some of the other cupcakers make several different entries, but I just don't have that much time and am lucky to get my ONE entry in! So, giving this a little (too much?) thought I got sidetracked..uh oh. I remembered this old recipe for Coca Cola cake that I thought I could adapt for a cupcake, but got off track somewhere down the line and ended up making the cake as-is…all 9×13 of it! It's a great recipe for a super-sweet, chocolate-like cake that hits the spot, not with a glass of coke, but a tall glass of milk! If you haven't ever tried it, give it a shot…it's delicious!


Now, back on track…soda cupcakes…focus, focus focus…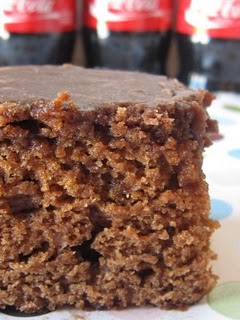 Recipe found at thecoca-colacompany.com
Cake:
2 cups sugar
2 cups all-purpose flour
1 1/2 cups small marshmallows
1/2 cup butter or margarine
1/2 cup vegetable oil
3 tablespoons cocoa
1 cup Coca-Cola®
1 teaspoon baking soda
1/2 cup buttermilk
2 eggs
1 teaspoon vanilla extract
Frosting:
1/2 cup butter
3 tablespoons cocoa
6 tablespoons Coca-Cola
1 box (16 ounces) confectioners' sugar
1 teaspoon vanilla extract
1 cup chopped pecans
Preheat oven to 350 degrees. In a bowl, sift sugar and flour. Add marsh- mallows. In
saucepan, mix butter, oil, cocoa, and Coca-Cola. Bring to a boil and pour over dry
ingredients; blend well. Dissolve baking soda in buttermilk just before adding to
batter along with eggs and vanilla extract, mixing well. Pour into a well-greased 9-
by-13-inch pan and bake 35 to 45 minutes. Remove from oven and frost
immediately.
To make frosting, combine butter, cocoa and Coca-Cola in a saucepan. Bring to a
boil and pour over confectioners' sugar, blending well. Add vanilla extract and
pecans. Spread over hot cake. When cool, cut into squares and serve.