Crunchy on the outside and tender and juicy on the inside, this Air Fryer Popcorn Chicken is ready in 20 minutes from start to finish! These dippable crispy nuggets are the perfect game day appetizer or fun family dinner.
20-Minute, Ultra-Crispy Air Fryer Popcorn Chicken
We love a good chicken tender recipe around here, and I also LOVE my air fryer. I feel like I make a batch of Crispy Air Fryer Chicken Tenders at least once a week. With football season coming up, I wanted a recipe that's just as easy to make, but also totally snackable. Hello, game day.
So, today we're making a bite-sized variation of one of my favorite foods: crispy air fryer popcorn chicken. These crunchy, juicy nuggets of joy are a quick, easy appetizer to make for a crowd, and just as delicious to serve as a meal on weeknights.
Popcorn chicken is perfect for dipping in our favorite Copycat Chick-Fil-A Sauce, or barbecue sauce. You won't believe how crispy these chicken nuggets get in just a few minutes!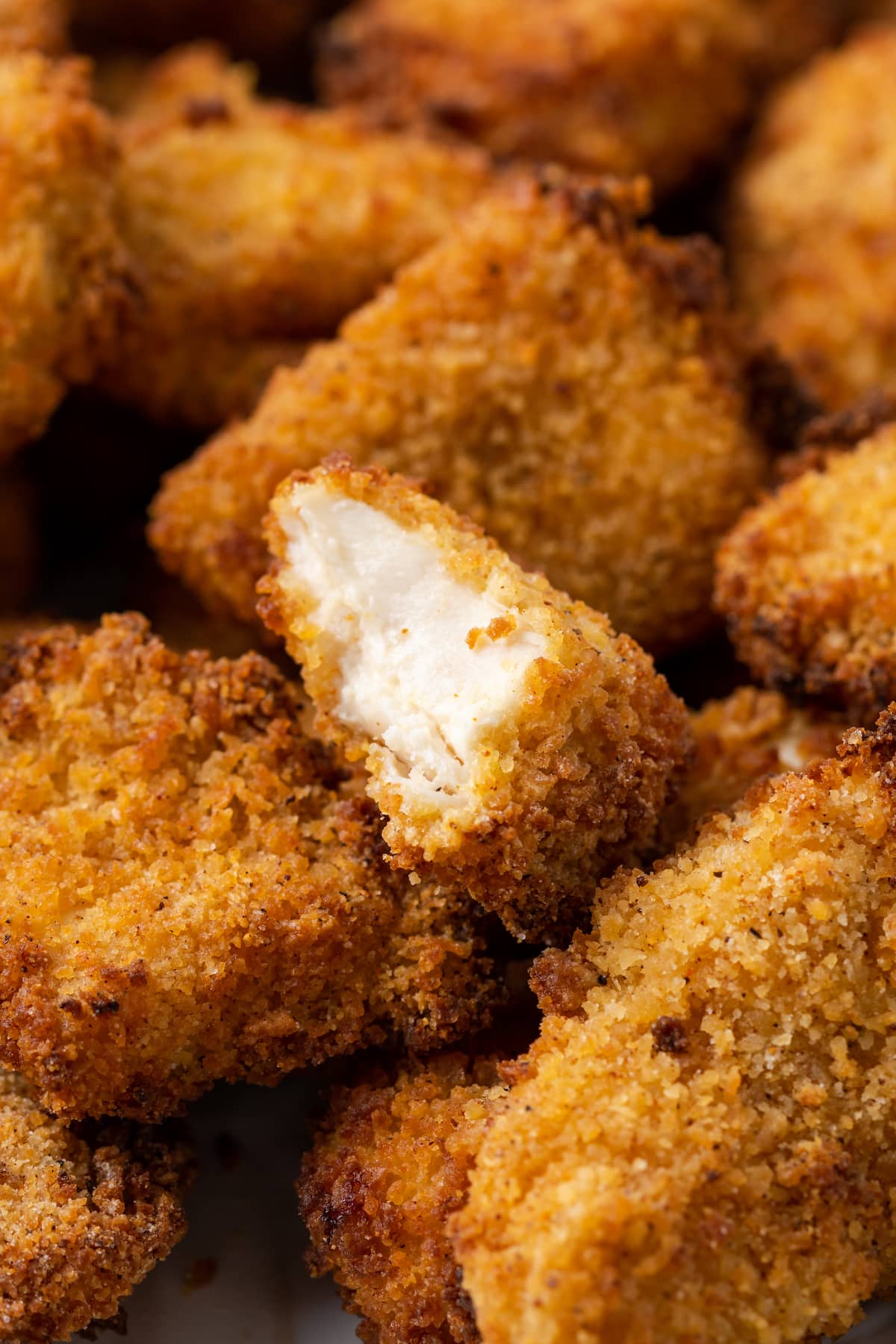 Why You'll Love This Air Fryer Recipe
So, why use the air fryer to cook popcorn chicken? If you're just getting acquainted with the world of air frying, I have a super-handy guide for How to Use an Air Fryer. An air fryer is basically a countertop convection oven, and it's a convenient, lighter way of getting your favorite foods nice and crispy.
I'll warn you now: once you get the hang of it, you'll want to put everything in your air fryer. Biscuits? Air fryer. Mac and Cheese Balls? Air fried. I even use the air fryer to make Chocolate Chip Cookies! It's a lifestyle.
Here's why we can't get enough of this air fryer chicken recipe:
A lighter way of frying. This air fryer popcorn chicken crisps up perfectly, minus the excess grease and oil of deep frying (not to mention, clean up is easy, since there aren't any oil splatters to wipe off the walls afterward).
Ready in under 20 minutes. Having an air fryer in the house is a treat on weeknights. These chicken bites come out crazy-crispy in a fraction of the time that it would take in the oven.
Great for beginners. This is an easy air fryer recipe that anyone can make. Simply coat the chicken, pop it into the fryer, cook, flip, and serve.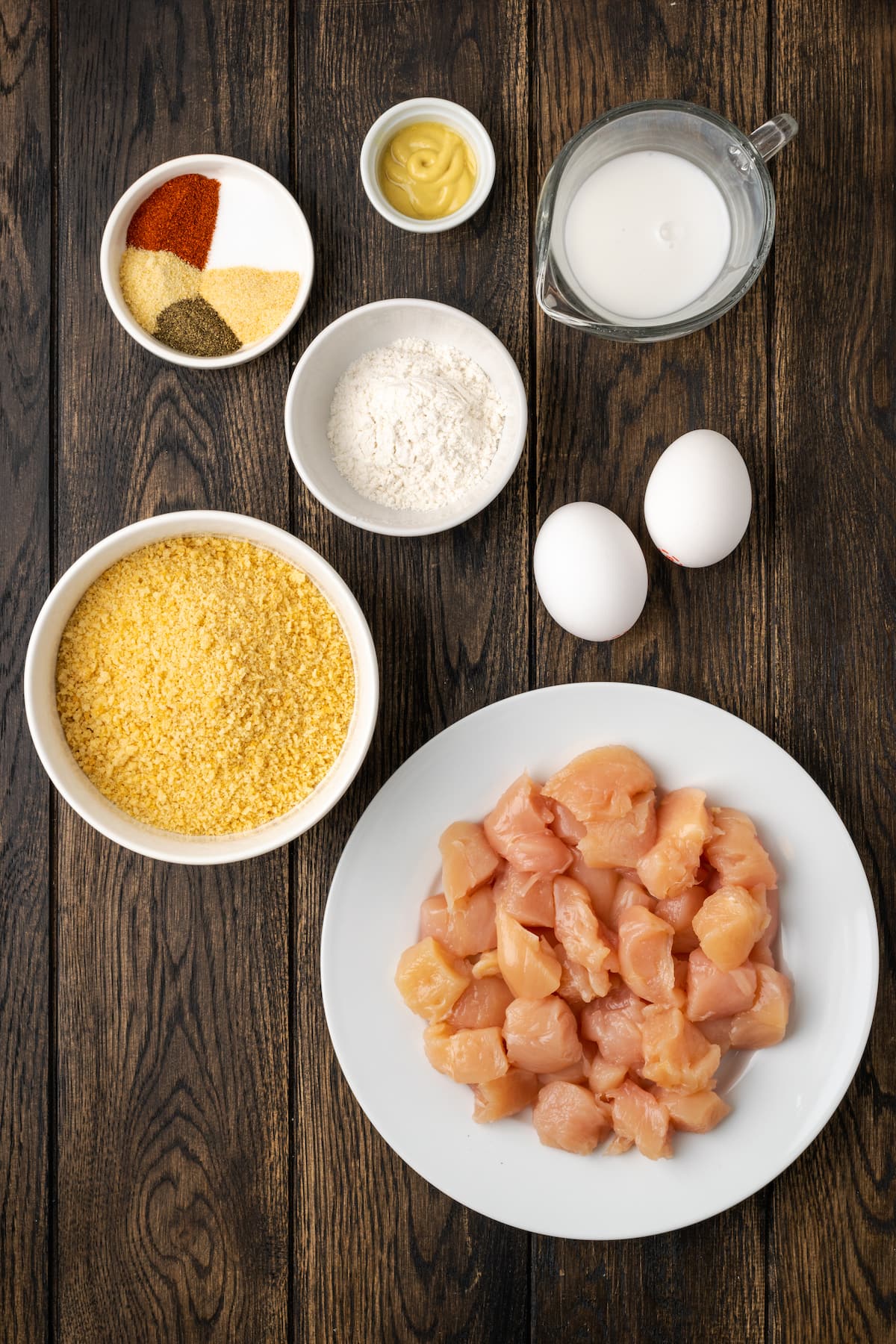 What You'll Need
Below is a quick summary of the ingredients needed to make crispy popcorn chicken in the air fryer. Make sure to check out the full recipe details in the recipe card further on.
Chicken: Boneless skinless chicken breast is best for this recipe. Boneless chicken thighs will also work.
Flour and Bread Crumbs: You'll need both for the breadcrumb coating. For popcorn chicken, I love Panko as the crumbs are larger and crunchier when they come out of the air fryer.
Seasonings: You'll season your breadcrumbs with a combination of salt, paprika, garlic powder, onion powder, and black pepper.
Eggs and Milk: An egg wash helps the Panko adhere to the chicken. You can use any kind of milk you prefer, whole milk, 2%, or skim. For a tangier flavor, you can even use buttermilk (store-bought, or homemade).
Dijon Mustard: I love the creamy, zesty flavor that comes from adding Dijon mustard to the egg wash. If you don't have Dijon, you can use regular yellow mustard instead. You may want to use slightly less, as the flavor will be stronger.
Olive Oil Spray: Air frying recipes call for significantly less oil than traditional frying methods. You can buy olive oil spray from the store, or add your own olive oil to a spray bottle. Just a few spritzes is all it takes to crisp up the outside of the chicken as it cooks.
How to Make Popcorn Chicken in Your Air Fryer
Ready to "fry" some chicken? Before you start, you'll want to dice up your chicken breasts into nugget-sized chunks. This recipe makes about 60 chicken nuggets, so there should be more than enough to feed a hungry crowd. Now, let's get this recipe poppin'.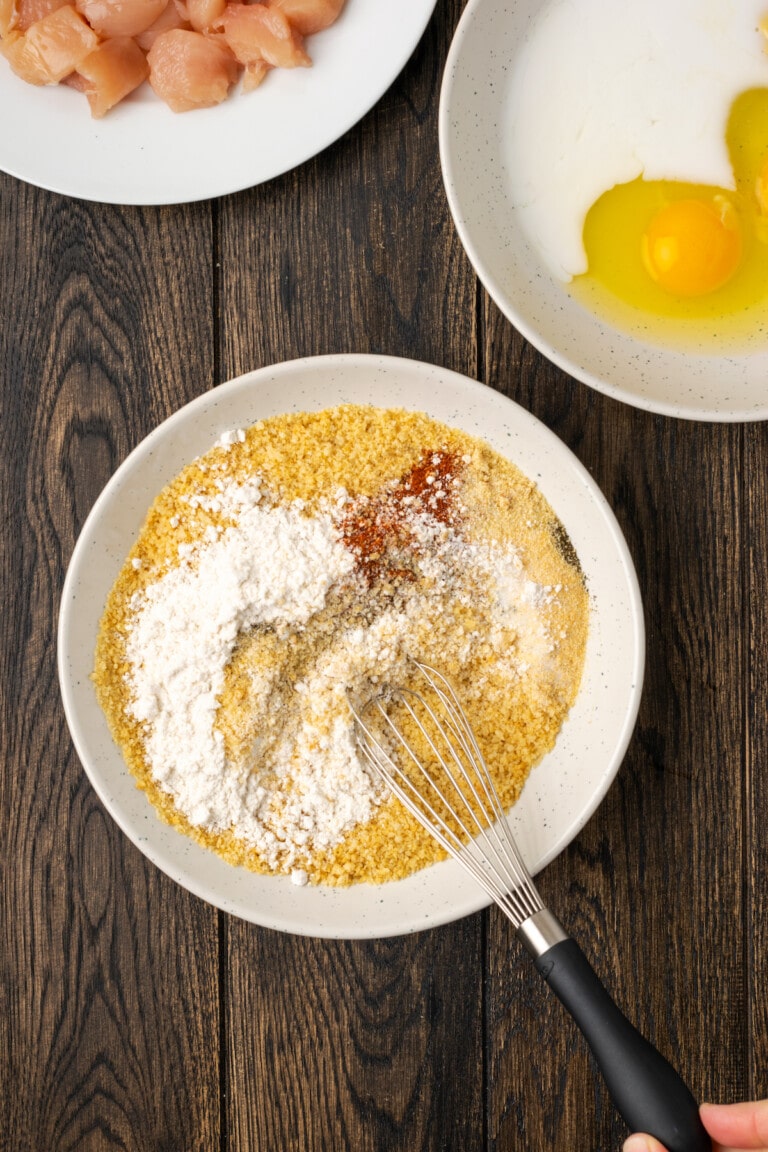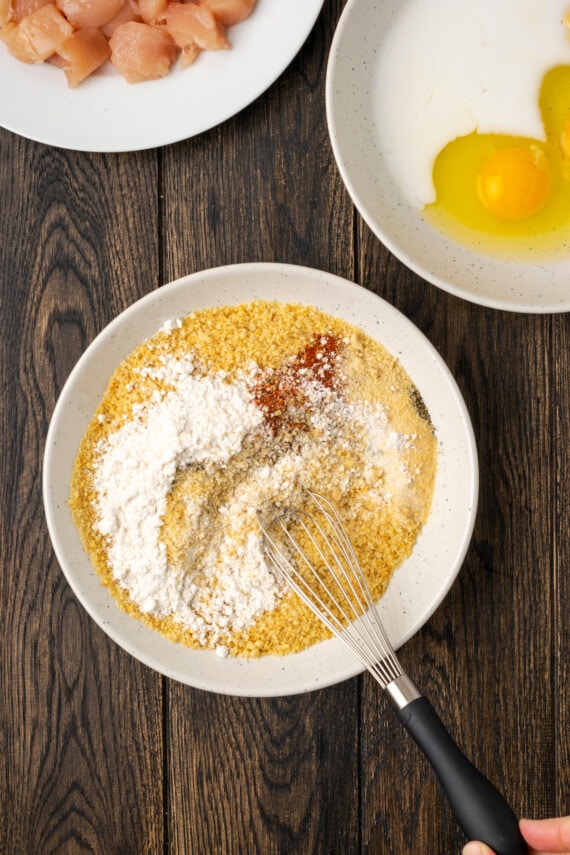 Prepare the Seasoned Breadcrumbs: First, in a shallow dish, combine Panko with flour and a teaspoon of salt, along with the rest of the seasonings.
Prepare the Egg Wash: Next up, in a separate dish, whisk together the eggs with some milk, Dijon, and a half-teaspoon of salt.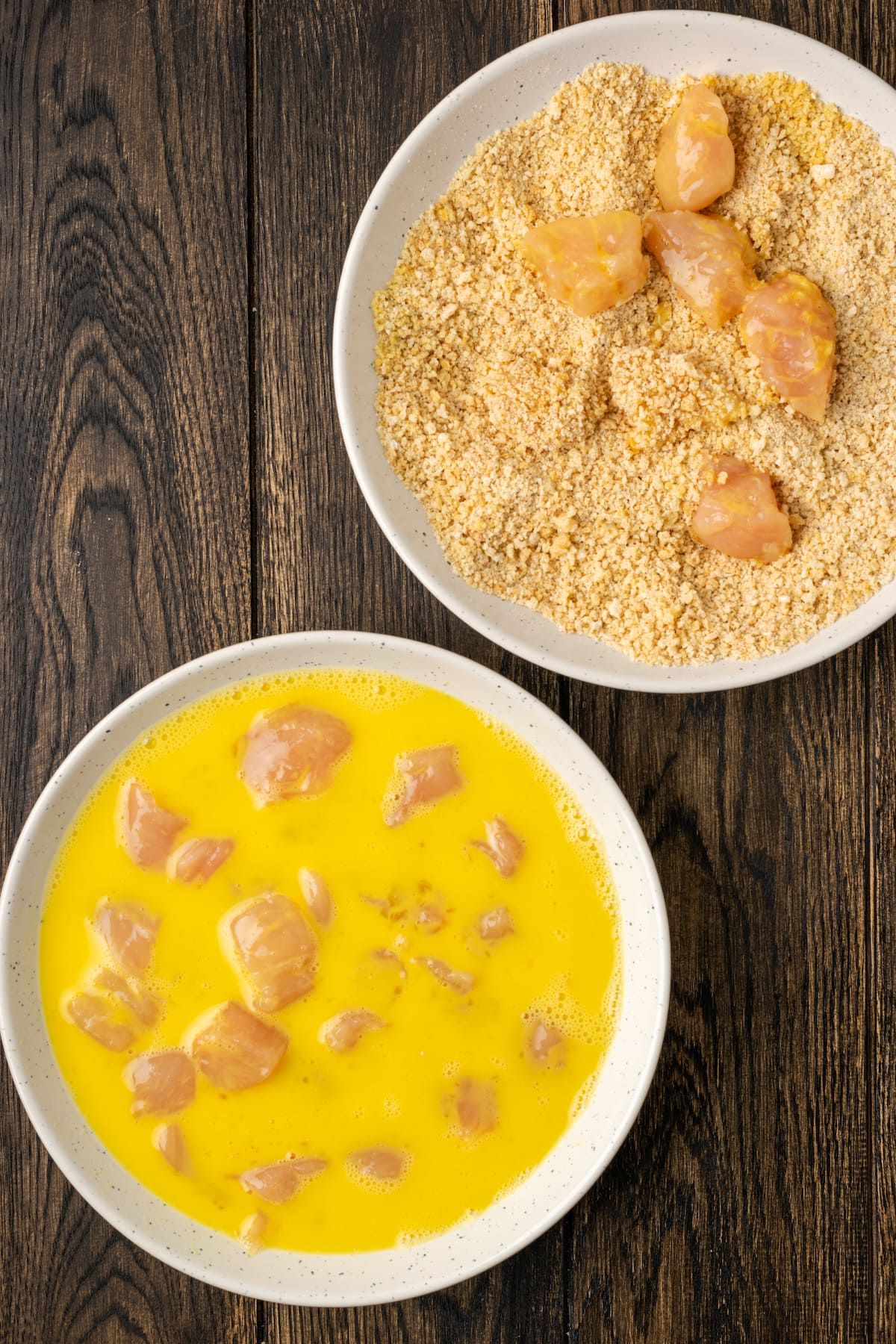 Coat the Chicken: Coat your chicken pieces first in the egg wash, then in the Panko mixture. Use your hands to really press the Panko over all sides of the chicken nuggets, and transfer the coated nuggets to a baking sheet.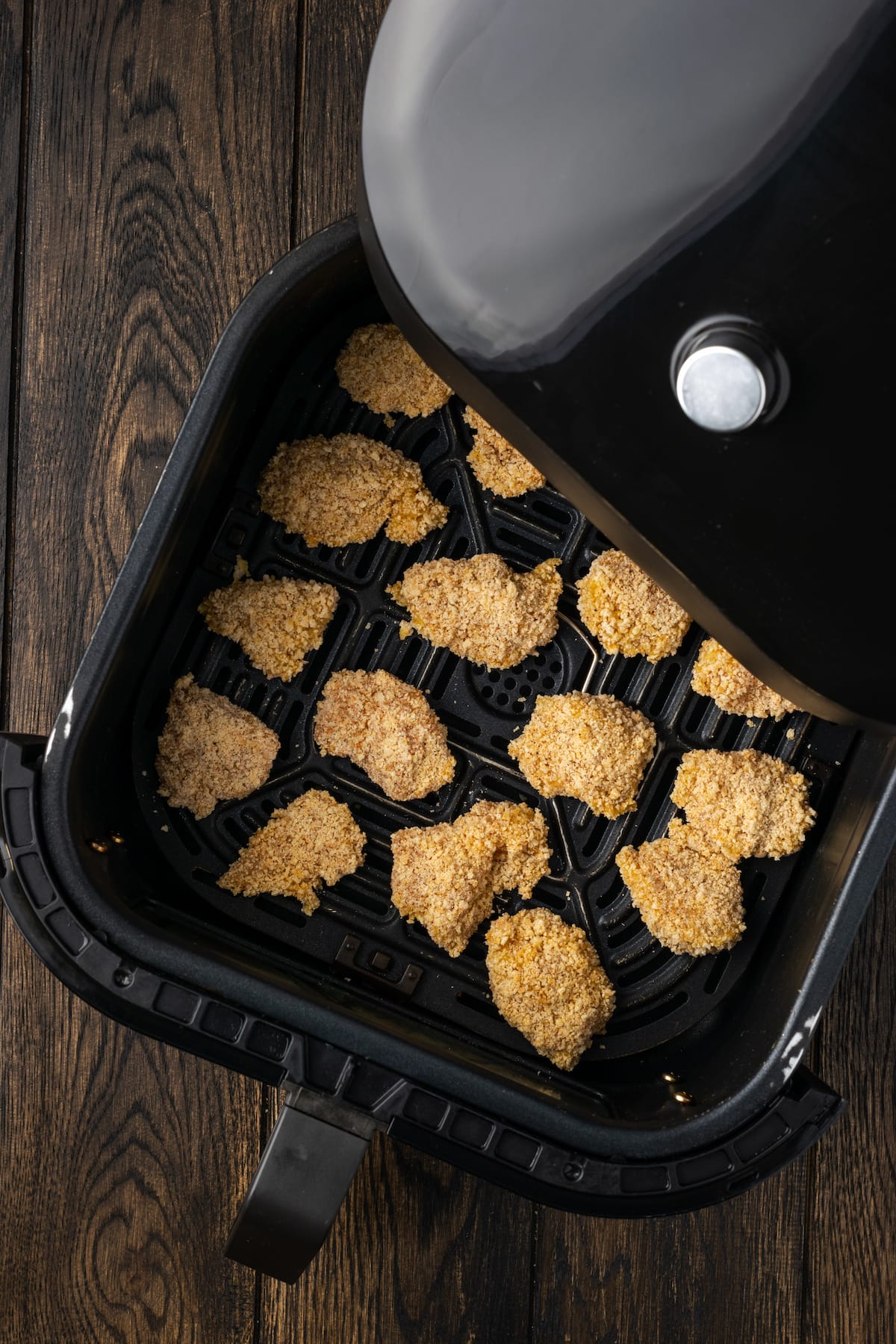 Air Fry: Once all the chicken is coated and your air fryer is preheated to 390ºF, add a batch of chicken to the air frying basket and spritz them with olive oil spray (not non-stick cooking spray, see the tips below). Cook each batch for 8 minutes, turning halfway through.
Serve: Once all the chicken has cooked through, it's time to serve! This crispy popcorn chicken makes a great appetizer or main, perfect for family dinners or parties.
Can I Make Baked Popcorn Chicken Instead?
Definitely. If you don't have an air fryer, this recipe is easy enough to translate to the oven! Here's how to do it:
Preheat the oven to 400ºF and get a baking sheet ready and lined with parchment paper.
Arrange the coated chicken on the baking sheet.
Bake for about 20 minutes (or until the internal temperature of the chicken is 165ºF), flipping the nuggets halfway through.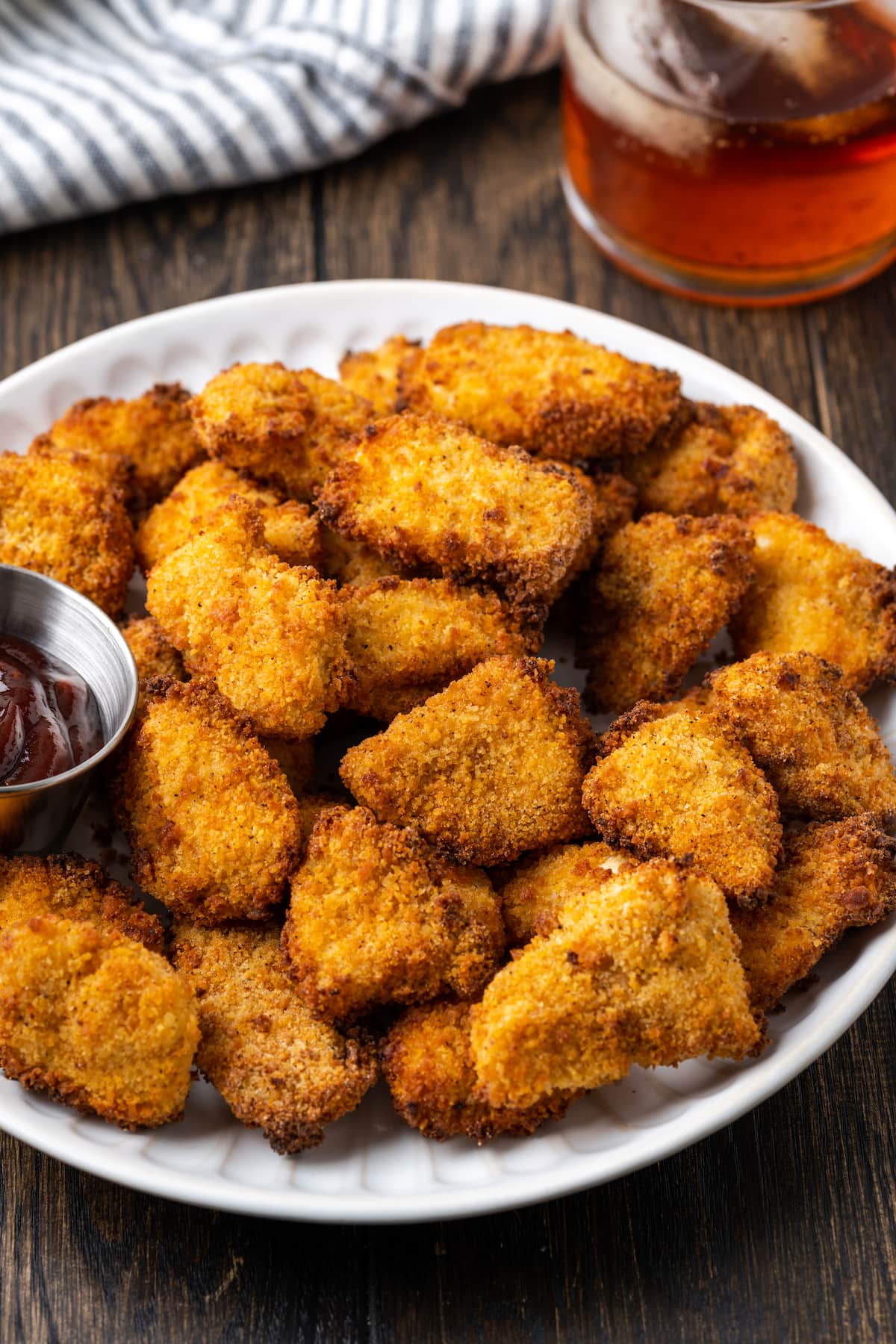 Tips and Variation Ideas
What's the secret to perfectly crispy air fryer popcorn chicken? I've included some notes and variation ideas below. Check out my tutorial for more helpful air frying tips and tricks.
Avoid aerosol cooking sprays. Now, for a little Air Fryer 101: Aerosol non-stick sprays, like PAM, can damage the non-stick coating that's already on your air fryer basket. Avoid using cooking sprays, and instead use an olive oil spray when air frying, or add olive oil to a spritzer bottle.
Don't overcrowd the air fryer basket. Make sure to leave enough space for the hot air to circulate between the chicken pieces for the crispest results. Work in batches and let those pieces breathe!
How to tell when the chicken is done cooking: Your popcorn chicken is done when the internal temperature is at a thoroughly cooked 165ºF. Use a kitchen thermometer to check.
Scale the recipe. This popcorn chicken recipe makes a lot of nuggets! Feel free to scale down or double up the ingredients to suit your needs.
Make spicy crispy popcorn chicken. For some extra heat, mix some cayenne pepper or crushed red pepper flakes into the breadcrumb coating.
Add dried herbs. In addition to the spices already in the coating, you can add dry herbs like thyme, basil, oregano, or a spoonful of Italian seasoning blend.
Use cornflakes for extra crunch. Crush up cornflake cereal to mix in with the Panko for an even crunchier texture. This is easy to do by placing the cereal inside a large zip-top bag and rolling over it a few times with a rolling pin.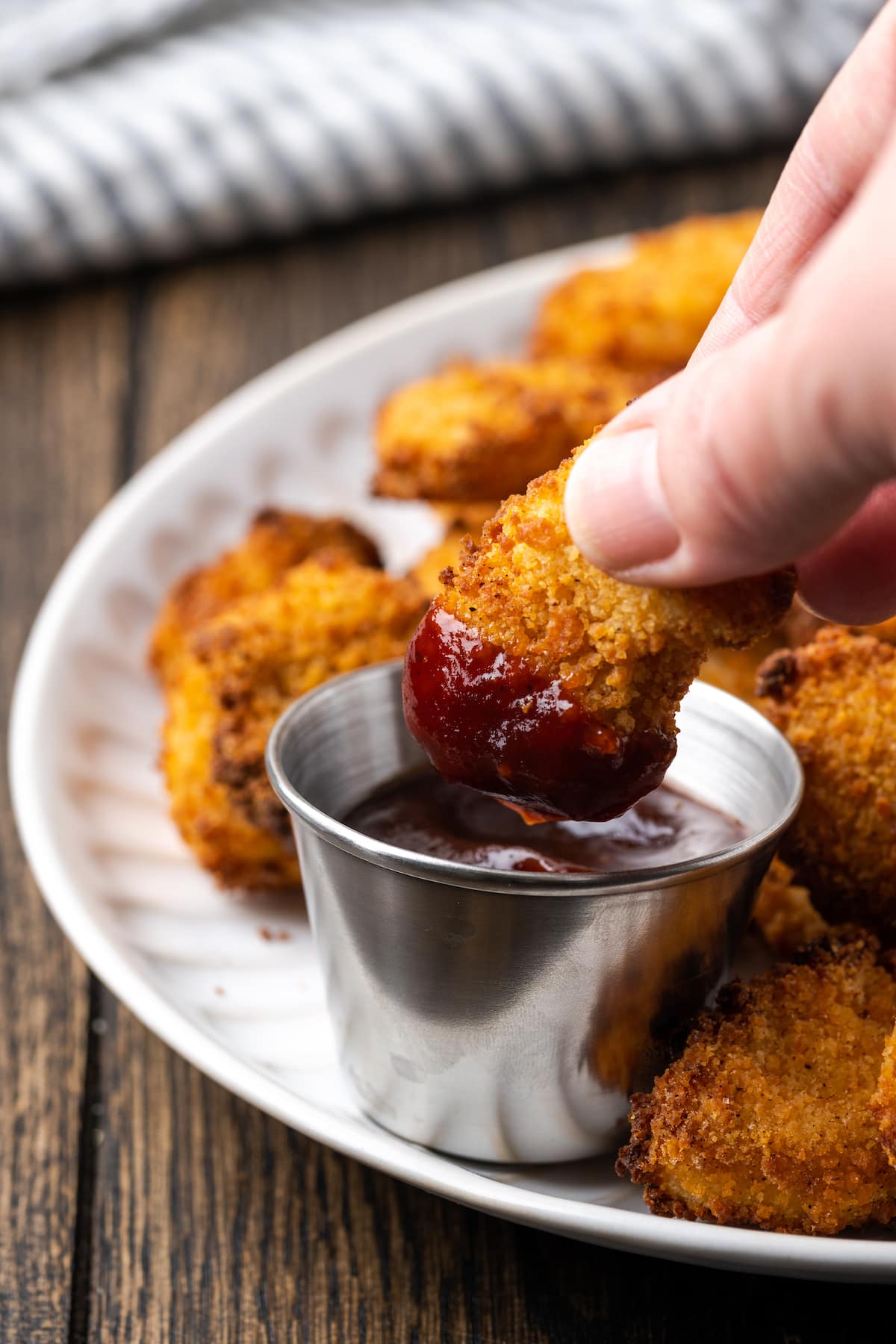 Serving Suggestions
We love dunking our crispy chicken in The Best Chicken Dipping Sauce (seriously, it's the BEST!) or my easy Homemade BBQ Sauce. But the serving possibilities are endless. Enjoy your air fryer popcorn chicken with one or more of these easy homemade dipping sauces:
Buffalo Sauce
Tzatziki
Marinara Sauce
This easy popcorn chicken recipe is perfect to make as a party snack alongside more appetizer ideas like Mini Corn Dogs, Pigs In A Blanket, and Philly Cheesesteak Sliders.
For dinner, I'll serve popcorn chicken with a side of Beach Bread and veggies, like a green salad, steamed broccoli, Air Fryer Asparagus, or Instant Pot Corn on the Cob.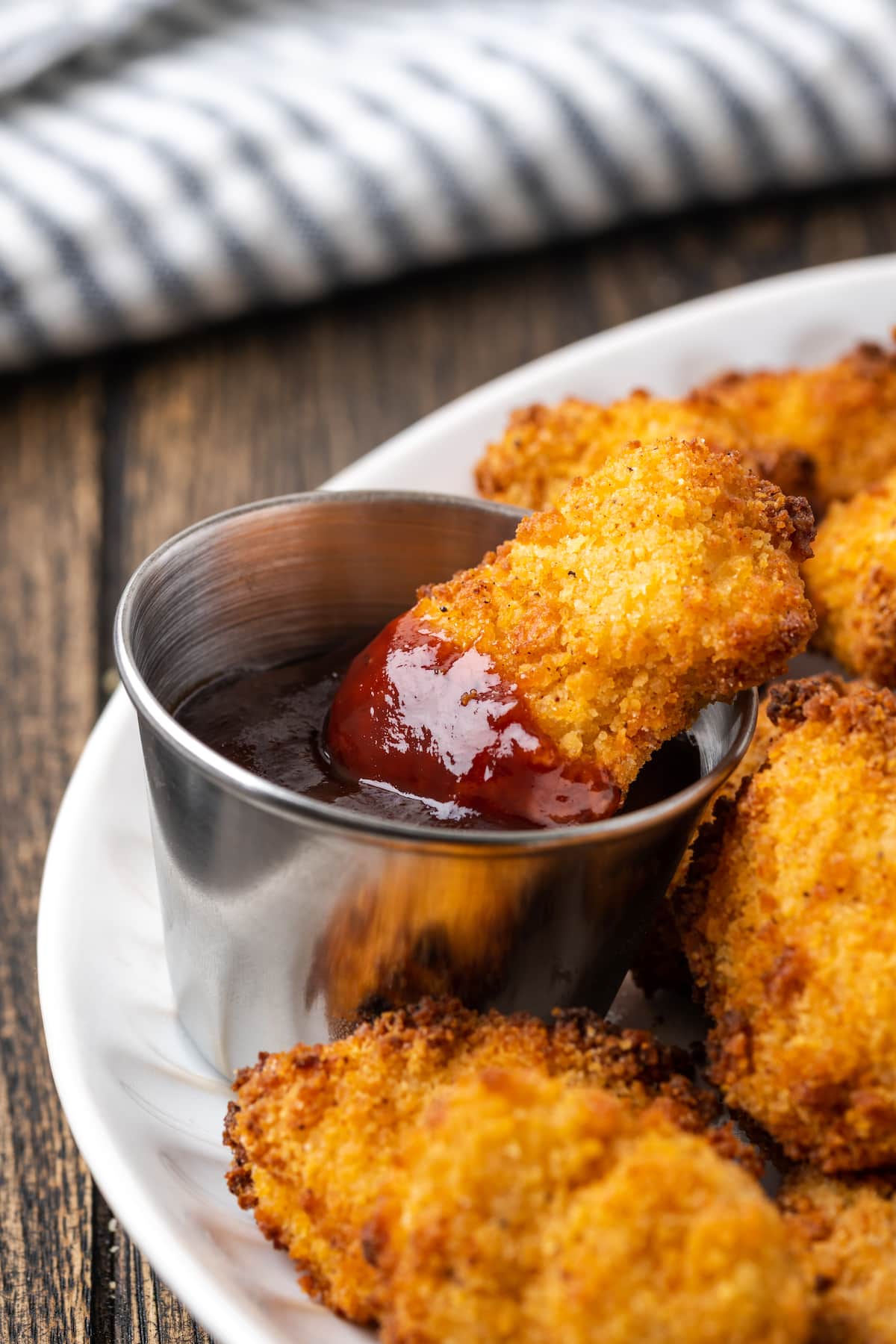 How to Store and Reheat Air Fryer Chicken
This popcorn chicken can be stored airtight in the fridge for up to 3 days. Reheating leftovers is as easy as popping them back into the air fryer at 280ºF, for about 7 minutes or until warmed through.
Leftover popcorn chicken is also great to enjoy cold over a Couscous Salad, in chicken wraps, or as a snack dipped in Ranch Dressing.
Can I Freeze Popcorn Chicken?
Yes! Cooked air fryer popcorn chicken is freezer-friendly and ideal for defrosting and reheating. Once the chicken bites have cooled completely, store them airtight in a freezer bag or freezer-safe container. Defrost the popcorn chicken in the fridge before reheating.
Print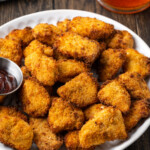 Crispy Air Fryer Popcorn Chicken
Author:

Prep Time:

10 minutes

Cook Time:

8 minutes

Total Time:

18 minutes

Yield:

60

nuggets

1

x

Category:

Dinner, Appetizer

Method:

Air Fryer

Cuisine:

American
---
Description
Crispy Air Fryer Popcorn Chicken is irresistibly crunchy on the outside and juicy on the inside, ready in 20 minutes from start to finish! This is an easy air fryer chicken recipe to make for dinner or as an appetizer.
---
1 1/2

pounds Boneless Skinless Chicken Breast

1/4 Cup

All Purpose Flour

1 1/2 Cups

Panko Bread Crumbs

1 1/2 teaspoon

Salt, divided

1 teaspoon

Paprika

1 teaspoon

Garlic Powder

1 teaspoon

Onion Powder

1/2 teaspoon

Black Pepper

2

Eggs

1/4 Cup

Milk

2 teaspoon

Dijon Mustard
Olive Oil Spray
---
Instructions
Cut the chicken breasts into 1?2" wide strips. Then cut each strip into 2-3 nugget-sized pieces.
Combine the flour, panko, 1 teaspoon of salt, paprika, garlic powder, onion powder, and black pepper in a shallow dish. Whisk together until well mixed.
In a second shallow dish, combine the eggs, milk, dijon mustard, and the remaining 1/2 teaspoon salt. Whisk together until smooth.
Add the chicken pieces to the egg mixture. Stir to coat them well.
Working a few at a time, move the nuggets to the panko mixture. Coat all sides of the nuggets with panko, pressing it in to make a nice thick coating.
Move coated nuggets to a baking sheet. Repeat until all the nuggets are coated.
Preheat the air fryer to 390 degrees F.
Once the air fryer is to temperature, place a batch of nuggets into the air fryer, leaving space between them for airflow.
Lightly spray the nuggets with olive oil spray.
Cook for 8 minutes, turning halfway through and spraying the second side after you turn.
Repeat with the remaining nuggets until all are cooked.
Ensure the chicken has reached an internal temperature of 165 degrees before serving.
---
Notes
Store the leftover nuggets in an airtight container in the refrigerator for up to 3 days. Reheat in the air fryer at 280 degrees F for 7 minutes.
Keywords: air fryer chicken nuggets, air fryer chicken recipes, crispy chicken
Want To Save This Recipe?
Find more recipes like this:
More Easy Air Fryer Recipes
PIN for later: