Make homemade crunch wraps loaded with savory taco meat, melty cheese, tostada, sour cream, veggies, and more wrapped up inside a pan-fried flour tortilla. This copycat recipe is so easy to make and just as satisfying as the original!
Looking for more copycat versions of your take-out favorites? Try my homemade Popeyes chicken sandwich!
Easy Homemade Crunch Wraps
These taco-licious beef crunch wraps are the stuff that family dinners are made of. Everyone gets involved in assembling their own "Crunchwrap Supreme" with their choice of toppings and sauces. It's so much fun and ever since I started making these, they've been on repeat.
Don't get a girl wrong, the Crunchwrap Supreme from Taco Bell is good enough…but the homemade version? Game changer! The gooey cheese? The crunch? Along with being absolutely delicious, this homemade version is healthier and money-saving. Two things that I can definitely get behind!
Why You'll Love This Copycat Crunchwrap Recipe
Skip the drive-thru. You don't need to make a special trip to Taco Bell to curb that craving for taco crunch. You can make your favorite cheesy, beefy crunch wrap right in your own kitchen, with a glass of wine (or margarita) in hand.
Higher Quality Ingredients. You'll use lean ground beef, plus choosing what you add into your crunch wrap gives YOU control!
Affordable. This crunch wrap recipe is crazy-easy to make at home with inexpensive ingredients.
Customizable. Homemade gives you the freedom to adapt your crunch wraps any way that you'd like. Use whole wheat tortillas, change up the kind of cheese, and customize the filling with your favorite meat, veggies, and add-ins. The limit does not exist. See further on for ideas!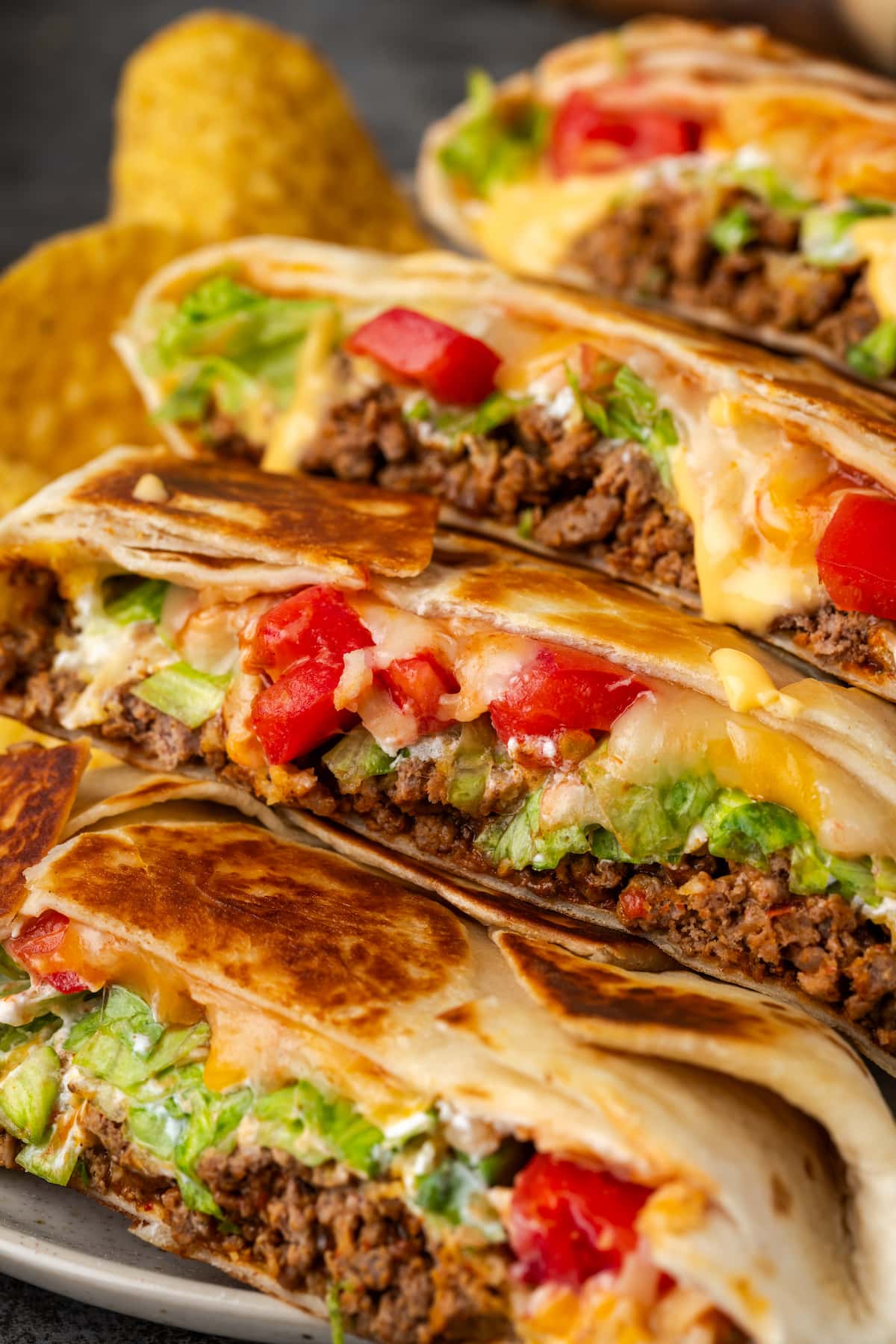 What Is a Crunch Wrap?
If you've never had one, the original Crunchwrap Supreme is an iconic Taco Bell fast food meal. It's basically all of your favorite taco ingredients layered and wrapped inside a flour tortilla, then grilled until golden. Even if you've never set foot inside a Taco Bell, I'm sure that you can appreciate seasoned beef, melty nacho cheese, lettuce, tomatoes, and sour cream coming together inside a toasty tortilla pocket, complete with a crispy tostada shell for crunch. Luckily, this homemade version achieves all that, and then some.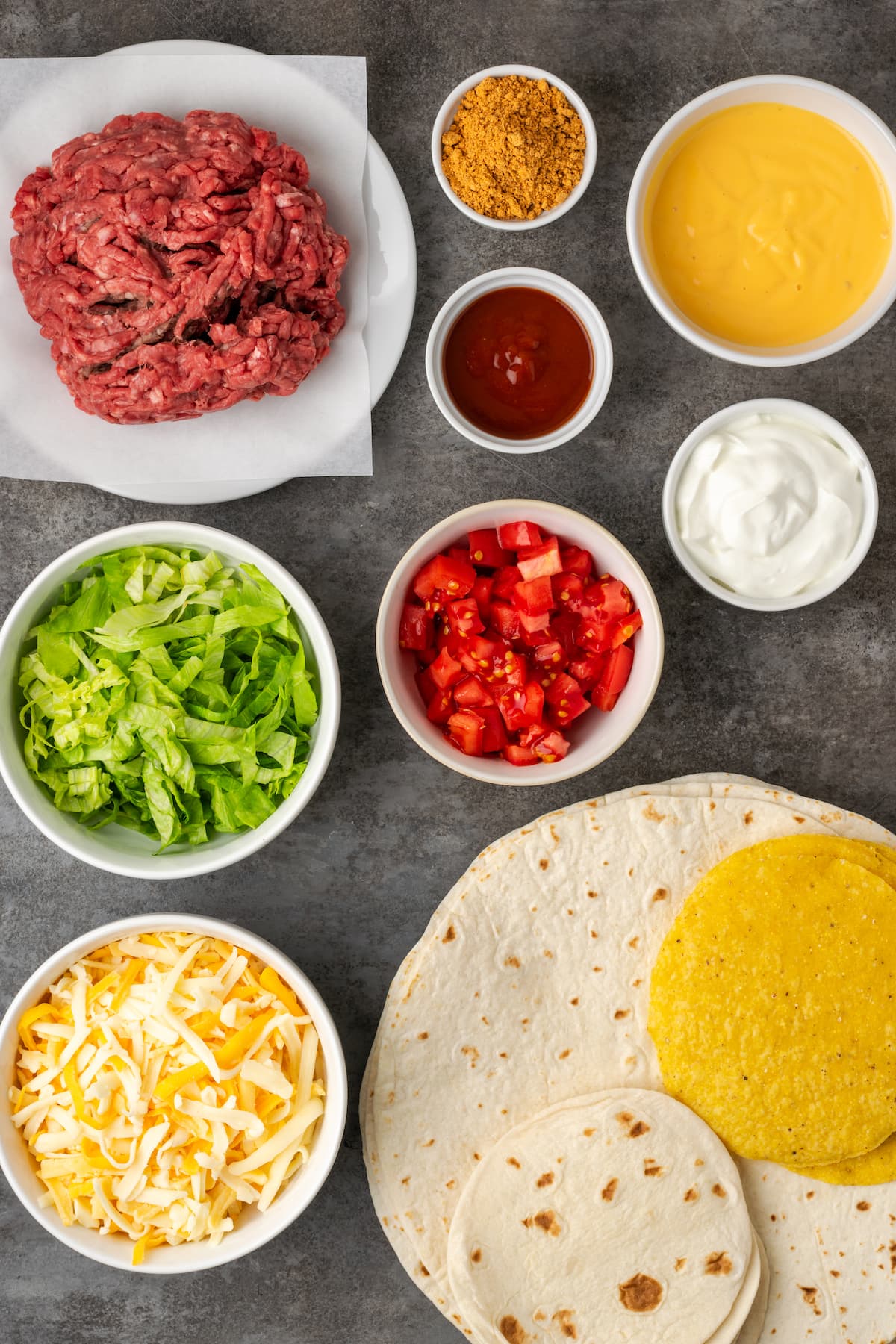 Ingredients You'll Need
Here are the key ingredients you'll need for a homemade crunch wrap. Be sure to scroll to the recipe card below the post for the full ingredient amounts and recipe instructions.
Ground Beef: You'll need about 1 pound of lean ground beef. Or, you can use another kind of ground meat that you'd prefer. For a leaner option, try ground chicken or turkey. I include more variation ideas later on.
Taco Seasoning: Use a packet of your preferred store-bought taco seasoning blend, like Old El Paso or similar. There are also plenty of recipes out there for homemade taco seasoning that you can make with ingredients like chili powder, cumin, paprika, and garlic powder.
Tortillas: For a crunch wrap, you'll need large flour tortillas (like the kind you'd use for burritos) for wrapping around the filling, as well as small, taco-sized flour tortillas.
Nacho Cheese: Your favorite jarred nacho cheese sauce or queso, warmed up for drizzling over the ground beef layer.
Tostada Shells: These are flat, fried corn tortillas that you'll find with the other taco ingredients in the store, or in the international food aisle.
Fillings: Sour cream, shredded lettuce, and chopped ripe tomatoes, along with shredded cheese (cheddar or a Mexican blend). Crunch wraps are a great way to use up leftover taco toppings!
Taco Sauce: You'll find taco sauce with the other taco supplies in the grocery aisle. It's a tomato-based sauce (smoother than salsa) that includes ingredients like vinegar, sugar, and spices. The perfect flavor booster! Enchilada sauce is another good option.
Oil: Adding a bit of oil when toasting the crunch wraps in the pan helps with sticking.
Let's Make Crunch Wraps!
The secret to the perfect crunch? Keeping the warm ingredients (like the ground beef) separate from the cold ingredients (lettuce, tomatoes, etc.) with a crispy tostado shell. Here's how to make a crunch wrap: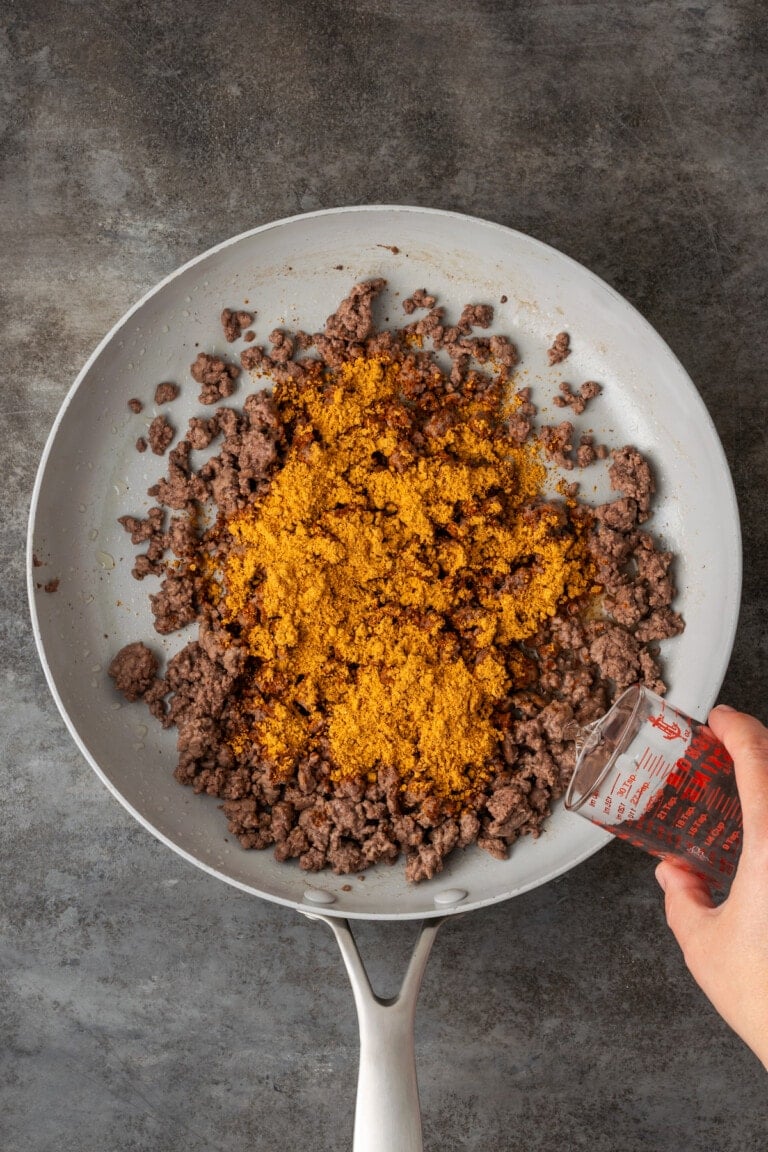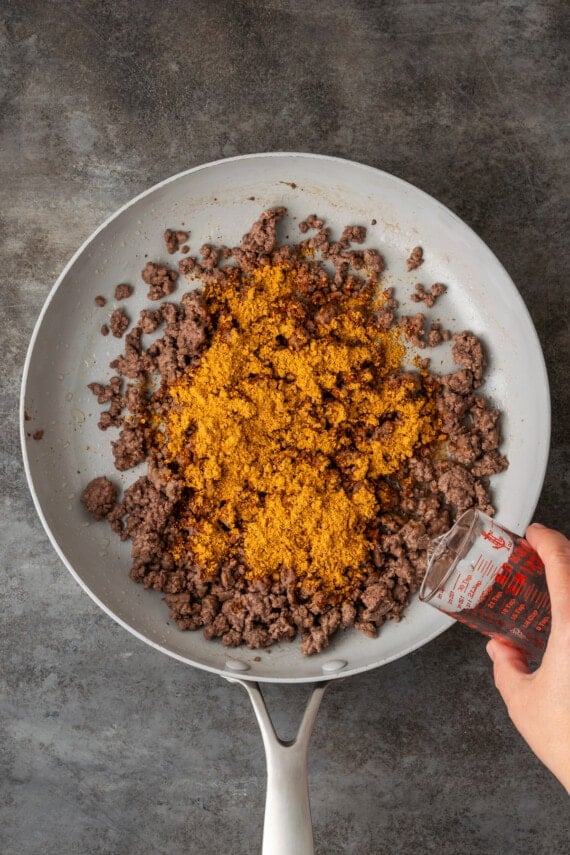 Cook the ground beef. First, brown the beef in a skillet and sprinkle in the taco seasoning. Next, add water, and let the mixture cook for a couple of minutes while the liquid absorbs. Transfer the taco meat to a bowl for now. You can use the same pan to "grill" the finished crunch wraps, simply give it a wipe down with a paper towel to remove any grease.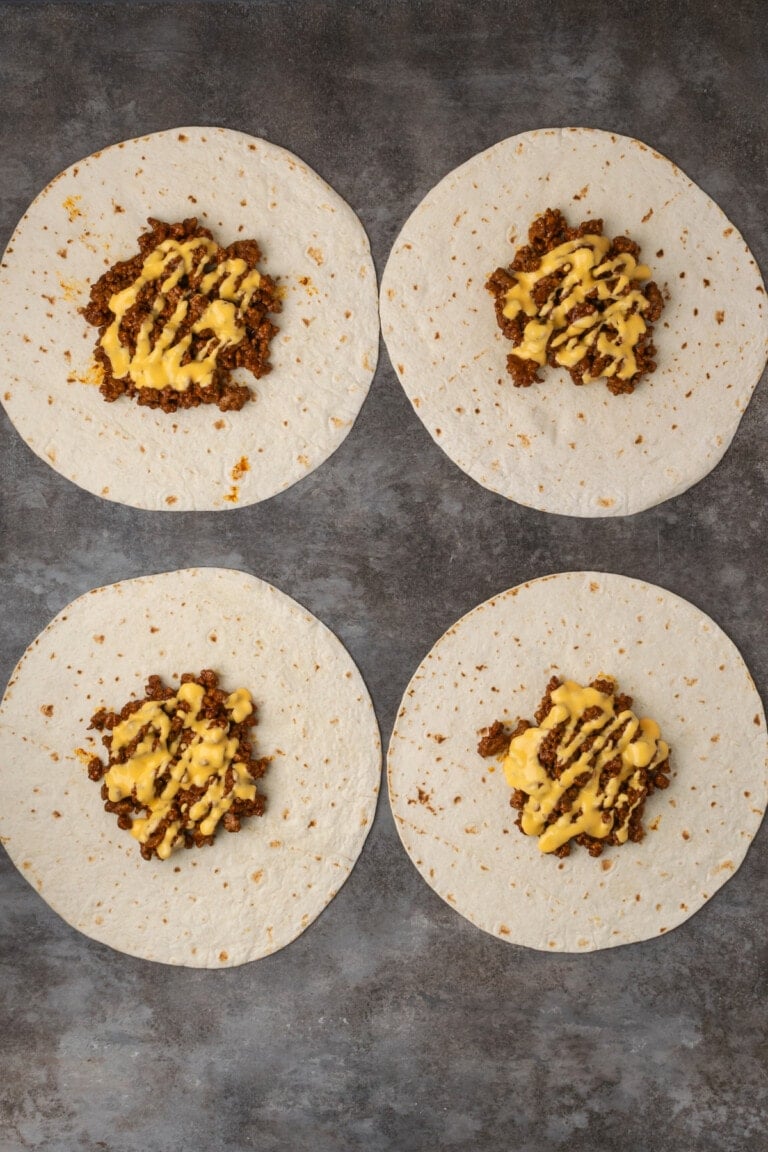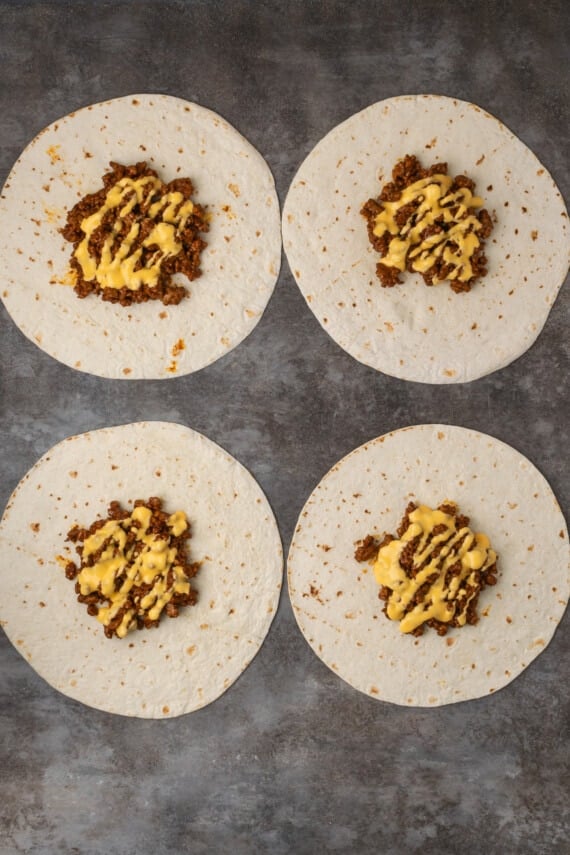 Assemble the wraps. On a clean countertop, lay out 4 large flour tortillas. Add ground beef to the middle of each tortilla, followed by a drizzle of nacho cheese. Top this with a tostada spread with sour cream, then lettuce, tomatoes, and a sprinkle of shredded cheese. Finally, drizzle over the taco sauce.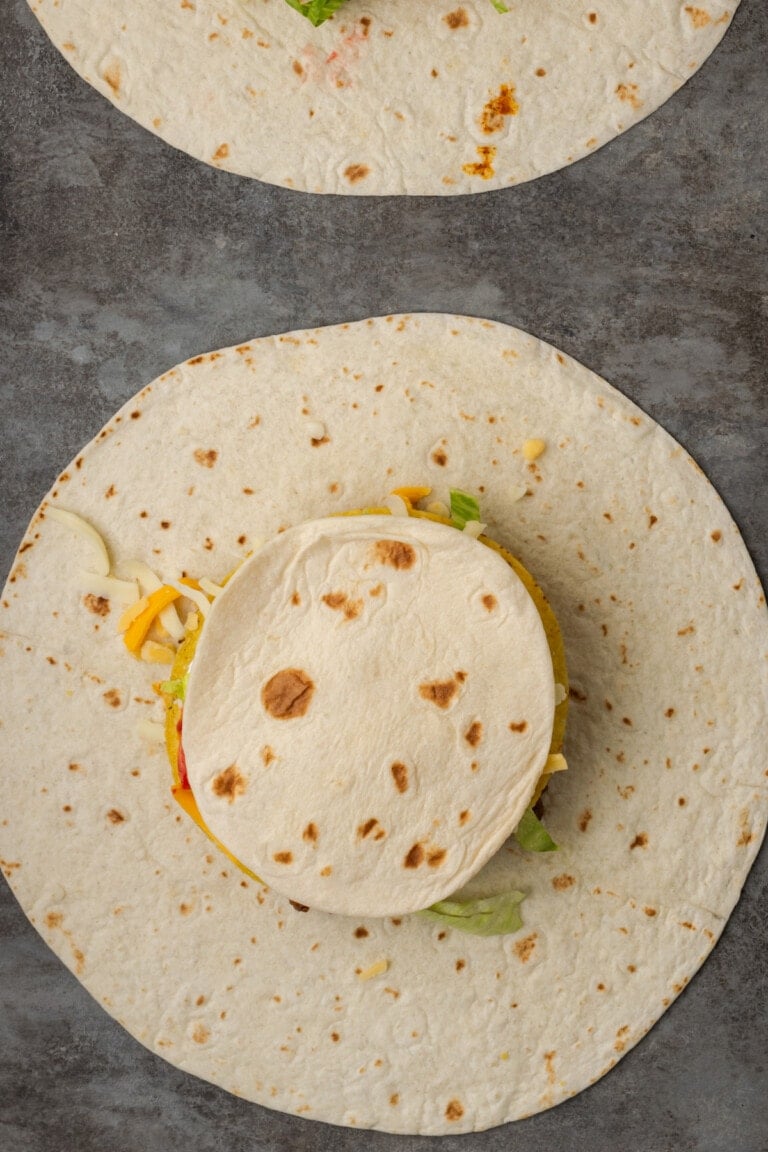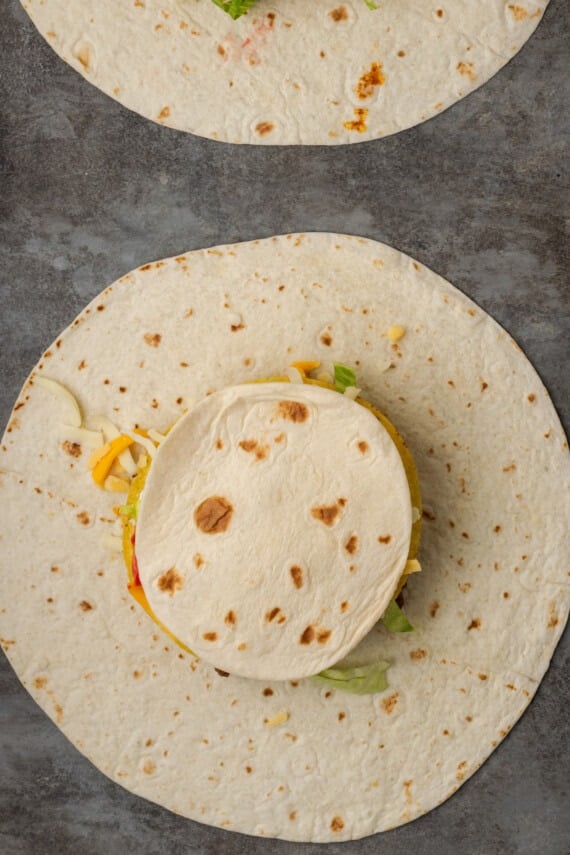 Fold the crunch wrap. Before you fold your crunch wraps closed, top each assembled wrap with a small flour tortilla. Next, fold the larger, bottom tortilla tightly up around the filling, bringing it toward the center of the smaller tortilla. Continue folding the large tortilla up around the small tortilla, creating pleats as you go (see photo). Once sealed, flip the crunch wrap over to hold the tortillas closed and in place.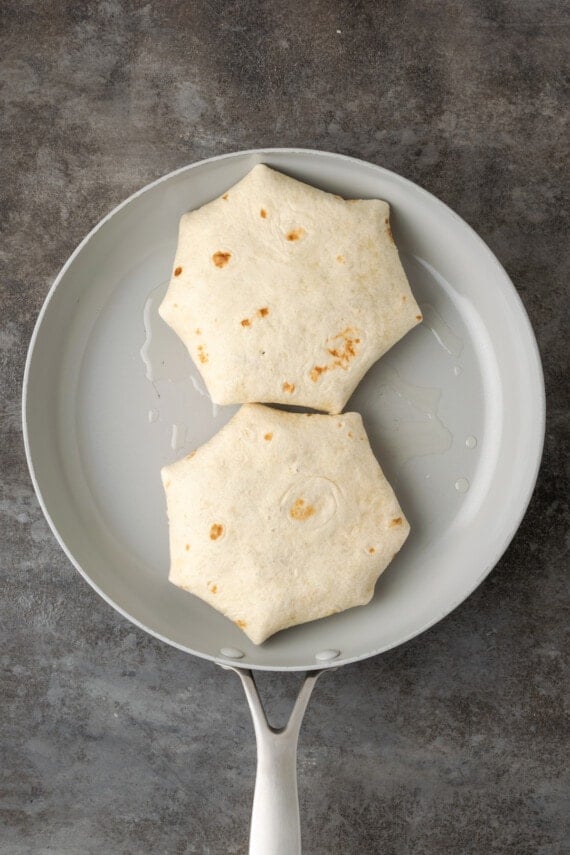 Toast the wraps. Lastly, working in batches of 2, toast the crunch wraps in your skillet with a bit of hot oil. Place the crunch wraps seam-side-down to start, and flip after 3-4 minutes to toast the other side. Once your crunch wraps are browned and golden, slice them in half and serve!
Tips for Success
This crunch wrap recipe is guaranteed to become a new favorite on our dinnertime roster! I can't wait for you to try it. In the meantime, here are some final tips:
Warm the tortillas. This recipe works best with large flour tortillas, as they're more malleable and easy to fold without breaking. If you find that yours are a bit stiff, sprinkle the tortillas with a bit of water, cover with foil, and warm them in the oven before assembling the crunch wraps. The steam helps them to soften further.
Make your own taco seasoning. In place of store-bought taco seasoning, make your own by combining 1 tablespoon of chili powder with ½ teaspoon each cumin, paprika, garlic powder, onion powder, oregano, salt, and pepper, along with a ¼ teaspoon of red pepper flakes or cayenne (or more to taste).
Don't overload the crunch wraps. Try to get your fillings in even layers. This makes the crunch wraps so much easier to fold!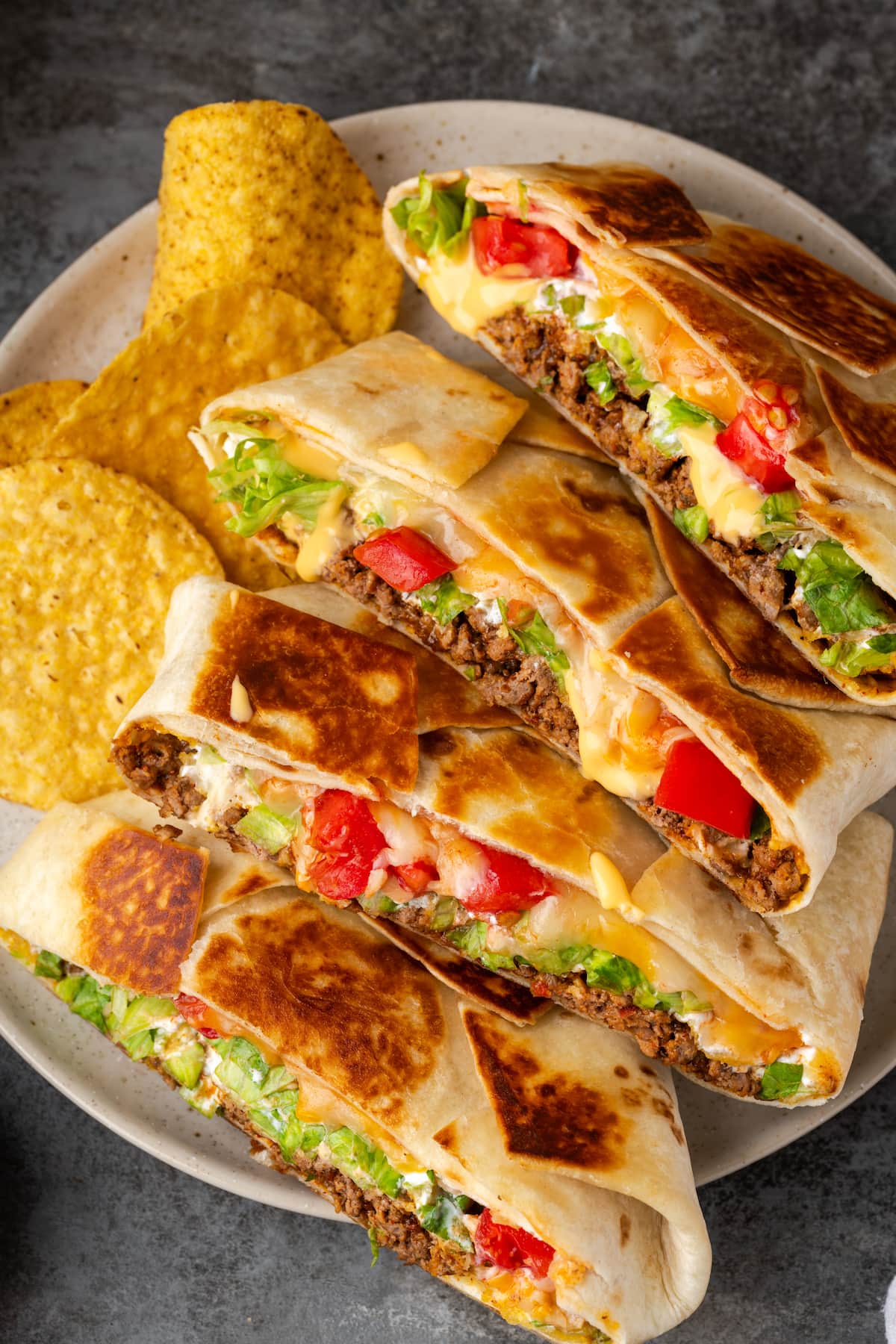 Common Questions
What's in a Taco Bell Crunchwrap Supreme?
The Crunchwrap Supreme is made with ground beef, nacho cheese, sour cream, tomatoes and lettuce, and cheese. The signature "crunch" comes from the tostada shell in the middle of the layers.
How much filling should I add to my crunch wrap?
It's easy to get carried away with fillings (speaking from experience), so you can be modest with what you add to your crunch wraps. Fill them similarly to a taco. They'll still taste great if they're busting at the seams, but things might get messy.
Can I make a vegetarian crunch wrap?
Absolutely! Swap out the beef for seasoned chickpeas, lentils, or your favorite plant-based mince. See below for more easy variations.
Variation Ideas
Just when you thought a homemade crunch wrap couldn't get any better? Allow me to share: recipe variations. One of the best things about this recipe is how easily you can change up the ingredients to create your perfect crunch wrap.
Whole wheat tortilla. As a healthier option, swap regular flour tortillas for whole wheat.
Chicken. Instead of beef, fill your crunch wraps with ground chicken, or shredded chicken. My beergarita pulled chicken or salsa verde chicken would be awesome!
Pork. Fill your crunch wraps with juicy Mexican-style pork carnitas.
Vegetarian. In place of ground beef, make vegetarian crunch wraps with seasoned beans or lentils, chickpeas, meatless mince, or a medley of chopped vegetables. Saute them in a pan with seasoning first.
More add-ins. Other good options are refried beans, sliced avocado, black olives, or sauteed veggies like mushrooms, bell peppers, and onions. You can even sprinkle in some chilies.
Different cheese. In place of shredded cheese, try crumbled Mexican Cotija cheese, Pepper Jack, or queso fresco.
Breakfast. Make a breakfast crunch wrap and trade ground beef for scrambled eggs, topped with crumbled bacon. The rest of the ingredients can stay the same!
What to Serve With Crunch Wraps
Turn your homemade crunch wraps into a family-style dinner, served with zesty chicken enchiladas and other fun Mexican-inspired dishes. Try these ideas: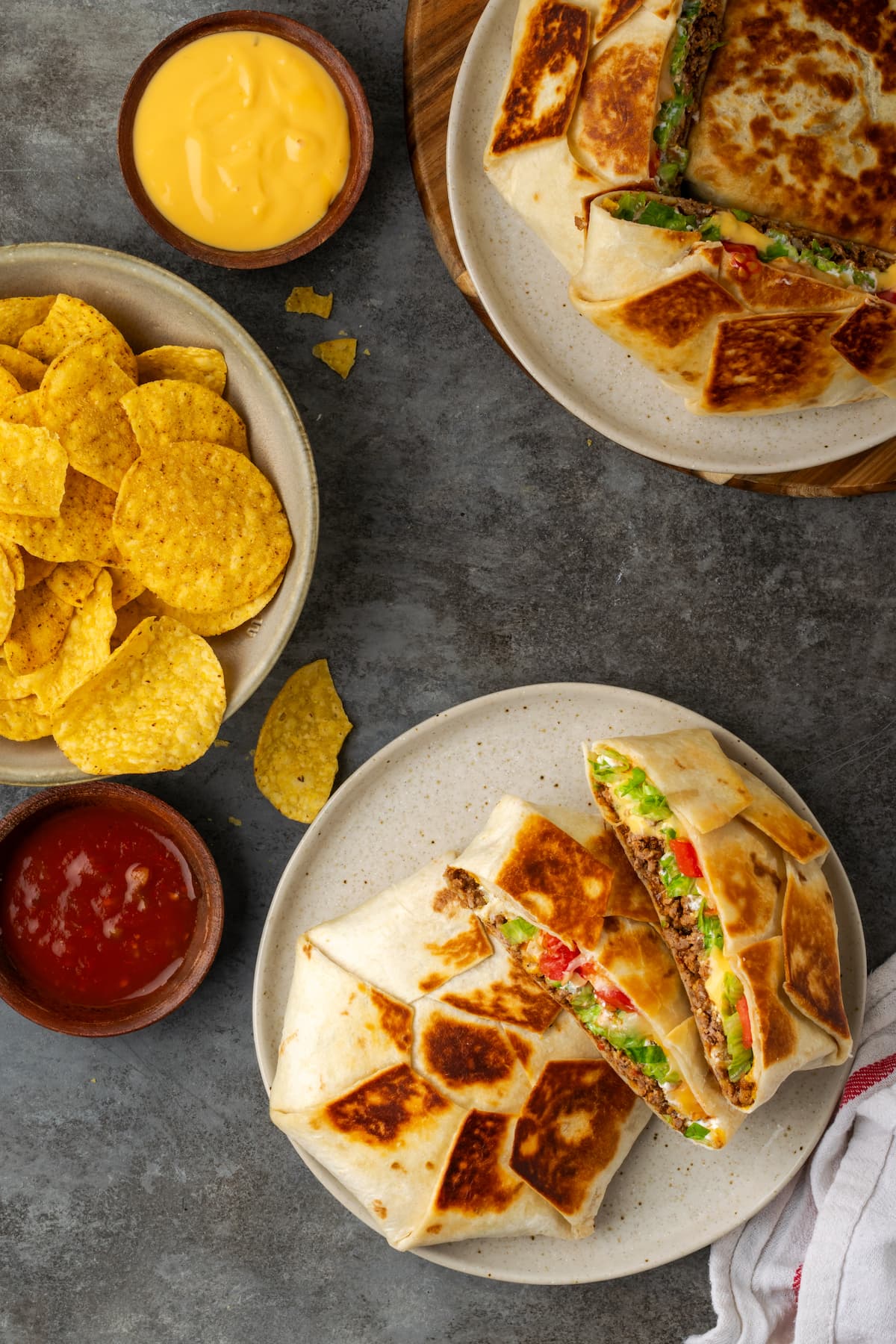 Storing and Reheating Leftovers
Fridge. These crunch wraps are best enjoyed fresh from the pan, while the lettuce is crisp and the tortilla is crunchy. You can store leftovers airtight in the fridge, though I recommend reheating them within 1-2 days. Reheat your crunch wraps in the microwave, or on the stovetop.
Freezer. Due to the fresh veggies in these homemade crunch wraps, I don't recommend freezing them. They just won't be the same once they're thawed!
More Tex-Mex Dinner Ideas
Print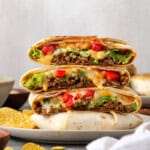 Crunch Wraps
Author:

Prep Time:

30 minutes

Cook Time:

20 minutes

Total Time:

50 minutes

Yield:

4

crunch wraps

1

x

Category:

Dinner

Method:

Stovetop

Cuisine:

American, Mexican
---
Description
Make copycat crunch wraps loaded with taco meat, melty cheese, tostada, sour cream, veggies, and more wrapped up inside a toasty flour tortilla.
---
1

pound lean ground beef

1

(1- ounce) package of taco seasoning

4

large (burrito-sized) tortillas

3/4 cup

nacho cheese sauce, warmed

4

tostada shells

1/2 cup

sour cream

2 cups

shredded lettuce

1 cup

chopped tomatoes

1/4 cup

taco sauce

4

small (taco-sized) tortillas

2 cups

shredded cheddar cheese (or Mexican blend cheese)
oil for frying
---
Instructions
In a large skillet, cook the ground beef on medium heat until no longer pink. Drain any excess liquid from the pan. Add the taco seasoning and 1/4 cup of water, stir to combine, and cook for 2 – 3 minutes until the liquid is absorbed.
Remove the meat from the pan and transfer to a glass bowl or plate. Set aside.
Clean the skillet by wiping it down with a paper towel to remove any excess grease or meat.
Create a workstation on a clean countertop. Gather all the ingredients for the crunch wraps.
Assemble: Lay all four large tortillas out on the counter. Place 1/2 cup of ground beef in the center of each tortilla. Drizzle 2 tablespoons of nacho cheese sauce on top of the meat.
Spread 1 – 2 tablespoons of sour cream onto each tostada. Place the tostada on top of the meat. Top the tostada with 1/2 cup shredded lettuce and chopped tomatoes. Drizzle with taco sauce.
Place a small tortilla on top and fold the bottom burrito up on top of the smaller tortilla tightly to seal, creating pleats. Flip the crunch wrap over to hold it closed.
Heat 1 tablespoon of oil in the skillet to medium. Place 1 – 2 crunch wraps in the skillet (depending on the skillet size) seam side down and cook for 3 – 4 minutes until toasted. Flip and cook on the other side for 3 – 4 minutes.
Cut in half to serve.
---
Notes
The idea is to keep the warm ingredients on one side of the tostada and the cool ingredients on the other to get the most crunch.
Keywords: crunch wraps, crunchwrap recipe, beef crunchwrap, crunchwrap supreme recipe
Want To Save This Recipe?
Find more recipes like this:
PIN for later: