I've got 10 AMAZING and EASY Easter Desserts that are tried and true, from classics like Carrot Cake to CRAZY ideas like Hard Boiled Egg Cookies!
With Easter just around the corner I am sure many of you are planning your menus! We never host Easter, but I always offer to bring a dessert. It's an easy addition to a menu, that most of the time can be made ahead! While I love trying new recipes, I also want to be sure it will turn out great, especially if I am bringing it to a family gathering. SO, I made the search easy for you
10 Amazing Easter Desserts Recipes that are Both delicious and Festive!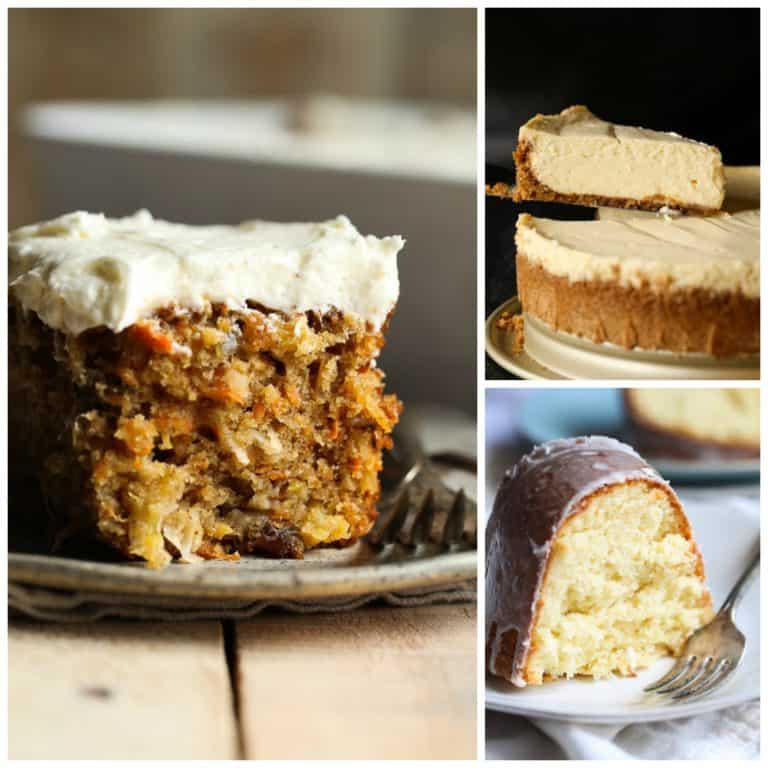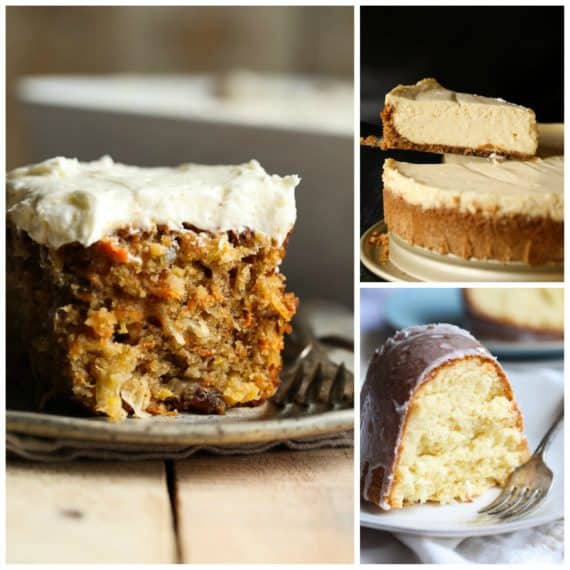 Let's Start with Easter Cakes
Cake is a pretty reliable dessert to serve on holidays or occasions. Not only does everyone usually love cake, but it transports easy if you are traveling to an event! AND you can make cake the night before and it's still great, sometimes even better. Here are 3 cake recipes that never let me down.
Carrot Cake: My Carrot Cake Recipe is one of my most recommended cake recipes. I tested my recipe out for years perfecting it, and in my eyes it's the best carrot cake recipe ever. I usually make it in a 9×13 pan for ease, but this recipe also works perfectly if you bake it in 8 or 9- inch round pans to create a layer cake! With my carrot cake recipe I include cream cheese frosting, which is another recipe that I tweaked until I got it perfect. Cream Cheese Frosting can sometimes be thick and runny, but mine is light, fluffy and spread (or pipes) like a dream!
Cheesecake: Cheesecake is a classic Easter dessert recipe, and my cheesecake recipe is perfect for beginners or experts alike. In the full recipe I include tons of tips and tricks on how to create a cheesecake that is creamy and rich. I teach you how to prevent cracking, and why a "water bath" is an important part of the process. I promise you, once you try my recipe you will never look back. AND what's so great about this classic cheesecake is you can top it with just about anything!
Coconut Pound Cake: This Coconut Cream Cheese Pound Cake might look unassuming, but I am here to tell you, it is out of this world! Even if you are not a coconut fan, I urge you to give this one a try. It's dense and rich, but buttery and moist. This is also one I recommend making a day ahead, because as it sits overnight the flavors come together to create magic!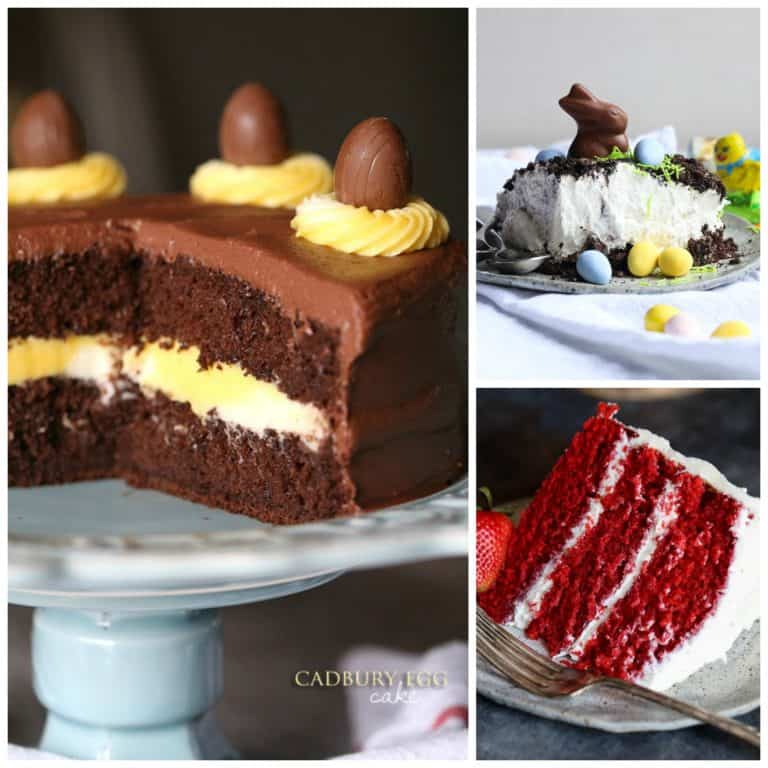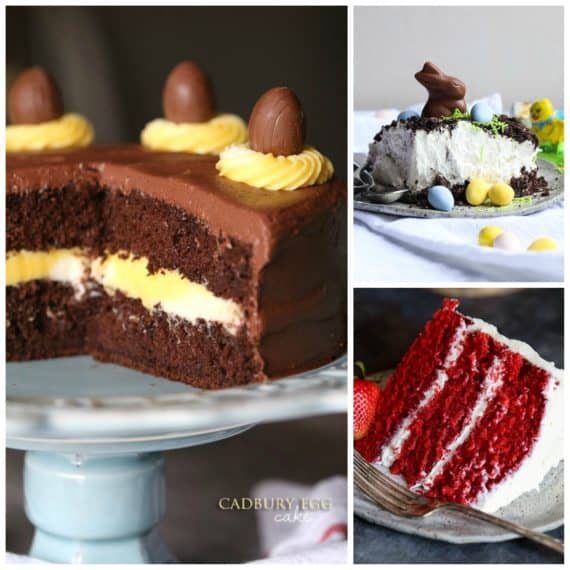 Here are three more cake recipes that are equally as traditional, but a little more unexpected. They are all cake recipe that are super pretty to look at , but as just as delicious to eat.
Cadbury Egg Cake: This is a super fun Easter Cake because it's perfect for beginners. It's just a chocolate cake filled with vanilla buttercream that is frosted to look like the popular Easter Candy Cadbury Eggs, and I show you the simple technique to make it happen! Cadbury Eggs are my weakness this time of year, and this is such a simple idea, but when you slice it and see the yellow and white frosting, it always brings a smile!
Easter Bunny Dirt Cake: Dirt Cake is ALWAYS popular with the kids, but honestly it's so delicious everyone enjoys it. I decided to leave off the Marshmallow Peeps that traditionally top Dirt Cake at Easter time, and replace them with pretty chocolate bunnies. I feel like it makes this kid dessert a little more fancy!
Red Velvet Cake: I'm not sure if it was just in my house, my Red Velvet Cake was always on the dessert table at Easter in my house. Really, is there ever a time when Red Velvet Cake isn't a good idea? I also happen to make the softest, yummiest Red Velvet Cake ever, so I highly recommend checking it out!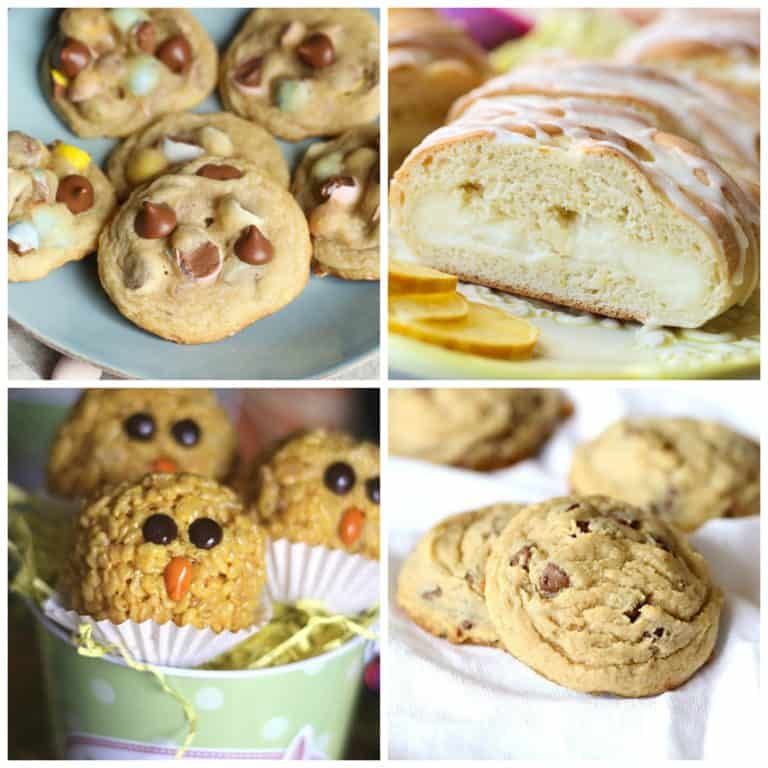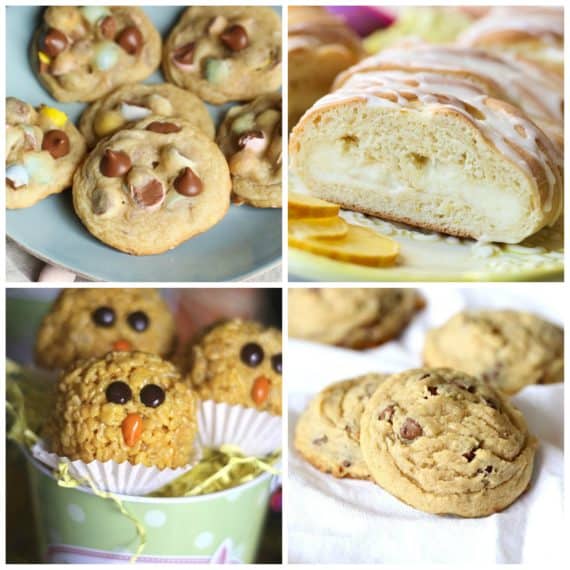 I wanted to include a few other Easter Desserts that will round out your dessert table if you don't want to bake a cake! Of course I have so many more recipes here on my site, but I thought these 4 were really fun options…plus one cookie that you will NOT believe is an actual thing…
Let me know what you're making for your Easter Desserts Table! I'd love to know!
Looking for more Easter Recipes? Try these: