Moist, buttery matcha cake is a gorgeous green color with a subtle flavor of green tea. I've topped it all off with a creamy strawberry frosting! This is the perfect springtime cake!
Make sure to try my Matcha Shortbread Cookies too!
This post is in partnership with my friends at Imperial Sugar. CLICK HERE for the full recipe.
Green Tea Matcha Cake with Strawberry Frosting
This gorgeous cake is perfect for spring! The green tea matcha cake paired with the pale pink strawberry buttercream would be perfect on any Easter table or brunch. OR if you are a matcha lover, for anytime of the year!
What To Expect:
A beautifully green, green tea flavored sheet cake with a subtle sweetness.
Easy to make in a 9×13 pan OR as a layer cake in 2 8- inch round cake pans.
Moist texture.
Done quickly and can be served on a cake plate or right out of your 9×13 baking pan!
What Is Matcha?
Matcha's literal translation is "powdered tea". When you make green tea you steep the leaves into hot water and remove the tea bag (or leaves) from the water and enjoy! With Matcha Green Tea the leaves are pulverized and whisked into the water or milk so you are actually drinking the leaves. You can add the matcha powder right into the cake batter which naturally colors the cake or baked good a beautiful green color while giving it the subtle flavor of green tea!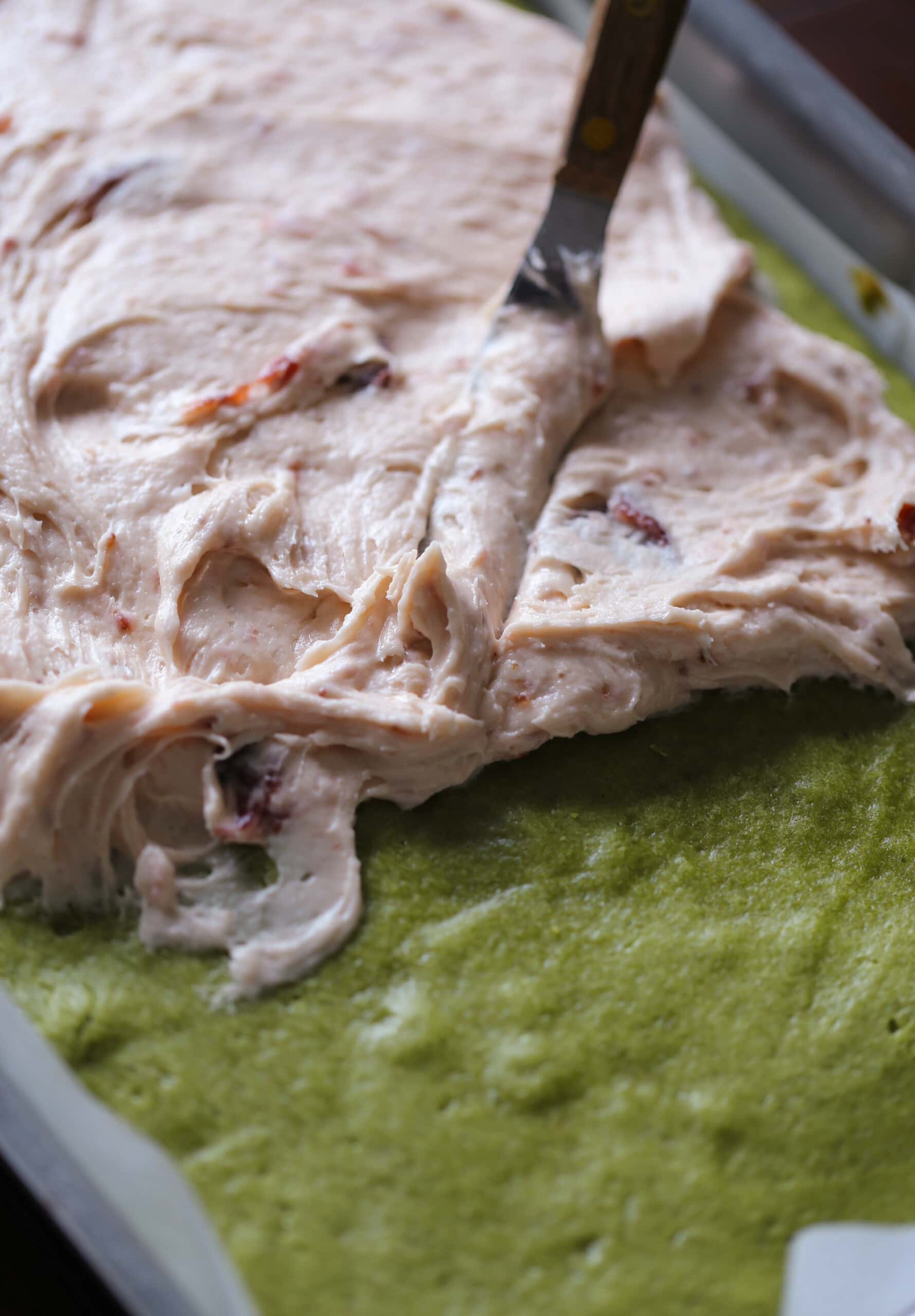 Choosing The Right Frosting for This Cake
I love the matcha paired with strawberry frosting, but you can absolutely mix it up and use something different! Here are a few ideas:
Ingredients You'll Need:
For the full ingredient list and recipe CLICK HERE.
Cake:
Butter at room temperature
Granulated sugar
Large eggs
Vanilla extract
Kosher salt
Matcha powder
All purpose flour
Milk
Frosting:
Butter at room temperature
Strawberry preserves. You could also use strawberry jam or strawberry jelly. Preserves has pieces of fruit throughout, so if you don't love that, you can use jam which will have seeds, or jelly that won't!
Powdered sugar
How To Make Matcha Cake:
For the full recipe and instructions CLICK HERE.
Cake: Preheat oven to 350°F. Coat a 9×13- inch baking pan with nonstick spray. Set aside. You can also line your pan with parchment paper, spray and set aside or grease your pan with butter.
Place the butter and sugar in the large bowl of your stand mixer fitted with the paddle attachment. Mix for 2 minutes until light and fluffy. Add in the eggs, one at a time, mixing until smooth, scraping the sides and bottom of the bowl as necessary.
With mixer still on medium, add in the vanilla, baking powder, salt, and matcha powder. Mix for 1 minute until combined.
Turn the mixer down to low and add in the flour and milk in alternating additions, beginning and ending with flour. Mix until just combined.
Spread the cake batter into the prepared pan and bake for 30 – 35 minutes, or until a toothpick inserted in the center comes out clean.
Transfer pan to a wire rack to cool completely.
Frosting: In the clean bowl of your stand mixer or hand mixer fitted with the paddle or whisk attachment mix the butter and jam together on medium speed until combined. Turn mixer to low and slowly add the powdered sugar until combined. Turn the mixer up to medium and mix for 2 minutes until smooth and creamy.
Spread the frosting on the cooled cake with an offset spatula or rubber spatula.
Store this cake airtight at room temperature for up to 3 days. You can also refrigerate it for up to 5 days if you prefer. Simply cover the baking pan with plastic wrap tightly!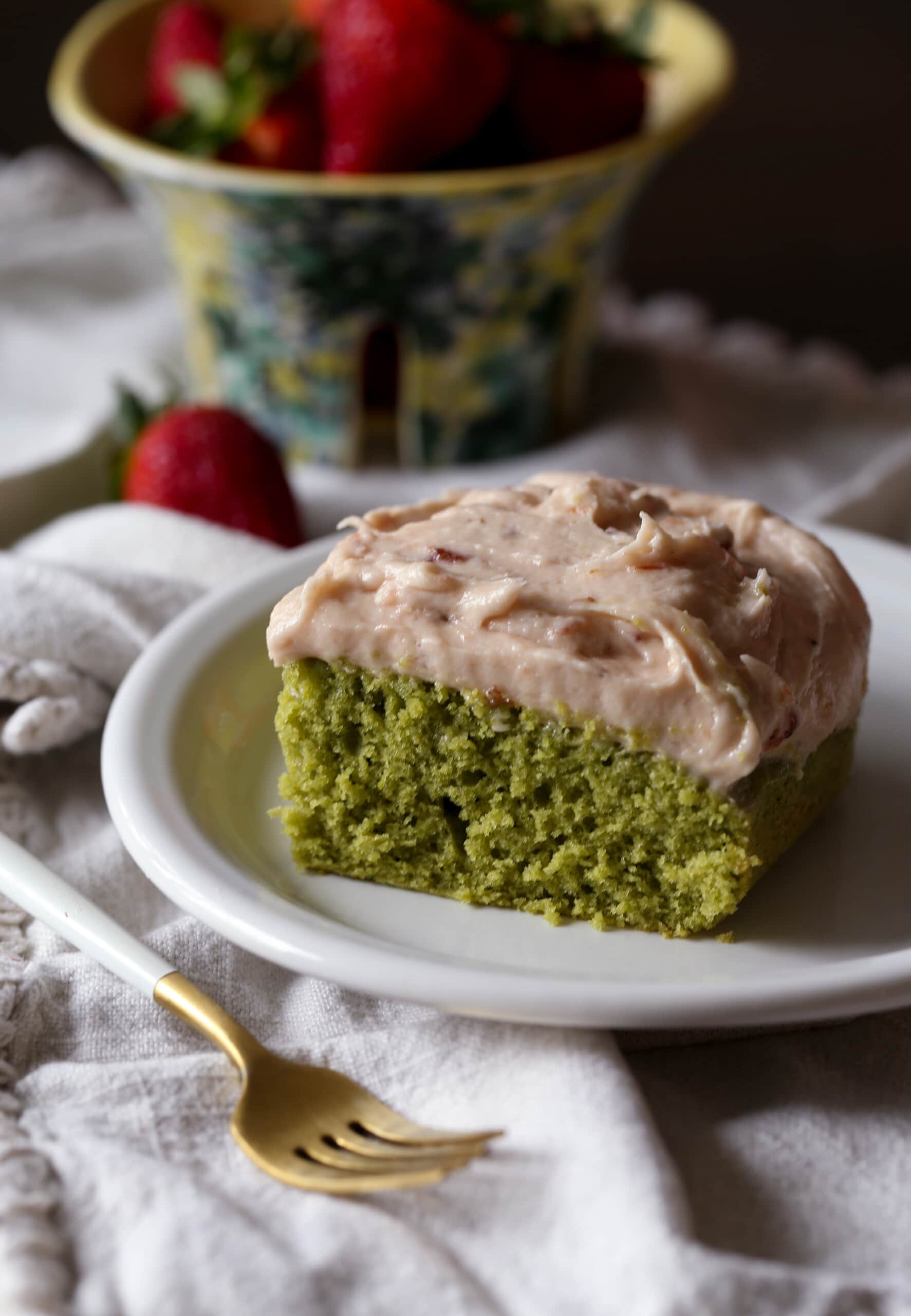 TIPS:
Make sure to store this airtight. Matcha can oxidize if left out, causing the green color to dull, leaving you with a more brown-green color. The cake will still taste absolutely fine, but it won't be as vibrant and pretty!
I love the strawberry frosting on this cake and never have any extra, but if you like to go light handed, just store the remaining frosting in the freezer for up to 30 days! Or you can refrigerate it for up to 5 days.
If you would like to, you can also use cake flour in this cake. Just increase the amount by 2 tablespoons.
I use culinary grade matcha powder in baking, but you can use ceremonial grade matcha if you prefer. It really isn't necessary in baking, as the subtle nuances in flavor aren't detectable in cakes and cookies. Plus it costs a little more and there is no need!
CLICK HERE FOR THE FULL RECIPE!