Pecan crusted chicken tenders are extra crunchy and so satisfying! Tender and juicy buttermilk chicken strips coated in toasty pecans are a fun twist on a classic, perfect for dipping.
Extra Crunchy Pecan Crusted Chicken Tenders
Looking to satisfy a craving for crunch? These pecan crusted chicken tenders are the answer. I thought I know what crispy was, and then I made these. This recipe is perfection from the inside out. Juicy, tender chicken tenders dredged in buttermilk, then loaded up with breading and deep fried until golden. These pecan crusted chicken tenders are packed full of flavor and loads of mouthwatering crrrrunch thanks to toasty pecans in the breading. It's a small change with a HUGE pay-off!
Why You'll Love This Pecan Crusted Chicken Recipe
Super crunchy. You can literally hear the crunch when you bite into these pecan crusted chicken tenders. The combination of Panko bread crumbs, pecans, and savory seasonings in the crust makes these chicken tenders ultra-crunchy and satisfying.
Easy prep. Blitz up some pecans, mix them together with the rest of the coating, and get dipping. Making homemade chicken tenders is easier than you think.
Deep fried (or not). I love the delicious crispiness that comes from deep frying these chicken tenders on the stovetop. Sure, it's a little messy but worth it! If you'd prefer to bake your pecan crusted chicken, I've included instructions for the oven and air fryer below.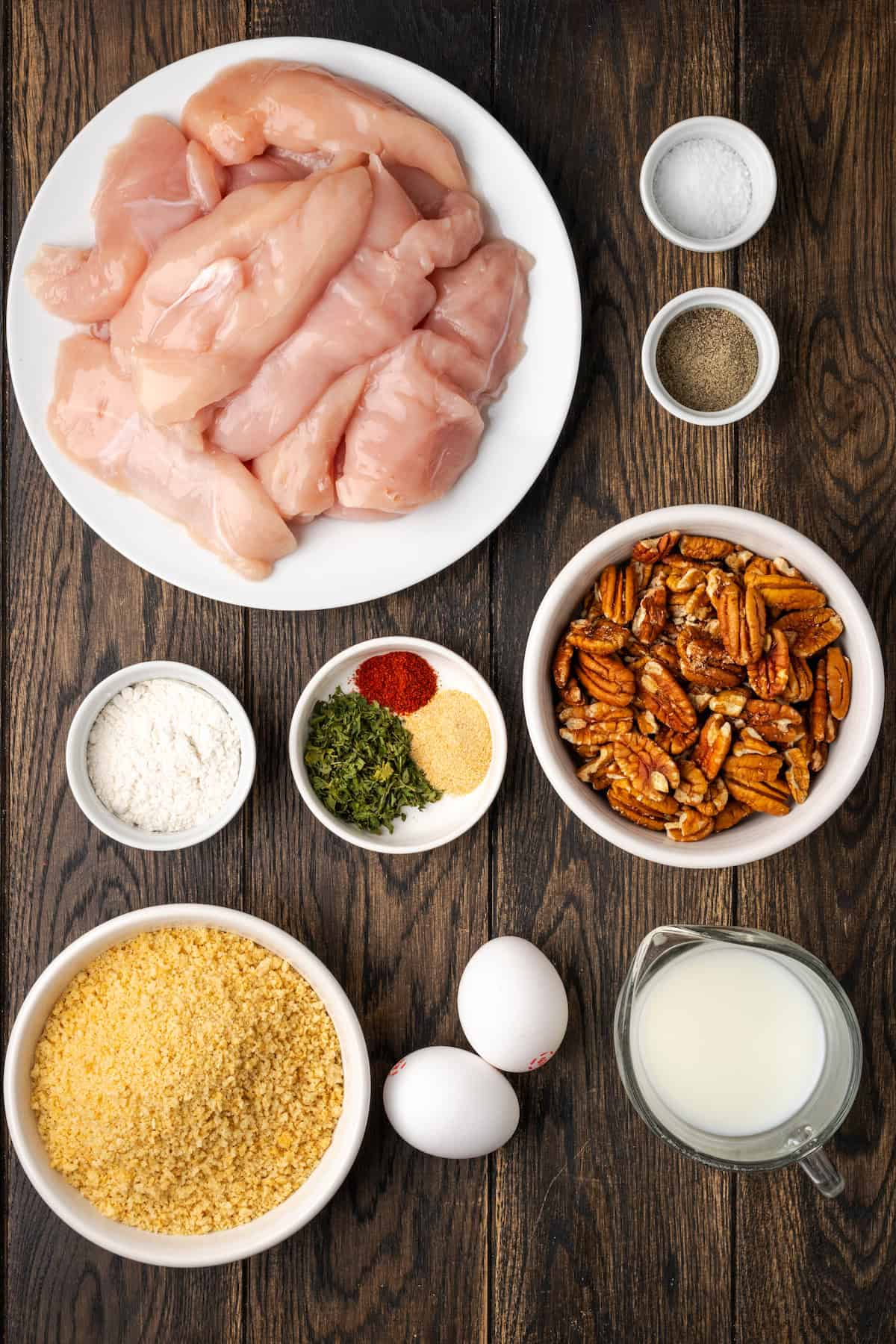 What You'll Need
Be sure to scroll to the printable recipe card for the full recipe amounts and details.
Chicken Tenderloin: You'll need about two pounds of boneless chicken tenderloins. Another option is to use boneless, skinless chicken breasts and cut them into 2-inch wide strips.
Salt and Pepper
Pecans: You'll pulse pecan halves into a fine crumb. Combined with the breading, pecans add loads of crunch along with a sweet, nutty flavor.
Seasoning: I add a blend of fried parsley, garlic powder, and cayenne pepper to boost the flavors of the breading.
Flour and Panko: All-purpose flour works great here, and I highly recommend Panko breadcrumbs. Regular breadcrumbs will work in a pinch, but Panko crumbs are larger and have a better texture as a result, IMO.
Buttermilk and Eggs: For coating the chicken. Buttermilk helps to tenderize the meat and adds richness to the coating.
Oil: For frying. Vegetable or canola oil, or another oil with a high smoke point.
What If I Don't Have Buttermilk?
If you don't have buttermilk, no sweat. You can make a homemade buttermilk substitute easily by combining regular milk with something acidic, such as lemon juice or white vinegar. Find the full details in my tutorial on how to make buttermilk.
How to Make Pecan Crusted Chicken Tenders
Let's make some tender and juicy pecan crusted chicken!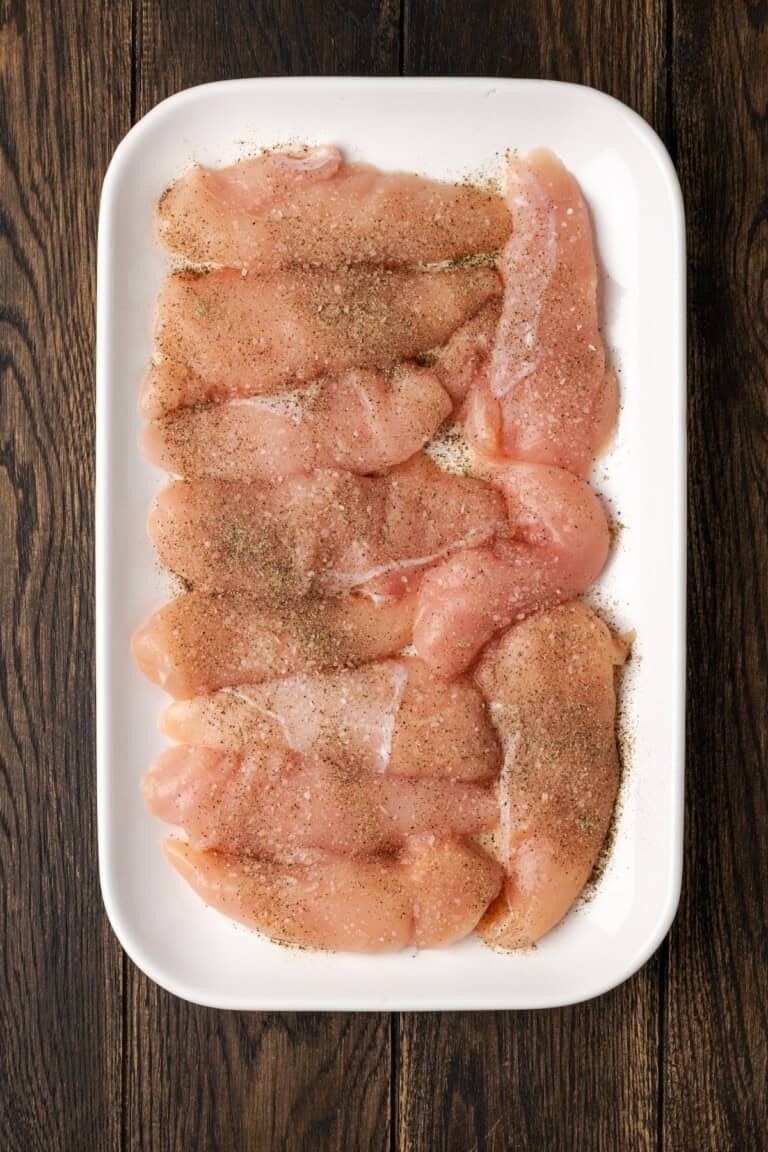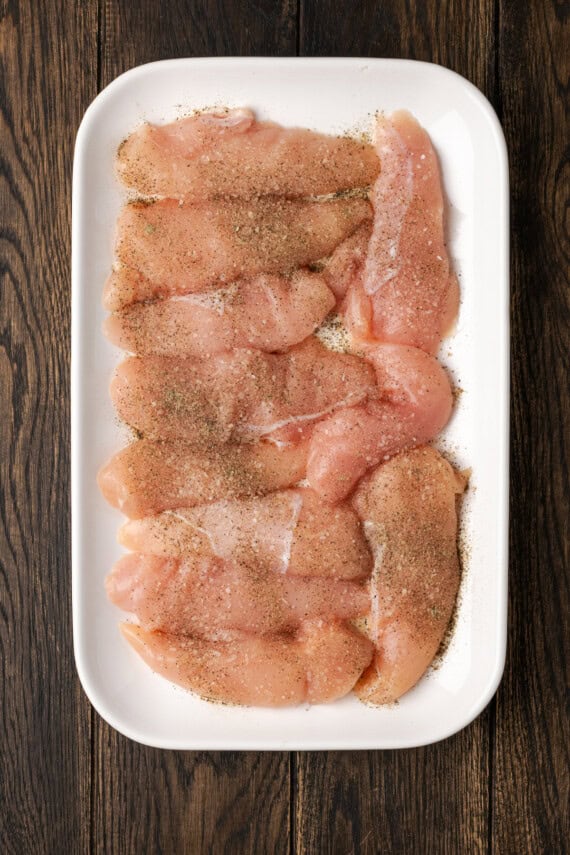 Prepare the chicken. Start by patting the chicken tenders dry, and give them a sprinkle with salt and pepper. Next, pulse the pecans in a blender or food processor until you have a fine crumb.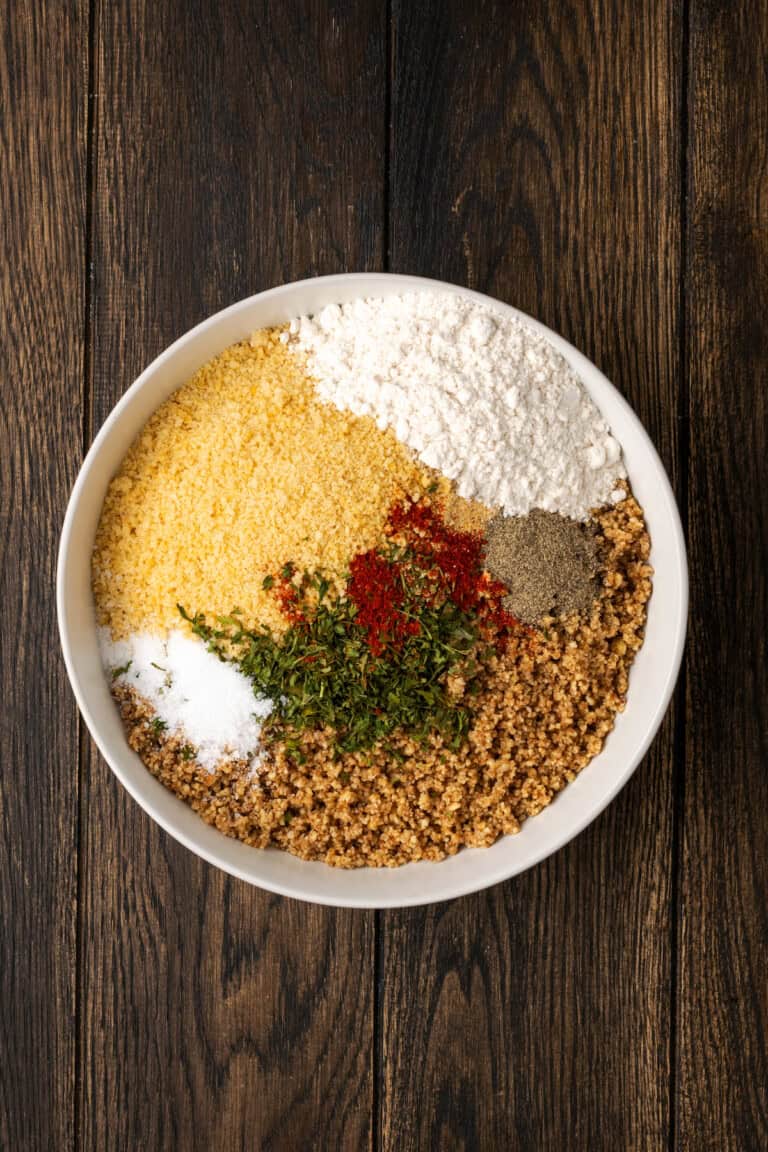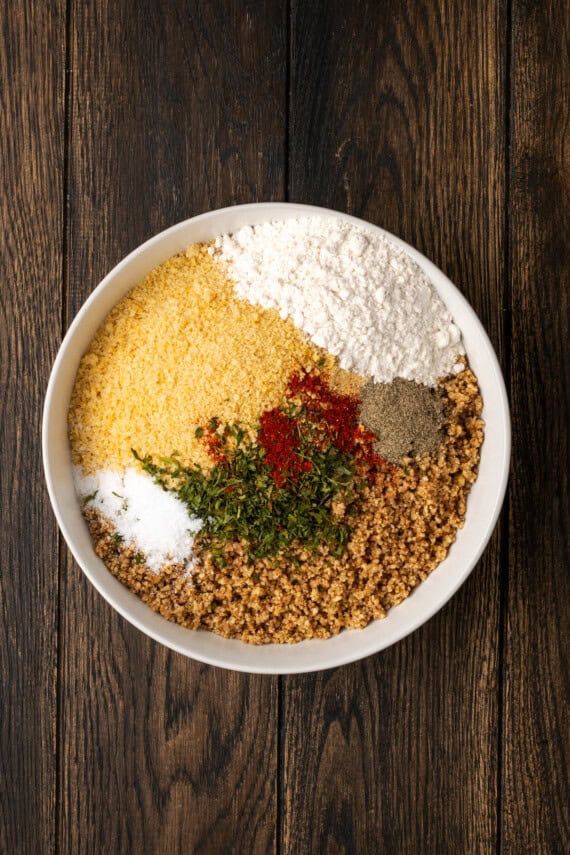 Make the pecan coating. Combine the crumbs with parsley, garlic powder, cayenne, flour, salt, pepper, and Panko. In a separate bowl, whisk together the buttermilk and eggs.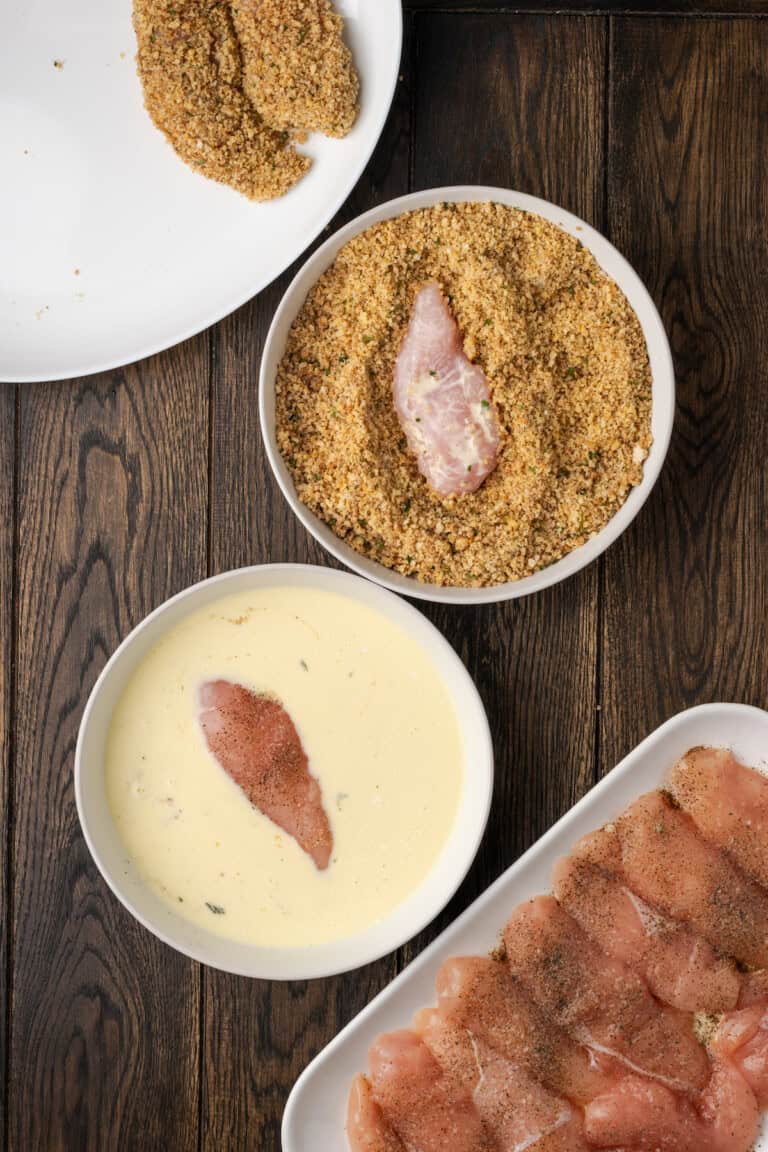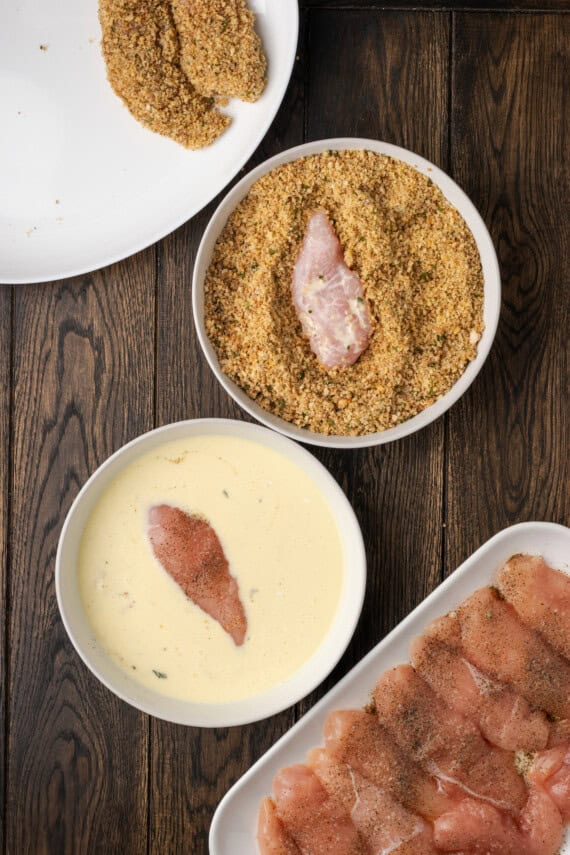 Dip the chicken. One at a time, dip the chicken strips into the mixture, and then into the pecan mixture. Make sure that the chicken is evenly coated.
How to Deep Fry Pecan Crusted Chicken
Once your chicken is well coated in breading, it's time to fry them. This is easy enough to do on the stovetop:
Heat the oil in a large skillet. The proper temperature for frying is 350ºF. You can test if your oil is at the right temperature by dipping a wooden spoon handle into the pot. If the oil bubbles and shimmers right away, it's hot enough for frying. Meanwhile, line a baking sheet with paper towels.
Cook. Working in batches, fry the chicken until crispy and golden. This can take between 2-5 minutes per side depending on the size of your chicken strips. It's OK if they're a little dark. Once they're nice and crispy, transfer the pecan crusted chicken tenders to your paper towel-lined baking sheet.
Serve. Serve pecan crusted chicken tenders while they're hot and fresh with your favorite dipping sauces. Scroll for yummy serving and side dish ideas!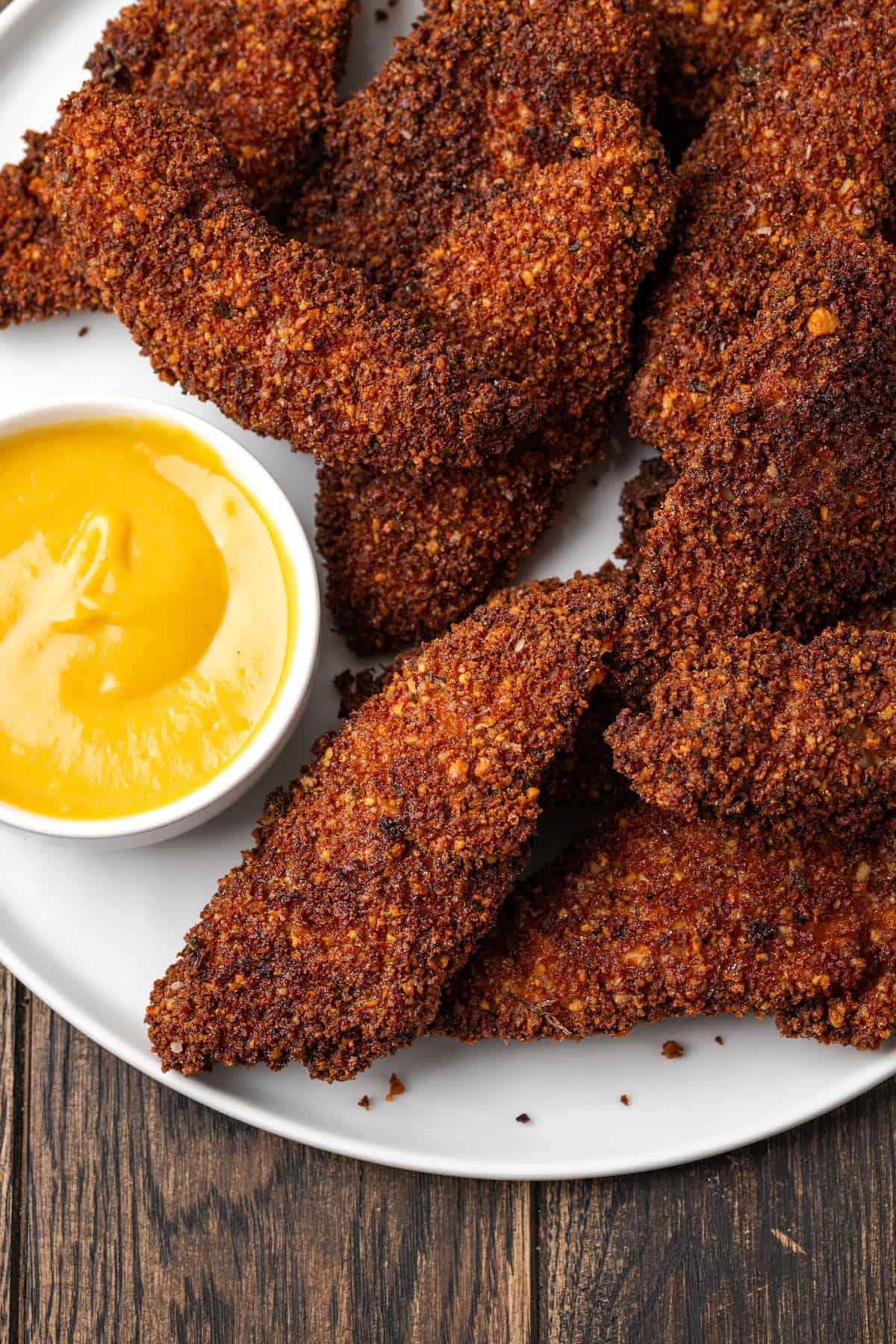 Tips for Success
If you're new to deep frying chicken on the stovetop, keep these tips in mind for the best results:
Use a candy thermometer, or a meat thermometer to check the temperature of the hot oil. Knowing the exact temperature takes a lot of the guesswork out of frying!
Keep the oil at 350ºF. Let your oil heat up (or cool down) as needed in between batches, and don't overload the pan. If the oil isn't hot enough, your chicken tenders won't crisp up properly. If it's too hot, the outside coating will burn.
Pay attention while deep-frying. Hot oil burns are no joke. For safety, make sure to clear your kitchen of distractions and stay by the stove while deep frying your chicken tenders.
Exact cooking times will vary. Keep a close eye on the chicken tenders while frying. Depending on the size, they'll finish cooking between 2-5 minutes per side. The crushed pecans will darken as the tenders cook, but the tenders will still be tasty.
Check that your chicken tenders are done by taking their temperature with an instant-read thermometer. Per USDA guidelines, chicken is cooked when the internal temperature reaches 165ºF.
If you'd prefer another method, you can bake your pecan crusted chicken in the oven or air fryer instead, see below.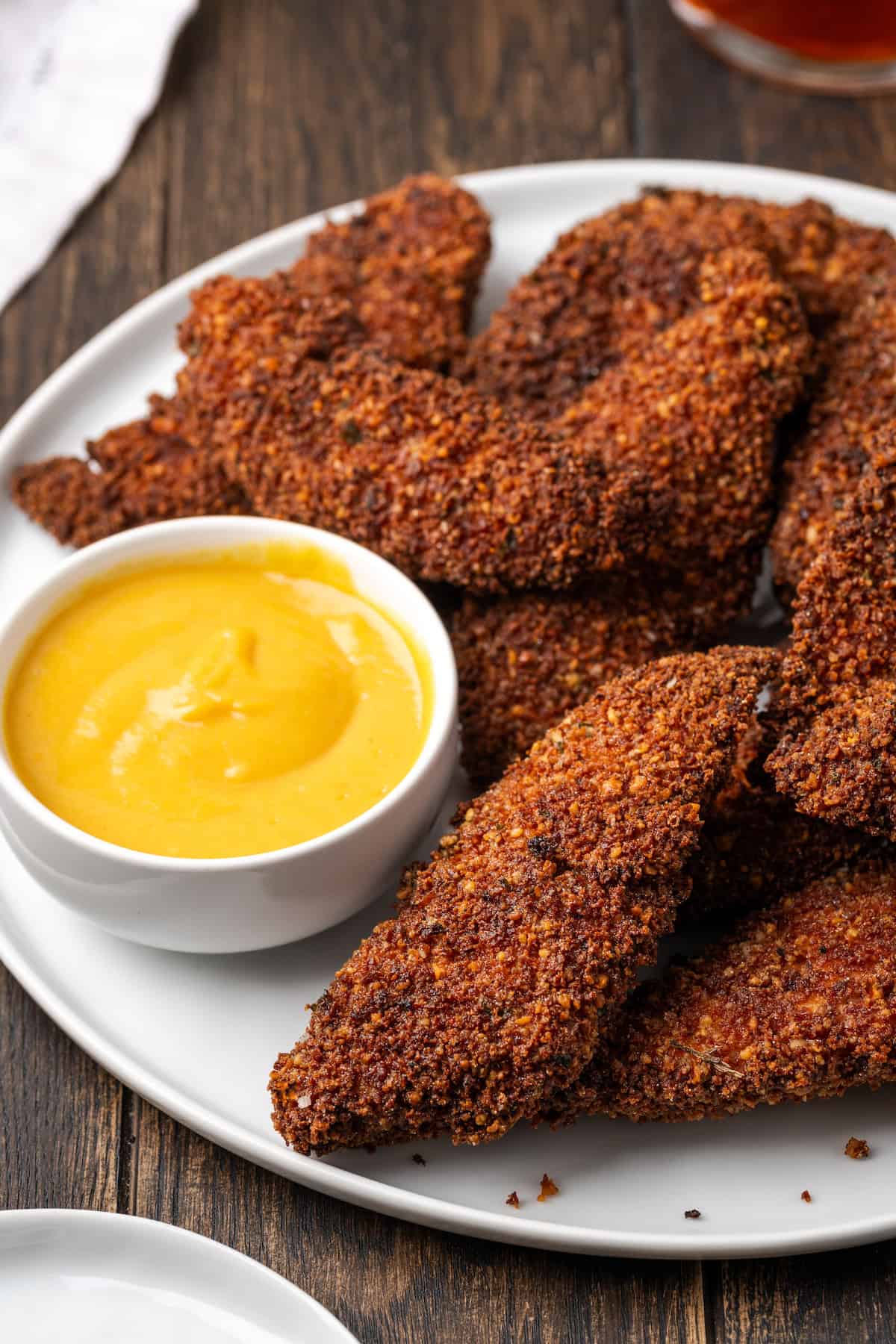 Can I Bake Pecan Crusted Chicken in the Oven?
Yes, if you're not a fan of deep frying, you can make crispy baked pecan crusted chicken tenders instead:
Prepare and coat the chicken as directed in the recipe.
Preheat the oven to 400ºF. Meanwhile, arrange the coated chicken on a greased baking pan.
Bake. Bake the chicken tenders for 10 minutes, flip, and bake for another 8-10 minutes until the chicken is cooked through.
Can I Make This Recipe in the Air Fryer?
Also yes! Air fryer chicken tenders are a great way to cut down on some of the oil. Get your pecan crusted chicken pieces coated, and here's how to cook them:
Preheat the air fryer to 390ºF. Arrange the breaded chicken in the air fryer basket, making sure to leave enough space between the pieces for the hot air to circulate. Cook in batches if needed.
Cook. Air fry the chicken for 8 minutes or until cooked through.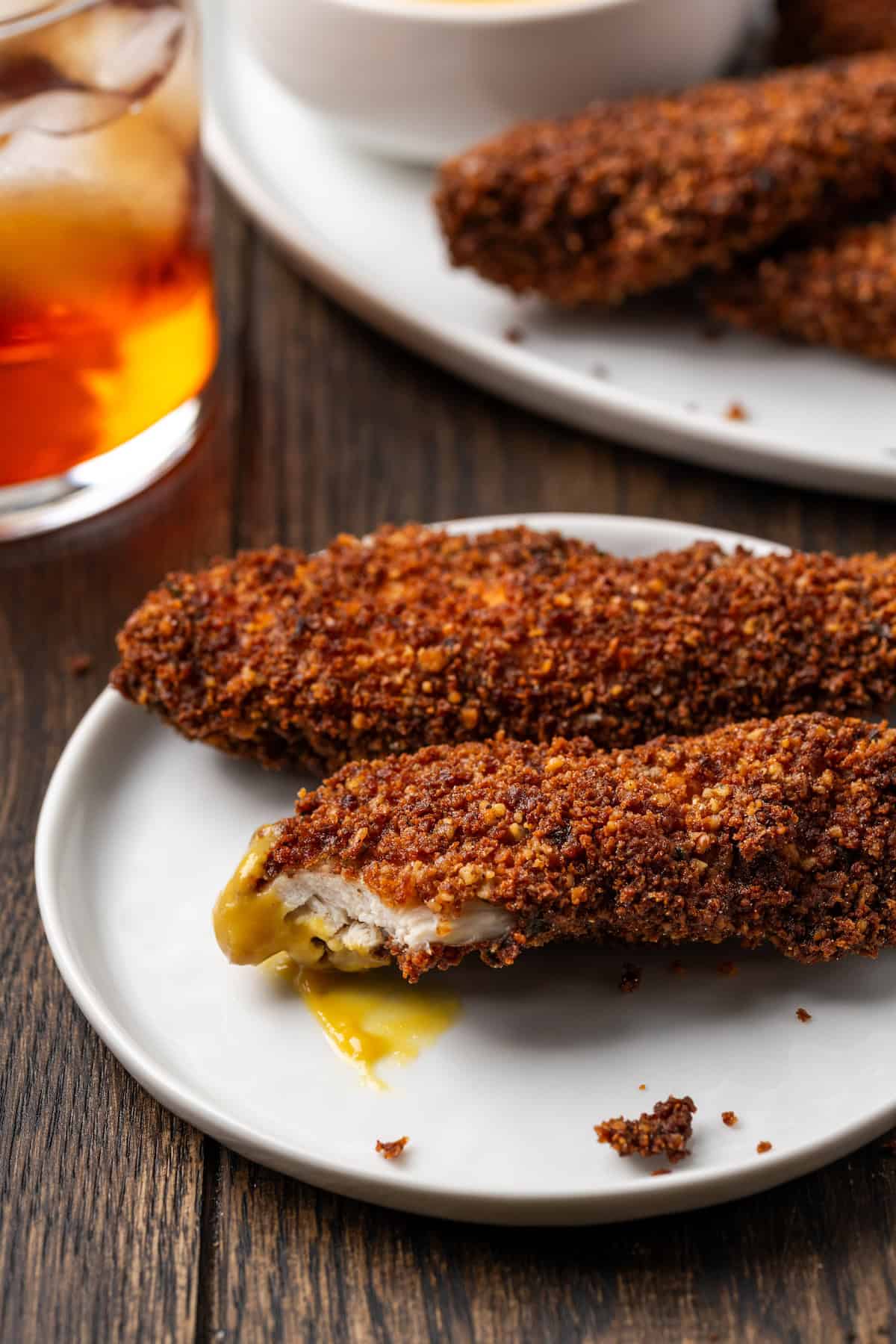 What to Serve with Pecan Crusted Chicken Tenders
I love serving crispy pecan crusted chicken tenders with my favorite homemade Chick-Fil-A sauce or honey mustard for dipping.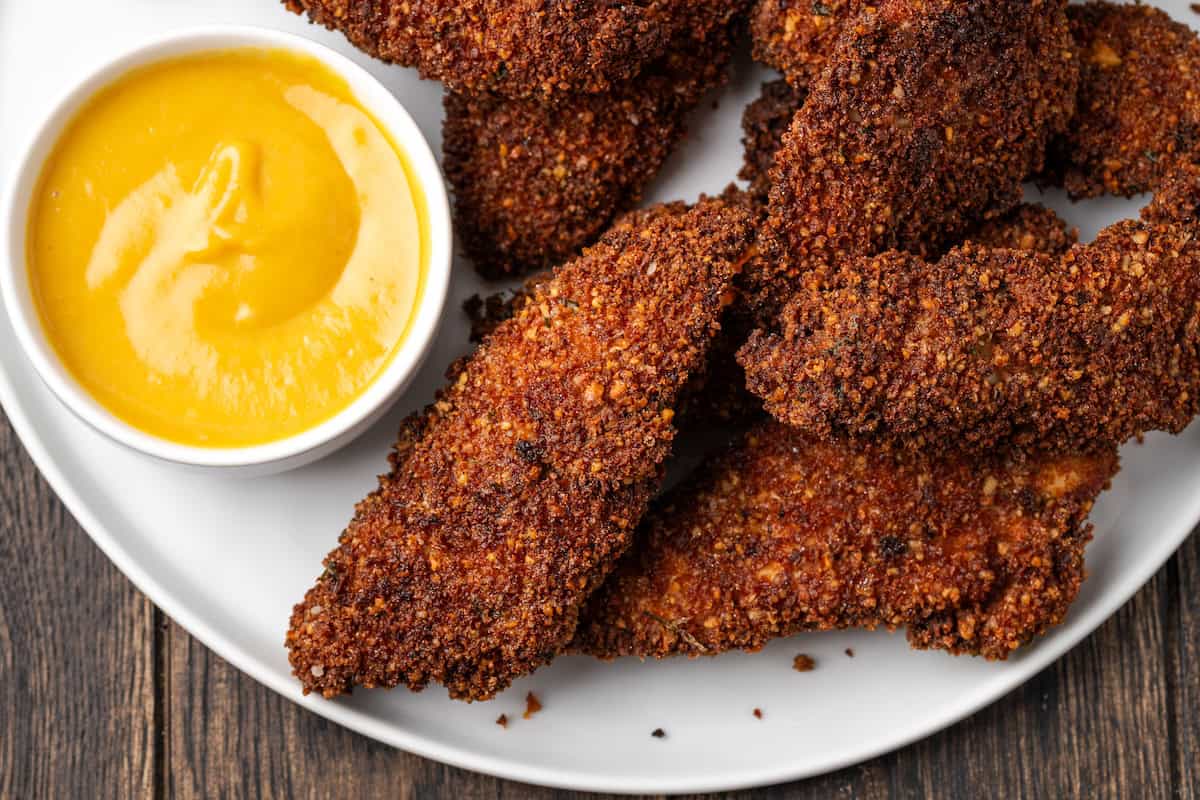 How to Store and Reheat Leftovers
Fridge: This pecan crusted chicken is best served fresh, but if you have leftovers, store them airtight in the fridge for up to 3 days. I recommend reheating chicken tenders in the oven so that the crust has a chance to crisp up again.
Freezer: Pre-freeze pecan crusted chicken tenders in a single layer on a baking sheet. Once solid, transfer the tenders to a resealable freezer bag or airtight container, and keep them frozen for up to 3 months. Reheat the chicken tenders in the oven from frozen, until hot throughout.
More Easy Chicken Recipes
Print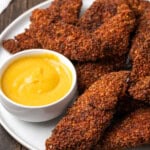 Pecan Crusted Chicken Tenders
Author:

Prep Time:

10 minutes

Cook Time:

20 minutes

Total Time:

30 minutes

Yield:

6

servings

1

x

Category:

Chicken

Method:

Stovetop

Cuisine:

American
---
Description
Easy pecan crusted chicken tenders are a fun spin on a classic! Toasty pecans in the breading makes these tender and juicy chicken tenders extra crunchy and full of flavor.
---
2

pounds boneless chicken tenderloins *see note

2 teaspoons

kosher salt, divided

2 teaspoons

fresh ground black pepper, divided

1 1/2 cup

pecan halves

1 tablespoon

dried parsley flakes

1 teaspoon

garlic powder

1/4 teaspoon

cayenne pepper

1/4 cup

all purpose flour

1 1/2 cup

Panko breadcrumbs

1/2 cup

buttermilk

2

eggs
Vegetable or Canola oil to fry
---
Instructions
Pat chicken strips dry and season with 1 teaspoon salt and 1 teaspoon pepper. Set aside.
Place pecans in a blender or food processor and pulse until they are finely ground.
Transfer pecans to a large, shallow bowl and add in parsley, salt, pepper, garlic powder, cayenne, flour, and panko bread crumbs. Stir to evenly combine.
Add the buttermilk and eggs into another shallow bowl. Whisk to combine.
Dip each piece of chicken into the buttermilk mixture and then press to coat in the pecan mixture. Transfer to a plate.
Line a baking sheet with paper towels and set aside.
Fill a large skillet with oil until it is 1/4- inch deep. Heat the oil on medium heat until it reaches 350°F (it will shimmer or create bubbles immediately when a wooden spoon handle is placed in the oil). Working in batches, fry the chicken for 4 – 5 minutes on each side until golden. Transfer to the prepared baking sheet and place in the oven to keep warm while you fry the remaining chicken. Watch the heat of the oil, as it can creep up cooking the outside of the chicken too quickly.
Serve warm.
---
Notes
* You can also use boneless, skinless chicken breasts cut into strips (2- inches in diameter)
Serve with chicken dipping sauce, or honey mustard dipping sauce.
Store airtight in the refrigerator for up to 3 days.
Baking instructions: Preheat the oven to 400°F. Place coated chicken strips onto a heavily greased or sprayed baking sheet. Bake for 10 minutes. Remove from the oven and flip all the pieces over. Bake for an additional 8 – 10 minutes, or until chicken is cooked.
Air fryer instructions: Preheat air fryer to 390°F for 4 minutes, or until preheated. Place breaded chicken in a single layer on the air fryer rack. You might need to do multiple batches depending on the size of your air fryer. Cook for 8 minutes or until chicken reaches an internal temperature of 165°F.
Keywords: pecan crusted chicken tenders, pecan crusted chicken, homemade chicken tenders
Want To Save This Recipe?
Find more recipes like this:
PIN for later: