Crispy on the outside and soft on the inside, hot water cornbread is easy to make and totally crave-worthy. This is a simple recipe for fried cornbread that you can serve with all of your favorite Southern-style meals!
Old-Fashioned Hot Water Cornbread
Crispy, crunchy, delicious hot water cornbread is totally different than any other version of this classic side. As you may already know, we Southerners love our cornbread. Even though I moved out of the South years ago, I can never get enough.
We'll gobble down this fried hot water cornbread with a generous smearing of butter, honey, or jam. It also makes the best side dish for chili or soup for dipping! You're going to LOVE this twist on homemade cornbread. Prepare to be hooked.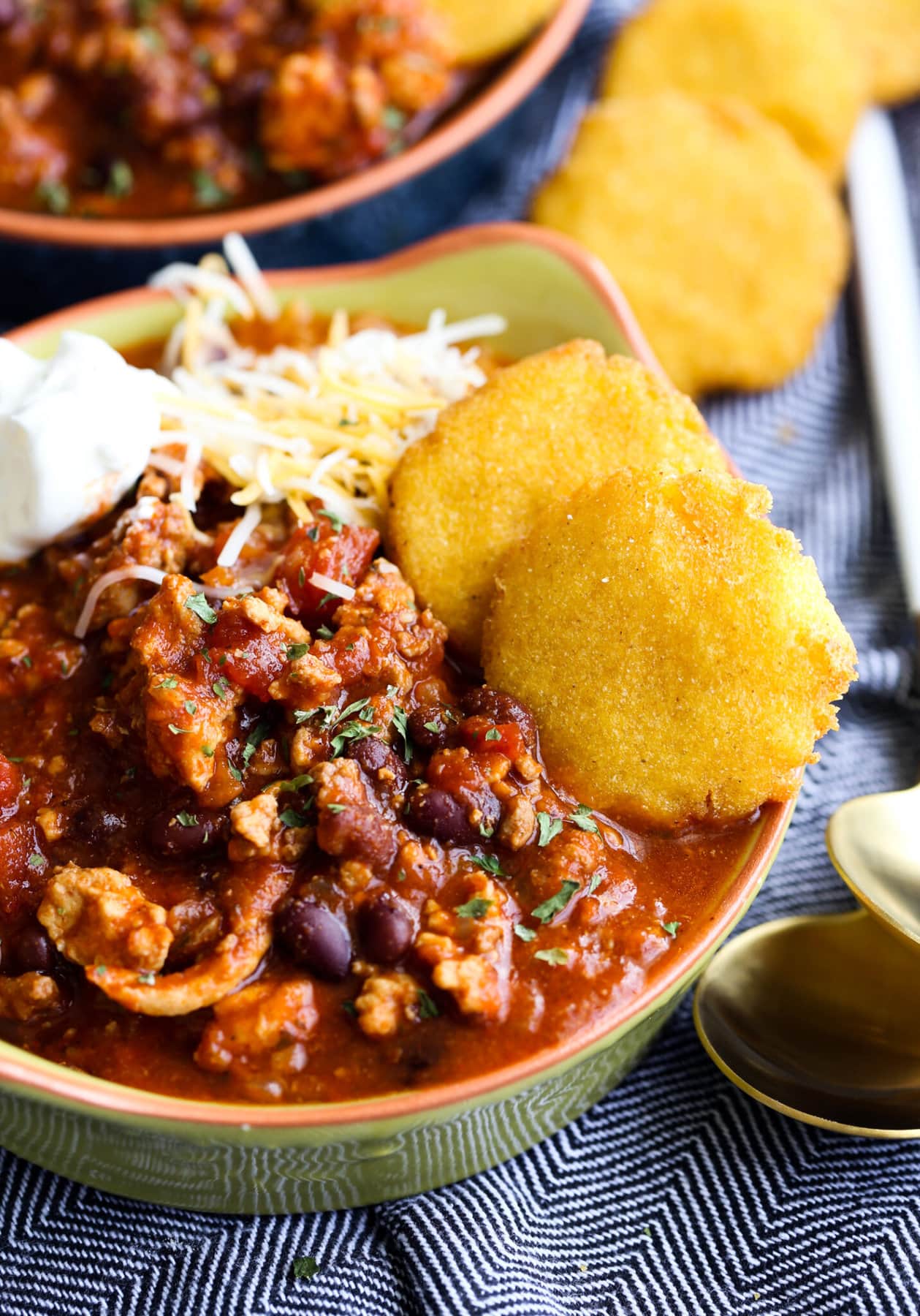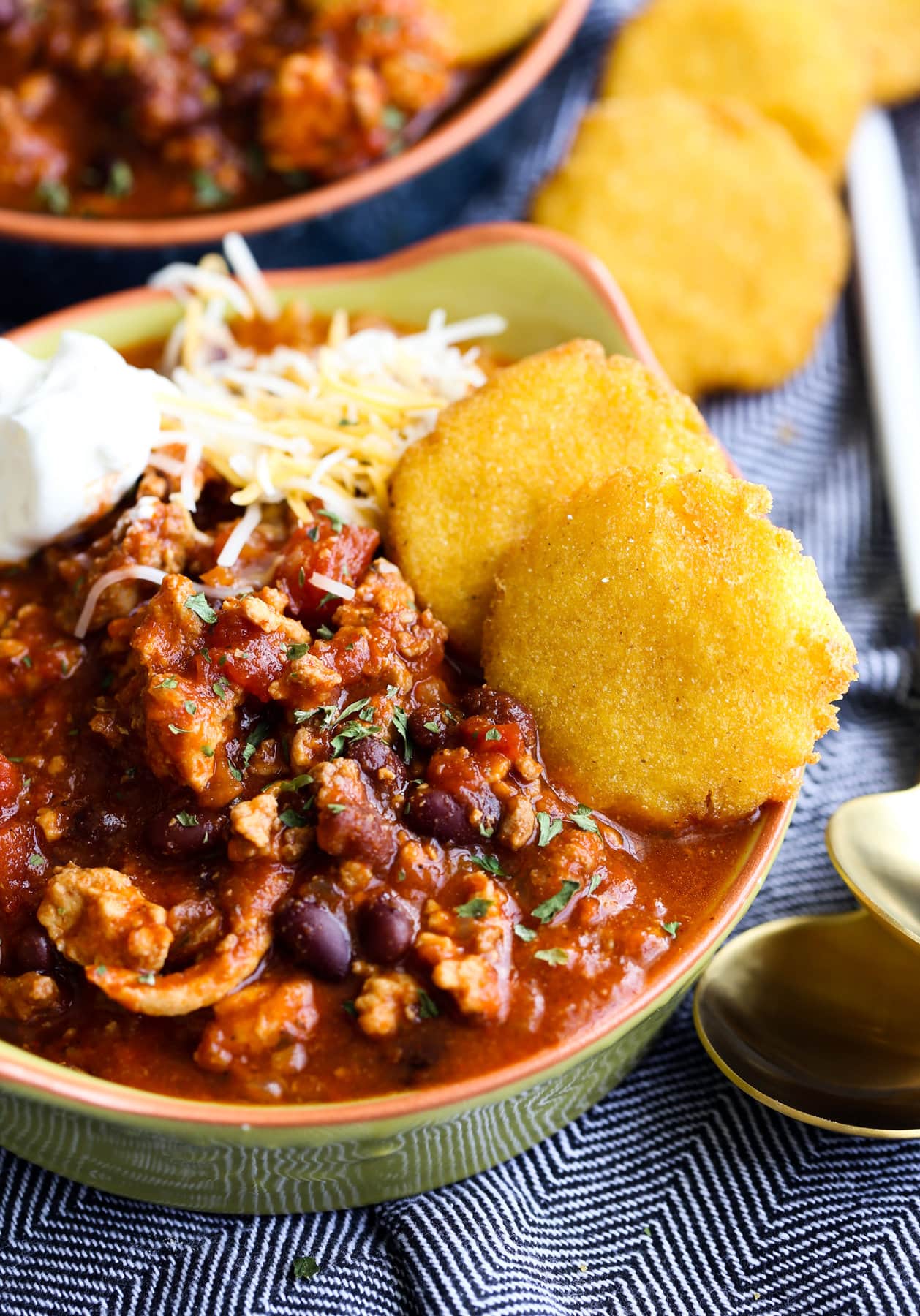 Why You'll Love This Cornbread Recipe
Perfect texture. Frying makes this hot water cornbread crisp on the outside, and soft and fluffy on the inside. If you love baked cornbread, just wait until you bite into these flavor-filled pillows of golden goodness.
Easy to make. You can count the ingredients for this cornbread recipe on one hand. The batter comes together quickly, and then it's just a matter of shaping the dough and frying. Easy-peasy.
Versatile. You'll never run out of ways to enjoy hot water cornbread. It's perfect for breakfast, lunch, dinner, and even as a snack. Of course, fluffy cornbread is also totally irresistible as is, smothered in butter or jam. But more on this later!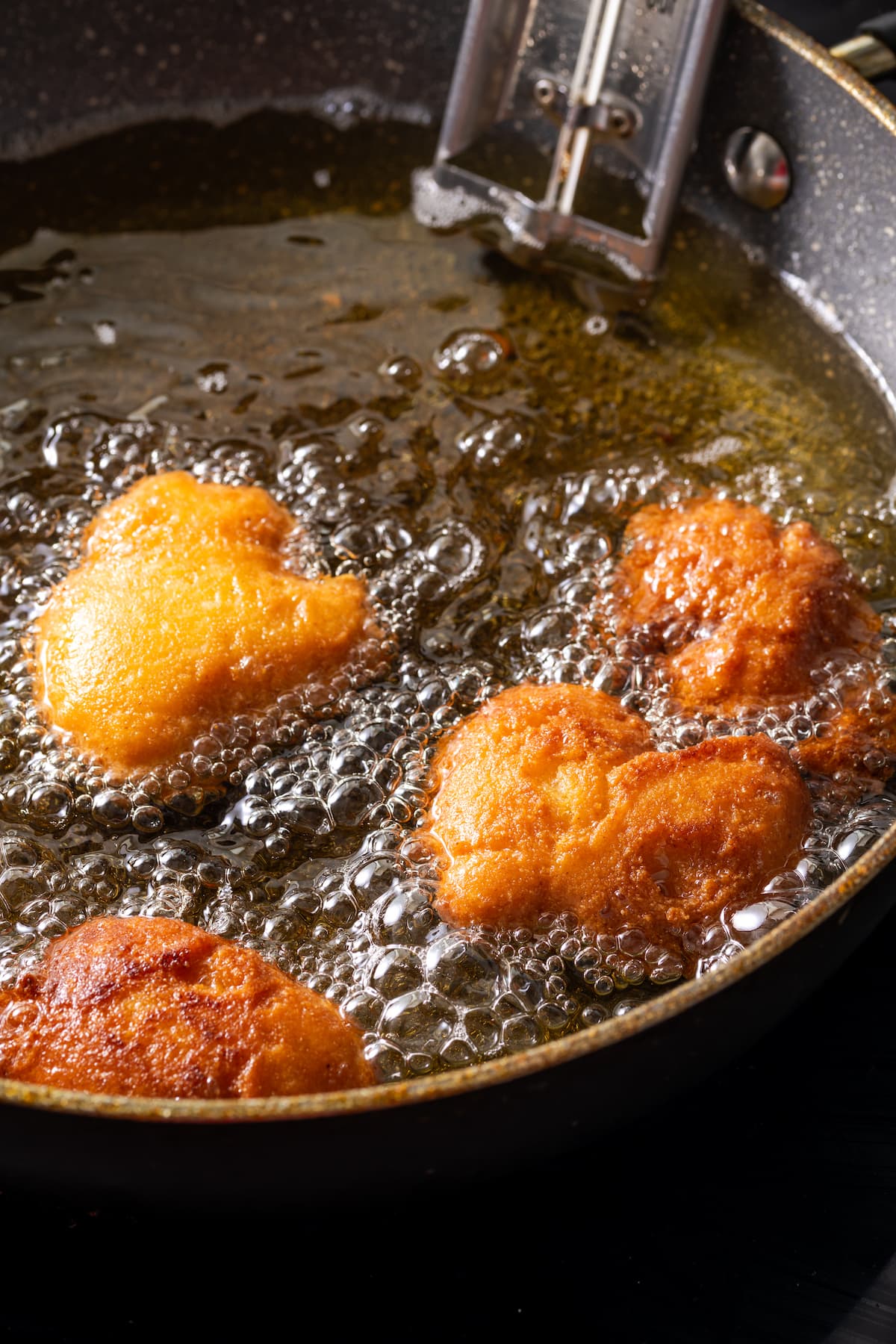 How's Hot Water Cornbread Different From Regular Cornbread?
Traditional cornbread is usually made with milk, and baked in a pan or skillet. Hot water cornbread uses boiling water in place of milk in the batter. The dough is then shaped into small patties, which are fried in oil, a lot like hush puppies. It's so tasty and the soft texture is unbeatable!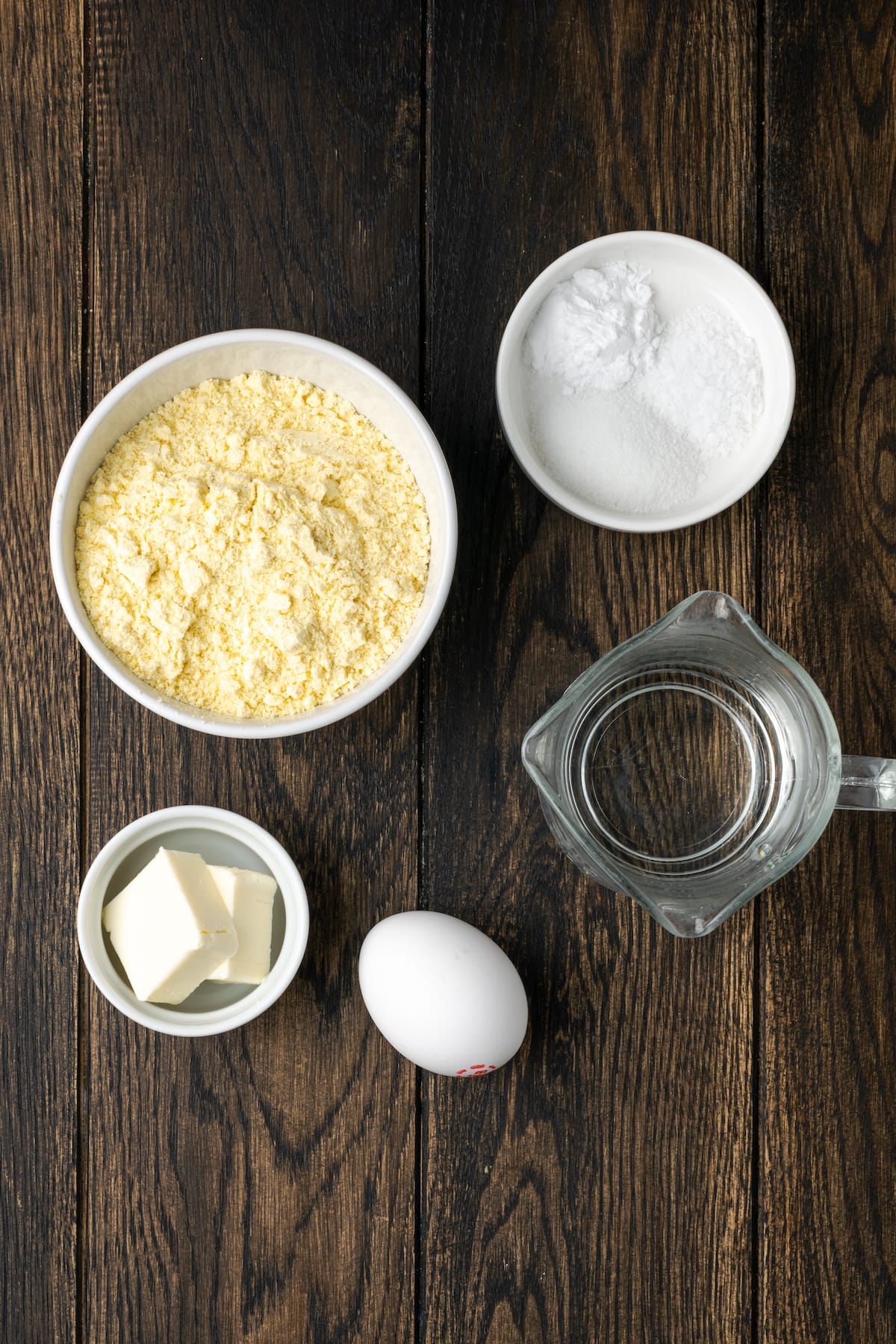 Ingredients You'll Need
So, what's hot water cornbread made of? Let's have a look at the simple ingredients below. Don't forget to scroll to the recipe card for the full ingredients list and recipe details.
Cornmeal: Classic golden cornbread calls for yellow cornmeal (see below). Make sure that it's a fine enough grind and not coarse-ground cornmeal, as the texture won't be the same.
Granulated Sugar: Traditional Southern cornbread recipes skip the sugar, but I include a pinch in mine, for a little added sweetness.
Salt and Baking Powder: For leavening. I make my cornbread with kosher salt, which has a mild flavor. If you're using regular table salt, consider using less.
Butter: Take the butter you're using out of the fridge beforehand so that it comes to room temperature. In place of butter, you can also use shortening.
Egg: One whole egg adds richness to the cornbread and helps bind the cornmeal mixture together.
Boiling Water: You'll pour boiling water over the batter ingredients before stirring everything together, and shaping the dough into patties. Be sure to use boiling water, as that's the key to softening the cornmeal.
Oil for Frying: You'll need cooking oil with a high smoke point. I recommend vegetable oil or canola oil. Melted shortening or lard will also work.
Which Cornmeal Is Best for Cornbread?
Yellow cornmeal is always my first choice for cornbread of any kind. While white cornmeal works in this recipe, you don't get that glorious, golden look of classic cornbread. You'll want to use fine grind or medium grind cornmeal, which is the kind that's carried in most grocery stores. Avoid coarse-grind cornmeal, however, as it will make your hot water cornbread gritty.
How to Make Hot Water Cornbread
Today's gift to your kitchen is hot water cornbread, a fried variation that, I'll tell you now, is going to knock your socks off. Ready to go? Here's how to make it: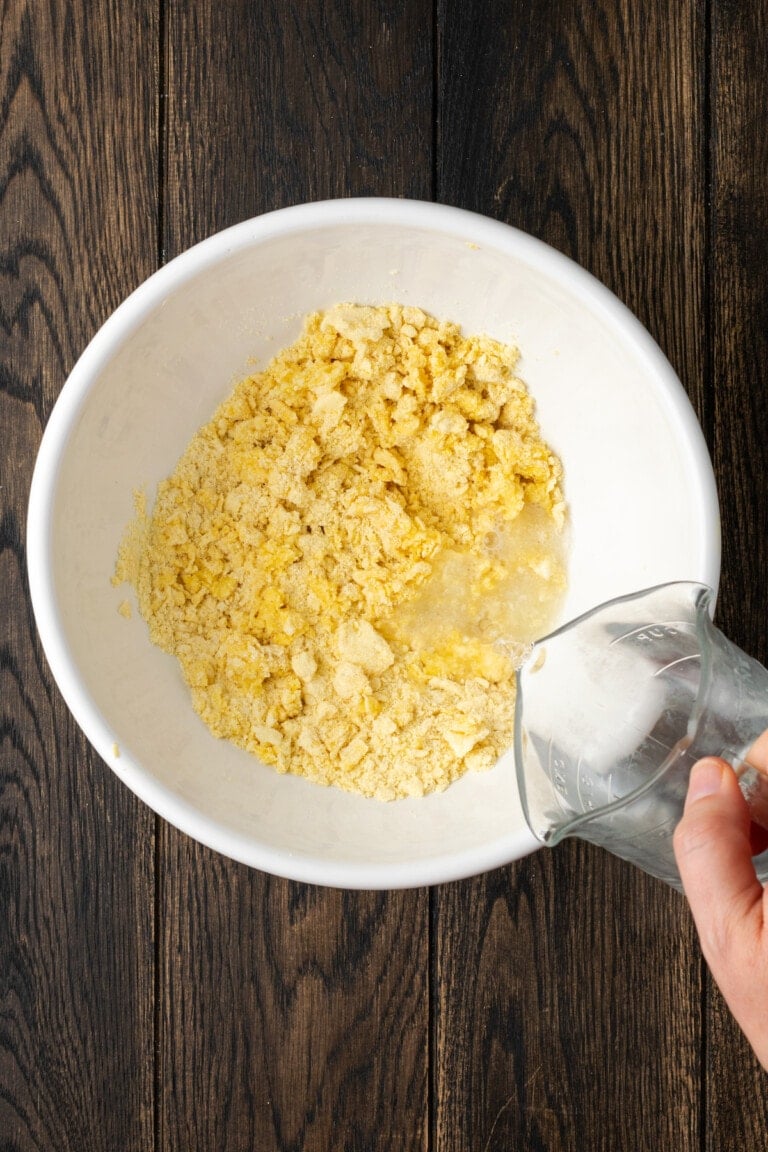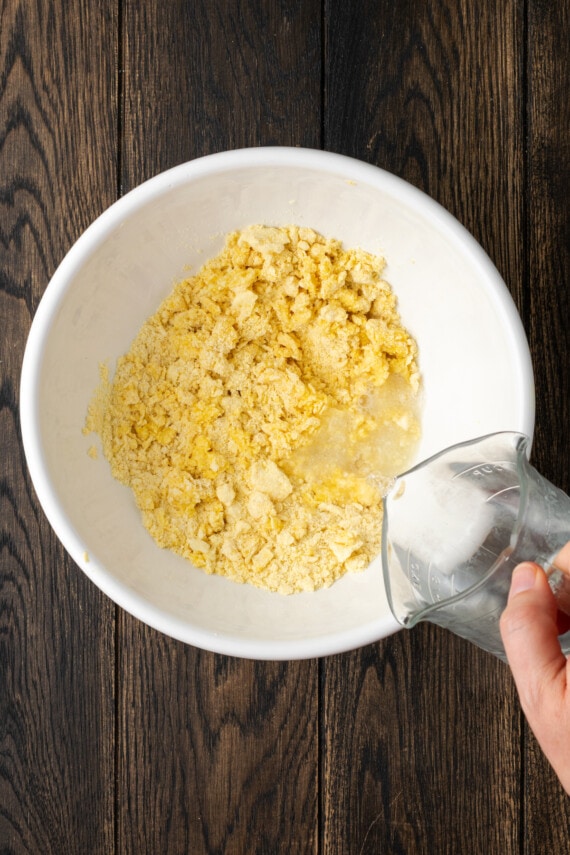 Combine the ingredients. First, crumble together the cornmeal and dry ingredients with the butter, then stir in the egg. Once smooth, add the boiling water and stir to combine.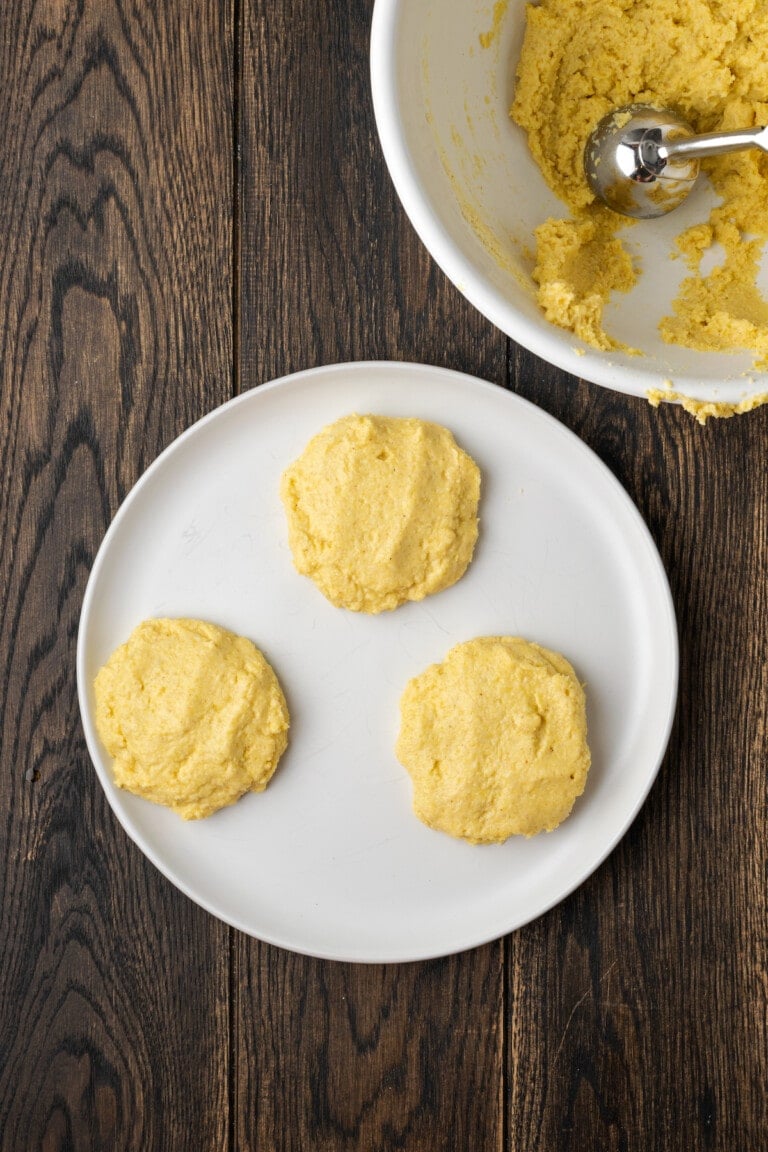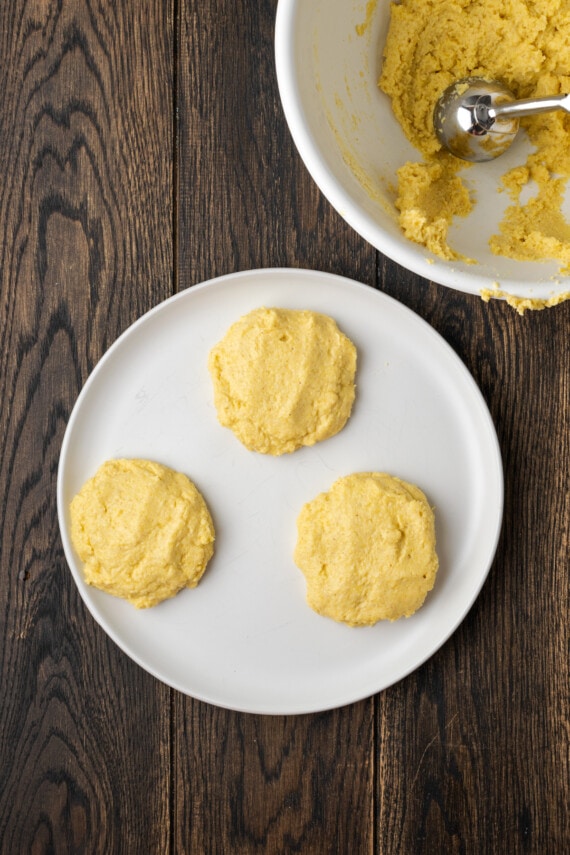 Portion the dough. Set the dough aside and heat about 1 inch of vegetable oil in a deep, heavy-bottomed skillet on the stovetop. Meanwhile, scoop out 3 tablespoons' worth of cornmeal mixture and use your hands to form it into a patty about ½-inch thick. Repeat with the remaining dough.
Deep fry the cornbread. Check that the temperature of the oil is at 350ºF. Once the oil is hot, fry the patties for a couple of minutes per side, until browned all over. Spread the cooked cornbread fritters out onto paper towels to drain, and serve warm with a generous smear of butter!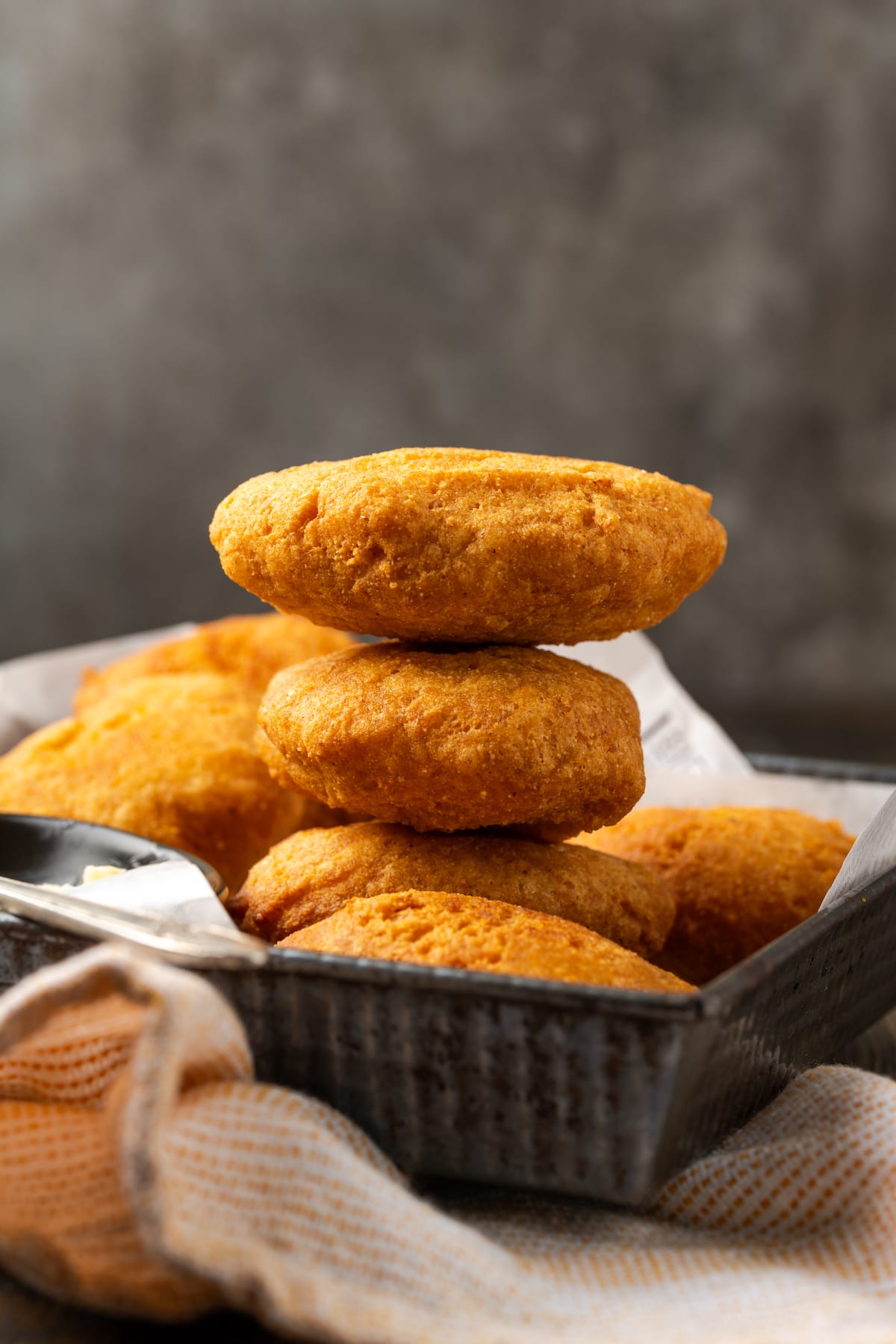 Recipe Tips and Variations
You're going to love how easy it is to make hot water cornbread! There's a reason it's a staple in so many households. Of course, if you're new to deep frying cornbread, a few extra tips never hurt:
Adapt the amount of hot water as needed. You may get away with adding less boiling water depending on the grind and type of cornmeal you use. Extra finely ground cornmeal might need only half the amount of water suggested in the recipe, so pour gradually.
Pay attention when deep frying. For safety reasons, make sure that your stovetop has your full attention while deep-frying. Hot oil is no joke! Also, be careful when placing your patties into the skillet, as the oil can splatter. Wear gloves or use tongs if you'd prefer.
Make it spicy. Mix finely chopped jalapeños into the batter for a spicy, Tex-Mex kick.
Add cheese. Stir in shredded cheddar or Monterey Jack cheese for cheesy fried cornbread.
Add bacon. Add cooked crumbled bacon to the cornmeal mixture for even more flavor.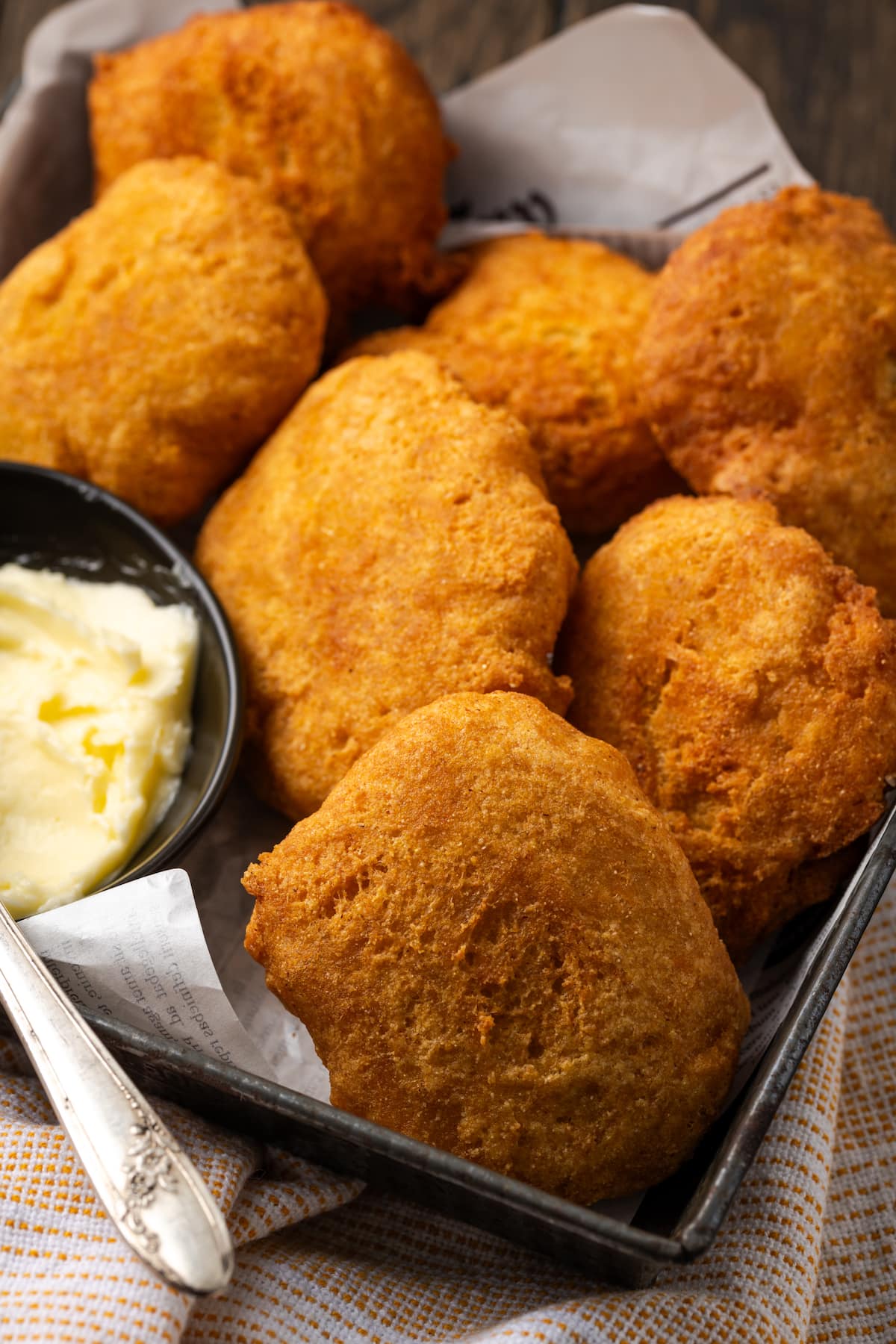 Why Is My Hot Water Cornbread Falling Apart?
If your hot water cornbread is crumbling apart in the skillet, this is likely because the oil isn't hot enough. Make sure that the oil reaches 350ºF. At this temperature, a golden crust forms quickly around the outside of the patty.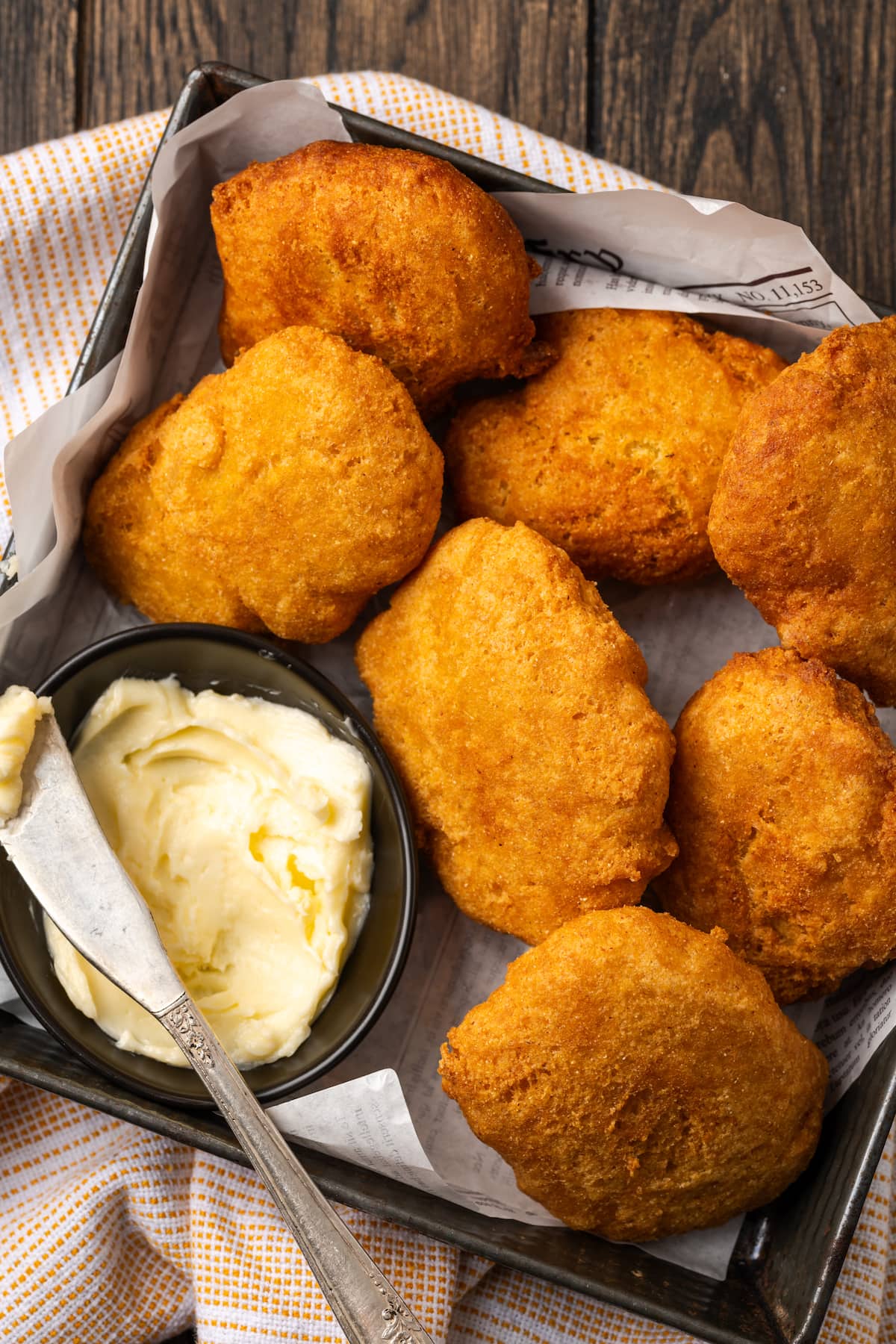 Ways to Serve Hot Water Cornbread
Hot water cornbread is delicious on its own, spread with butter and drizzled with honey. This fried cornbread is also one of my favorite Tex-Mex and BBQ sides. It pairs deliciously with homemade chili and Southern favorites like Brunswick stew. Try these other easy serving suggestions: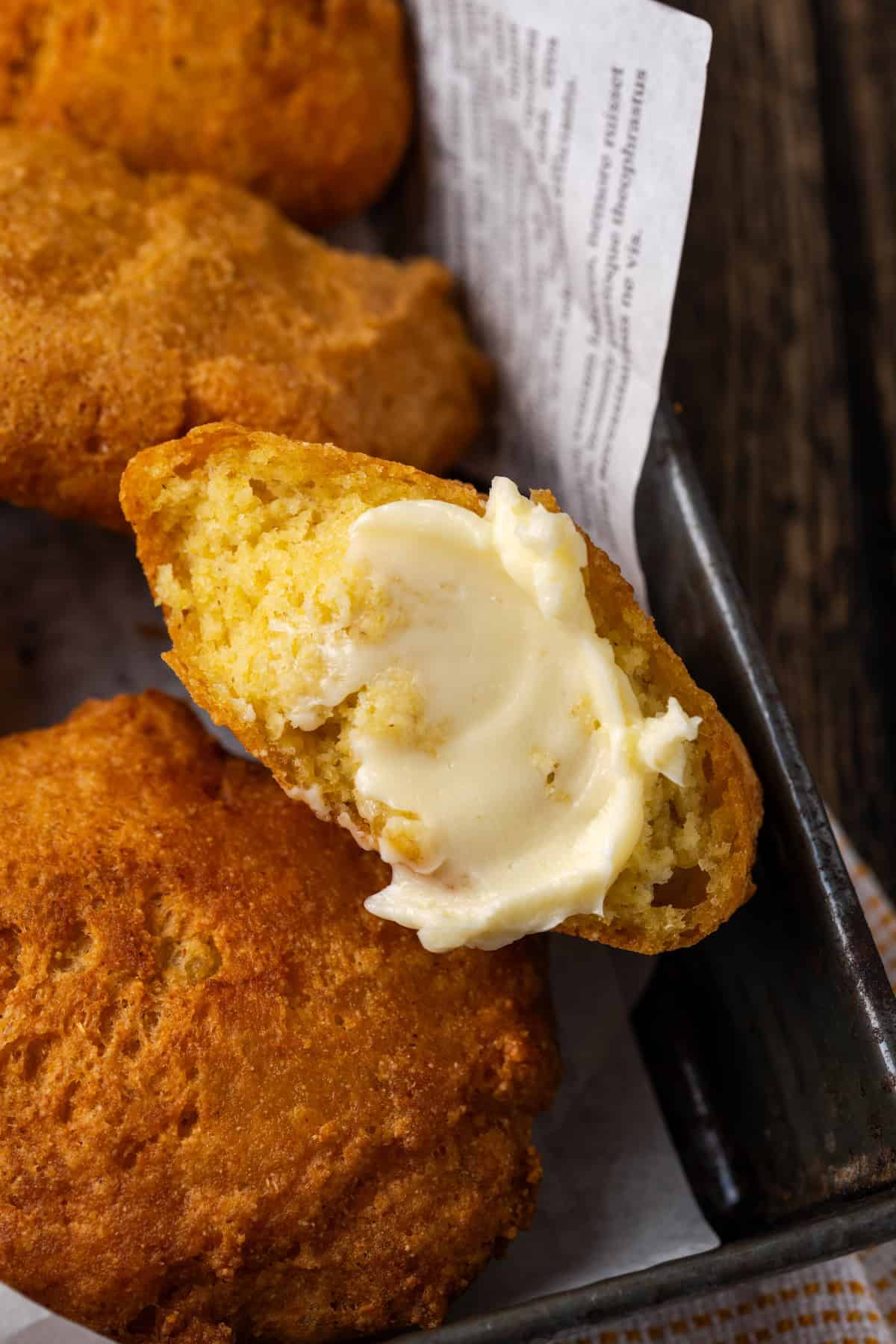 How to Store
To Store: Fried cornbread always tastes the best when it's served right away. However, you can store leftovers airtight at room temperature for up to 3-4 days. You can reheat the cornbread in the microwave for a few seconds or in the oven.
Freezer: If you have leftover cooked cornbread you'd like to freeze, store it wrapped tightly in plastic wrap or stashed in a freezer bag. Freeze for up to 3 months, then reheat the cornbread straight from frozen (I recommend using the oven in this case!).
More Southern-Style Recipes
Print
Hot Water Cornbread
Author:

Prep Time:

15 minutes

Cook Time:

30 minutes

Total Time:

45 minutes

Yield:

4

servings

1

x

Category:

Breads

Method:

Stovetop

Cuisine:

American
---
Description
Crispy old-fashioned hot water cornbread is so crave-worthy! This fried cornbread recipe is an easy side dish that's perfect for pairing with your favorite Southern meals.
---
1 cup

cornmeal

1 teaspoon

granulated sugar

3/4 teaspoon

kosher salt

1 teaspoon

baking powder

2 tablespoons

butter, room temperature

1

egg

3/4 cup

boiling water
vegetable oil for frying
---
Instructions
In a medium bowl, combine cornmeal, sugar, salt, baking powder, and butter until mixed evenly. Stir in the egg until smooth. Add in the boiling water and stir until combined. Set aside.
Fill a deep skillet or Dutch oven with 1- inch vegetable oil to fry. Heat the oil over medium heat until it reaches 350°F.
Using a 3- tablespoon scoop, portion out the cornmeal mixture and form into

thick (1/2- inch)

patties. When the oil is hot, place the patties in the pan and fry for 2-3 minutes on each side until golden brown. Transfer to a paper towel lined baking sheet to drain.
Serve warm.
---
Notes
These are a lot like hush puppies and can be served with butter, honey, or jam. They are also great on the side of chili or a cup of soup for dipping.
Great served as a side with Tex Mex or BBQ, or anytime you would serve cornbread.
Keywords: hot water cornbread, fried cornbread recipe, hot water cornbread recipe
Want To Save This Recipe?
Find more recipes like this:
PIN for later: