These Red Velvet Brownies are so cute cut and decorated like Santa Hats!
So these brownies…
Yeah.
Sometimes stuff is just too easy to even talk about.
And also, making brownies look like Santa Hats is basically my new favorite activity.
I mean…

And they start with a boxed cake mix.
Seriously.
And also, if you despise cake mixes and refuse to eat them, I don't need to know.
Just saying.
But you could go check out this recipe, because I trust that girl pretty hard.
Anyway.  Back to my brownies.  That are also Santa Hats. Which basically spells love.
You can't compete with love, folks.
Red Velvet Santa Hat Brownies.
Start with your cake mix.  CAKE MIX. Mwahahahaha…
And add just a few ingredients…
Melted butter being one of them…
Stir and add mini chocolate chips.  Because brownies with chocolate chips are always better.
Bakity bake bake.
When they are cooled, you can cut them.   But please, be patient.  Let them cool all the way.  Overnight even!
Cut them into triangles.  You're making hats, remember?
And then totally frost them.
I used my buttercream recipe…but here's the thing, you won't need a ton of frosting, so if you make the whole batch you will have enough leftover to frost a bunch of cupcakes…or freeze it to use some other time!
These taste as good as they are cute.  Promise!
Print
Red Velvet Santa Hat Brownies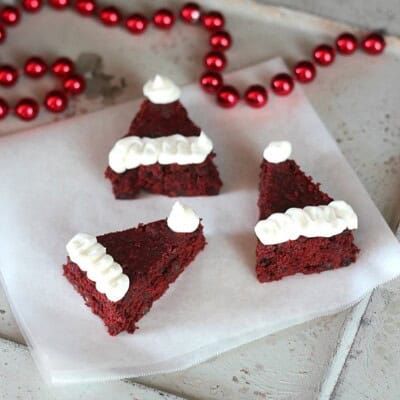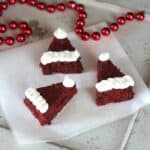 ---
Description:
makes 24 brownies
---
Ingredients:
1

box Red Velvet Cake Mix (I used Betty Crocker,

15.25 oz

)

1

egg

3/4 cup

butter, melted

1/2 cup

water

1 cup

mini chocolate chips
vanilla or cream cheese frosting to decorate
---
Instructions:
Preheat oven to 350°
Spray 9×13 liberally with cooking spray.
In a large bowl combine cake mix, egg, melted butter and water. Stir until mixed in evenly.
Stir in chocolate chips.
Pour into pan and spread evenly. Bake for 25-30 minutes until the center is just set.
Let cool completely.
Cut into triangles to mimic hats.
Frost as a hat if desired.
---
Want To Save This Recipe?