My family-favorite Simple Fettuccine Alfredo recipe is a satisfying pasta dinner, ready in under 20 minutes! It's SO easy and your kids will love it just as much as mine do.
If you love Alfredo sauce, make sure to check out my Cream Cheese Alfredo and my Crab Alfredo too!
Creamy 6-Ingredient Alfredo Pasta Recipe
Drumroll, please! We're making my mom's Fettuccine Alfredo recipe. This dish is creamy, rich, cheesy and cozy. And it only takes 6 ingredients. I can't promise you that this pasta recipe is particularly skinny jeans-friendly, but I can promise you that it's delicious.
So, what's so great about this family heirloom of a pasta dish? It's creamy, it's dreamy. This easy fettuccine Alfredo recipe is a fast standalone dinner, easily customizable with add-ins like chicken or mushrooms (and more, but we'll get to that later). It's also the best side dish to round out a hearty family meal.
Most of all, the Alfredo sauce is ready in the amount of time it takes to boil the pasta. Literally. It's SUPER easy and it always turns out amazing.
What Exactly Is Alfredo Sauce?
If you've ever been to the Olive Garden, you might already be acquainted with fettuccine Alfredo as a pasta dish. But what is Alfredo sauce, anyway? (Besides creamy, cheesy, and delicious, of course.)
It might come as a surprise that traditionally, Italian fettuccine Alfredo ("fettuccine al burro") was made without any cream at all! It involved a simple sauce that consisted of parmesan cheese emulsified with butter and the starchy pasta water. È tutto, that's all. This combination gives it the creamy texture that the sauce is known for.
The addition of ingredients like heavy cream and cream cheese in American-style Alfredo sauce recipes only came later. Clearly, my family's recipe is of the American variety!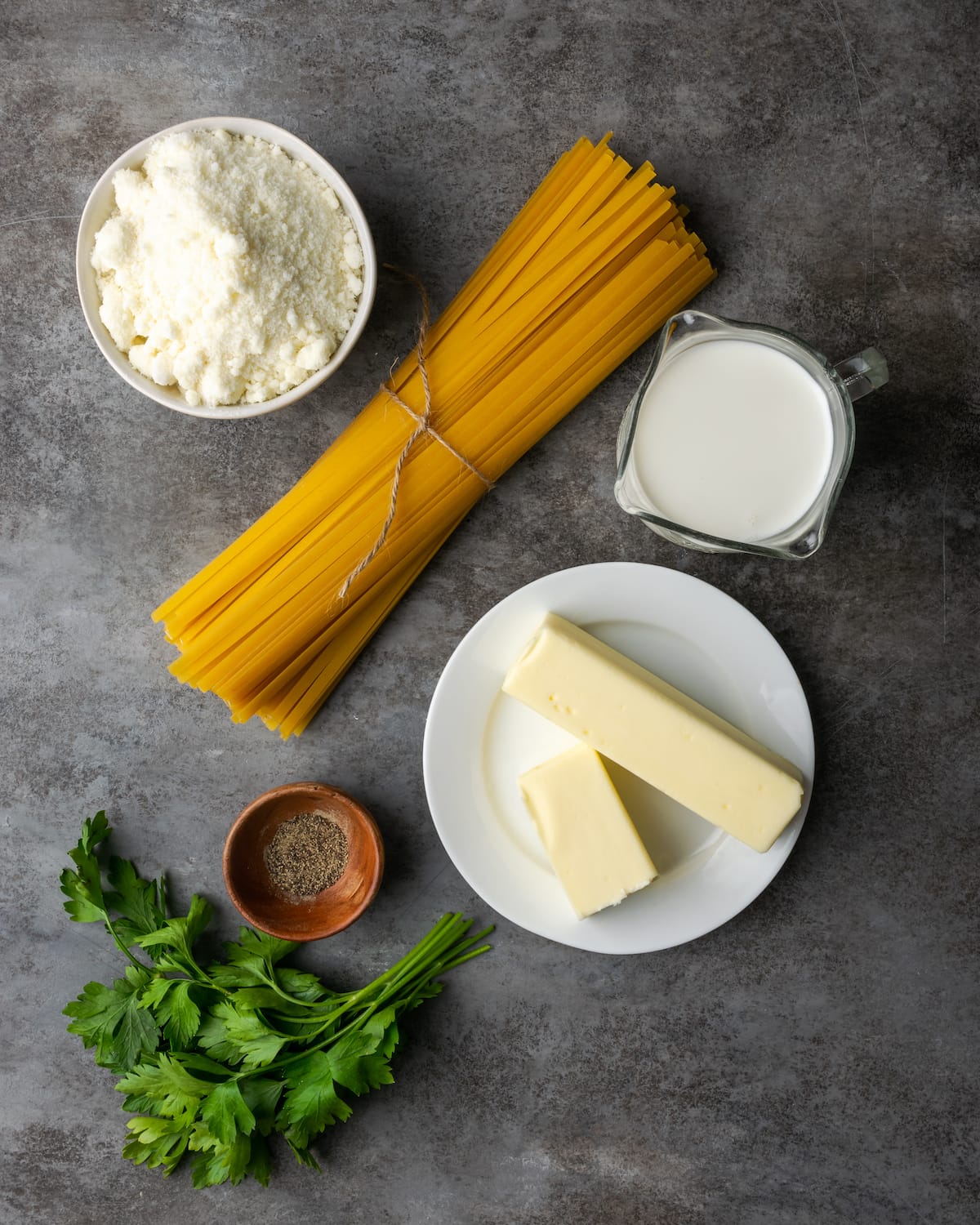 The Ingredients
There's a reason why fettuccine Alfredo is probably one of the most kid-friendly meals there is. I can really only speak for my kids, but I'd hazard a guess that it has something to do with the copious amounts of cheese.
This recipe calls for only 6 easy-to-come-by ingredients. Below is what you'll need, and be sure to refer to the recipe card for the full details:
Fettuccine Pasta: Your preferred pasta brand will without a doubt do the trick.
Half and Half: I know, I know, Italians don't use cream. But this delicious Americanized version of Alfredo sauce gets its next-level creaminess from the addition of half and half. You can also use whole milk or even heavy cream instead.
Butter: Butter gives the cream extra richness and makes the sauce especially smooth.
Pecorino Romano: Or parmesan, freshly grated. I recommend using a sharp, hard cheese when making Alfredo sauce – see below.
Black Pepper
Parsley: Fresh chopped parsley, as optional garnish.
Do I Have to Use Fettuccini Pasta?
To make Fettuccine Alfredo specifically, it goes without saying that you'll need fettuccine pasta. However, this Alfredo sauce recipe is just as delicious with any pasta your heart desires. Spaghetti, linguine, penne, rigatoni, fusilli or bow tie pasta, even stuffed ravioli. The options are endless! If you're feeling extra inspired, you can even make your own Homemade Egg Noodles.
What Kind of Cheese is Best?
If you ask my mom, the best cheese for making Alfredo sauce is Locatelli's Pecorino Romano (her recipe card specifically mentions this). I'd have to agree that pecorino or parmesan are the first choice for Alfredo sauce. However, any hard, sharp cheese is fine to use. You can easily sub in a blend of cheeses like Romano, Pecorino, and Asiago if you'd like.
How to Make Fettuccine Alfredo From Scratch
This fettuccine Alfredo recipe comes together in 20 minutes or less! It takes only 3 simple steps:
Prepare the Pasta: Bring a large pot of salted water to a boil. Cook your fettuccine pasta al dente according to the directions on the package.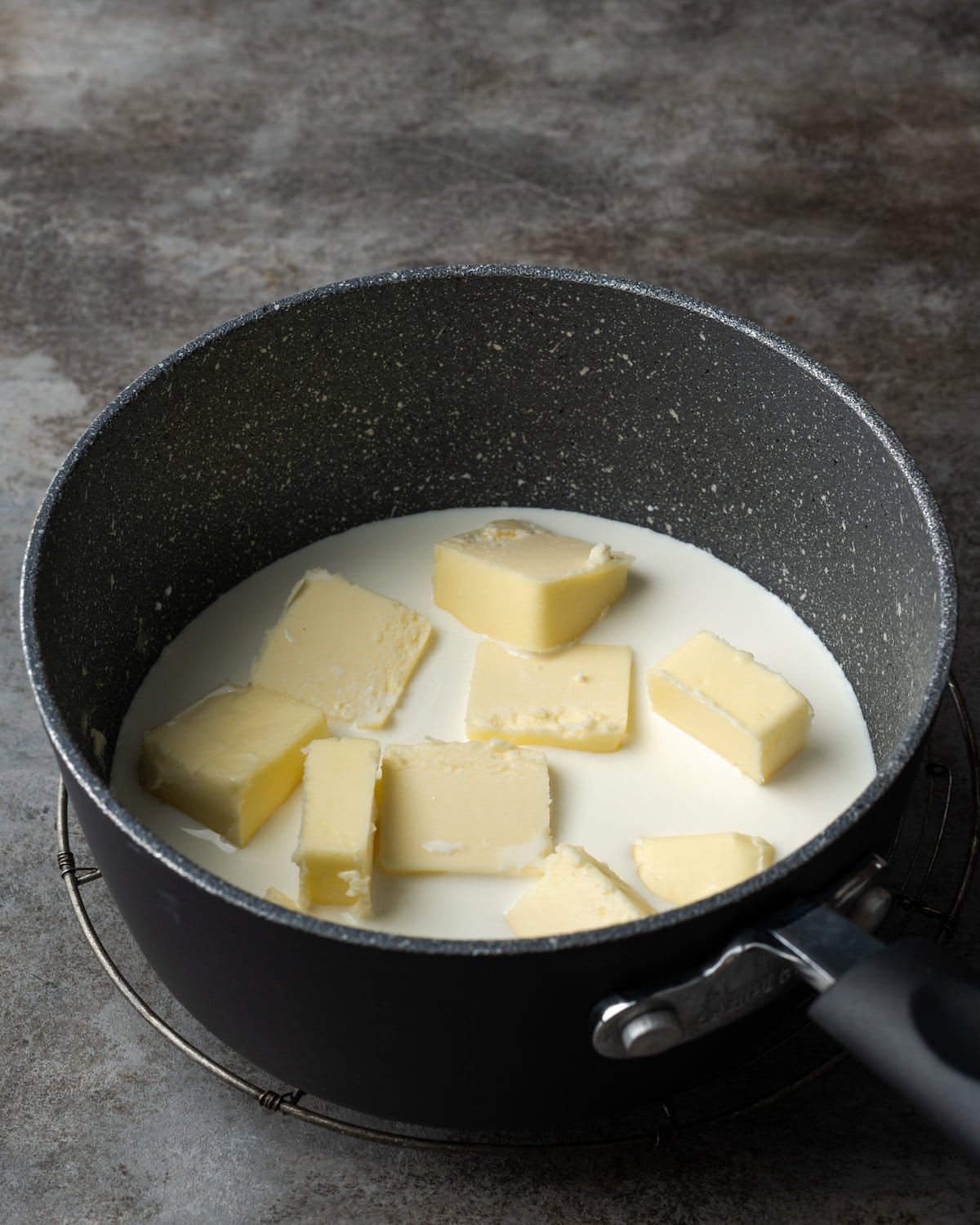 Make the Sauce: Melt the butter and cream together in a saucepan, Be sure to remove the pan from the heat before stirring in the cheese, then season the sauce with pepper.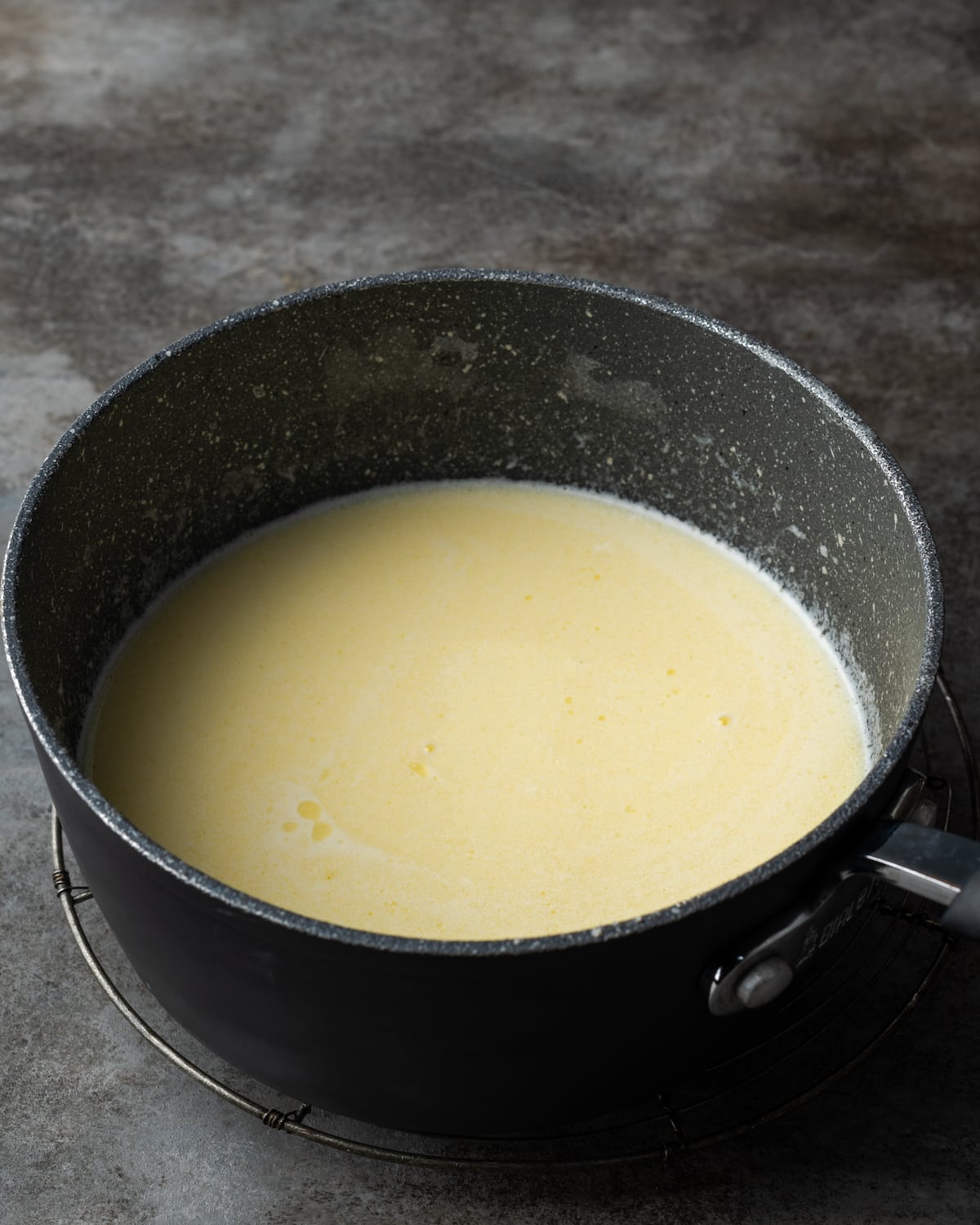 Combine: Once your pasta is cooked, drain and then toss the fettuccine with the cream sauce right away. Give the finished pasta a sprinkle with chopped parsley and serve!
Tips for Success
It's nearly impossible for this recipe to fail! But here are a few tips to ensure 100% success:
Don't Overheat: Be careful to not boil the cream and butter or overheat the sauce, which can lead to splitting and graininess. Also remember to remove the sauce from the heat before you add in the cheese!
If Your Sauce is Too Thick: If your Alfredo sauce is too thick for your liking, take a page from the Italians' handbook. Once the pan is off the heat, stir in a spoonful of pasta water at a time to help thin out the consistency of the sauce. If you've already drained the pasta water, you can also add in a bit of additional milk.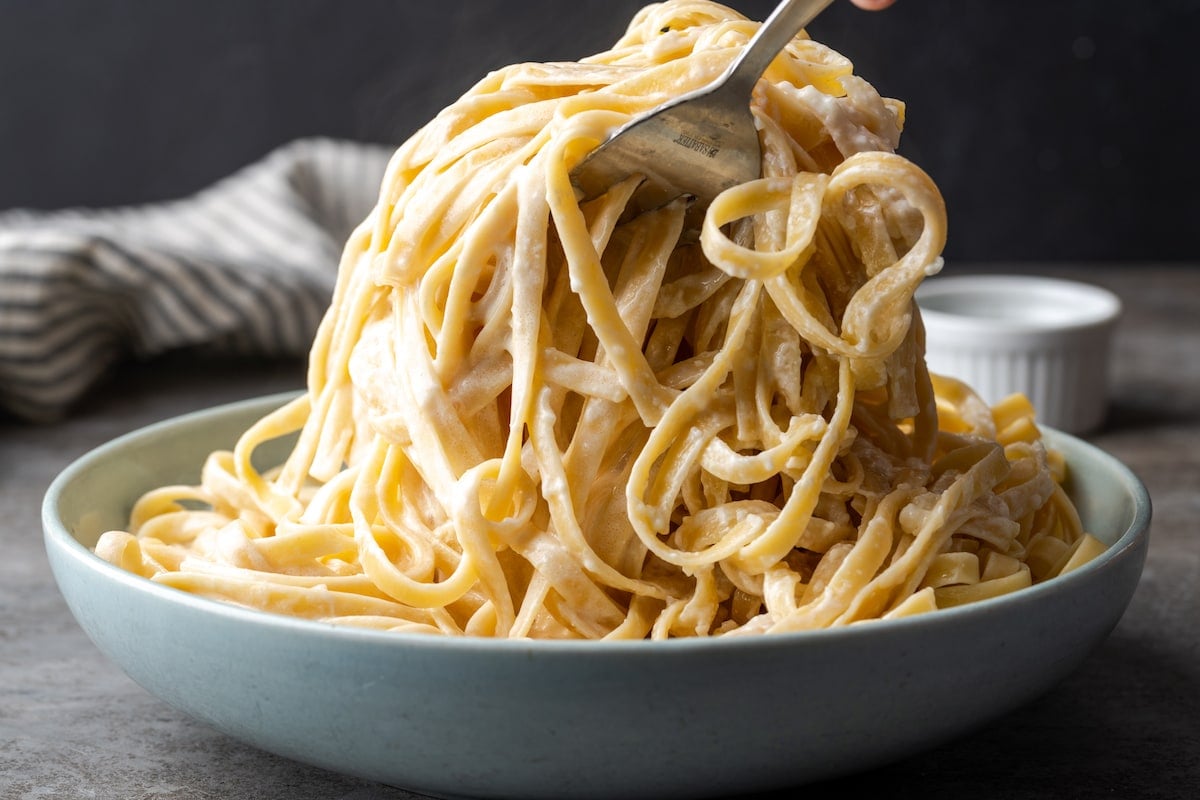 What Can I Add to My Alfredo Pasta?
So many things! This simple Alfredo pasta recipe is bursting with opportunities for customizing. You can add to it in fun and easy ways using your favorite ingredients. Here are some suggestions:
Garlic: For an extra punch of flavor, lightly saute garlic in the pan before adding in the cream and butter.
Chicken: Make creamy chicken fettuccine Alfredo by adding shredded chicken, Grilled Chicken, or baked chicken into the sauce, or served over top.
Seafood: Add in cooked shrimp to make easy shrimp Alfredo, or make buttery homemade Crab Alfredo with crabmeat and Old Bay seasoning.
More Protein: Toss in chopped cooked bacon, pancetta, prosciutto, or Italian sausage.
Veggies: Try adding in vegetables like green peas, artichokes, sautéed mushrooms, roasted red peppers, cherry tomatoes, caramelized onions, broccoli, green onions, spinach, or kale.
Herbs: Add in fresh chopped herbs like basil, oregano, thyme, and rosemary.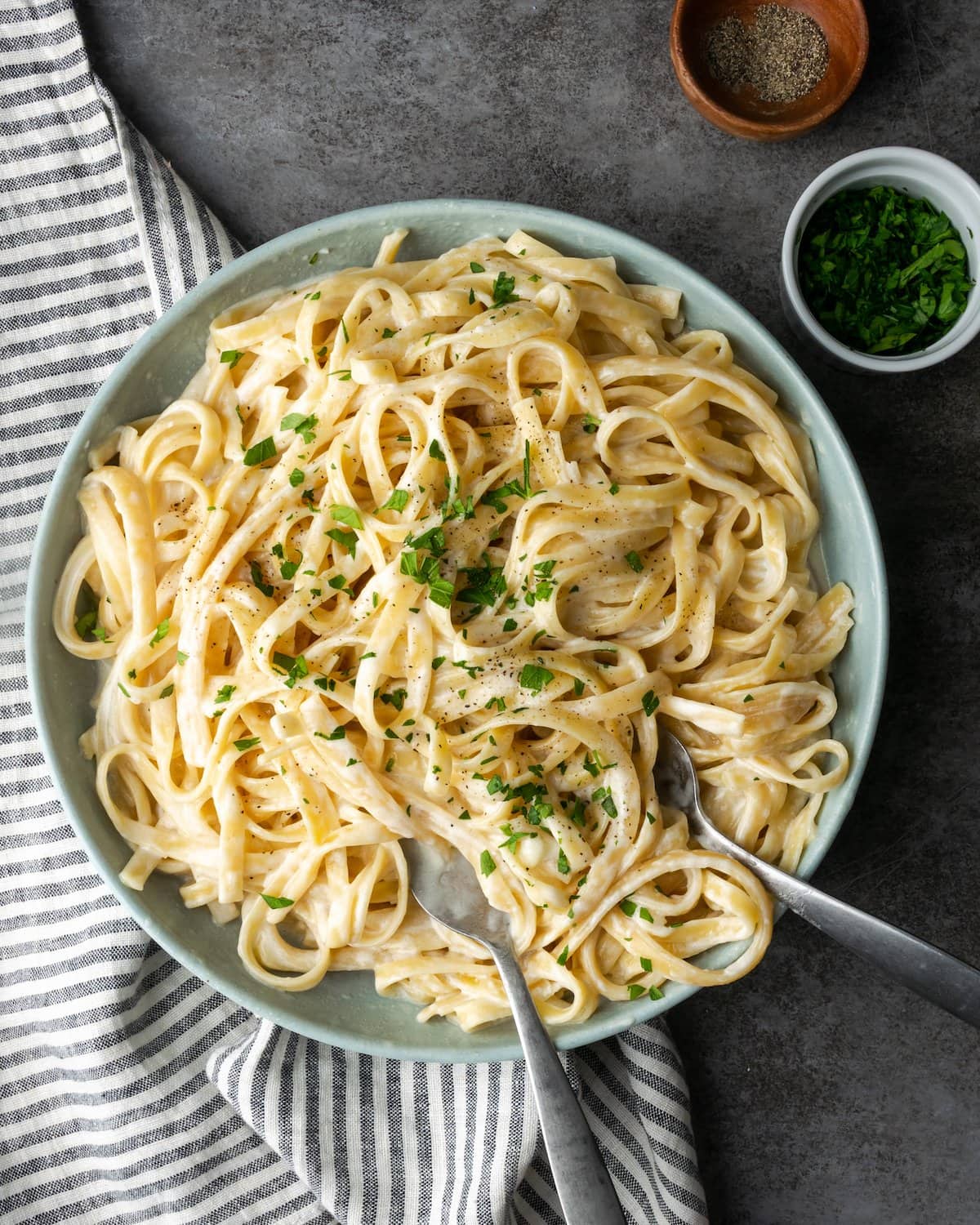 Serving Suggestions
We love to enjoy a warm plate of fettuccine Alfredo pasta with sides like Homemade Garlic Bread or my Perfect Garlic Knots (can you tell we're carb fans in this house?). I'll also pair in with a fresh green salad or roasted veggies for a lighter meal. It's a versatile pasta recipe that you can serve up in tons of effortless ways: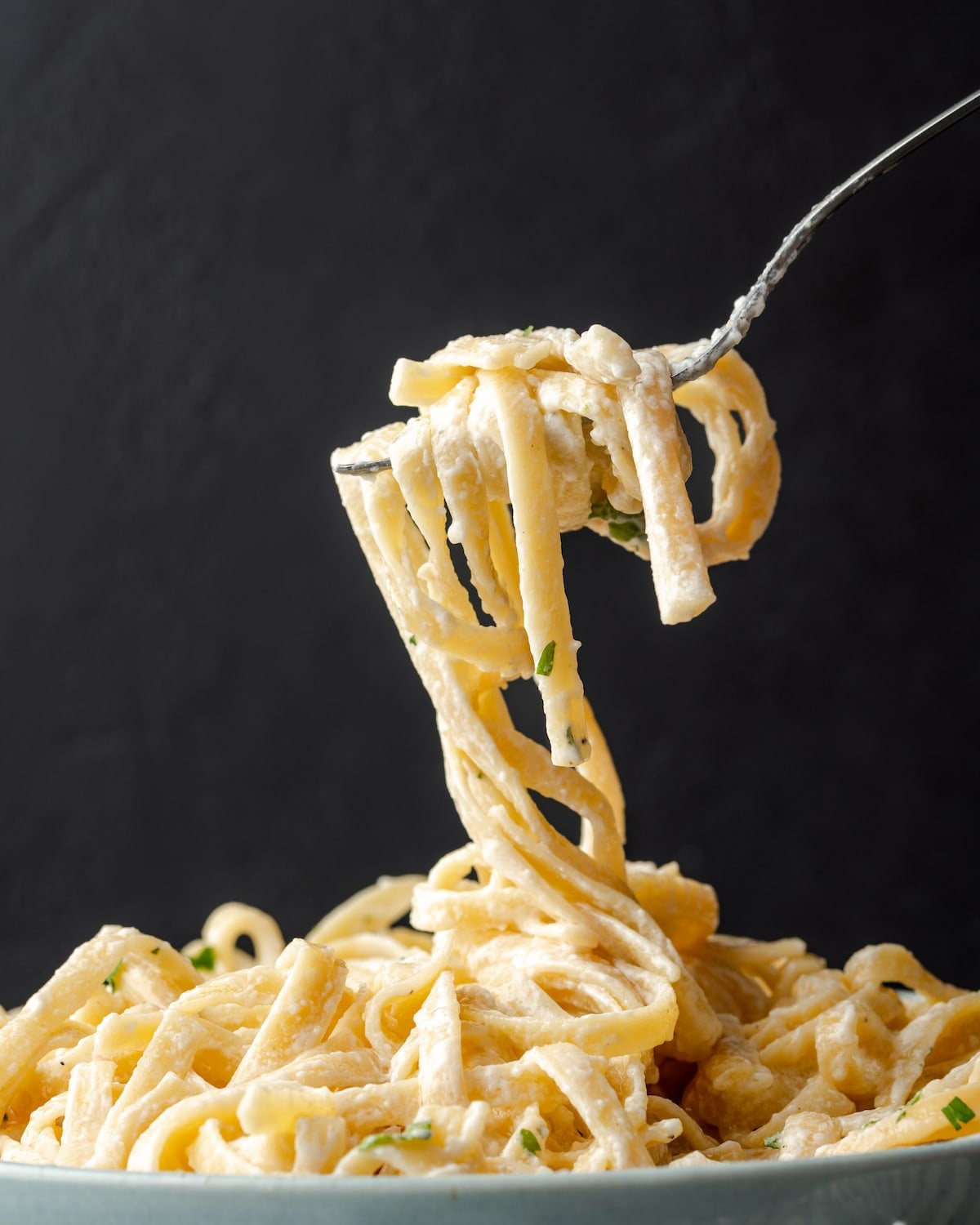 How to Store and Reheat Leftovers
Avoid letting your leftover pasta sit out for too long at room temperature – two hours, tops. Leftovers can be stored airtight in the fridge, with the pasta and sauce in separate containers when possible.
Reheat this Alfredo sauce on the stovetop over low heat, until warmed through. Heating the sauce too high or too fast can cause it to break, so patience is key! Then heat your noodles on the stove or in the microwave, and serve.
Can I Freeze This?
Alfredo sauce is heavy on dairy, and for this reason it will not hold up well in the freezer. This recipe is so quick to make, it's easy enough to stir up a fresh batch!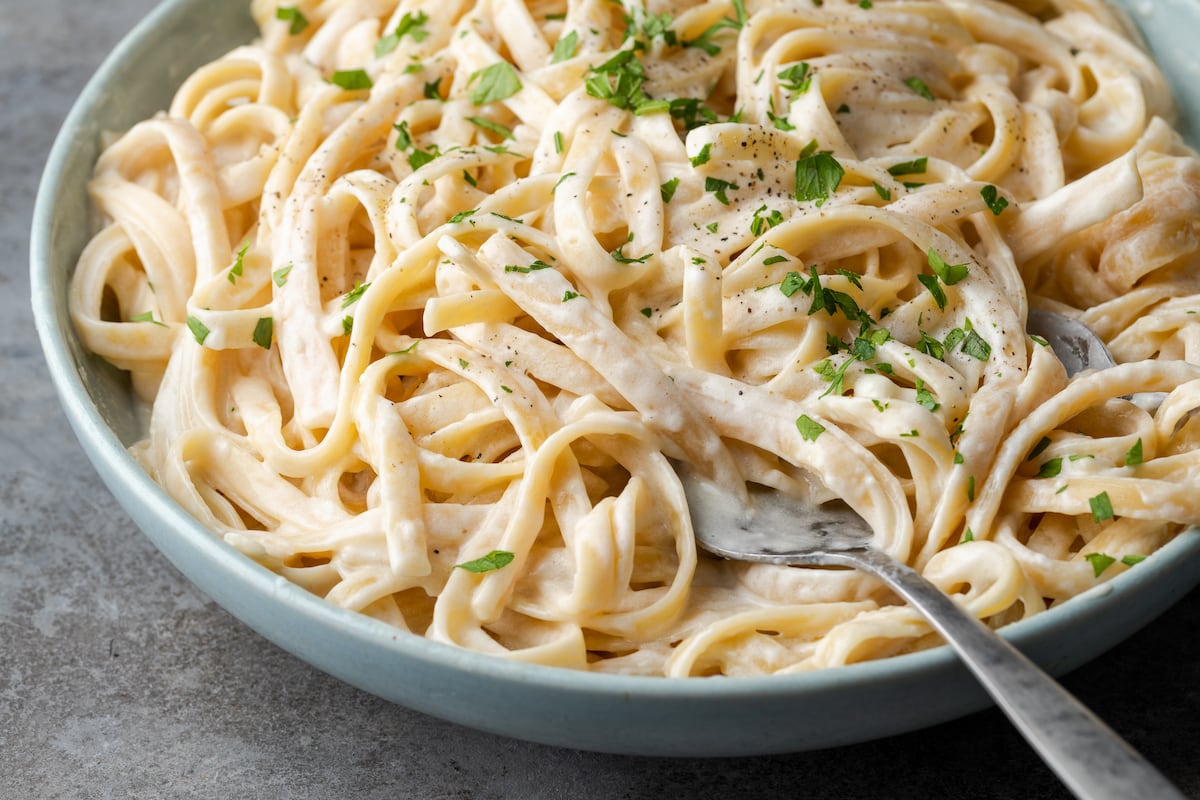 More Comforting Pasta Dishes
Print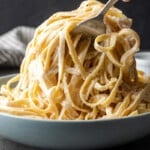 Simple Fettuccine Alfredo
Author:

Prep Time:

5

Cook Time:

10 minutes

Total Time:

15 minutes

Yield:

serves 6

Category:

Pasta

Method:

Stove Top

Cuisine:

Dinner
---
Description
My family-favorite Simple Fettuccine Alfredo recipe is a satisfying dinner, ready in under 20 minutes! It's SO easy and your kids are guaranteed to love it just as much as mine do.
---
1

pound fettuccine

1 cup

half and half

3/4 cup

butter

1 cup

fresh grated Pecorino Romano cheese
fresh grated black pepper to taste

1/4 cup

chopped parsley (optional)
---
Instructions
Boil pasta according to package directions. Make sure to salt the pasta water once it starts boiling before adding in the pasta.
When the pasta is almost done place butter and cream in a saucepan and heat until the butter melts. Remove from heat and stir in the cheese until melted. Season with black pepper.
Drain pasta, place in a large bowl and immediately toss with cream sauce.
Sprinkle chopped parsley on pasta and serve immediately.
---
Notes
You can also use grated Parmesan cheese for this recipe
Nutrition
Serving Size:
Calories:

653

Sugar:

4.2 g

Sodium:

589 mg

Fat:

34.9 g

Carbohydrates:

61.3 g

Protein:

23.1 g

Cholesterol:

102.3 mg
Keywords: homemade alfredo sauce recipe, best alfredo sauce recipe, how to make alfredo pasta
Want To Save This Recipe?
Find more recipes like this:
PIN for later: