Sometimes I am not so sure I am a good human being.
I try.
But occasionally I do things that make me wonder about myself…and even from time to time I try to get to the root of the issue.  That generally ends with me, as usual, blaming my parents, or my brother, or my childhood dog.  Yep, I play the blame game.  I've even blamed Strawberry Shortcake before…you wanna for what?  For making me gain weight.  It makes sense if you think about it.  I played with that delicious smelling doll for years as a child, which I think subconsciously instilled the belief that playtime should include delicious desserts.  See? It's not a stretch.
So yeah, me not being a great person is probably someone else's fault.  Maybe Oscar the Grouch?  Again, not a stretch.
Here are a few examples. Yes, I am ashamed…
Example:  Whenever someone falls, my first instinct is never to see if they are ok (unless it's my child).  It is ALWAYS to laugh and point.  What is the matter with me that I find people falling hilarious?  I mean, it's not like I have never fallen.  You would think I would have compassion.
Example:  When someone has something on their face that isn't supposed to be there, like frosting or a booger.  Again, hilarious.  I'm not the friend who tells you you have something on your face, I am the friend who gets a giggle out of watching you walk around with snot smeared on your cheek.  Evil.
Example:  When you are in a public restroom and the person in the stall next to you is having major stomach issues.  I cannot seem to contain my laughter.  I would imagine that the anonymous person in stall 3 is mortified at the noises that they are making, but I can't seem to get over the hilarity of it all.  (Dumb and Dumber happens to be an all-time fave.)
Example:  When a mom loses her cool in the middle of Target and transforms into a she-devil because her children won't stop fighting.  I am not the lady who smiles and nods, knowingly..because we all have been there.  Nope, I am the mom who runs the other way, quietly judging the crazy lady in the sock aisle all while telling my kids, "You're so lucky to have a me as a mommy".
I am not proud of my behavior…I'm not…because  I have not only admitted that I am a straight-up d-bag, but have also admitted to having the sense of humor of a 13 year old boy.
I should definitely not laugh at people who fall, or people with cool whip on their face.  I should absolutely not snort when someone is having intestinal issues in a public restroom.  And I definitely should not judge when a mother turns crazy in the middle of a discount department store.
Yeah, I'm kinda a jerk.  I'm working on it.
But please don't hate me for too long, because I have something for you.
Remember back in August when I made this cake?  It had 2 ingredients and was really delicious!
We're gonna do that again today.  All you need are 2 things…cake mix and a can of soda.
Seriously!
Why in the world would I ever use eggs and oil again?
I saw this idea on Pinterest, but apparently I forgot to Pin it and searching again and again I couldn't find the source…but I did a quick google search and found that it's all over, so I don't feel so bad.
Soda Can Cupcakes.
Here's what you need….
I used Funfetti and Cranberry Splash Sierra Mist.  It made the cupcakes a pretty pink color.  You couldn't really taste the cranberry or the Sierra Mist at all.  Maybe a stronger flavor soda would give more flavor.  BUT it tasted like Funfetti cake, and that's good with me!
**I know you are going to ask this…I don't know if this works with diet soda.  Well, I am sure it works, BUT after a few quick searches I saw some sites saying it is dangerous to heat up artificial sweeteners…So I don't know.  I mean, if I believed everything on the internet I would be transferring all my dollars into a Nigerian Bank account, chain emailing all my friends so I will have good luck and never drinking pop rocks with soda, which is actually fun and tasty.  So with that said, I am not a scientist, I do not know if you will die a slow, painful death if you bake with diet coke…but I do know I am certainly not the person you should be asking about healthy food alternatives…so use your best discretion.
Here's all you do…
Pour a can of soda into your dry cake mix.  Use room temperature soda please.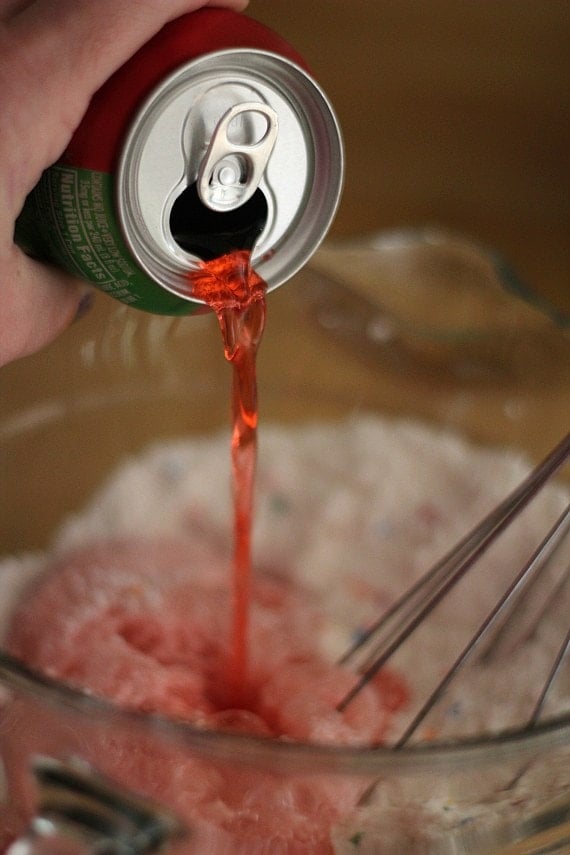 Using a whisk, mix your cake mix and soda until most of the lumps are gone.
I will look like this…
Fill your lined muffin tins about 1/2 – 2/3 full of batter.  You won't get 24 cupcakes like you would if you followed the instructions.  I got about 17.  The batter is a slightly thicker than regular cake mix batter.
After you've baked them you can see the texture…yum!
And now decorate them however you would like.  I made a batch of buttercream and played around a bit.
Cute cupcakes always taste better, I'm pretty sure of it.
For more cute and soda filled cupcakes check out these soda filled cupcakes from Confessions of a Cookbook Queen…they are in a jar, which triple the cute factor!
Soda Can Cupcakes
Ingredients
1 box cake mix, any flavor
1 can room temperature soda, any flavor
Instructions
Preheat your oven to 350°
Line muffin pan with liners.
In a medium bowl combine your soda and cake mix, stirring with a whisk until most of the lumps are gone.
Fill each liner ½-2/3 full of batter.
Bake for 18-20 minutes until cupcakes are springy and toothpicks comes out clean.
Let cool completely before frosting.
Notes
You can use any flavor combination you would like. Coke or Dr. Pepper would be great in a chocolate cake mix. Orange Soda, Mountain Dew, Sprite, Root Beer would all be fun to try too.
Social Share