How was your Thanksgiving? Are you full?
I actually ate more the day AFTER Thanksgiving than on the day itself. I feel like I let my guard down, thought I had Thanksgiving topped. I got cocky.
We are lucky enough to to have great friends and neighbors and the day after Thanksgiving we have "Friendsgiving". Well, I was weak. I made and ate THIS and THIS and my friend made THESE and I all but licked the bowl clean.
I woke up Saturday morning telling myself I would only drink water until Christmas. It took me 'til about…say…9:30 am until I was back on food. I told you I was weak.
You wanna know what happened? Pie. Actually pudding pie.
I am not a pudding person. I have never been a pie person. Soooo, when I decided to make this I knew I wouldn't be tempted.
I am wrong a lot.
Here's the thing about this pie…it's the pudding.
When I said I am not a pudding person that is true. I don't like making it, I don't like the texture, I don't like the taste.
WELLLLLL, I had never made homemade pudding.
Life changer, people. Life. Changer.
Here's what you need to know about this Candy Pie:
Oreo crust? Check.
Homemade chocolate pudding? Check.
Milky Way? Check.
Reese's Cups? Check.
Marshmallows? Check
Brownies? Check.
Whipped cream? Check.
M&M's? Check.
Do I have your attention? All of those ingredients rock my world…but it's the pudding people…make it.
First make your Oreo crust, or use a store bought if you want…but they're really easy. Just mash up some Oreos and mix with melted butter and press into a pie pan and bake.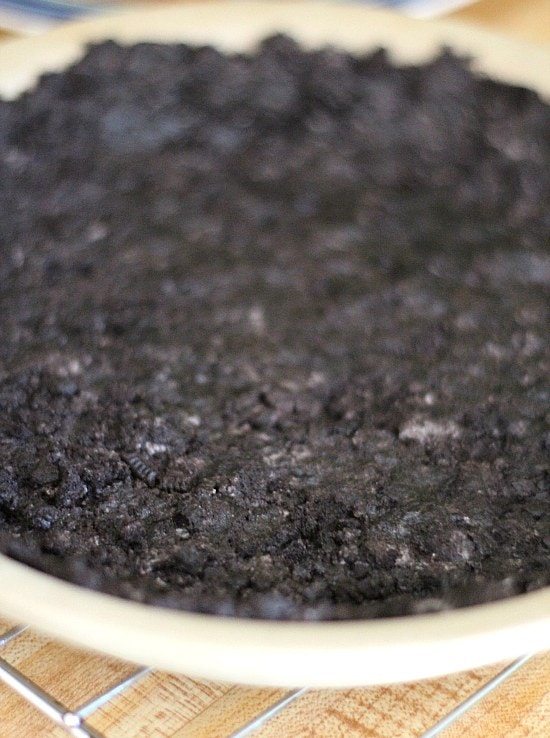 Now, also, if you are feeling all "make-from-scratchy" go ahead and bake up some brownies. Whatever kind you like. If not, use store bought brownies. It really won't make too much of a difference.
Next, make your pudding. Again, if you are really not into it, you can certainly use a boxed pudding mix, but I urge you to make the pudding.

While your pudding is cooling chop up you Milky Way and brownies. Spread them on top of your Oreo crust.
Then mix your Reese's and marshmallows into your cooled pudding.

Pour this deliciousness on top of your Milky Way and brownies. Chill the pie for 3 hours.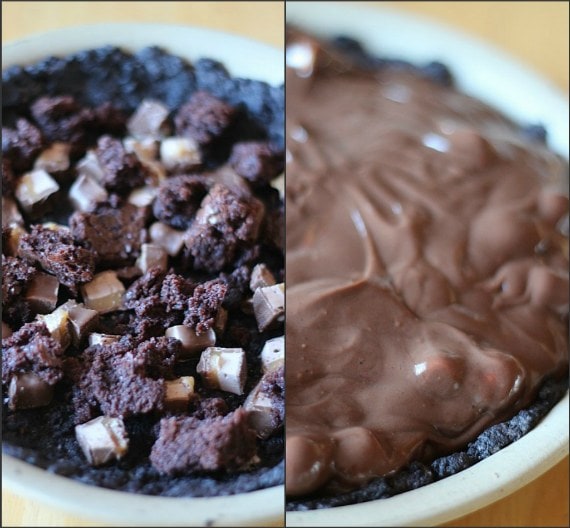 Then when you are ready to serve, spread some whipped cream on top, again, either homemade or store-bought, and sprinkle some M&Ms on, because they're pretty.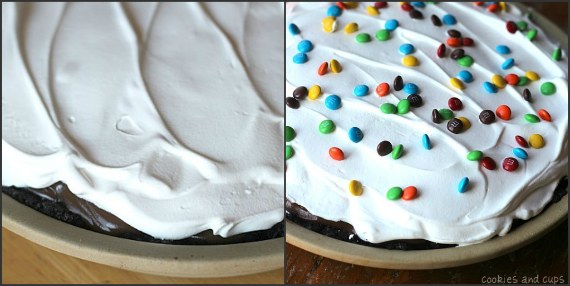 Now, I dare you not to stand over the pie plate and eat it with a spoon. I straight-up dare you.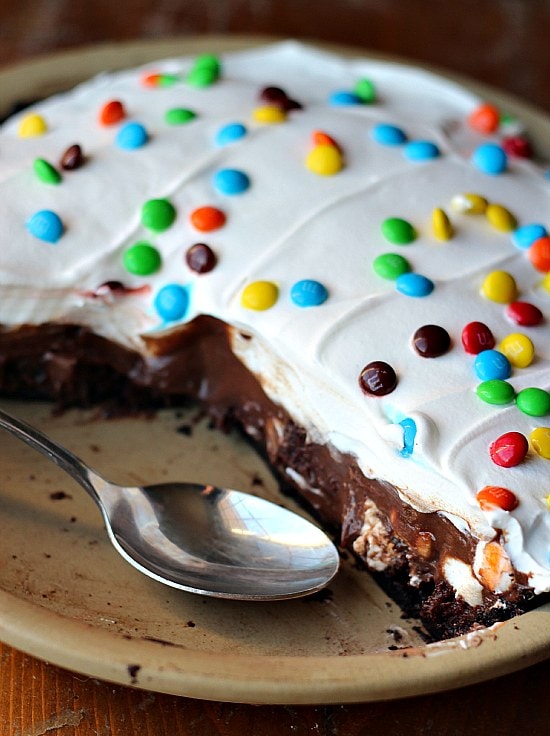 MAKE THE PUDDING!
Print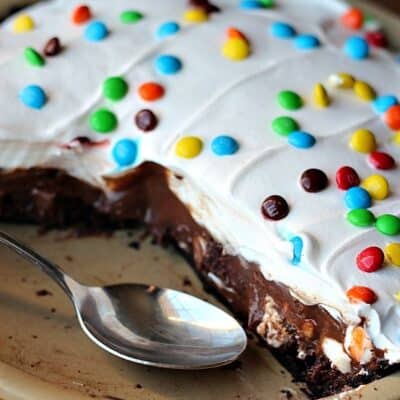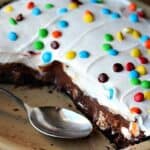 ---
Scale
Ingredients:
Crust
20

Oreos, crushed

2 Tbsp

butter, melted

2 Tbsp

milk
Filling
3/4 cup

sugar

3 1/2 Tbsp

cornstarch

1/8 tsp

salt

2 1/2 cups

whole milk

4

egg yolks

2 Tbsp

butter

2 tsp

vanilla

3 oz

unsweetened chocolate, chopped

1/2 cup

Mini Reese's Cups or

1/2 cup

chopped full size Reese's

1/2 cup

mini marshmallows

1/3 cup

chopped Milky Way bars (approx

1

bar)

1/3 cup

chopped brownies (either store-bought or homemade)
Topping
2 cups

Whipped Cream (homemade or whipped topping)

1/3 cup

M&M's
---
Instructions
Crust
Heat oven to 350°.
Mix your Oreos and melted butter together and press into a 9-inch pie plate. Bake 5 minutes. Remove from oven and cool on wire rack.
Filling
In a medium sauce pan whisk together sugar, cornstarch and salt. Whisk in milk and egg yolks until well combined. Place saucepan over medium heat, whisking constantly. When mixture comes to a boil, add butter, 1 tablespoon at a time and vanilla. Next add the chocolate a little at a time and whisk until melted. When melted and smooth, remove from heat. Let cool for 10 – 15 minutes and then fold in your Reese's and marshmallows.
Layer your crust with your Milky Way and brownies and then pour pudding mixture on top of that. Cover pie tightly with plastic wrap and place in refrigerator for at least 3 hours.
When ready to serve, remove the plastic wrap and spread your whipped topping or whipped cream on the pudding. Garnish with your M&Ms.
Serve cold.
---
Notes:
You can use a store-bought crust, boxed pudding and store-bought brownies if you prefer.
Recipe adapted from: Perfect Pies
Want To Save This Recipe?
Contest runs through Sunday, December 4th at 11:59 pm and is open to US and Canada residents only.
CONTEST CLOSED