Ice Cream Cone Krispie Treats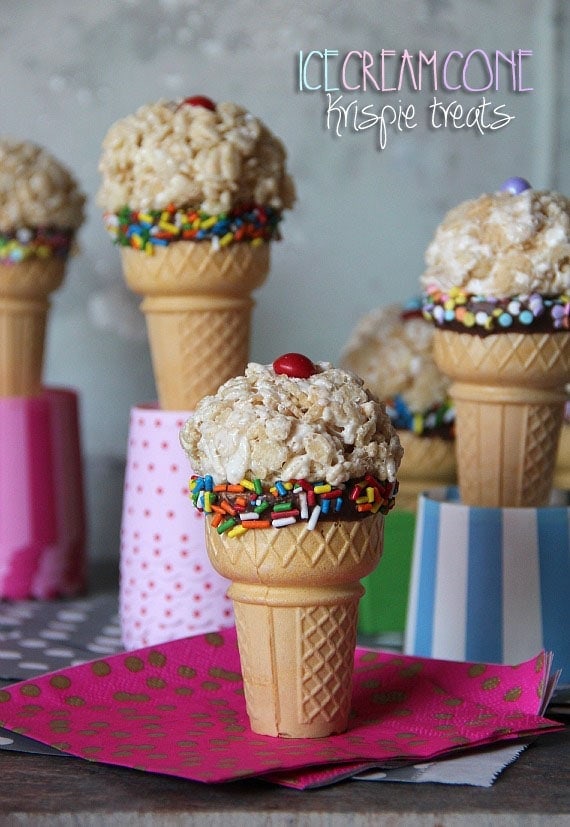 These adorable Ice Cream Cone Krispie Treats are perfect for parties and BBQs! Kids will love them!
I'm gonna tell you a story.
One day there was a kid who had an end of the year BBQ for his baseball team.
That very same day his mother decided she would impress the other baseball moms by making rice krispie treats that look like ice cream cones.
Not only that, but she thought she could dip the cones in chocolate, rim them with sprinkles and fill them with M&Ms. You know, normal Saturday morning stuff.
Well, after dipping, rimming and krispie treat filling they were done.
And honestly they were about the cutest things ever.
When it was time to go to the BBQ where the oohing and ahhing would commence the mother was ready and waiting.
During this waiting period she may or may not had to ask her child to get his shoes on 70 hundred times without him listening.
The mother carefully packaged her special treats made "for the children" and waited patiently.
THEN.
ALL OF THE SUDDEN her sweet child came running down the hallway (without shoes on) and crashed right into the poor mother and her tray of Ice Cream Cone Rice Krispie Treats.
And this happened…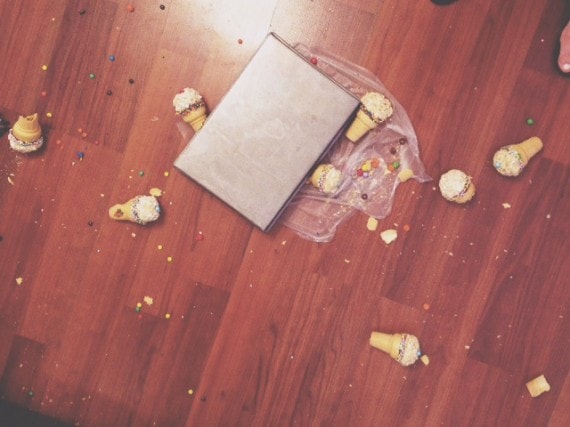 The mother's head then exploded.
The end.
Luckily for you, the mother was smart enough to photograph her Ice Cream Cone Krispie Treats ahead of time.
Always thinking, that girl.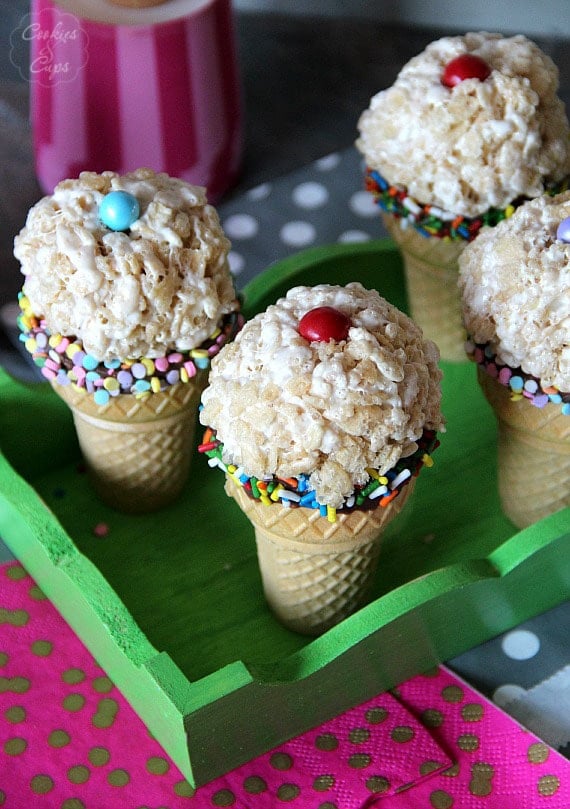 In all honesty, these are a breeze to throw together. Shhh, don't tell.
First, gather your sprinkles…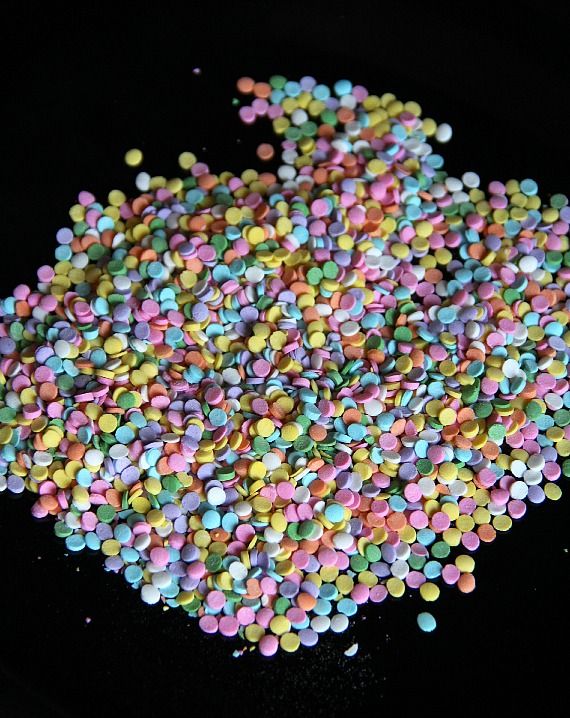 And dip your cone into some melted chocolate…
Tap off the excess…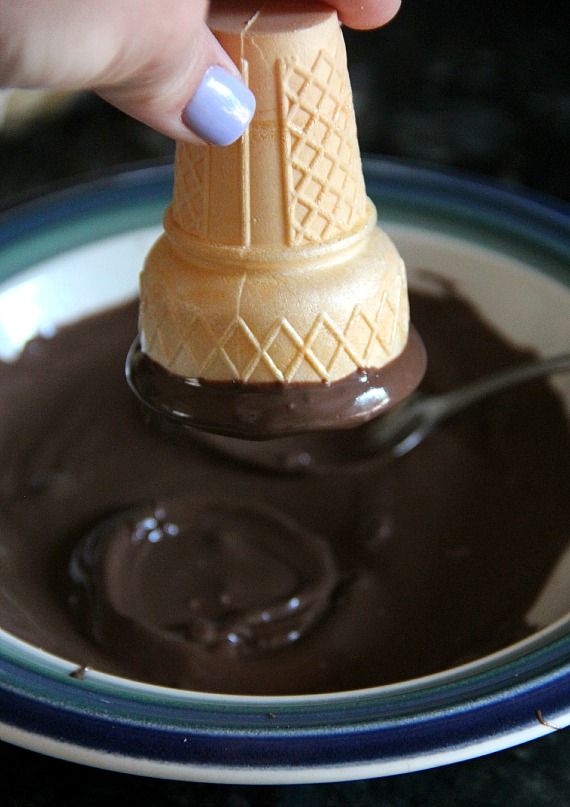 Then dip it immediately into your sprinkles.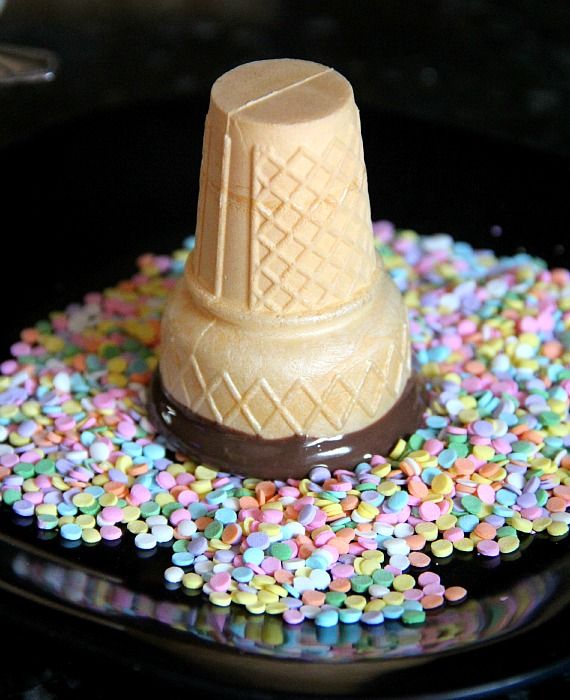 Gorg.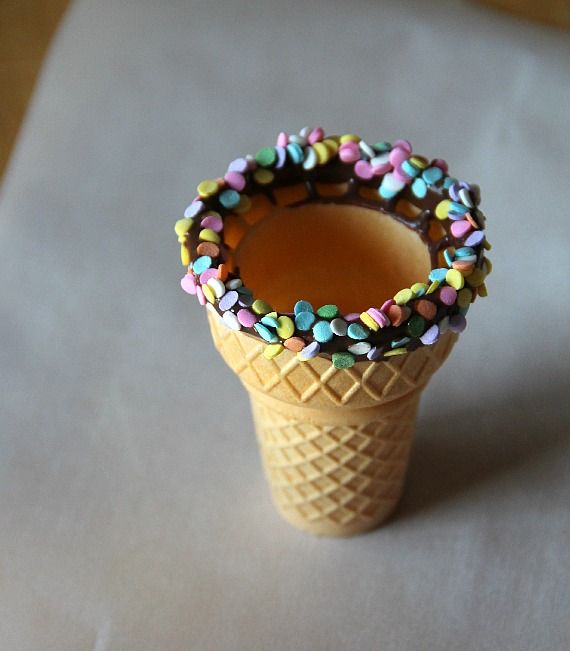 Next fill the bottoms of each cone with some candy. I used Mini M&Ms.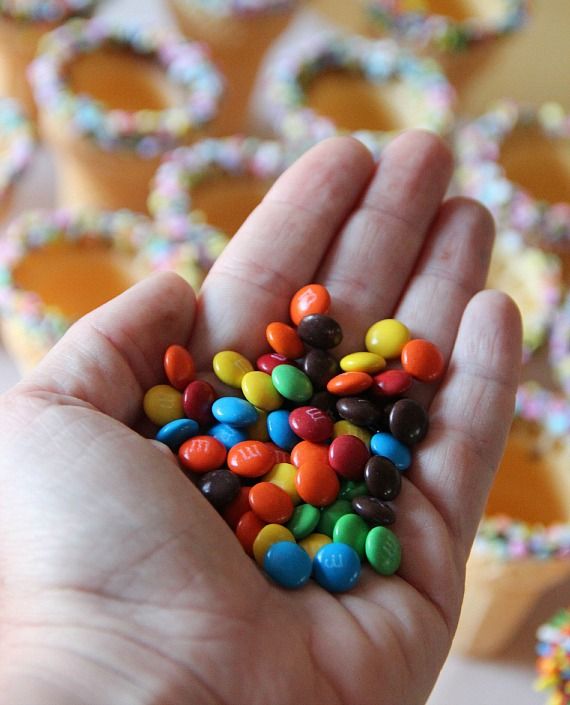 And I also used Skittles. Taste the rainbow.
Next up I made a double batch of my basic krispie treats and formed them into this shape…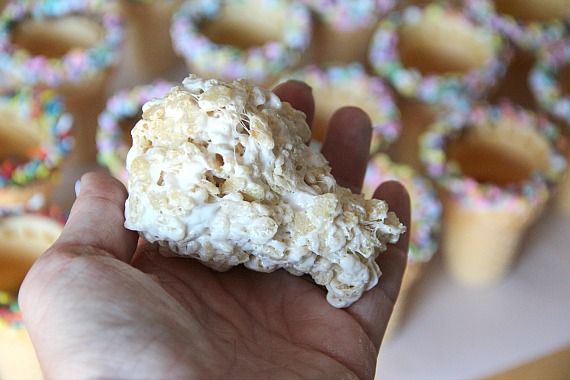 Then I mooshed them int the cone. Very technical.
And I stuck a candy on top. Just cuz.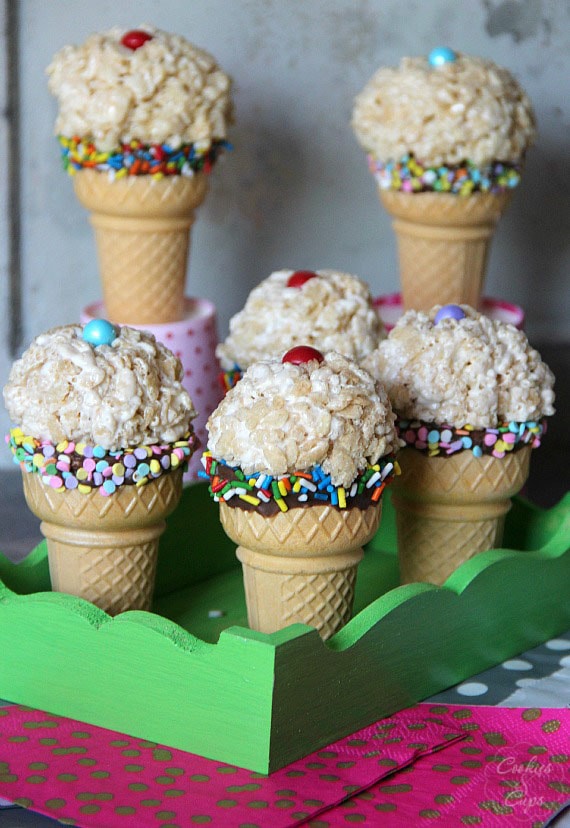 Feeling more creative with krispies? Check these out!
Print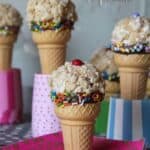 Ice Cream Cone Krispie Treats
---
Description
Makes 24 cones
---
Ingredients
2

(10.5 oz) bags mini marshmallows

1/2 cup

butter

12 cup

s Rice Krispie Cereal

24

ice cream cones

1 cup

melted chocolate
Sprinkles

2 cup

s M&M Candy
---
Instructions
Dip tops of ice cream cones in the melted chocolate and tap off the excess.
Dip them immediately into the sprinkles.
Repeat with all the cones and set aside to allow the chocolate to harden.
Fill each cone with a tablespoon or two if M&M candy.
In large pot over low heat melt butter. When butter is melted, add in marshmallows stirring until melted. Remove from heat.
Immediately add in your cereal.
Spray hands lightly with cooking spray to help avoid sticking and form about 1/3 cup krispie mixture into a cone shape, so some of the mixture fits into the cone and the other remains on top. Pack the krispie so it resembles an ice cream cone.
Top with a red M&M if desired.
---
Notes
Store airtight up for to 2 days. Best if served same day.