These homemade Key Lime Pie Ice Cream Sandwiches are a super easy summertime dessert! You'll love this tasty and refreshing ice cream sandwich recipe!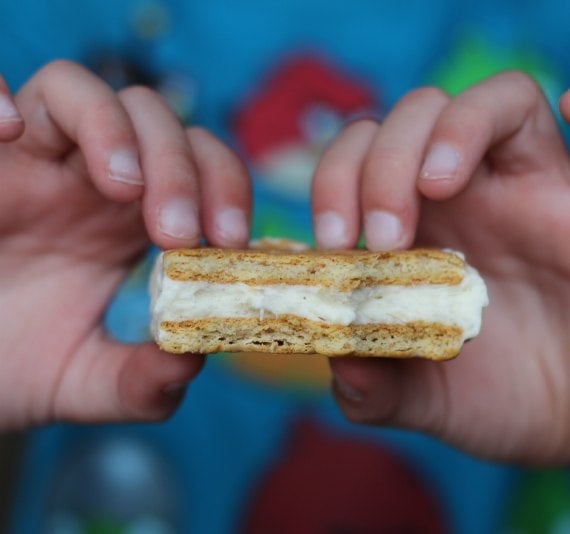 Key Lime Pie Ice Cream Sandwiches Recipe
There's this new invention called facebook.
Have you heard of it?
People say it's taking the internet by storm.
There's also this new bonus to facebook too, that I'm not sure you've heard about.
No, it's not that dumb timeline.  That's just stupid.
It's the super hero powers that you can get by using it.
Actually it's one super hero power, specifically.
It's called bravery.
I've honestly never seen anything like it.
I mean, in real life you would never have the courage to legitimately stalk people from your past.  That would require a lot of effort, honestly.  The black clothes, the ski-mask, the potential jail time.  Really, who's gonna go to all the trouble?  Enter, facebook bravery.
What about the games?  I mean really?  Creating your own city or farm or pet hotel…it's time consuming.  Would you ever, before facebook, think it was cool to ask your friend to harvest your corn for you?  Kind of presumptuous, if you ask me.  And really, what would your 2002 self say if you were to tell him/her that you would be spending hours building a virtual city online?  Really…I want your honest answer on that.  Not judging here, just observing.  Luckily you have facebook bravery to unabashedly ask your friends to become a virtual neighbor and do some of the heavy lifting for you.  It takes a village.
But when people get to be their most super-heroish is when they leave comments on your wall, or personal page that basically would get them punched in the face in real life.   That's my most favorite.  I just imagine people sitting behind their desk with a giant "H" embroidered on their shirt typing away.
Don't get me wrong, I get facebook powers from time to time.  Not too long ago I posted a picture on my wall of a bumper sticker that I thought was inappropriate and people lost their shizz. The thing is, I fancy myself a middleman.  Just bringing the news to the people.  I'm a giver like that…like a cookie-making Walter Cronkite.
And it's pretty great to have a different opinion.  I'm open to it.  Just don't let that super power take you over to the dark side…because unless you're James Earl Jones, it's not a good look.
So in efforts to solidify our friendship I decided to make you ice cream sandwiches.  And not just any ice cream sandwich.  Key Lime ones.
Don't hate, appreciate.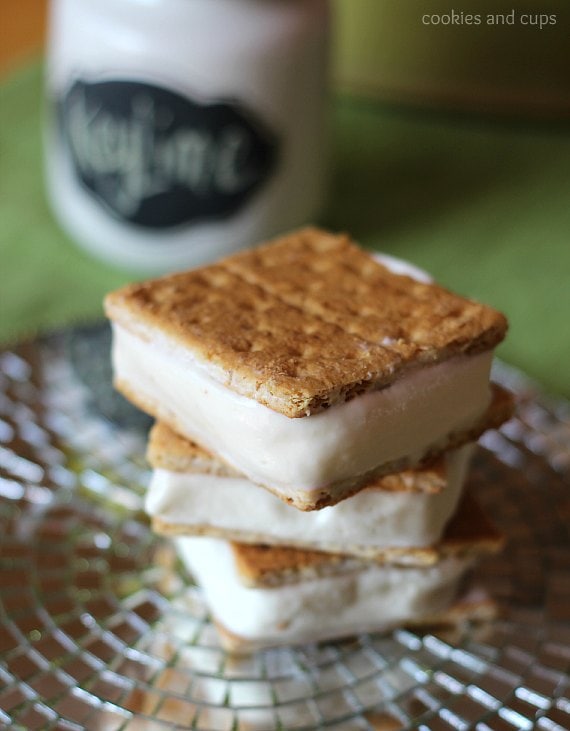 How to Make Homemade Ice Cream Sandwiches
What's great about these is you all you need is a mixer and a freezer.  Well, and all the ingredients…and a spoon…and some time…
You mix up your ice cream/key lime filling, which is super easy.  Heavy cream, Key Lime juice, sweetened condensed milk, sugar…it just keeps getting better doesn't it?
The consistency will look like this: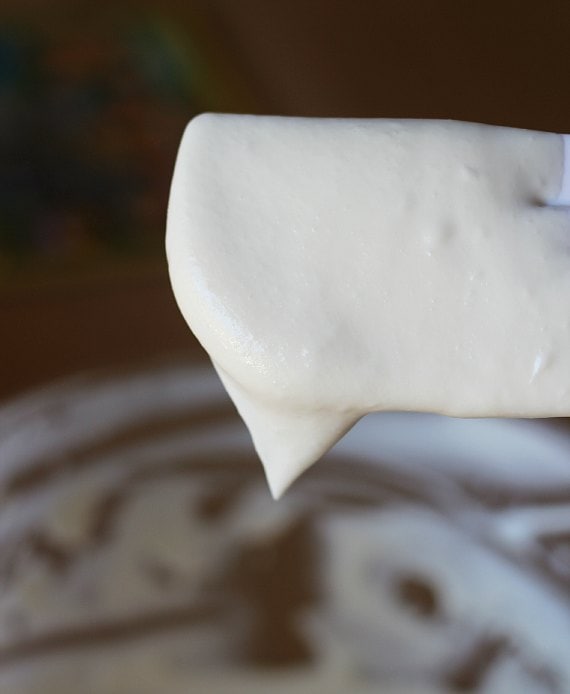 Pour that into a plastic container and freeze it for 5-6 hours.
At that point it will be almost frozen, but still spreadable.
If you forget it and leave it in longer, it's not a problem, just let it sit on the counter until it warms up to a spreadable consistency.
Then assemble your ice cream sandwiches using graham crackers!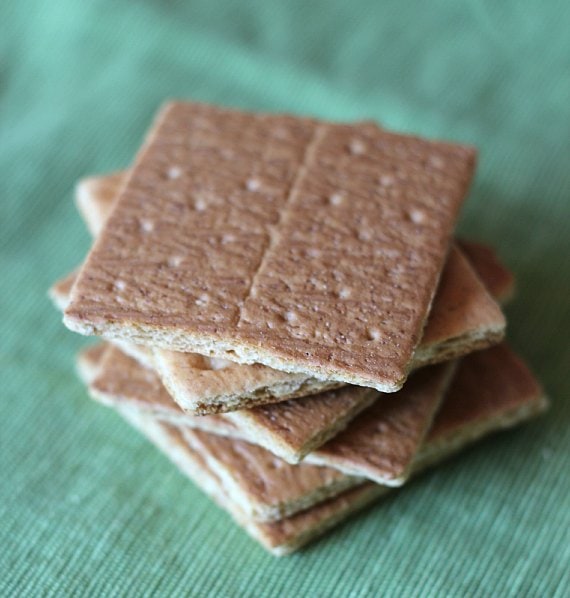 You'll use about 1/4 cup of ice cream on each…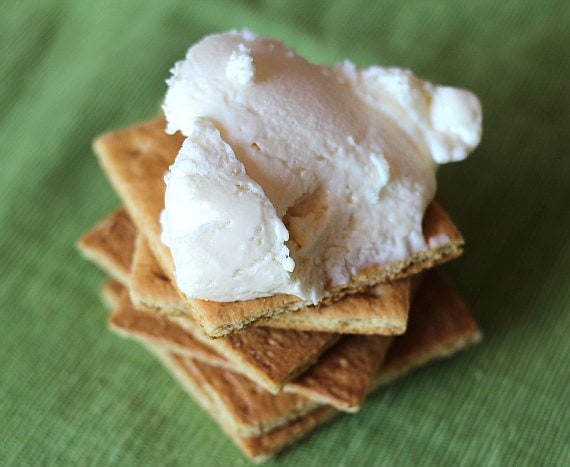 Top the ice cream with another graham cracker and then you can individually wrap them in cling wrap and freeze until they are completely firm, about another hour or so.
You can make these days in advance, which is pretty awesome.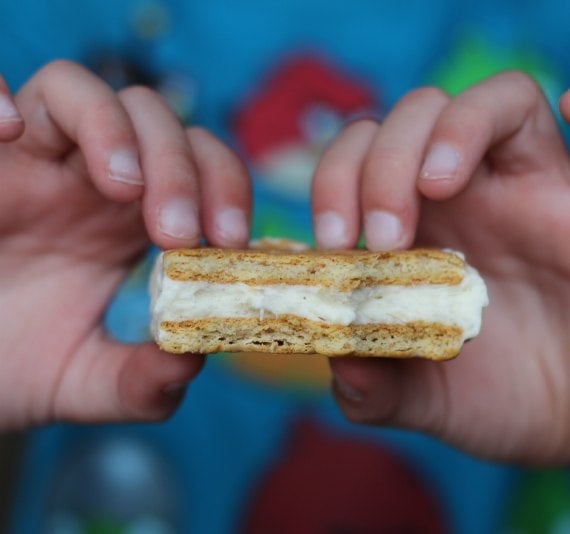 Trust me, these are amazing.
Other Tasty Key Lime Recipes
Print
Key Lime Pie Ice Cream Sandwiches
Author:

Prep Time:

2 hours

Cook Time:

0 minutes

Total Time:

2 hours

Yield:

12

sandwiches

1

x
Category:

Dessert

Method:

No Bake

Cuisine:

American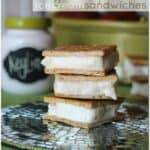 ---
Description:
These homemade Key Lime Pie Ice Cream Sandwiches are a super easy summertime dessert! You'll love this tasty and refreshing ice cream sandwich recipe!
---
Ingredients:
3 cup

s heavy whipping cream, separated

1/2 cup

sugar

1

(14 oz) can sweetened condensed milk

3/4 cup

Key Lime juice

1 Tbsp

Lime zest
approx

12

full graham crackers, broken in half to create 12 sandwiches
---
Instructions:
In stand mixer with whisk attachment whip 2 cups heavy cream and sugar until stiff peaks form, approx 2 minutes.
Turn speed to low and pour in sweetened condensed milk. Turn speed up to medium high and beat 1 minute.
Finally add lime juice, remaining cup of cream and and zest and beat approx 1 more minute on medium-high.
Pour mixture into freezer-safe container and freeze for 5-6 hours until almost frozen.
Spread about 1/4 cup mixture on top of 1 graham cracker at a time, topping with the other half of the cracker. Wrap in cling wrap and put back in freezer. Repeat process until all sandwiches are made.
Freeze 2 hours more, or overnight.
Serve frozen
---
Notes:
You don't have to individually wrap each sandwich, you could store them together in a large container, if desired.
If you make the ice cream a day ahead leave on counter until it's softened enough to spread on the graham crackers. Do not microwave.
Keywords:: ice cream sandwiches recipe, homemade ice cream sandwiches, how to make homemade ice cream, how to make ice cream recipe, homemade ice cream, homemade ice cream recipe
Want To Save This Recipe?