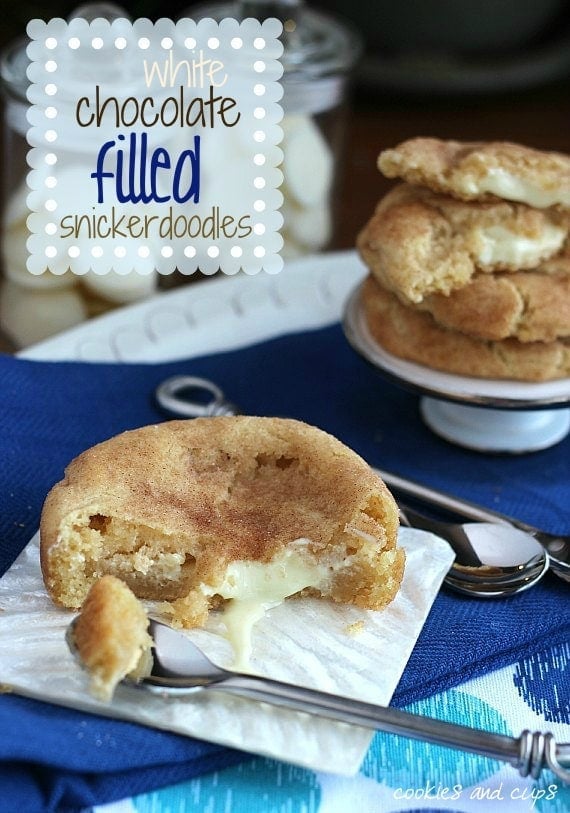 Sometimes things just come together.
Now is then. Or then is now.
Whatever, it's happening.
Like that time I put a Reese's inside an Oreo or turned Bugles into Santa Hats…sometimes things just work like you plan.
Because honestly, that doesn't always happen.
For example, there was this one time when I tried to make a cake into Yankee Stadium.
Seriously bad idea.
First off, I am no Ace of Cakes, and second, who knew that frosting weighs so much? I was never great at math.
It totally collapsed and I was forced to eat the scraps.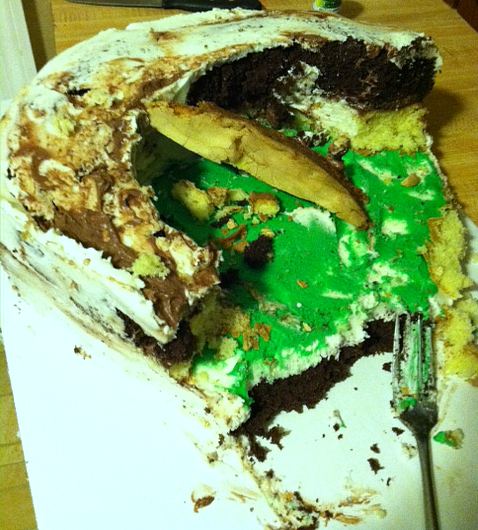 (picture taken via iPhone in-between sobs and bites of frosting)
So yeah, when an idea hits and actually works it's a minor miracle.
I had the idea for these White Chocolate filled Snickerdoodles when I made THESE a while back.
And I'm finally getting around to sharing with you.
They turned out good. Real good.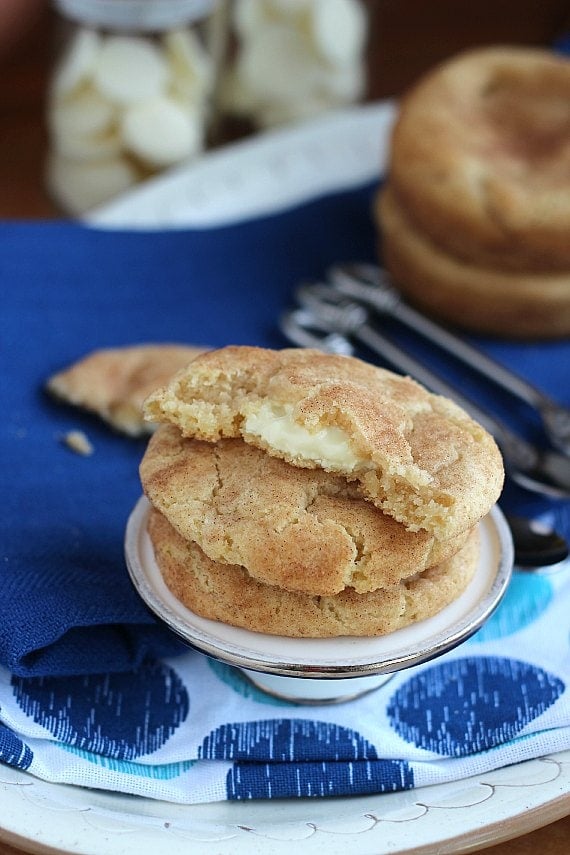 My first idea was to make them "deep dish". I used my muffin top pan that has never once been used to make a muffin top.
I scooped a good sized 1/4 cup of snickerdoodle batter…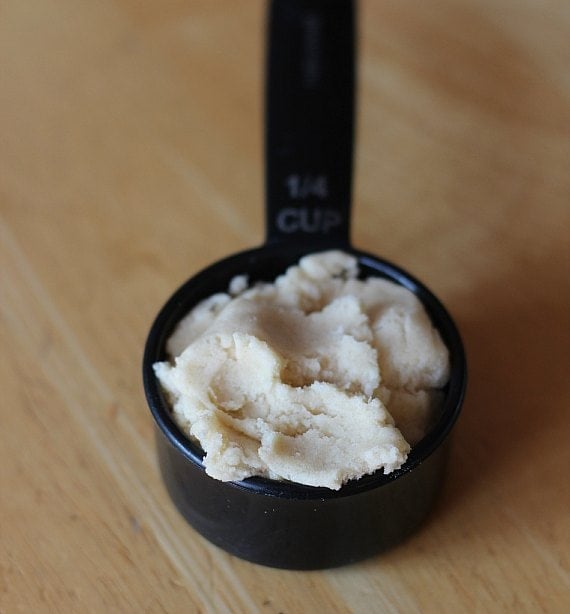 …and stuck 2 white chocolate candies inside.
I actually used some leftover white chocolate Easter Eggs, but you could use a white chocolate bar cut into chunks or individually wrapped white chocolates.
Don't get hung up on the amount of white chocolate. The more the merrier.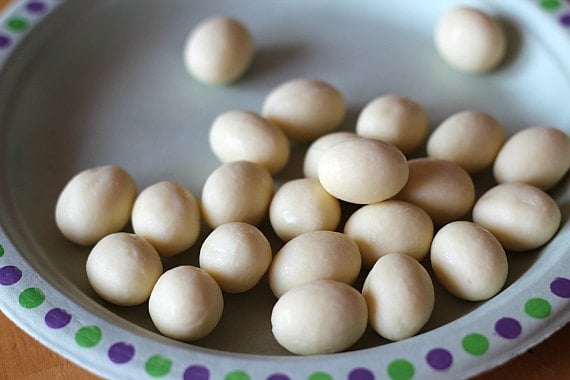 Just form the dough around the 2 pieces of white chocolate.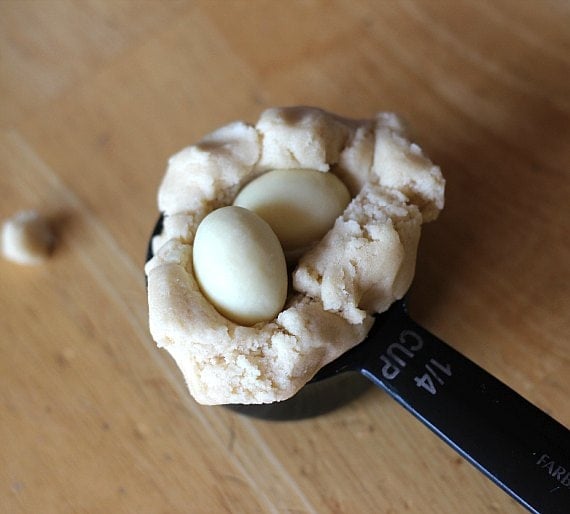 And then roll the ball into some cinnamon sugar.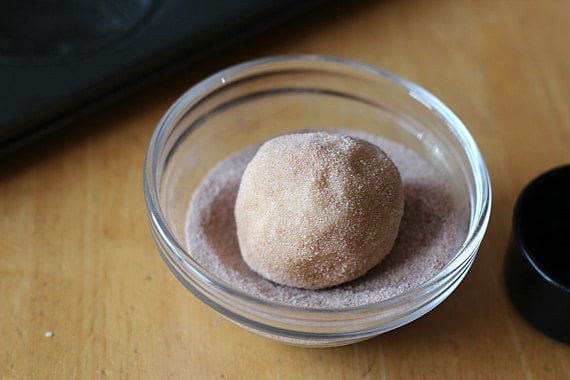 Press each dough ball into a greased muffin top pan.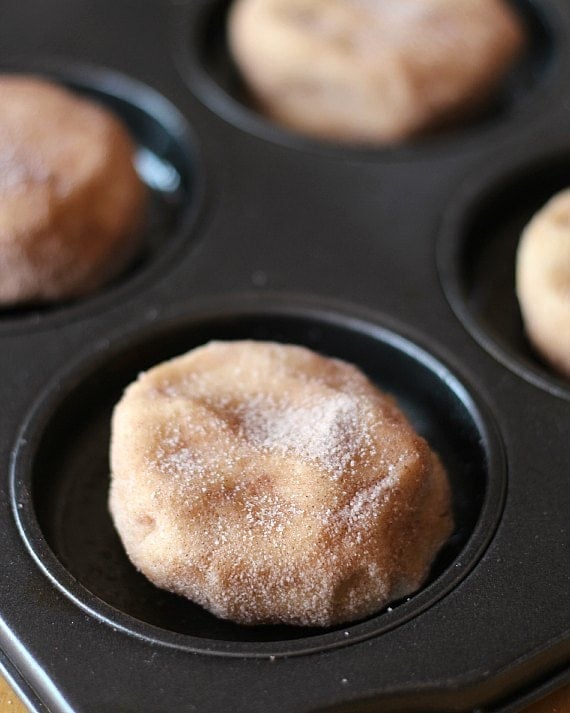 Bake them up and let them cool a bit. You'll end up with these…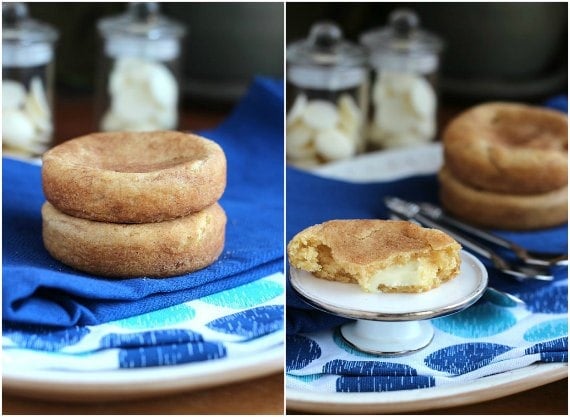 Now. If you don't have a muffin top pan, I don't want you to miss out. Equality to all.
Just take a tablespoon sized portion of dough and wrap it around 1 white chocolate piece.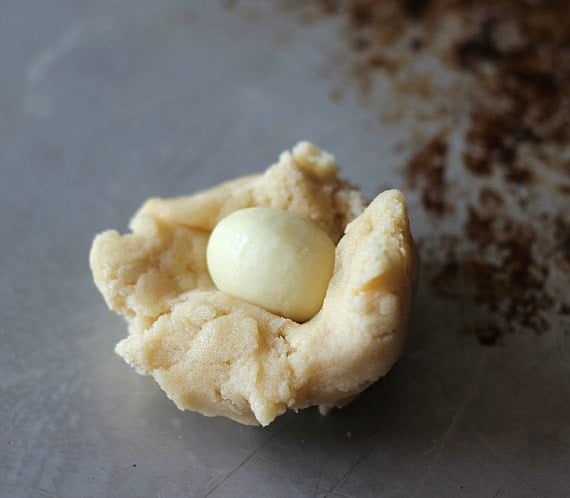 And bake them on an ungreased cookie sheet…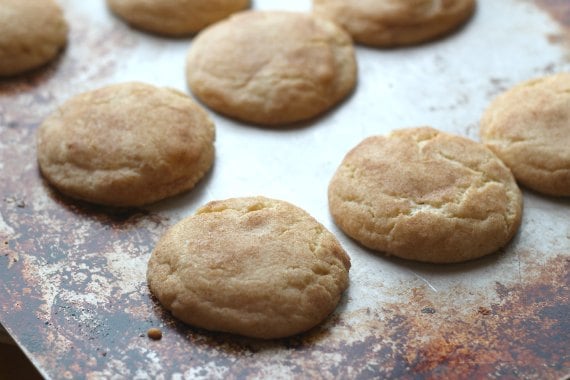 And you'll end up with these: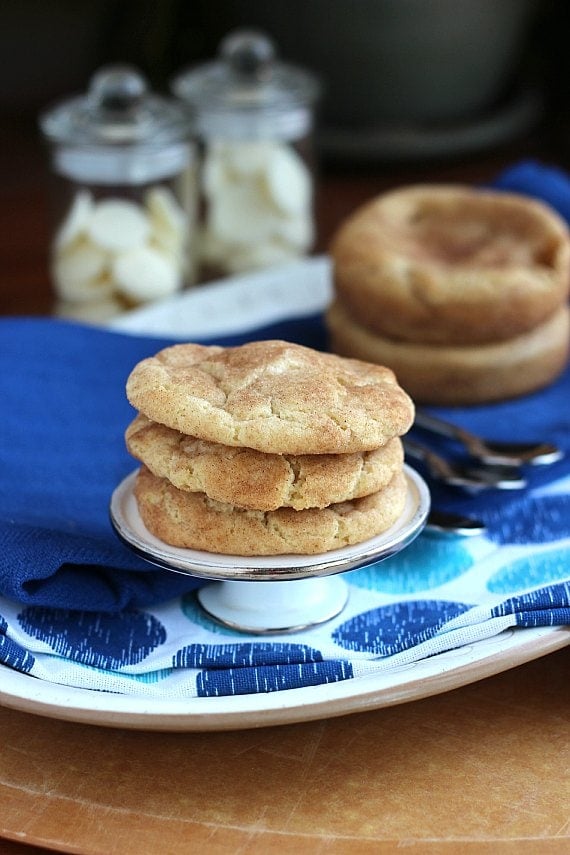 Which look like this on the inside…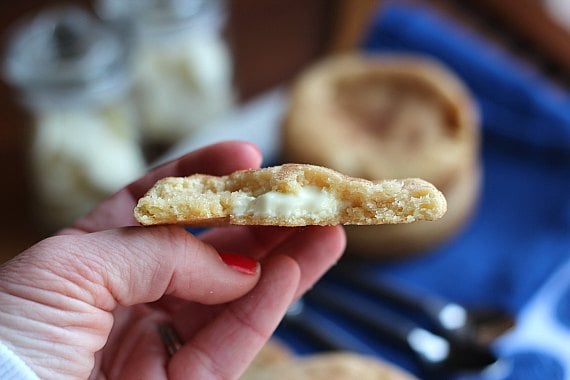 Sometimes an idea just comes together.
Print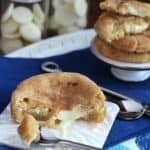 White Chocolate Filled Snickerdoodles
---
Description
makes approx 24 cookies or 12 deep dish cookies
---
1/2 cup

shortening, I used butter flavored

1/2 cup

butter, room temperature

2

eggs

2 tsp

vanilla

1 1/2 cups

sugar

2 3/4 cups

flour

2 tsp

cream of tartar

1 tsp

baking soda

1/2 tsp

salt

1 tsp

cinnamon

2 tbsp

sugar
approx

24

white chocolate pieces (like these Hersheys Bliss)
---
Instructions
Beat the shortening, butter, eggs, vanilla and sugar together. Set aside.
Mix flour, cream of tartar, baking soda, and salt together. Then mix with the
creamed sugar mixture until incorporated.
Chill dough for at least 1 hour in refrigerator.
Preheat oven to 350°
Mix 2 Tbsp of sugar and 1 tsp cinnamon in a small bowl
Scoop a rounded tablespoon sized ball of dough and form it around 1 white chocolate piece. Roll the dough in the cinnamon sugar mix. Place cookies on ungreased baking sheet 2 inches apart.
Bake for 10 minutes or until edges slightly golden.
Remove from oven and let cool on baking sheet 3 minutes before transferring to wire rack to finish cooling.
---
Notes
Adaptation ~ If you make this recipe into deep dish cookies, use a heaping 1/4 cup of cookie dough and stuff it with 2 chocolates, increase baking time to 12-14 minutes until edges start to golden.
Remember to spray your muffin top pan with cooking spray for easy release.
Want To Save This Recipe?
Find more recipes like this: