I have great ideas for weekend breakfasts all the time.
I think about how on Saturday morning I am going to wake up and make a giant stack of pancakes, or dust off the waffle maker,  surprise my kids with a glorious stack of sugary carbs and be deemed greatest mom in all the land.
Unfortunately that doesn't happen.  Besides being the worst pancake maker in history I tend to be more of an "idea" person.  Ideas fill my brain all the time, but the execution is where I get hung up.
So I decided to get my act together.
On the rare days that my kids aren't eating cereal or Farina they do enjoy Monkey Bread.
If you are unfamiliar, Monkey Bread is small pieces of biscuits, usually rolled in sugar and cinnamon and baked into a cake form, so it pulls apart easily.
It's something my kids like to help me make and I'll take all the help I can get!
So I decided to amp-up the monkey bread that we usually have.
Instead of biscuits, I decided to use cinnamon rolls.  Simple.
ANNND I thought I would stuff each cinnamon roll with cream cheese.  It seemed obvious, don'cha think?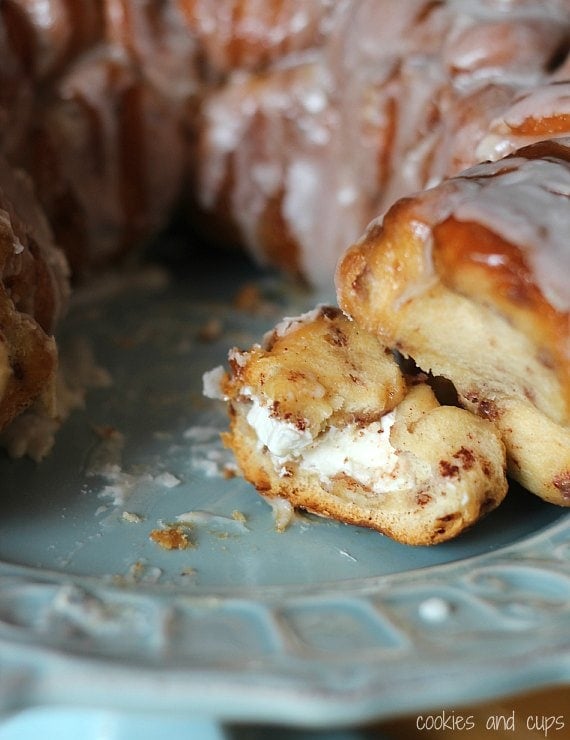 Cream Cheese Filled Cinnamon Roll Monkey Bread.
Start with 3 cans of these…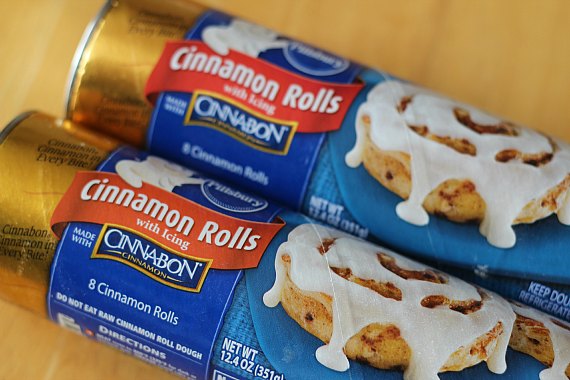 Use whatever brand you want…and don't get hung up on the ounces or amounts or anything…please.  You won't mess this up, its basically impossible.
Take a block of cream cheese and cut it into 24 small squares…one for every roll.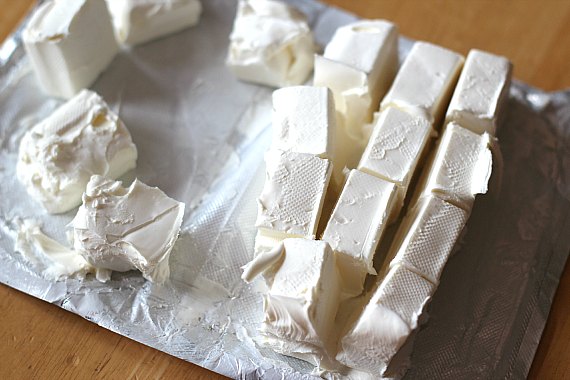 The assembly is easy…
Just flatten a cinnamon roll out, put a cube of cream cheese inside and fold the roll around it, pinching to seal.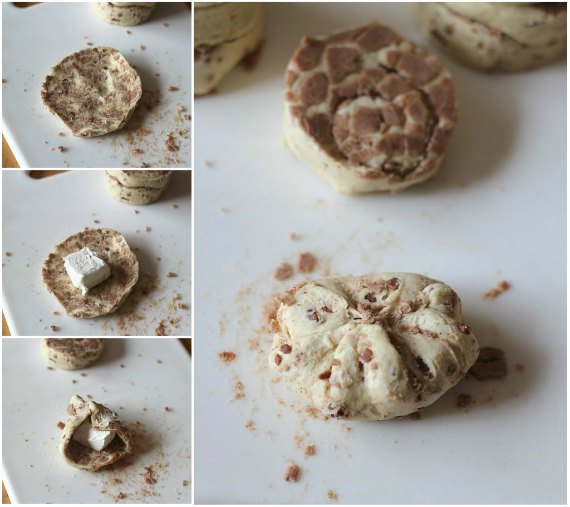 Toss the rolls into your pan and repeat over and over…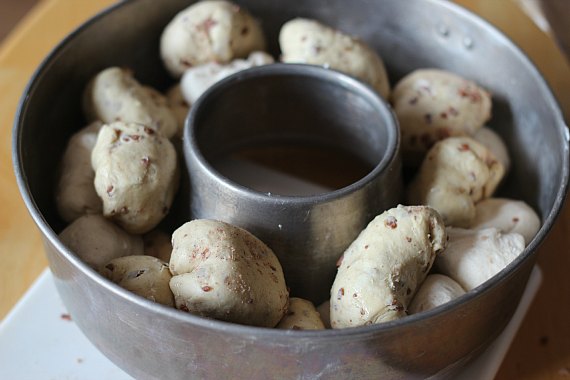 Melt some butter and brown sugar together and pour it over top…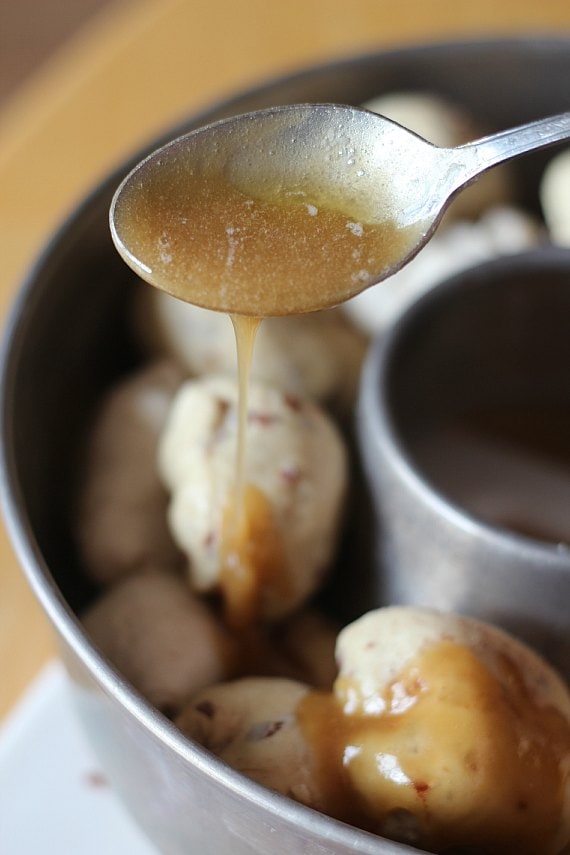 Bake it until it looks like this…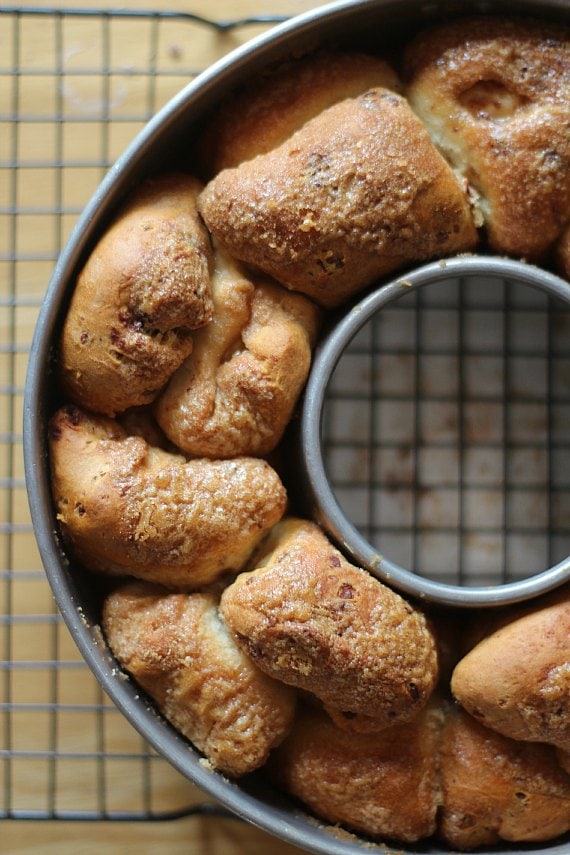 When you flip it out of the pan you are going to dance at the beauty.
Like really dance…I'm talking the Argentine Tango, not the Cabbage Patch.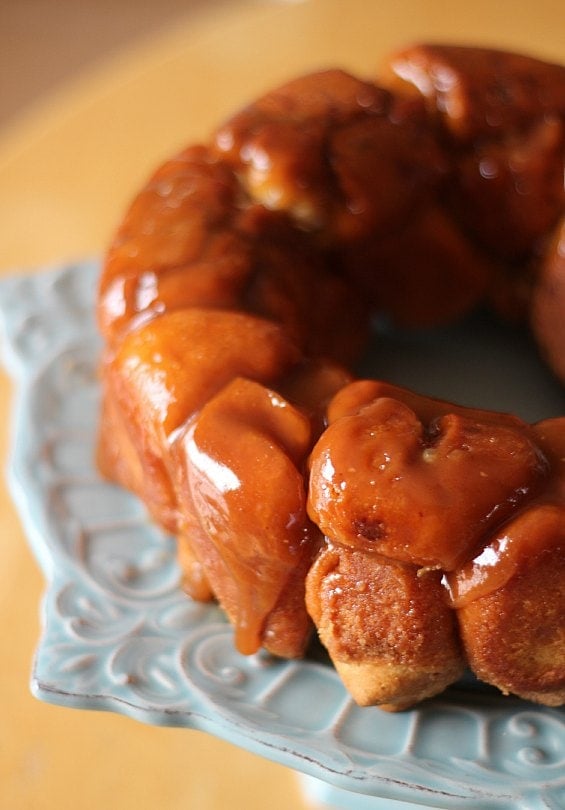 And since there's not enough going on here you should go ahead and add some icing.  It came in the can of cinnamon rolls, so it would be a shame not to use it.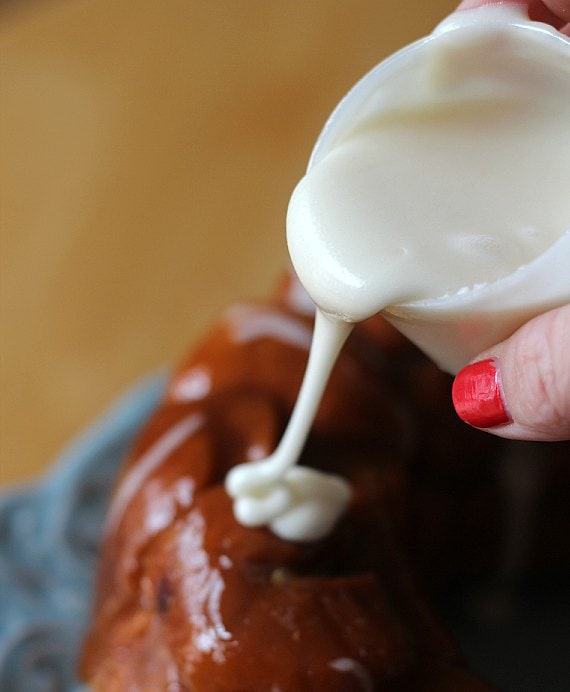 I only used two cans of the frosting…because the other might have gone missing…or something.
Then you should eat.  And eat.  Annnd eat.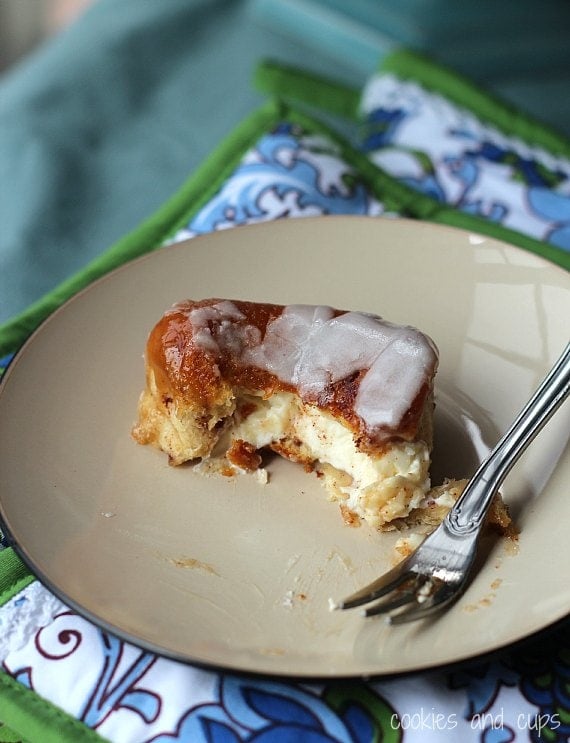 Weekend breakfast to the MAX!
On an unrelated note I've got some fun stuff up on my other site this week…
Jude Law needs your help people…his hair depends on it.
And some fun shoe and make-up talk!  Check it out.  GO NOW!
Print
Cream Cheese Filled Cinnamon Roll Monkey Bread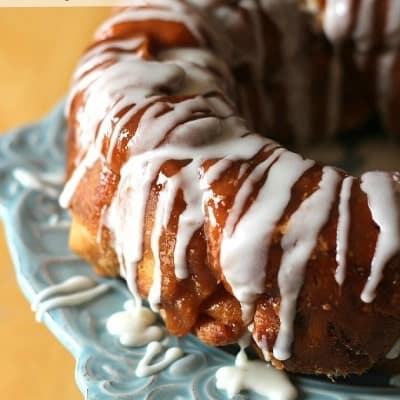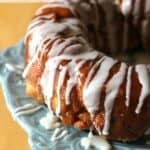 ---
Ingredients:
3

cans Cinnamon Rolls (

12.4 oz

, containing 8 rolls in each)

1

, 8 oz block cold cream cheese

1 cup

brown sugar

1/2 cup

butter, cut into cubes
---
Instructions:
Preheat oven to 350°
Spray a bundt or tube pan lightly with cooking spray.
Cut your block of cream cheese into 24 small squares.
Flatten each cinnamon roll with your fingers and place one square of cream cheese in the center of the flattened roll. Fold the roll around the cream cheese and pinch to seal. Place in prepared pan. Repeat with remaining rolls and cream cheese.
In microwave safe bowl combine butter and brown sugar. Heat for approximately 1 minute until butter is melted. Stir together and pour over the cinnamon rolls.
Bake 35-40 minutes until top is golden brown.
Let cool in pan for 5 minutes and then flip pan onto a cake plate or platter.
Drizzle with the frosting that came in the cinnamon roll cans, if desired.
Serve warm
Want To Save This Recipe?