These Homemade Oatmeal Cream Pies are some of my favorite cookies ever!
They say that imitation is the sincerest form of flattery.
How do you feel about that?
Personally I think imitation is a nice way of saying "copy".
I am not judging, Lord knows I have done my fair share of copying in my life.
Yep, I copied.
I had no shame in copying.
Copy Copy Copy.
When someone copies YOU, though, it sometimes is less flattering and more annoying.
I had a roommate in my college years that copied the food that I ate.
It was really odd.
You might think that is a great thing because I would like all the food in the apartment.
Not so much.
The food that I existed on in college were Twizzlers and Diet Dr. Pepper and my roommate would hoard the snacks in her closet no sharing involved just weird snack copying.
I also had an acquaintance of mine tell me all about her first job…
Unfortunately the story she told me of her first employer was the exact same story I had told her the week before of MY first job.
Again, very odd.
I will say the "acquaintance" had a few screws loose beforehand and my husband said that anyday now he was going to come home to her wearing my skin ala Buffalo Bill in Silence of the Lambs.
Anyway, yes…copying CAN be creepy, but sometimes it can be pretty awesome.
At least I hope Little Debbie thinks it's awesome, otherwise I am just lumped into the same category as my creepy ex-roommate and skin wearing old acquaintance.
Gosh I hope not.
Mine are different…I didn't spell Cream in the fancy Little Debbie way…
I am going to tell you that these "pies" are good.  I mean REALLY good.
Like go to the store and get your supplies now good.
It has been a long time since I had an authentic Little Debbie Oatmeal Creme Pie, but I think it's safe to say that the homemade version is thrice as delicious.
I said it.  Thrice.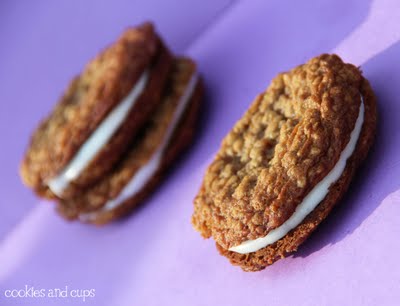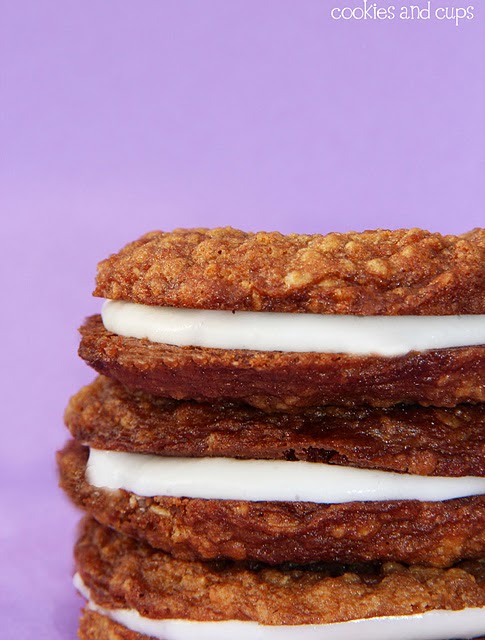 Sorry Little Debbie for being a thunder stealer on this one..I mean at least until I try and duplicate the Star Crunch!
Print
---
Ingredients:
Cookies
3/4 cup

butter

1 1/2 cup

white sugar

1/4 cup

light brown sugar

1 1/2 Tbsp

molasses

2

eggs

1 tsp

kosher salt

2 cup

s all purpose flour

1 tsp

baking powder

1 tsp

ground cinnamon

2 cup

s quick-cooking rolled oats

2 tsp

baking soda

3 Tbsp

boiling water
Filling
1 Tbsp

plus 1 tsp unflavored gelatin (about

1 1/2

packets)

1/3 cup

plus 1/4 cup water (divided)

3/4 cup

sugar

1/4 cup

light corn syrup

2 tsp

vanilla

1 cup

powdered sugar

8 oz

vegetable shortening
---
Instructions:
Preheat oven to 350°
Line your baking sheets with parchment paper…this is an important step.
Cream the butter, sugars, and molasses together with your mixer.
Add eggs and mix on medium until combined.
In a separate bowl, whisk together the salt, flour, and baking powder. Add to the creamed mixture. Add the cinnamon and oats. Mix well.
In a small dish, add the baking soda to the boiling water, and then stir the mixture into the rest of the batter. Mix well.
Drop by rounded tablespoon onto the baking sheets about 2 inches apart and bake until the cookies are golden around the edges, 10 to 12 minutes.
The cookies will look slightly wet in the middle..just go by the color of the edge.
Let the cookies cool completely on the parchment lined baking sheet and carefully move to a wire rack.
The cookies will be soft and fragile, so be extra careful when moving them!
For the filling:
In a small bowl, sprinkle the gelatin over 1/3 cup cold water.
Stir it together and let it stand about 5 minutes.
In a 2-quart saucepan over medium-high heat, stir together the granulated sugar, corn syrup, and 1/4 cup hot water until well blended. Continuing to stir, raise the heat to high and bring to a full boil. Continue boiling for 30 seconds. Immediately remove from the heat. Stir in the gelatin mixture until it dissolves completely.
Transfer the mixture to a large bowl. Add the vanilla.
With your mixer on medium speed, beat for 20 seconds. Gradually raise the speed to high and beat until the mixture is stiffened, white, very fluffy, and cooled to barely warm, about 5 minutes.
Reduce the mixer speed to low and gradually add your powdered sugar.
Add your shortening and beat until completely smooth.
The filling will set up as it sits, so wait until it is thick enough to spread or pipe before filling the cookies, but don't let it sit too long, though because it will become a giant marshmallow!!
Let the cookies set up for about 20-30 minutes and they will be PERFECT!
Want To Save This Recipe?