This Classic Pound Cake recipe uses only 4 simple ingredients that all weigh in at 1 pound each. It's a traditional butter cake that is perfect topped with strawberries and whipped cream!
Classic Pound Cake with Only 4 Ingredients!
Pound Cake is one of those old fashioned cake recipes that will always have place on my dessert table. I have created all sorts of variations on pound cake like my Million Dollar Pound Cake which includes (among other things) buttermilk to tenderize the crumb, and of course my Kentucky Butter Cake which is a MUST make!
But today we're talking about traditional CLASSIC old-fashioned Pound Cake. This is a cake recipe that has been around for ages, and I wanted to share my tips and tricks on how to bake a homemade pound cake from scratch…because I feel like we all need to know the classics! Once you know the basic recipes, you can build and adapt them to suit your tastes and creativity, which is when the real magic happens!
Pound Cake Can Be Used In So Many Desserts
BUT don't be misled…there is magic in the basics too. This pound cake recipe is the building block for a pretty epic strawberry shortcake. Macerated strawberries and whipped cream add extra moisture and sweetness that pairs beautifully with the dense crumb of traditional pound cake. Or imagine how INSANE French Toast would be made out of thin slices of this cake!? But, if you were able to ask my Grandpa, I think he would have taken a slice of this plain with his coffee over just about anything else.
Why Is It Called Pound Cake?
Nope, it's not because you will gain a pound by eating a slice…and no, not because it weighs a pound. In fact, it weighs about 4 pounds because you use these 4 simple ingredients that weigh a pound each.
Ingredients:
Butter: I use salted butter in this recipe. Since there is no additional salt, using salted butter is a great way to get a little more flavor in the cake! You can use unsalted butter if you prefer. Make sure the butter is softened to room temperature.
Sugar: Granulated sugar is perfect sugar for this recipe. You could absolutely use light brown sugar as well to jazz it up.
Eggs: Make sure you're using large sized eggs, and I always recommend using all room temperature ingredients when you are baking. Everything will mix up and bake evenly when all your ingredients are the same temperature.
Flour: In a classic pound cake recipe, you just use all purpose flour. This is a sturdy cake, and all purpose flour works great. You absolutely could use cake flour, but in this recipe it wouldn't make a huge difference.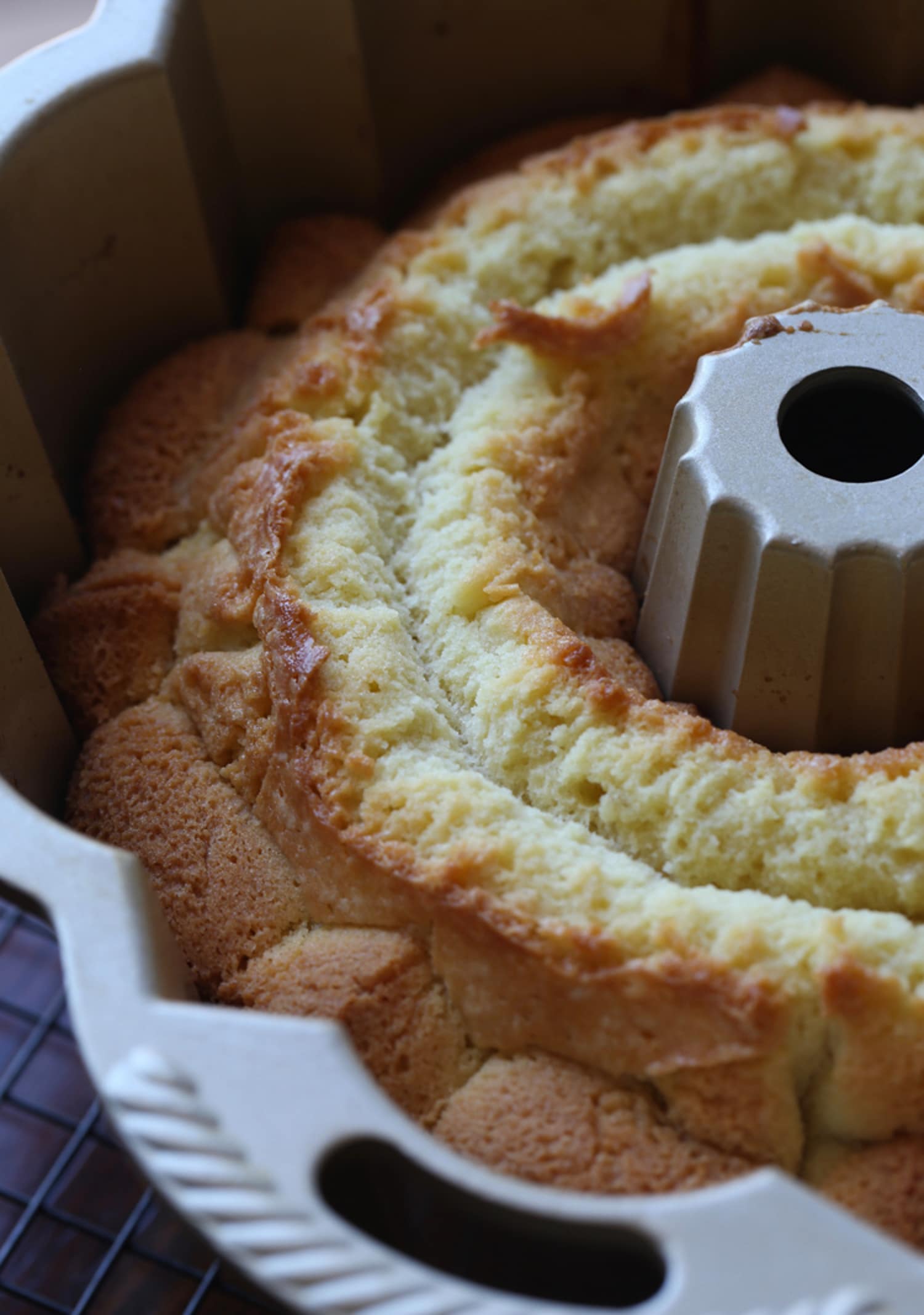 How To Make Pound Cake
Mix the butter and sugar together for 2 minutes on medium speed. You want the butter to be fluffy and light.
Add the eggs one at a time to ensure even mixing, scraping the sides of the bowl as needed. Then turn the mixer to low speed and add the flour slowly, and stop mixing once it's just incorporated. Over-mixing the batter will give you an even denser cake.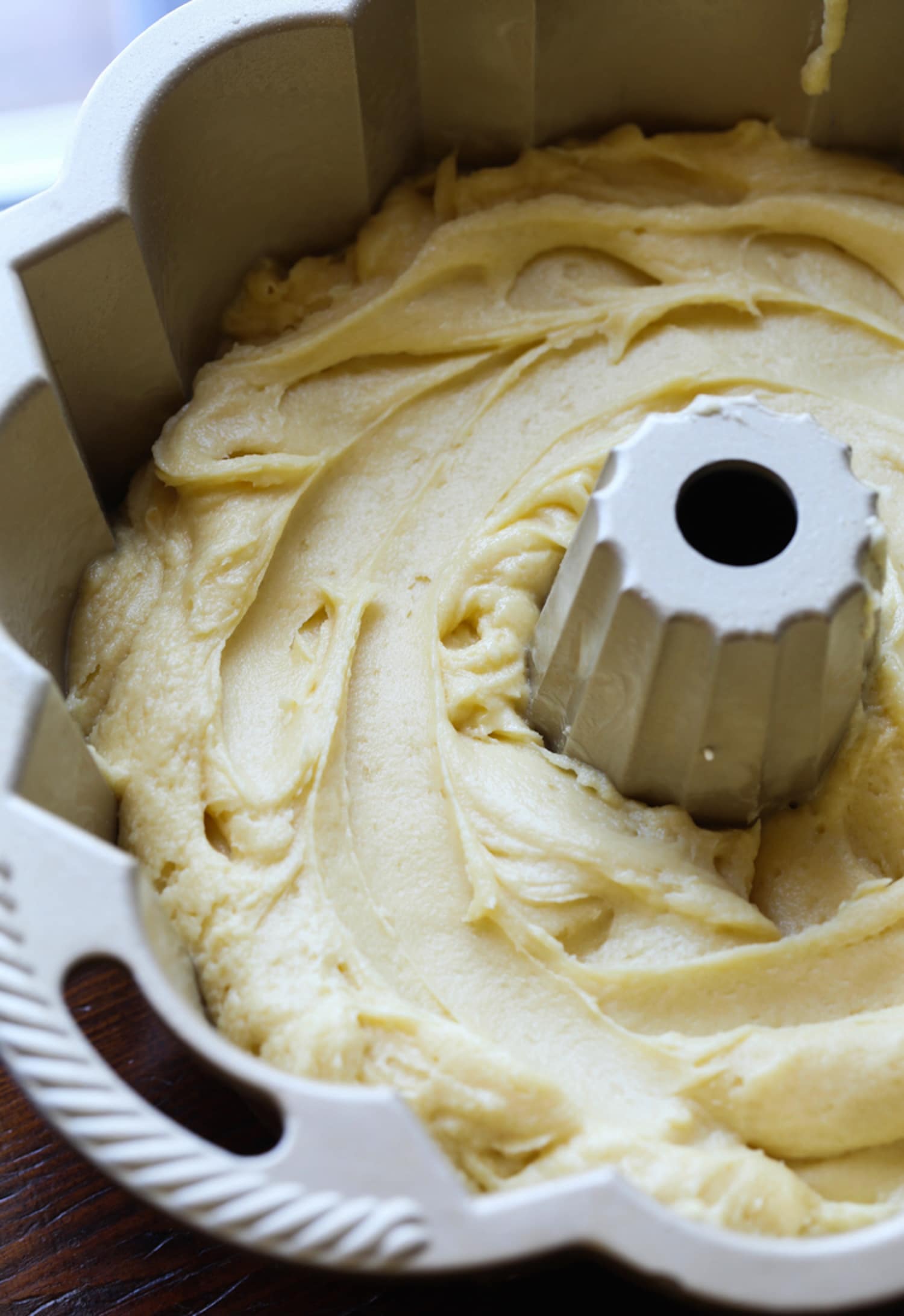 I suggest using a nonstick bundt pan and then grease it heavily with butter/shortening or baking spray. This will give you double the insurance that your cake won't stick.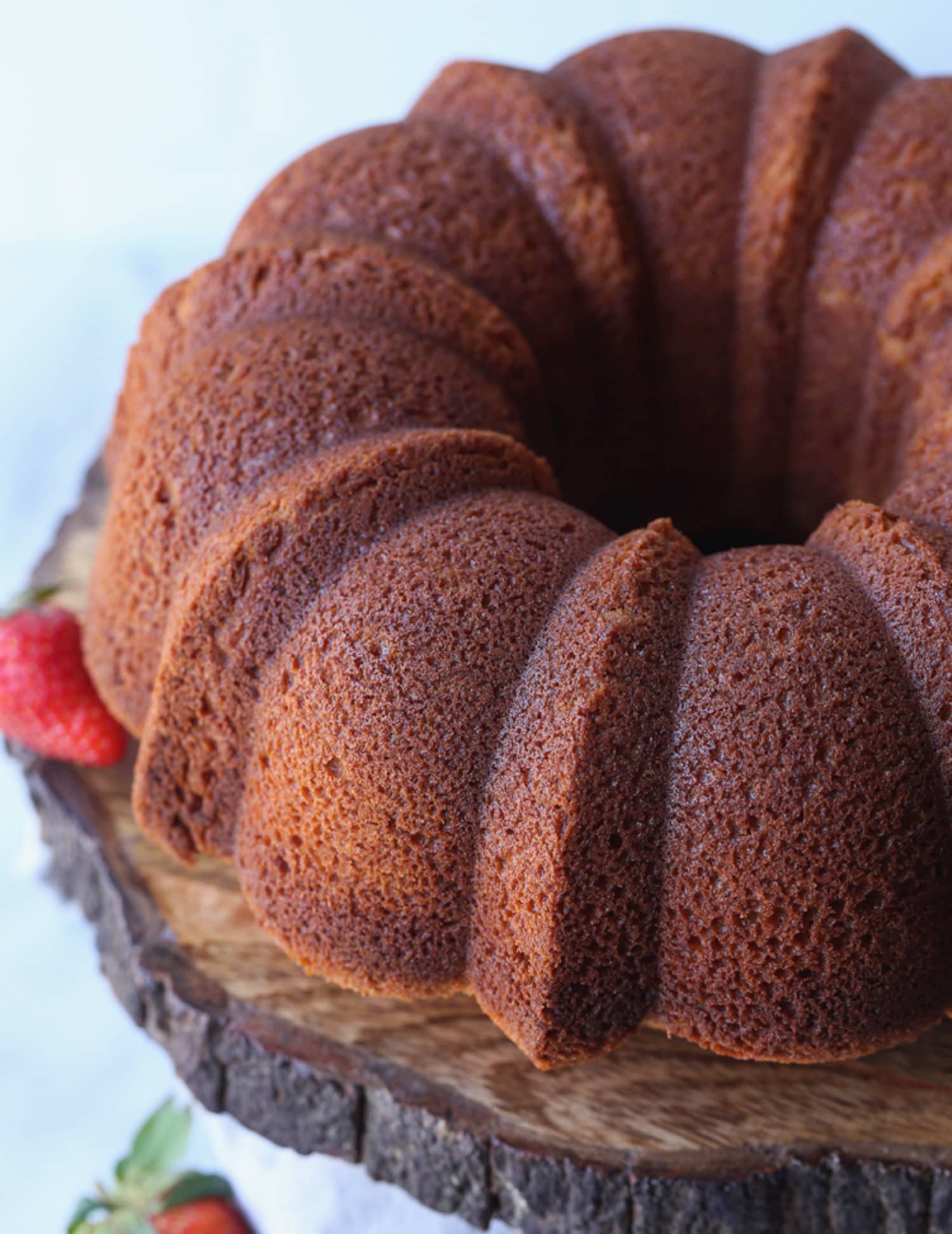 Bake the cake for 70 – 80 minutes, or until a toothpick comes out clean. Home ovens can bake differently and vary in temperature, so the bake time might need to be adjusted. If it isn't done on the inside, but you notice the cake is getting too brown on top, loosely tent the pan with foil to slow the browning.
Bake It In A Loaf Pan:
You will need 2 loaf pans for this amount of batter. Coat them with baking spray, and line them with parchment paper. This will make removing them from the pans easy. I like to spray the parchment again with nonstick spray too. Bake the loafs for 50 – 60 minutes.
How To Make Pound Cake Moist?
The trick to moist pound cake is to make sure not to over-bake it. This classic recipe is a completely authentic pound cake where the butter flavor is the star, Here are some more tricks if you want to make this extra moist:
Weigh your ingredients. The biggest problem with dry cake is that the flour was not measured properly. Luckily this is a pound cake and you know exactly how much flour to add…1 pound!
Poke holes in the baked cake while it's still in the bundt pan and pour a simple syrup on top. Allow it to soak in and this will add both sweetness and moisture.
Mix sour cream into the batter along with the butter. A 1/4 cup will work!
Some milk or buttermilk in the batter also can moisten it up a little bit. Start with 2 tablespoons and that should do the trick.
Pound Cake FAQs:
Is There Baking Powder In Pound Cake?
Traditional Pound cake doesn't include baking powder or baking soda. There are many recipes out there that include these leavening agents, but a classic pound cake doesn't.
How Is Pound Cake Different From Regular Cake?
A classic pound cake recipe includes a pound of each ingredient, hence the name. There are many variations out there of pound cake, but a true pound cake has a pound of butter, a pound of eggs, a pound of sugar, and a pound of flour.
Can Pound Cake Be Made Into Cupcakes?
Pound Cake can be made into cupcakes, although it's not ideal due to the dense, heavy texture.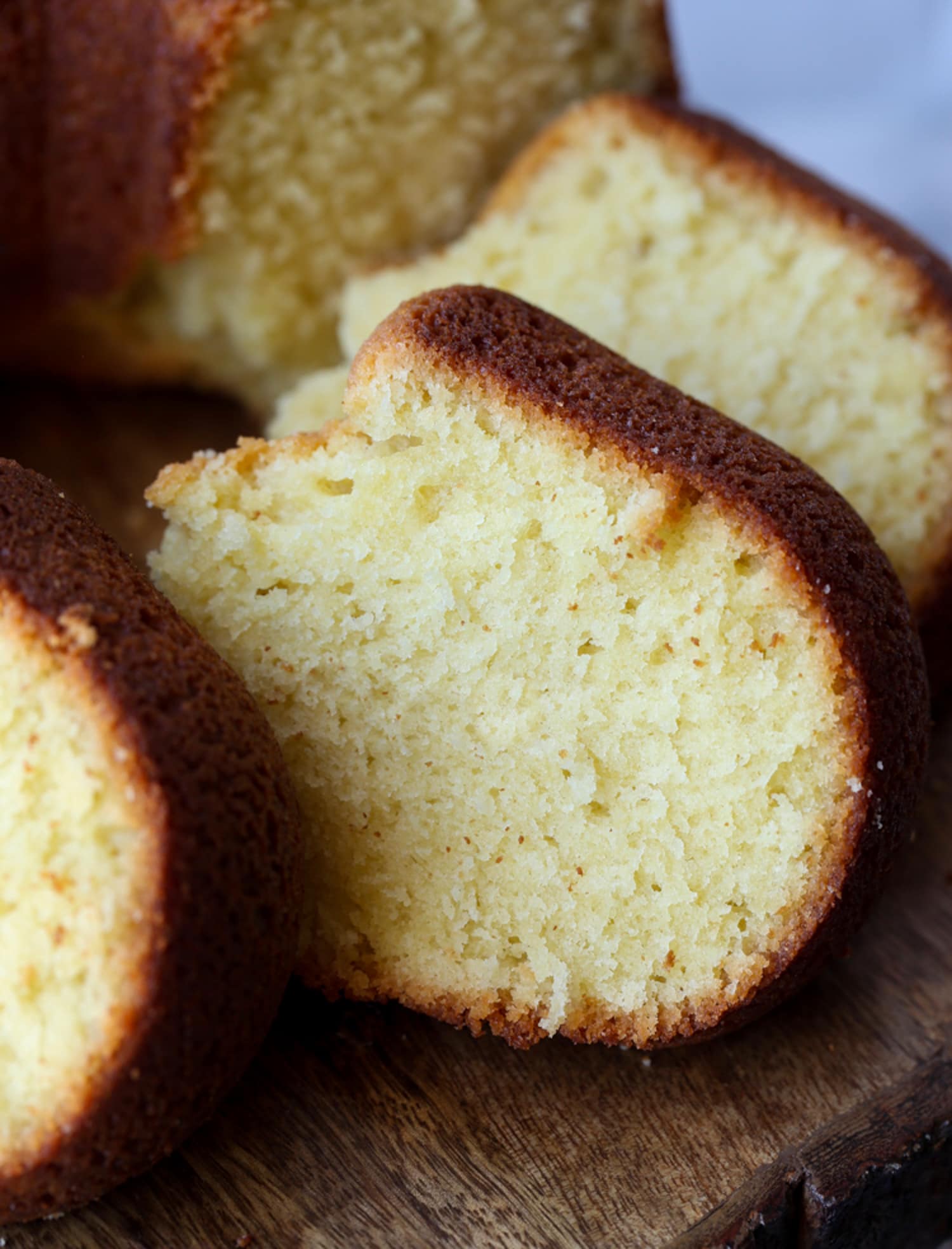 Variation Ideas
The sky is really the limit with the recipe. Let's start basic with what you can add IN to the cake before baking:
Flavored Extracts are a simple way to switch up the flavor. You can go for a simple vanilla extract, almond extract, lemon, coconut, rum…the list goes on. You will need to start with 1 teaspoon and add more if you would like. Vanilla extract is a milder flavor, so you can certainly get away with adding at least 2 teaspoons or up to a tablespoon! Some extracts are a little more powerful, so start with less. You can always add more if you would like!
Add chocolate chips! Of course you can add chocolate chips to this pound cake. I like to add mini chips!
Fresh citrus juice and zest! Make this a lemon pound cake by adding 2 tablespoons of lemon zest and no more than 1/4 cup fresh lemon juice.
Berries. Not only are berries excellent on top of pound cake you can add them to the batter. Use fresh or frozen and thawed!
Sprinkles! Of course!
Mashed banana to add extra moisture.
Nuts. Add some pecans or walnuts to the batter it nuts are your thing.
Icing or Frosting is a Great Idea Too!
This is a no brainer! Beyond strawberries and whipped cream, you can easily top this cake with all sorts of sweet glazes!
Pipe on some buttercream!
Spread on some chocolate frosting 🙂
Mix together 2 cups of powdered sugar and 1/4 cup milk and pour this sweet glaze icing on top!
Mix a little rum with powdered sugar to create a boozy icing!
While all cake is delicious warm out of the oven, this cake, like most pound cake recipes, is actually better in my opinion the next day. It will become moister and more flavorful the longer it sits unsliced.
How to Store Pound Cake? Can I Freeze It?
You can store your pound cake in an airtight container for up to three days. You can also wrap your pound cake with saran wrap and foil, then freeze it for up to six months. Let frozen pound cake thaw on the counter before unwrapping for best results.
More Pound Cake Recipes To Try:
Print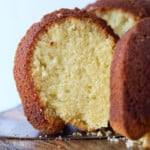 Classic Pound Cake
Author:

Prep Time:

10 minutes

Cook Time:

80 minutes

Total Time:

1 hour 30 minutes

Yield:

16

slices

1

x

Category:

Cake

Method:

Oven

Cuisine:

Dessert
---
Description
This Classic Pound Cake recipe uses only 4 simple ingredients that all weigh in at 1 pound each to create a traditional butter cake that is perfect topped with strawberries and whipped cream!
---
2 cups

salted butter, room temperature

2 cups

granulated sugar

9

large eggs

3 1/4 cups

all purpose flour
---
Instructions
Preheat oven to 350°F. Coat a 10- cup bundt pan liberally with nonstick spray and set aside.
In the bowl of your stand mixer fitted with the paddle attachment mix the butter and sugar together for 2 minutes until light and fluffy.
Add the eggs, one at a time, mixing until combined, scraping the sides as needed.
Turn the mixer to low and add in the flour slowly until combined, again scraping the sides to ensure everything is combined evenly.
Spread the batter into the prepared pan and bake for 70-80 minutes, or until a knife inserted comes out clean. If you notice it is browning too much on the top, tent with foil.
Allow the cake to cool in the pan for about 20 minutes and then release onto a wire rack to cool completely.
---
Notes
Store airtight for up to 3 days.
Notes:
I find that this cake is best if it sits overnight before slicing, as it becomes more moist.
Storage tip: Carefully flip the cake back into the bundt pan if storing overnight before slicing. You need to remove it from the pan to endure it doesn't stick, but carefully flipping it back in and covering it tightly to sit is an easy way to store it airtight!
Serve with whipped cream and fruit, icing, or ice cream.
Nutrition
Serving Size:

1 slice

Calories:

433

Sugar:

25.1 g

Sodium:

223.1 mg

Fat:

25.9 g

Carbohydrates:

44.6 g

Protein:

6.4 g

Cholesterol:

165.6 mg
Keywords: pound cake recipe, cookies and cups, butter cake, bundt cake, how to make pound cake, why is it called pound cake, best pound cake recipe, easy
Want To Save This Recipe?
Find more recipes like this:
PIN for later: