Love these Salty Caramel Peanut Bars. These easy cookie bars have a brown sugar pretzel crust layered with peanut butter nougat and topped with salty peanuts and caramel!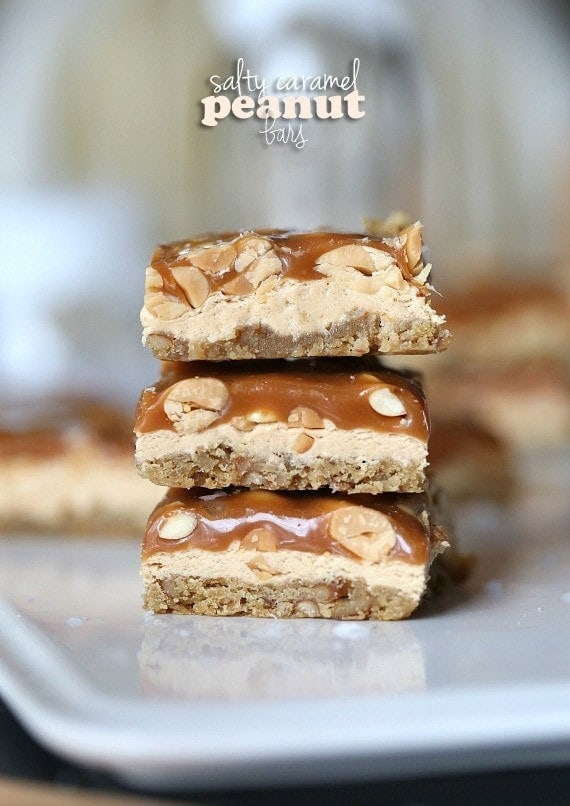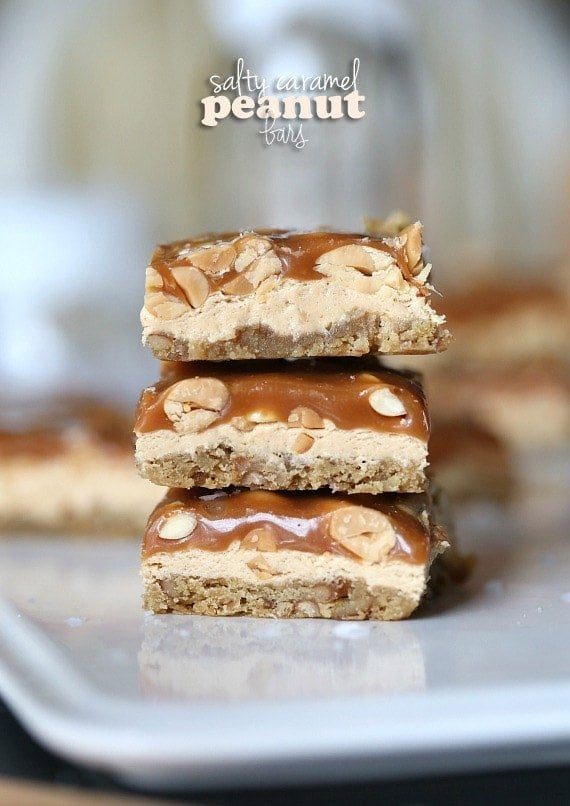 Let's talk about life for a second, kay?
I had a great weekend. A SUPER weekend, actually.
There were sports games, there was baking, there was movie watching (American Hustle…omg have you seen it? lovity love!), there was a date night with amazing friends, there was wine and there was shopping.
And there was House of Cards.
Do you watch? We love it.
It's not as manic for me as Breaking Bad was, or our season 1&2 Homeland obsession (season 3 was ok up until the OMGending), but we do enjoy the horrible people that Kevin Spacey and Robin Wright play on tv.
Even my dog Polly…whenever Kevin Spacey comes on the television she starts barking.
She is NOT a fan of Francis Underwood. It's bizarre!
Anyhow, I topped off the weekend by making a giant pan of these Salty Caramel Peanut Bars.
See, my husband claims he doesn't like chocolate (so annoying), but he does like peanutty stuff…so I knew these would be a big hit for him.
Salty-Sweet-Peanuts-Pretzels…all in one place.
Yep, I'm a good wife.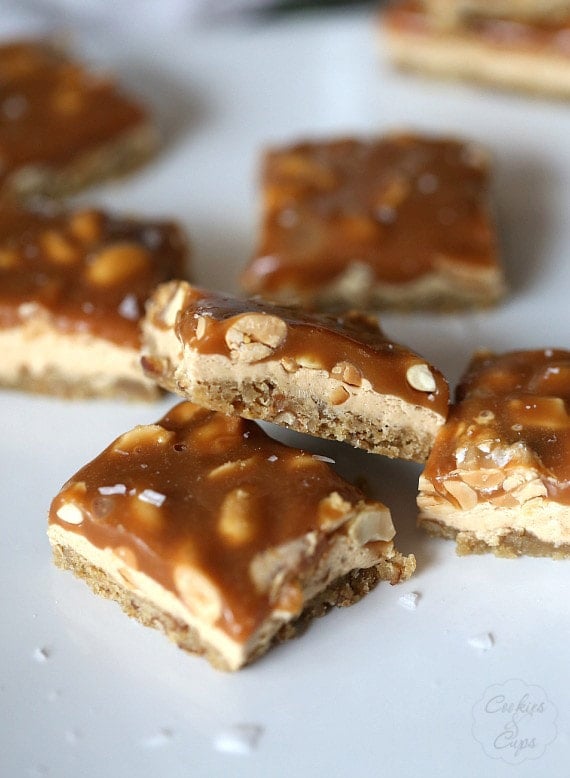 These bars have a few steps, but that's only because they have layers. They're super duper easy. Trust me.
In the crust you have (amongst other things) brown sugar, butter and crushed up pretzels…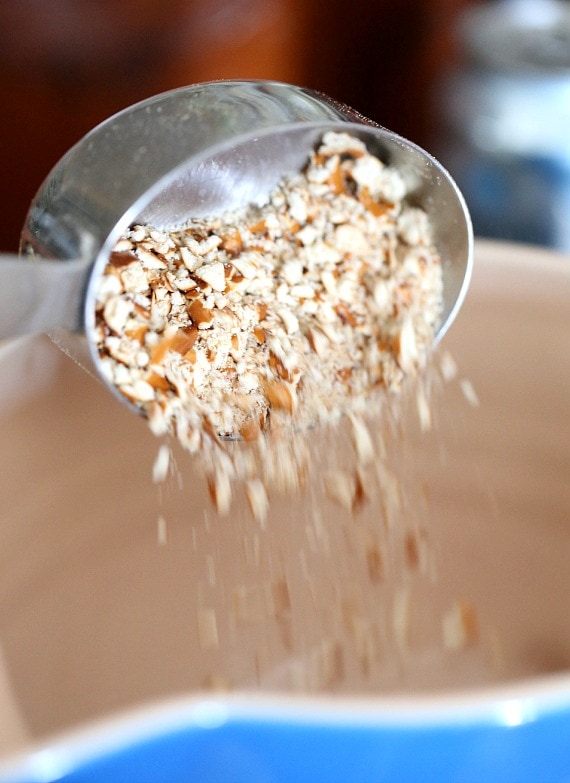 Press the base into a pan lined with foil…
And bake it until it's lightly golden.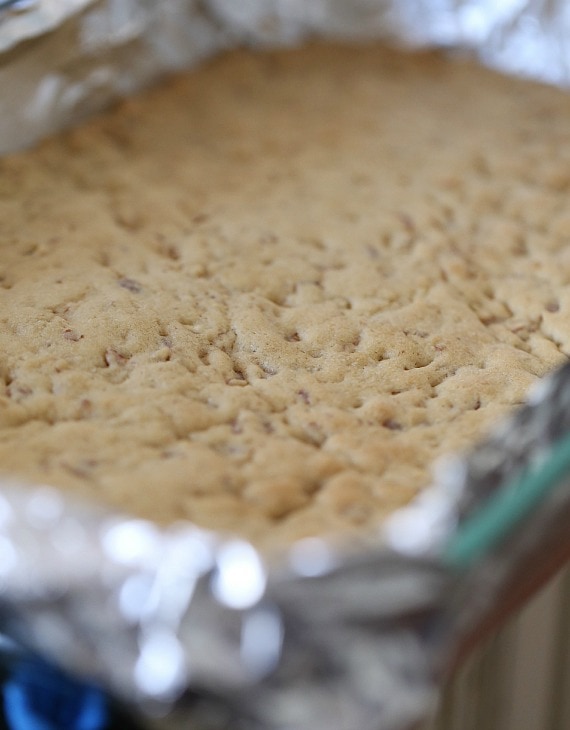 While that's baking get you some Marshmallow Creme. You'll need 7 ounces, but I happen to buy economy sizes of the stuff, so I had to weigh mine. The normal jars are 7 ounces…it's *about a cup and a half.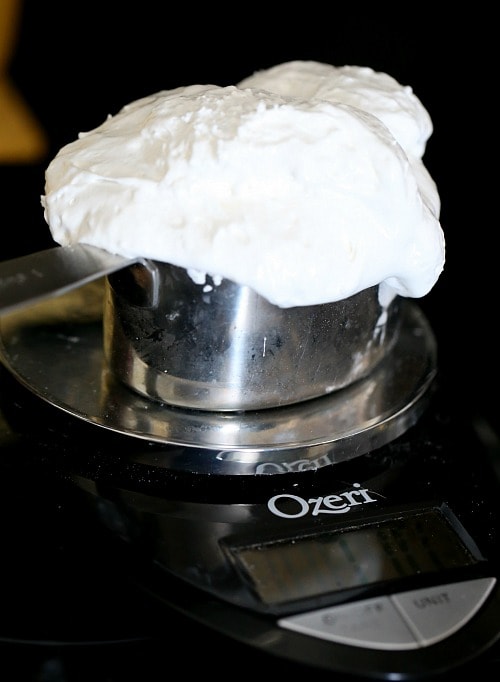 Mix that with some peanut butter and heat it slightly so it mixes together smoothly…and voila! Nougat!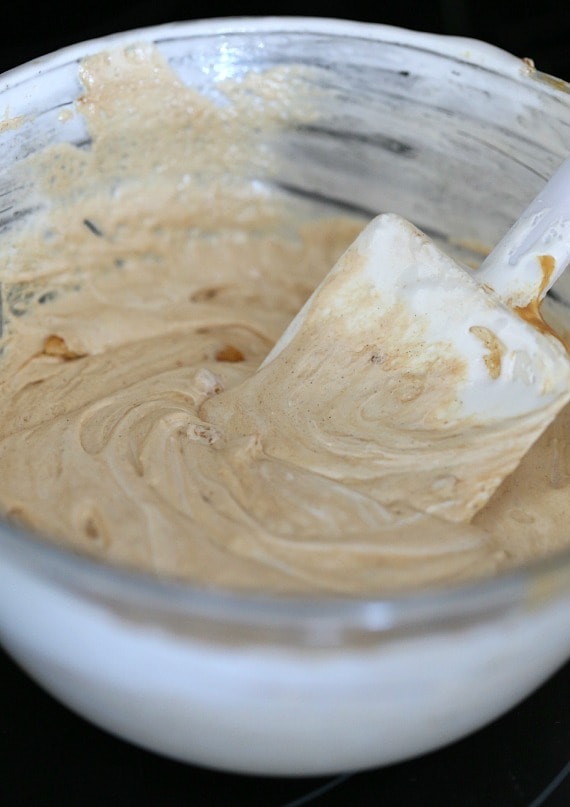 Spread that peanut nougat on top of the crust…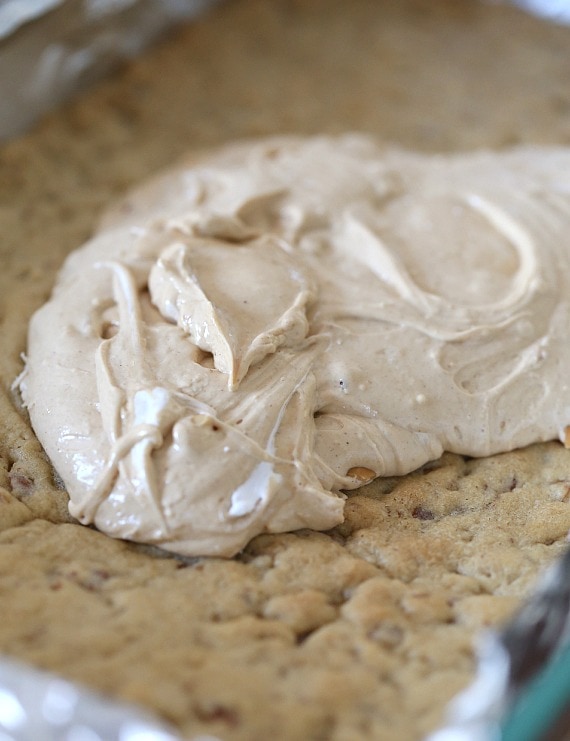 And then grab 1 cup of salted peanuts…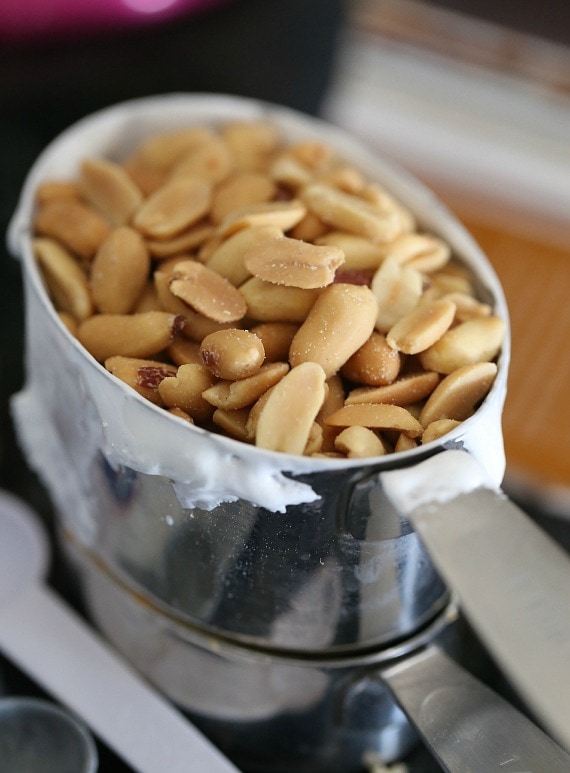 And sprinkle those all over the top.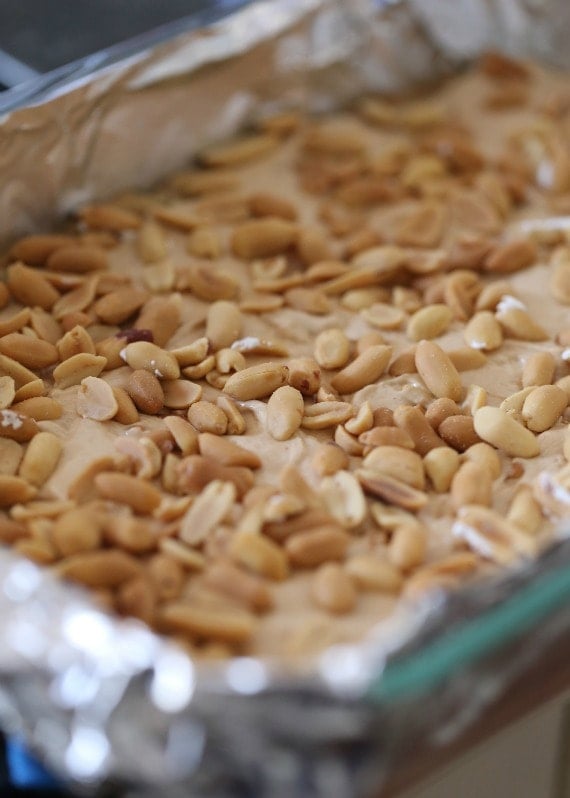 Next melt some caramels with a little milk…
And pour that all over.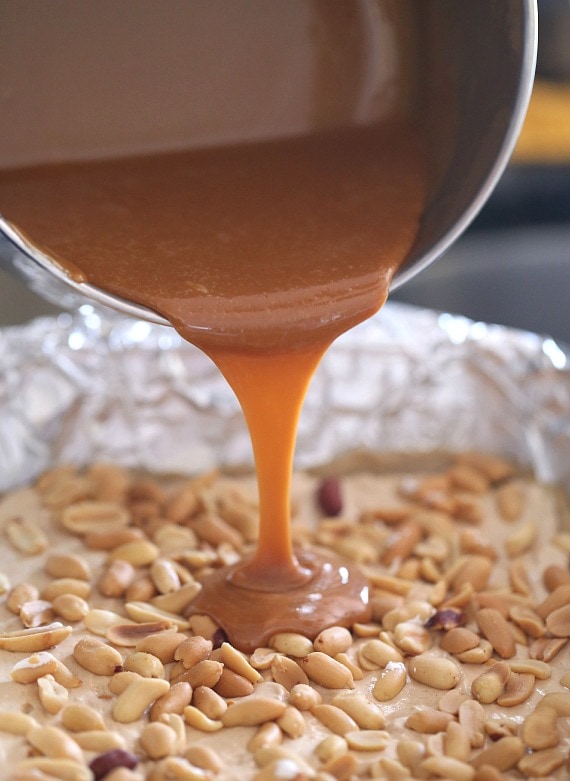 Let it cool completely (or overnight)…and you can even sprinkle some sea salt on top of the caramel for a little extra extra…
Then cut it into squares.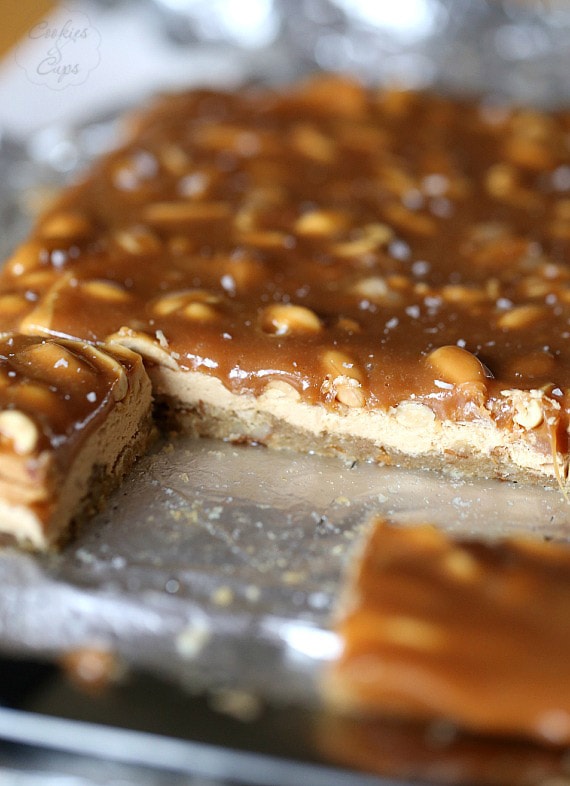 It's chewy, caramelly, salty/sweet, peanut perfection.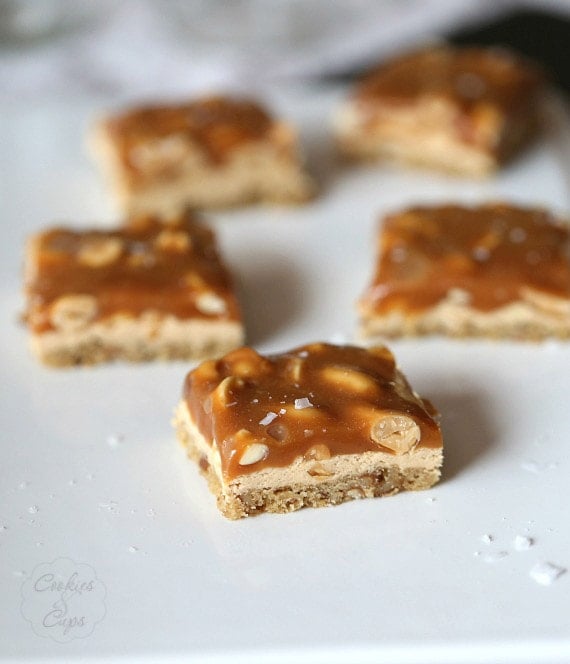 If you like these bars you'll also love my Homemade Payday Bars or my Salted Nut Roll Bites!
Print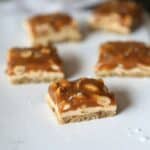 Salty Caramel Peanut Bars
---
---
1/2 cup

butter, room temperature

2/3 cup

light brown sugar

2

egg yolks

1 Tbsp

vanilla

1 cup

flour

2 tsp

baking soda

2/3 cup

crushed pretzels

7 oz

Marshmallow Creme or Fluff

1/2 cup

peanut butter

1/4 cup

powdered sugar

1 1/2 cups

salted peanuts

14 oz

unwrapped caramels

3 Tbsp

milk
flaked sea salt for topping
---
Instructions
Preheat oven to 350°
Line a 9×13 pan with foil and spray lightly with cooking spray.
In mixing bowl beat butter and brown sugar together until evenly mixed. Add in egg yolks and vanilla and continue mixing until incorporated. Scraping sides as needed.
Turn mixer to low and add in baking soda, flour and pretzels and beat until combined.
Press the dough into prepared pan and bake for 10-12 minutes until lightly golden.
Meanwhile, combine marshmallow creme and peanut butter in a microwave safe bowl and heat on full power for 45 seconds, stirring to combine. If needed continue heating in 15 second increments until smooth. Stir in powdered sugar.
When crust is done, spread marshmallow mixture carefully on top. Then sprinkle evenly with peanuts. Set aside.
Combine caramels and milk in a medium saucepan over medium low heat and heat until caramels are melted, stirring frequently.
Pour melted caramel over the top of the peanuts.
Cool completely before cutting into squares. Easily lift foil out of pan and cut.
---
Want To Save This Recipe?
Find more recipes like this: