This Sweet and Salty Ice Cream Terrine is SO easy to make…totally gorgeous to look at and TO DIE FOR delicious!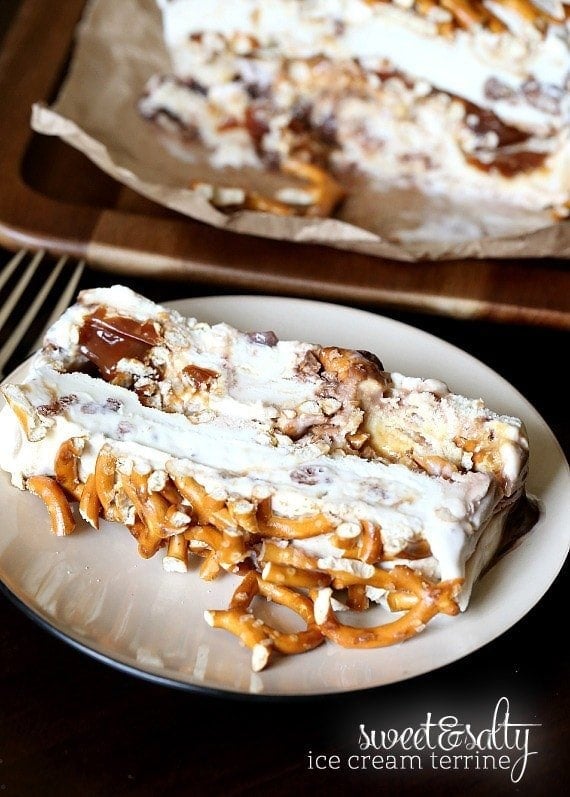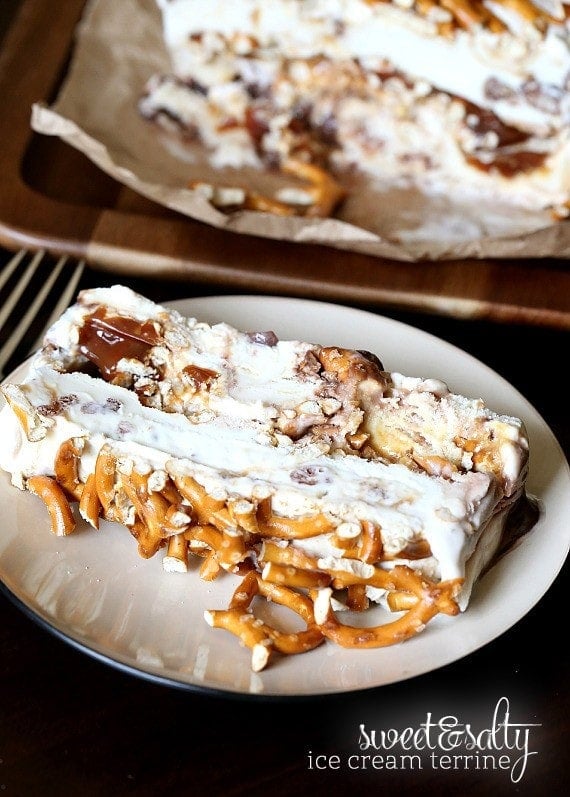 So I think I am obsessed with sweet & salty.
I find myself wanting to sprinkle sea salt on pretty much all candy.
Rolos? Better with salt.
Milky Way? You got it.
Peppermint Patties? SO yumm with a little sprinkle.
Even vanilla ice cream. Give it a pinch and your mind will be blown. I swear y'all.
Which all leads me to the path that I have gone down today….
Ice cream + salty pretzels + caramel = endless love.
Here is my Sweet and Salty Ice Cream Terrine.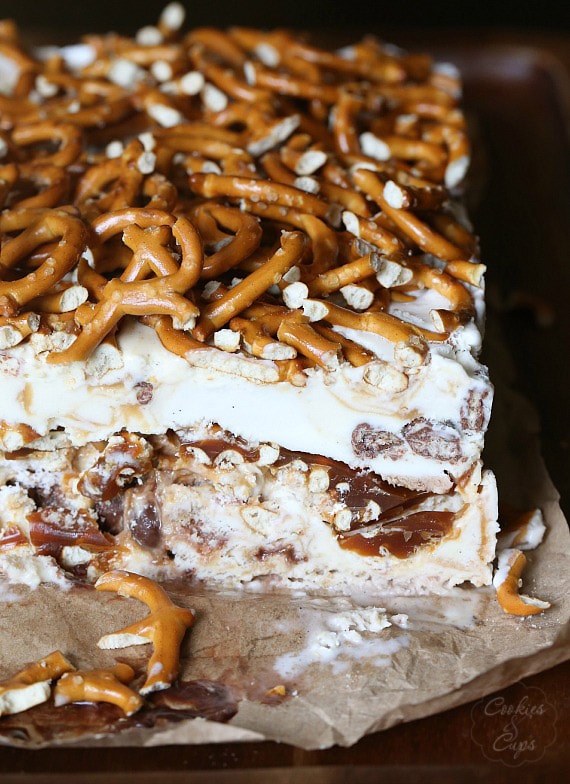 Don't be scerred by the word terrine.
It's basically an ice cream cake in a different shape. Kind of like an ice cream loaf.
But nothing should be called a loaf. It's not a nice word.
Just grab your bread pan and line it with cling wrap or parchment…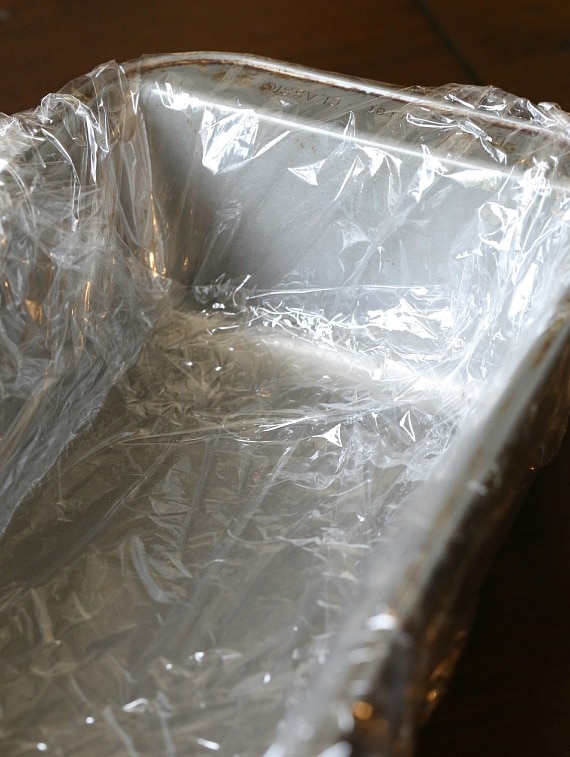 Then I decided I couldn't leave well enough alone, so I used Chubby Hubby Ice Cream in my terrine. Chubby Hubby is the best salty/sweet ice cream of all times.
But you could totally use any flavor that makes your mouth happy.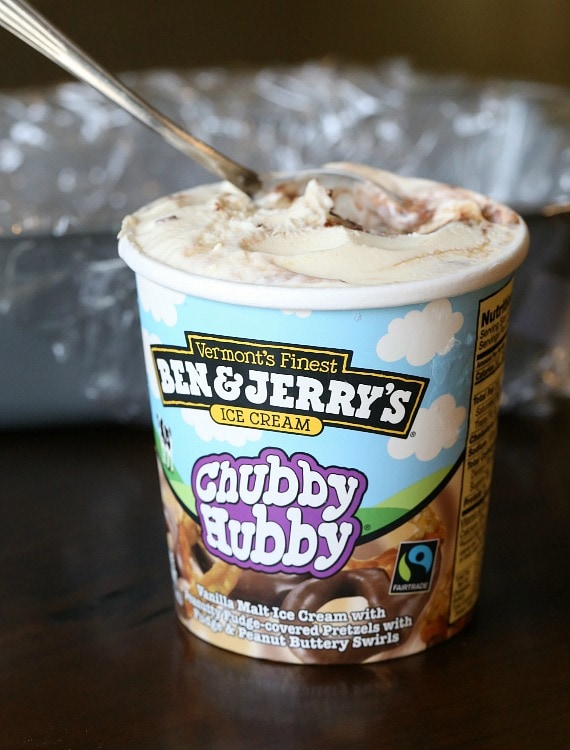 Just plop a whole pint in the bottom of the pan and flatten it out.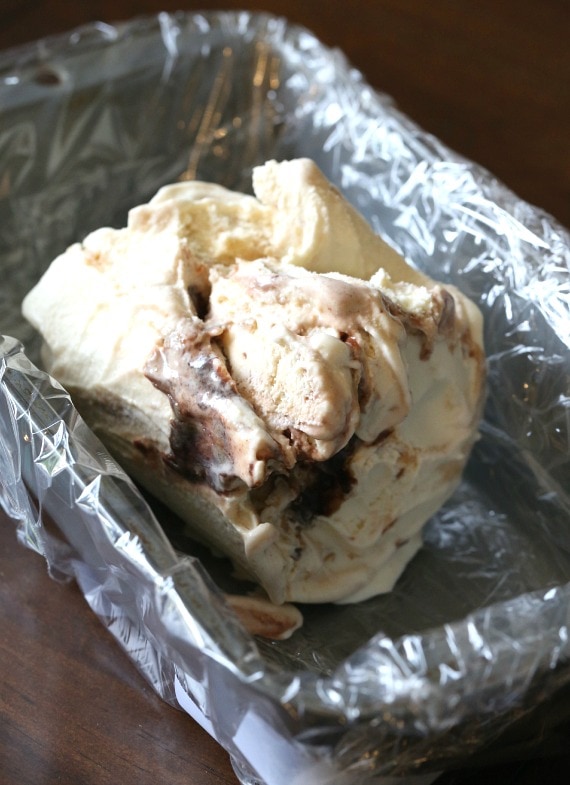 Then chop up some pretzels…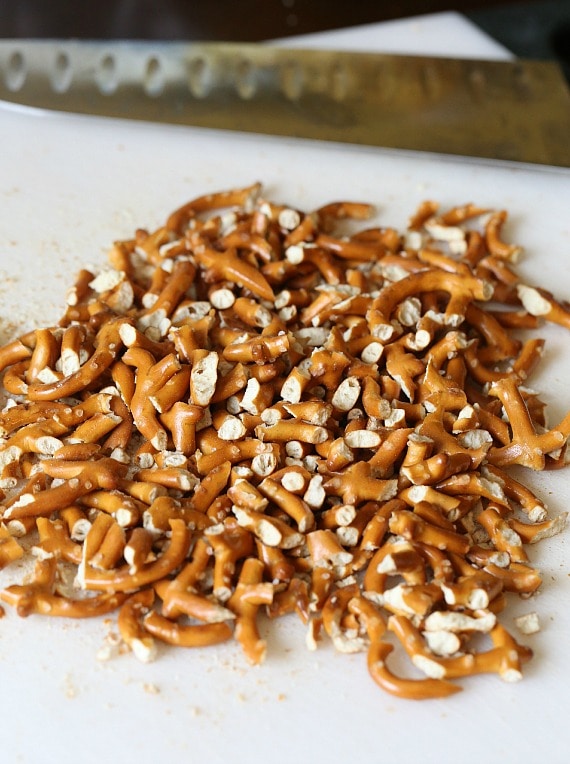 And layer them on top of your ice cream…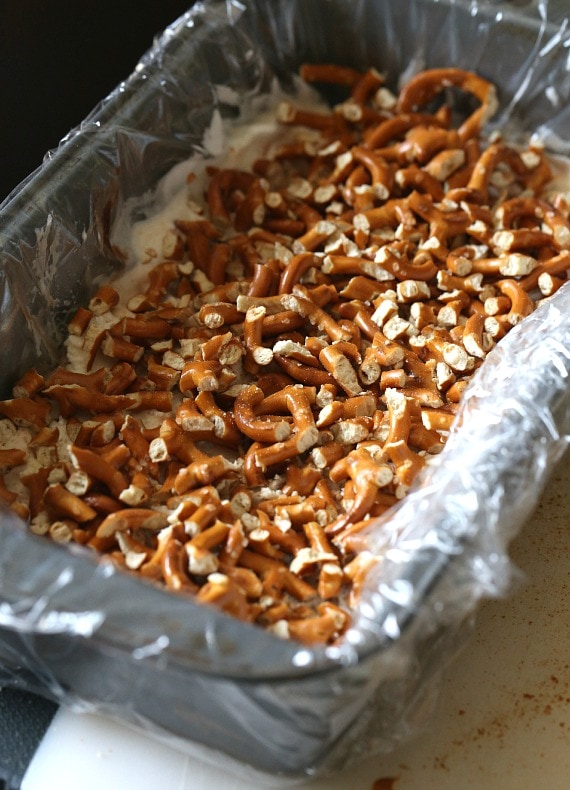 THENNNN get busy with some caramel sauce. You could even make your own homemade caramel sauce if you wanted.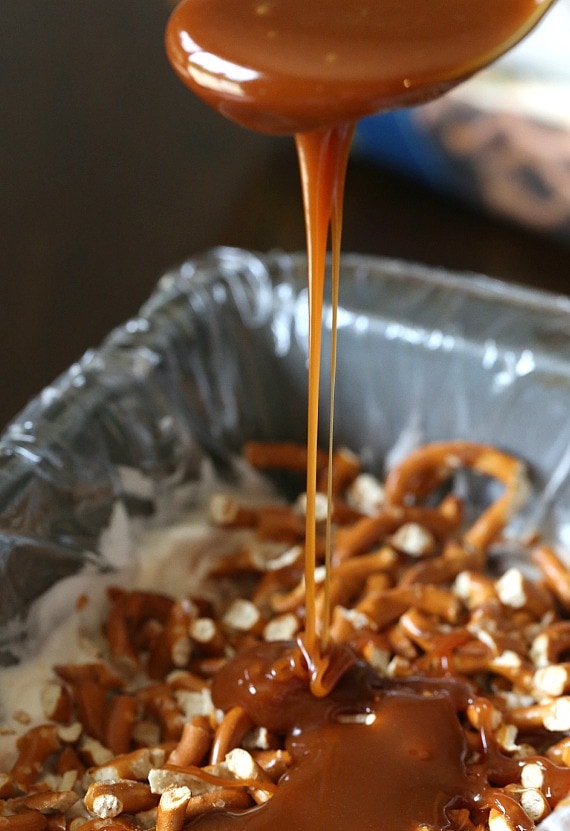 Then top with more ice cream…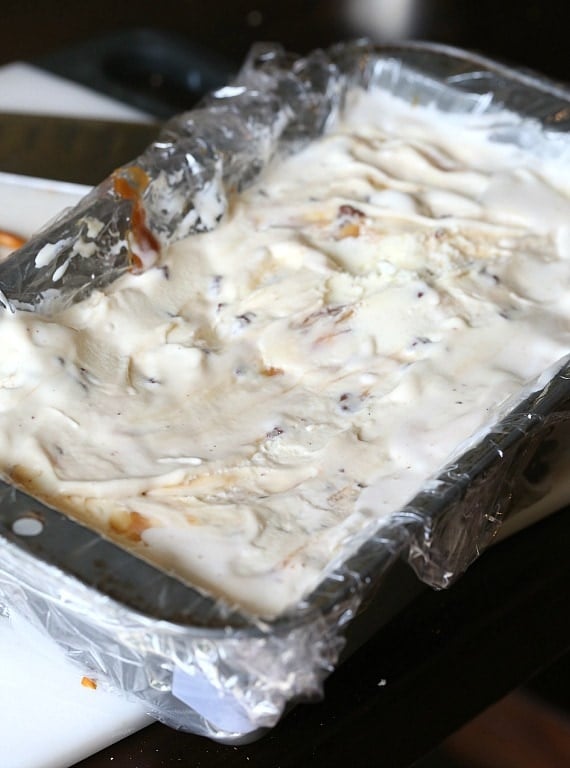 And of course more pretzels.
(And more caramel if you're feeling crazy!)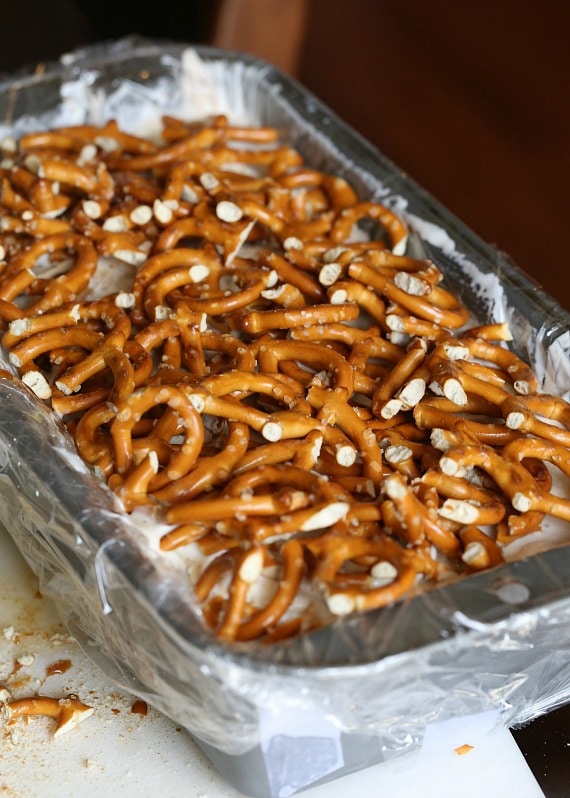 Pop it in the freezer for a while and then when you're ready to serve grab it out and remove it from the pan…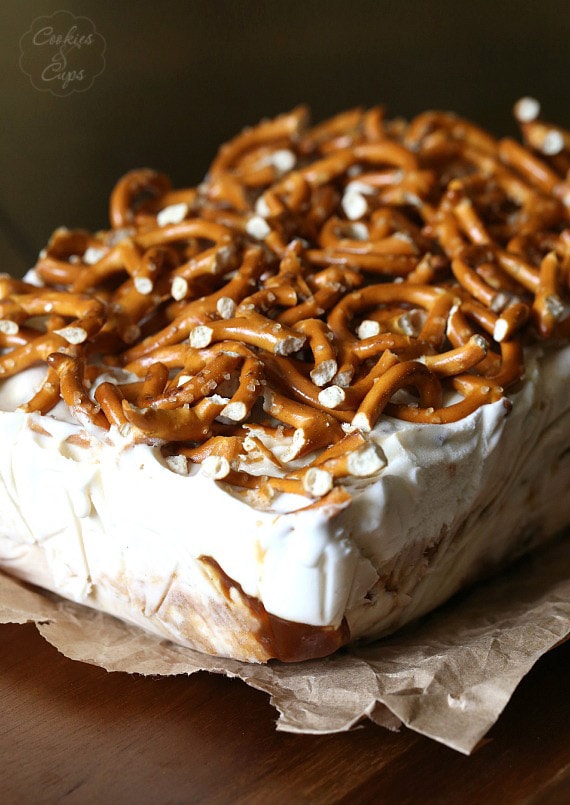 Just slice and serve!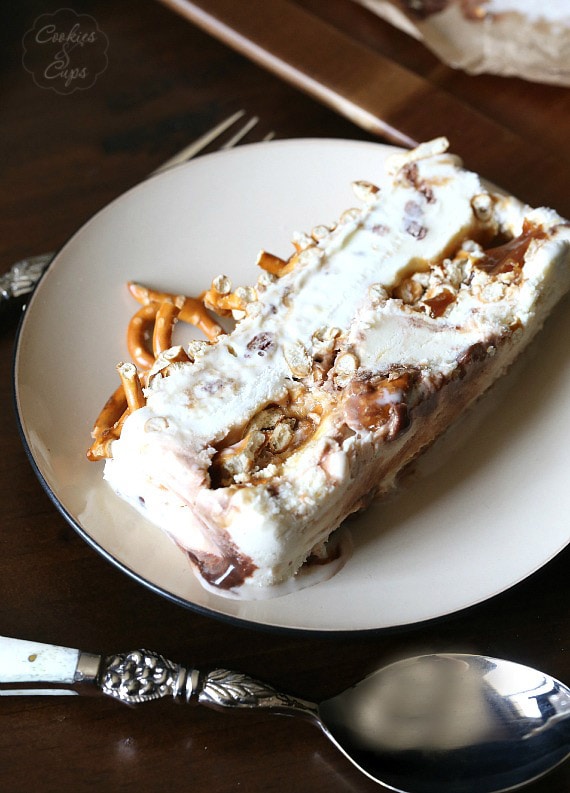 The prettiest, easiest, fancy-but-not-fancy-at-all dessert you'll ever make!!
Print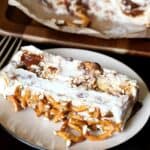 Salty and Sweet Ice Cream Terrine
---
3 Pints

Ice cream, softened (I used Chubby Hubby)

2 cups

chopped mini pretzel twists

1/2 cup

caramel sauce
---
Instructions
Line a 9×5 loaf pan with cling wrap.
Spread 1 1/2 pints of ice cream in the bottom of your lined pan.
Top ice cream with 1 cup chopped pretzels and drizzle 1/2 cup caramel sauce on top of the pretzels.
Spread the remaining 1 1/2 pints of ice cream on top of the caramel and pretzels.
Top with remaining pretzels.
Cover pan with cling wrap and freeze for 2 hours or up to 5 days.
When ready to serve, remove from pan and allow to soften slightly before slicing and serving.
---
Want To Save This Recipe?
Find more recipes like this: