Pretzel Bottom Snickers Blondies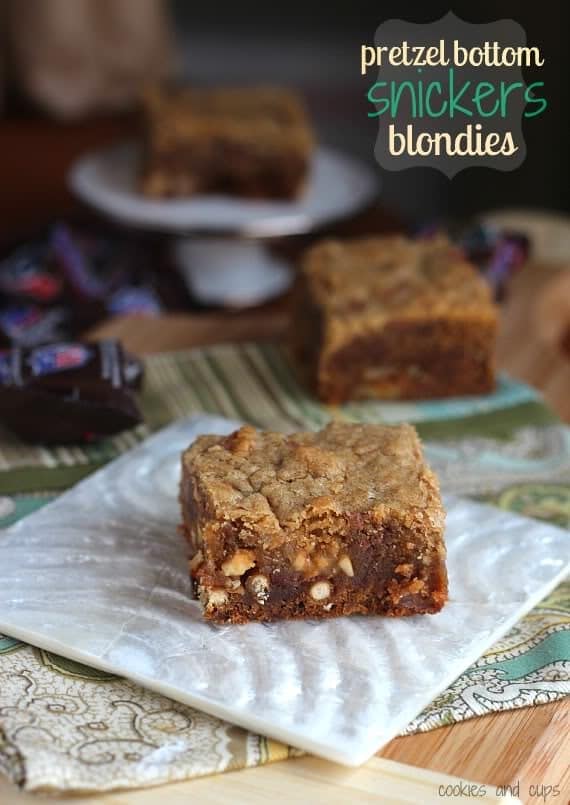 You know sometimes when you just get stuck on something?
I guess you could call it a phase.
Or an obsession.
No, let's say faze.  It sounds less crazy.

MY OTHER RECIPES
Usually you have to grow out of a phase.  Let it run it's course…
Like jelly shoes in elementary school, or "Country Blue" in the 80s…
Phases aren't always a bad thing, they just are.
And people.
We are right now, smack dab in the middle of my Snickers phase.
Obviously they have been around a while.
They're not new on the scene.
Kinda like that time when I downloaded 15 Simon and Garfunkle songs, listened to them on repeat over and over for weeks…asked my husband if he had heard their music… to which he laughed at me and said that I was about 40 years late to 60s.
Well, same thing applies here.
Snickers are old-school and I have just decided that I love them.
So they are basically on repeat here until I work through the faze.
S&G took about 4 weeks, jelly shoes about 6 months, Country Blue…well, I am embarrassed to say, but we'll just go with a few years, *ahem…so we're looking at a potential Snickers phase that might span between now and, say….2014.  Sorry.
This week's take on Snickers is a little bit salty and a little bit sweet.
Pretzel Bottom Snickers Blondies

Still with me?
And, it really couldn't be easier…
The hardest part is unwrapping the candy bars.

First dump some pretzels in the bottom of a greased 9×13.
Try and make them even…but you don't have to try too hard.

Then mix up some blondie batter and dump your Snickers in.
I used the bite sized Snickers, but you can coarsely shop up some full sized bars if you want…you'll need 3 cups.
Plop that on top of your pretzels.

Then spread it evenly.

Bake that up for about 30 minutes…and you're good to go!
You'll need to let them cool before you cut them, but when you do, here's what's waiting on the underbelly.
Totally worth it.

Want my Snickers playlist?
Peanut Butter Snickers Brownies
Print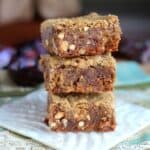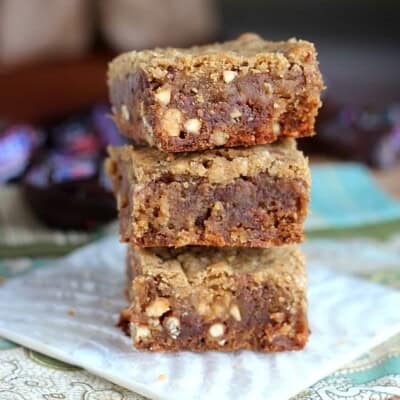 Pretzel Bottom Snickers Blondies
---
Description
makes 35 squares
---
Ingredients
3 cups pretzel twists
1 cup butter, room temperature
1 1/2 cups dark brown sugar
2 eggs
2 tsp vanilla
2 1/2 cups all purpose flour
1 tsp baking soda
1 tsp coarse sea salt
3 cups coarsely chopped Snickers bars or unchopped Snickers Minis
---
Instructions
Preheat oven to 350°
Spray a 9×13 pan with cooking spray.
Line bottom of pan with pretzels. If they overlap, it's fine.
In your mixer cream butter and sugar together for 1 minute.
Add in eggs and vanilla and continue mixing for another minute, until smooth.
Turn mixer to low, add in baking soda, salt and flour. Stir until just combined.
Dump in Snickers and turning mixer up to medium mix for 20 seconds until evenly incorporated and slightly broken up.
Spread batter evenly over pretzels.
Bake for 30-35 minutes until the center is almost set.
Let cool completely or overnight.
Cut into squares when ready to serve.
---
Notes
store in an airtight container for up to 3 days.