posted on : November 8, 2010
These Salted Caramel Butter bars are one of my most requested recipes ever!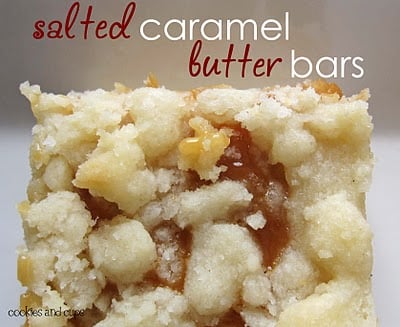 As I sit here and type this post I am currently in a funk.
A funk because it is raining.
A funk because it is crazy windy.
A funk because it is getting colder by the second and soon enough we will be into New Jersey's never-ending winter.
A funk because my "fat" jeans are currently my "skinny" jeans.
A funk because I would like a bowl of soup and no one will make it for me.
A funk because The Real Housewives of Beverly Hills won't be on again until Thursday.
A funk because I just got movies in the mail from Netflix and apparently my husband has been the only one updating the "queue". That means karate, people.
A funk because I stayed home today to get laundry and housework done and all I successfully managed to do was catch up on all my dvr'd
Jerseylicious
episodes.
A funk because my nails are ugly.
A funk because I am still in my pj's and it is 4:56 p.m.
But I will tell you…
If there is anything to get you out of a funk I have it right here, right now, for you.
No, it's not the winning lottery numbers, settle down people.
It's the next best thing.
There is butter involved.
Lots of butter.
Don't hate the player.
These bars will take you from funk to funky.
Trust.
Salted Caramel Butter Bars.
You get to use caramels too, which is always a bonus!
It's all a pretty easy process, just a few steps, honestly.
You make dough.
You divide dough.
You bake somecof the dough.
You chill some of the dough…
You melt caramel.
You spread caramel.
You sprinkle salt on the caramel…
Then you sprinkle more dough…
Then finish baking.
Glorious.
I will tell you that these bars are delicious.  Really delicious.
I might go as far to say that they are one of the best things that I have made in a while.
I know you will love them..that is if you like butter, sugar and delicious caramel filling.  Yeah, that's what I thought.
They sure won't help your fat jean/skinny jean dilemma, but they are guaranteed to make you happy while you're wearing elastic

Salted Caramel Butter Bars
Ingredients
For the Crust:

1 lb. salted butter room temp
1 cup sugar
1½ cups powdered sugar
2 Tbs vanilla OR - I used Princess Cake Emulsion..
4 cups AP flour
!For the Filling:
1 bag (14 oz.) caramel candies (about 50 individual caramels), unwrapped
⅓ cup milk or cream
½ teaspoon vanilla
*1 T. coarse sea salt (optional)
How to Make
To make the crust:

Preheat oven to 325°
In a large bowl, combine the butter and sugars. Using mixer on medium speed, beat together until creamy. Add the vanilla and beat until combined. Sift the flour into the butter mixture and beat on low speed until a smooth soft dough forms.
Spray a 9x13 inch baking pan lightly with non-stick cooking spray. Press one-third of the dough evenly into the pan to form a bottom crust. Wrap remaining dough in plastic wrap and chill in refrigerator.
Bake crust until firm and the edges are a pale golden brown approx 20 minutes. Transfer pan to a wire rack and let cool about 15 minutes.
While the bottom crust is baking and the remaining dough is chilling, make the caramel filling. Place the unwrapped caramels in a microwave-safe bowl. Add the cream. Microwave on high for 1 minute. Remove from the microwave and stir until smooth. If caramels are not completely melted, microwave on high for 30-second intervals, stirring after each interval, until smooth.
Once the caramel is melted add in your 1/2 tsp vanilla and stir until combined.
Pour the caramel filling over the crust. If you are going to salt the caramel sprinkle it on caramel layer now.
Remove the remaining chilled dough from the refrigerator and crumble it evenly over the caramel.
Return the pan to the oven and bake until the filling is bubbly and the crumbled shortbread topping is firm and lightly golden, about 25 - 30 minutes.
Let cool before cutting into squares.
Notes
http://cookiesandcups.com/dont-hate-me-because-im-butter-ful/
Social Share