Hey friends! Popping in today to share a quick round up of some of my Favorite Apple Recipes!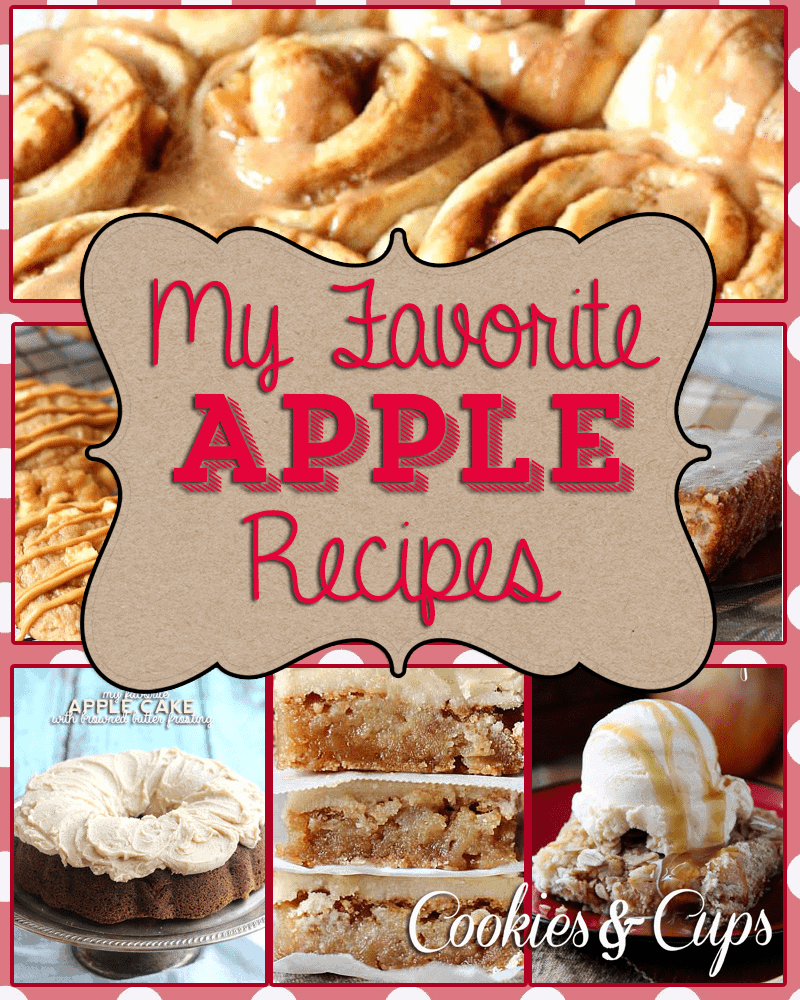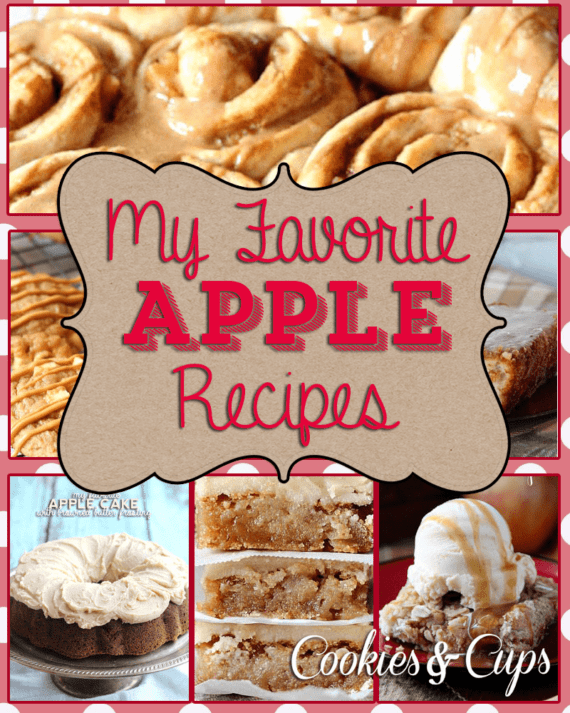 Apples are everywhere right now.
And while I am typically not a "fruit in dessert" type of gal…I make the exception for apples.
You know, I've done my fair share of apple stuff round here the past few years, so I thought it would be fun to have a look at some of my favorites!
If you follow me on facebook I've been sharing lots of fall baking stuff lately, so you might have seen a few of these over there…but I thought it would be nice to have all the apple goodies in one place, so you could come back to it again and again. Go ahead and pin all the recipes too…that way you'll have them for later!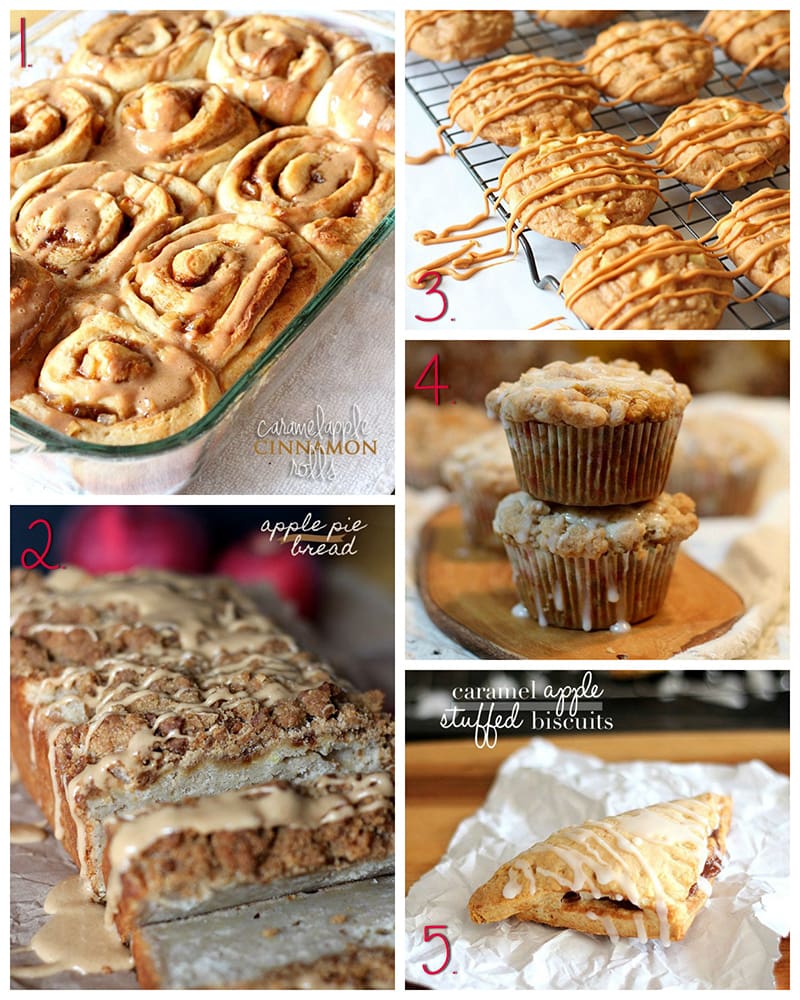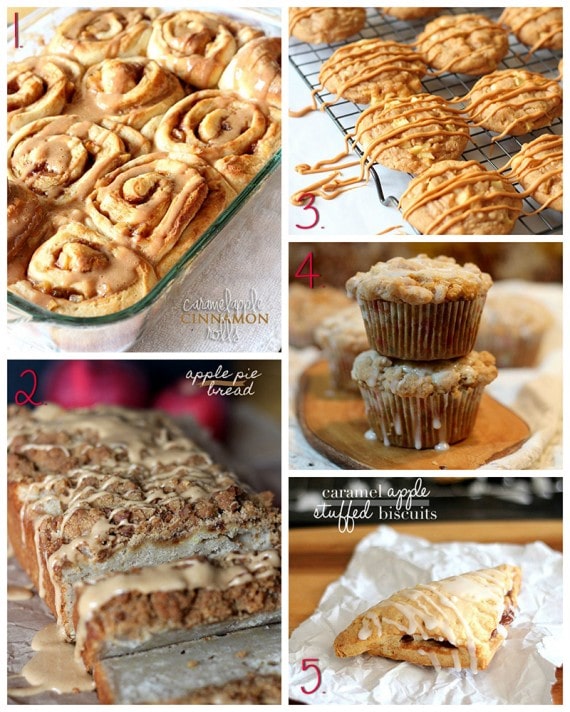 1. Caramel Apple Cinnamon Rolls. I made these cinnamon rolls last year and I LOVE them. I happened to use a special "seasonal" cake mix that I am not sure that they sell this year (hate when that happens), but it's really no problem. I used a simple cake mix method for the dough, that you could really just sub in a vanilla cake mix or spice cake mix in it's place.
2. Apple Pie Bread This is a recipe I made for Better Homes and Gardens last year, and I have to say it's one of my favorites. This bread is so crazy good. I had made it so many times I've lost count!
3. Butterscotch Apple Pudding Cookies. These cookies are super soft, loaded with apples and sweetened with a pudding mix. Even if you don't love butterscotch, you are sure to love to these cookies!
4. Pumpkin Apple Muffins. A solid muffin recipe that will make your house smell phenomenal while you are baking. Perfect for fall, as it combines the season's 2 stars.
5. Caramel Apple Stuffed Biscuits. I am a biscuit fanatic. So stuff one with caramel apples and you've got me for life.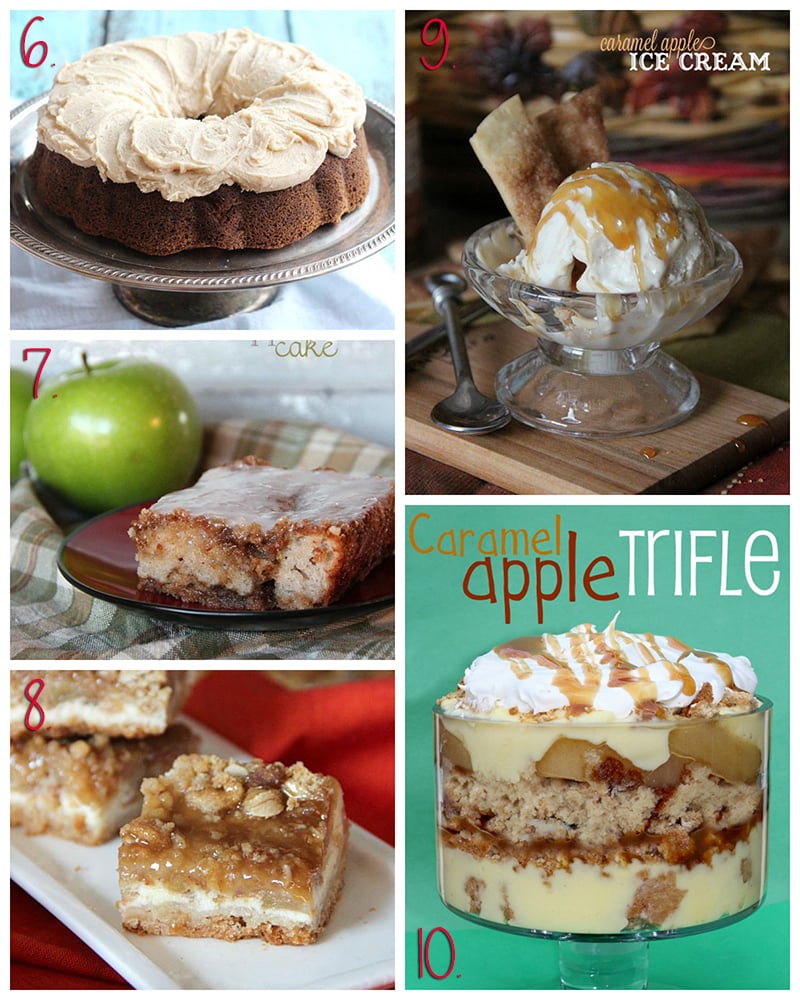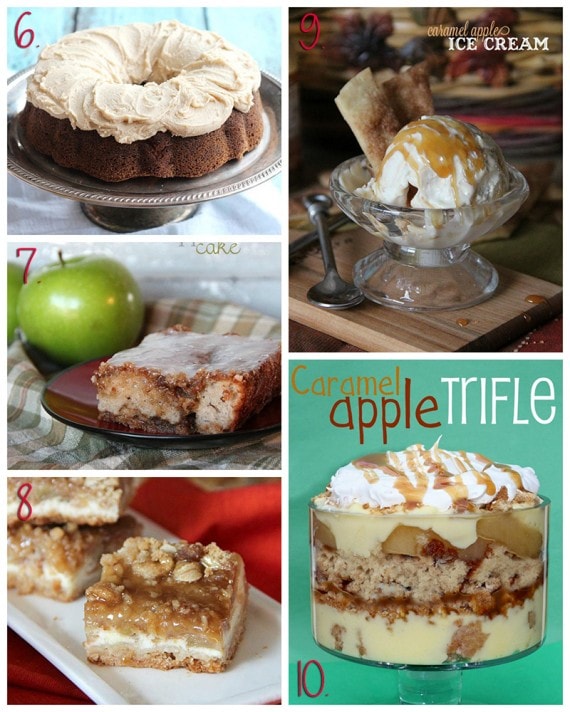 6. My Favorite Apple Cake If you don't make anything from this list, make this cake. The end.
7. Apple Fritter Cake LOVE this one…it's simple, homey and loaded with glaze. What more could a girl ask for?
8. Caramel Apple Cheesecake Bars If you make these once, they will be in your line up forever…they are THAT good.
9. Caramel Apple Ice Cream This one starts with a simple 2 ingredient ice cream that doesn't require an ice cream maker. Super rich and lovely..and the pie crust garnishes are TO DIE!
10. Caramel Apple Trifle Oh lord, I amde this YEARS ago, as proved my the horrible picture…BUT it's chock full of goodies…cider doughnuts, custard, oatmeal cookies apple pie filling…I mean, it's pretty fantastic!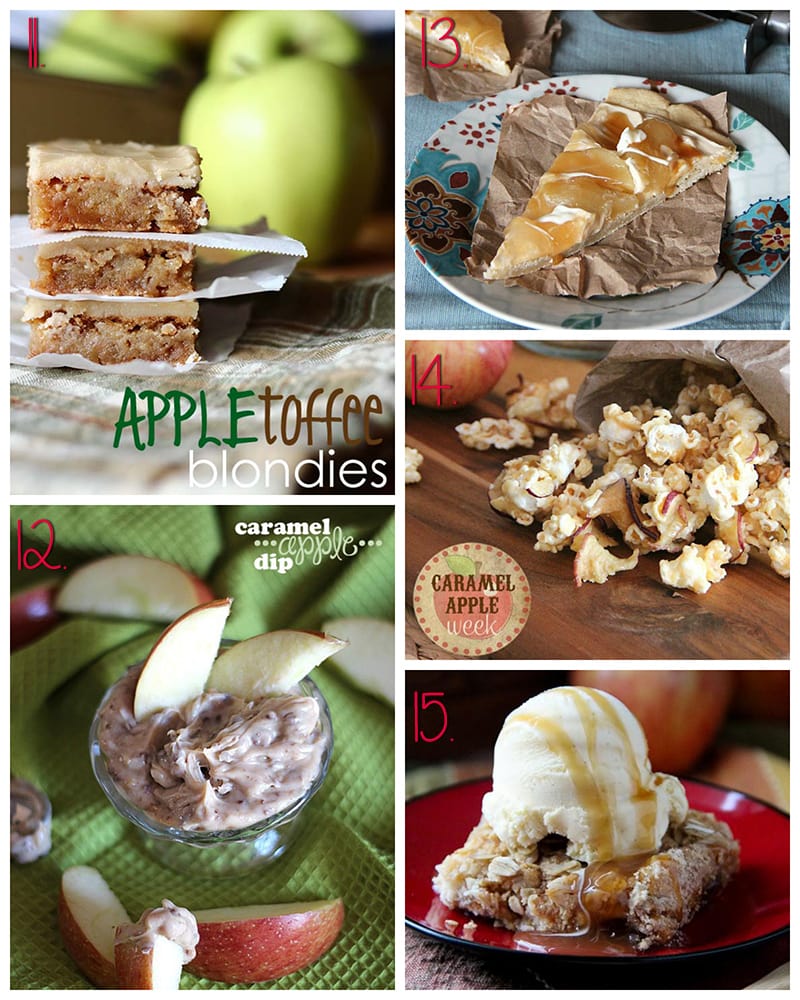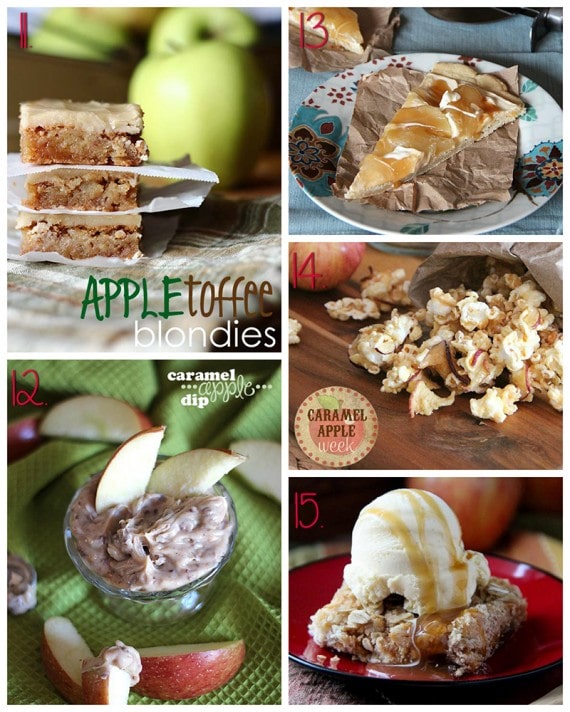 11. Apple Toffee Blondies I might say this a lot, but these blondies RULE. I am telling you…for the love, make these. If you are one of those "it's too sweet" people (gah) then omit the frosting, because they stand on their own without it, but if you love an over the top outrageous bar, make them as written. You'll fall in love.
12. Caramel Apple Dip I completely forgot I even made this recipe until I came across it a week or so ago. I don't know how I forgot, because it's SO easy and good. Perfect for a last minute get together.
13. Caramel Apple Pizza Love this one too.. I cheated and used canned apple pie filling in the recipe, but I have made it since and used fresh apples, which I happen to prefer…but either way, it's a winner!
14. Caramel Apple Popcorn I love this recipe… it's super fun, totally different and who doesn't love a snack food?
15. Apple Pie Dump Cake Name me one person who doesn't love a dump cake. Impossible.
So there you go friends! Apple recipes for days!
Enjoy and get to baking!!