These Halloween Cauldron Cupcakes are a quick and easy way to make any celebration special!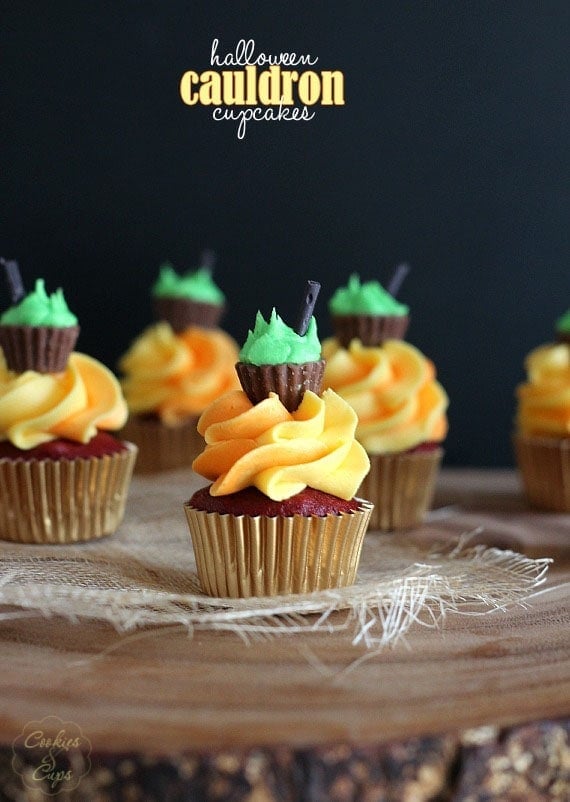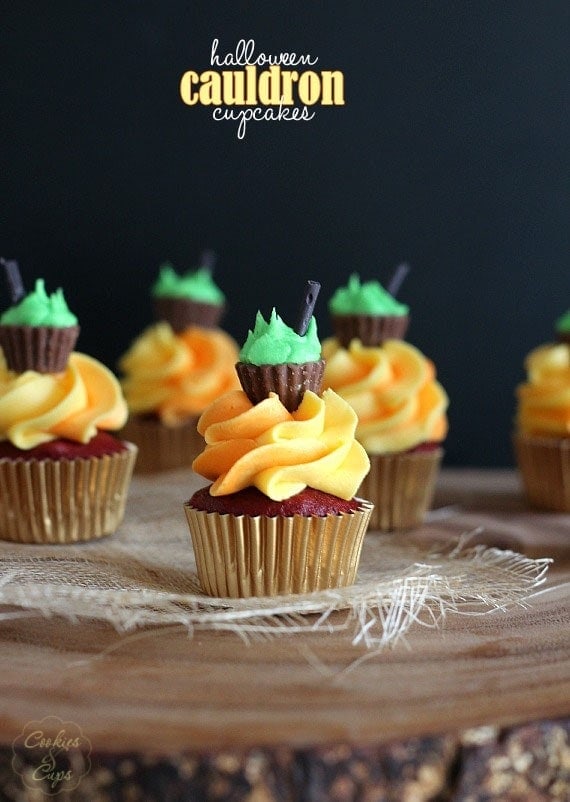 So basically we are inviting you to hop on the Halloween train and get all your ideas in order.
Only a month left!
ANNND we're have a link up party on Friday where you can share all your Halloween ideas! FUN!
Now, I have to say that I've been off the cute food for a while now.
I basically OD'd on cute food early in my blogging years. I used to be all caught up in adorableness.
I got over that pah-rity quickly. Ain't nobody got time to be tweezering sprinkles onto a cookie.
But I'm going back to my roots and this week we're gonna be giving you loads of ideas on how to wow the Halloween dessert table.
I'm also going to dip into my archives and remind you guys of come cute stuff I made in the years of yore.
Back when the food was cute and photography was el-crappo. But first we must focus on cupcakes.
Mini ones.
Mini ones that look like a little Witch's Cauldrons.
Seriously cute.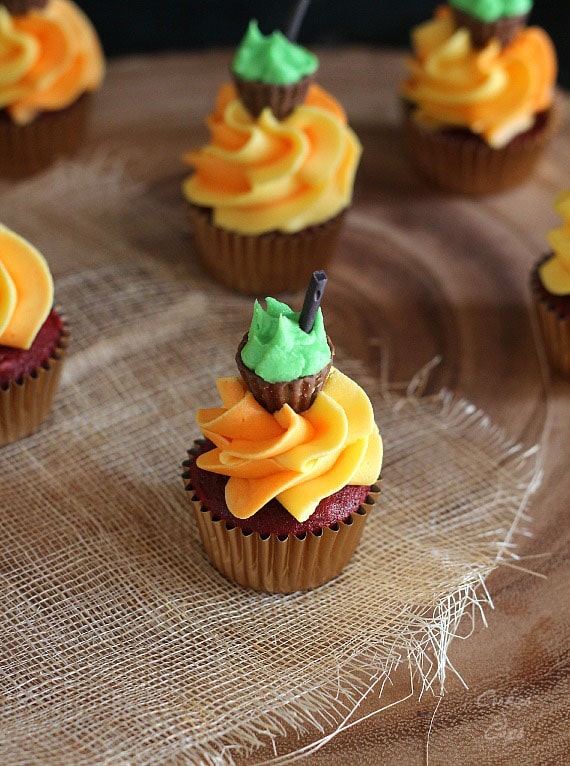 Yes, they look fancy, but they are oh-so-easy. Trust me.
Just a few steps to cupcake domination.
I started by making Mini Red Velvet Cupcakes.
(I'm gonna get you guys the red velvet recipe tomorrow.)
ps.. you could totally make these full sized cupcakes with a Miniature Peanut Butter Cup, instead of the itty-bitty-already-unwrapped-kind. Because, FYI…a whole cake batch of mini cupcakes basically makes infinity.
Anyway…start with the cupcakes.
Here's the mini cupcake pan I use.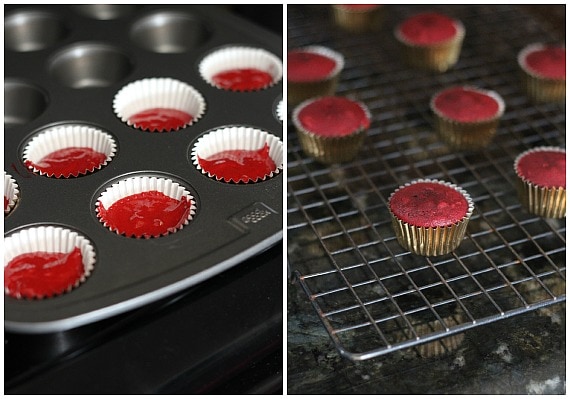 Then make some frosting.
I always use my favorite vanilla buttercream recipe.
Take out one cup of the frosting and save that for later. Then divide the remaining frosting in half.
Color half yellow and half orange.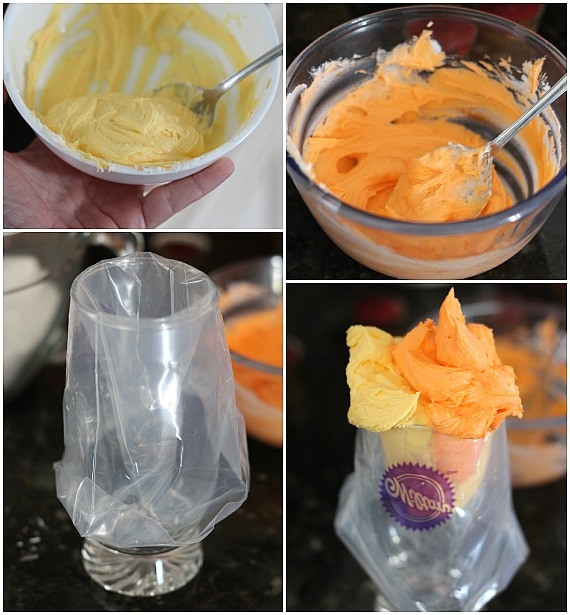 Then using a piping bag, put about 1 cup of the yellow on one side of the bag and the same amount of orange on the other.
Just smoosh it in. It's fine, trust me…you want it to be swirly so it looks like a flame.
Also I used a Wilton 1M tip on my bag.
You'll need to refill the piping bag when you run out, and just do it the same way as the first time. Overfilling piping bags is mucho annoying. I speak from experience.
Pipe the frosting on the cupcake like this…
Just a quick swirl.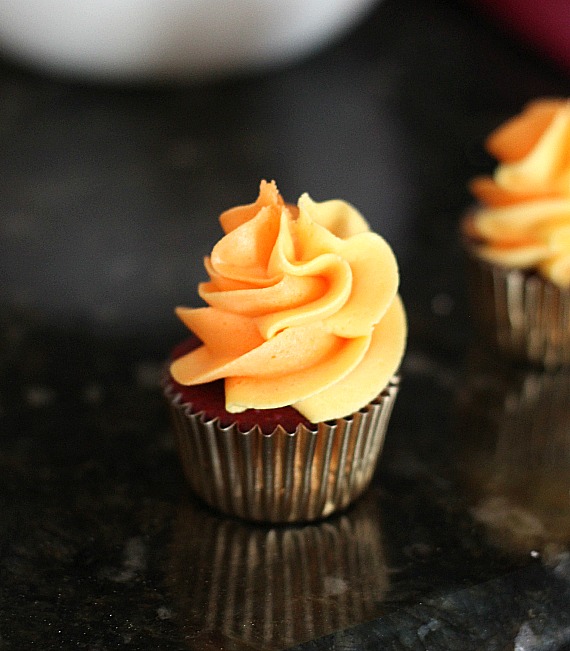 Also, I don't recommend ever using a ziplock bag to pipe with a tip. Again, take the advice.
With the reserved frosting, go ahead and color that green.
I filled another piping bag with the green and attached a Wilton #12 tip, but any medium round tip will be fine!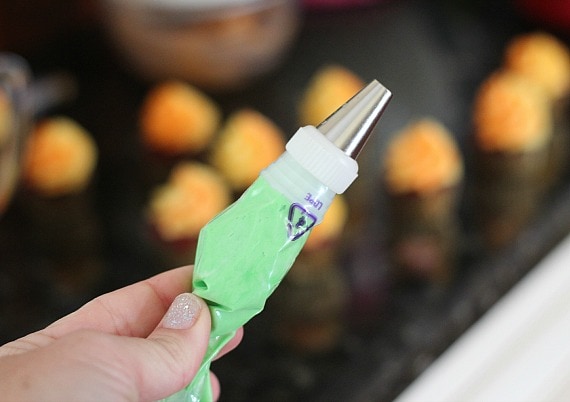 Next grab some mini peanut butter cups and pipe on some frosting like this…kinda messy, to look like bubbly witches brew!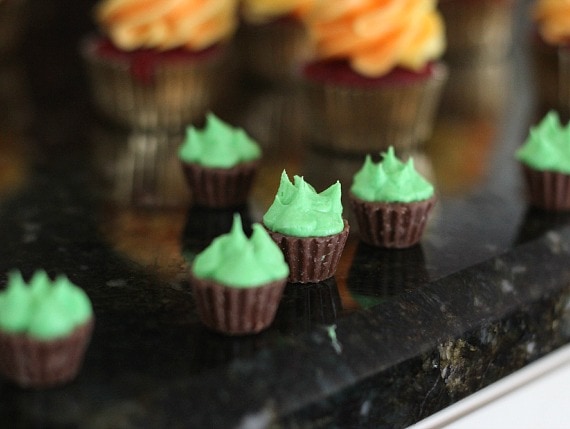 These are a little bit of a riff on Kristan's Peanut Butter Cup Cupcake Toppers she made a few years ago!
To make a little "spoon" for the cauldrons I grabbed some black candy melts and melted them in a zip-top bag.
I cut off a tiny corner and piped lines onto a piece of parchment paper.
(you could also just use melted chocolate)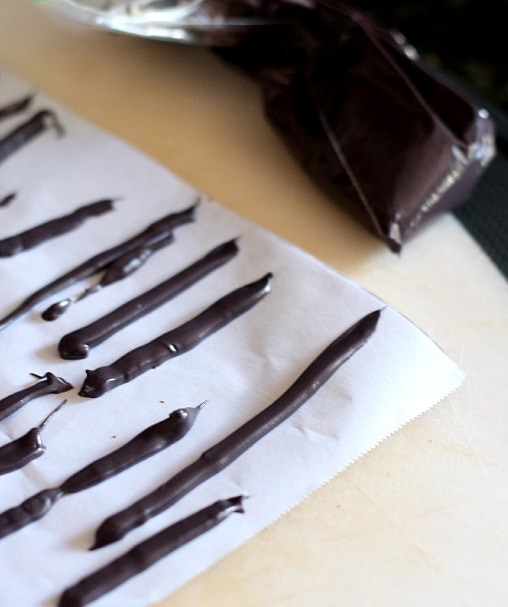 You could easily use black licorice for this too, I just couldn't find any at my supermarket.
OR you could omit the spoon altogether. Honestly.
As soon as they set up I broke them into small pieces and placed it in the green frosting…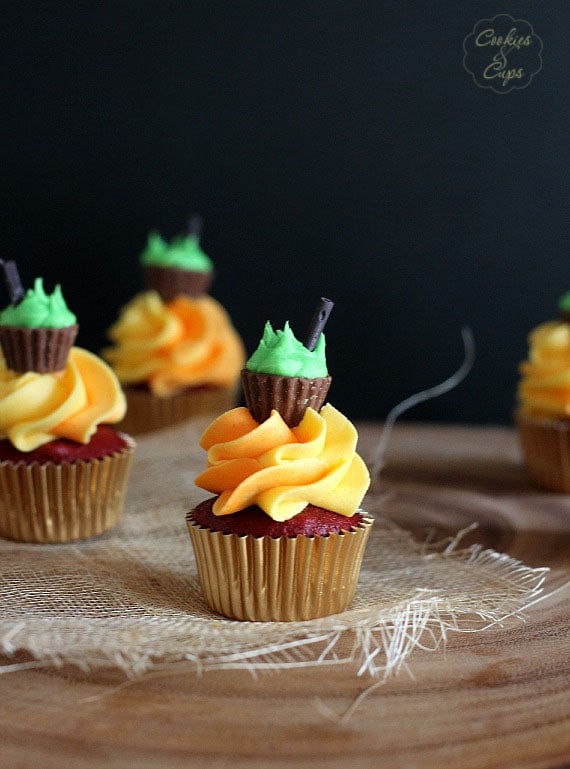 See how adorable?
Like really.
And stay tuned all week for more fun Halloween Party treats!
Also from my archives check out: