Strawberries and Cream Cookies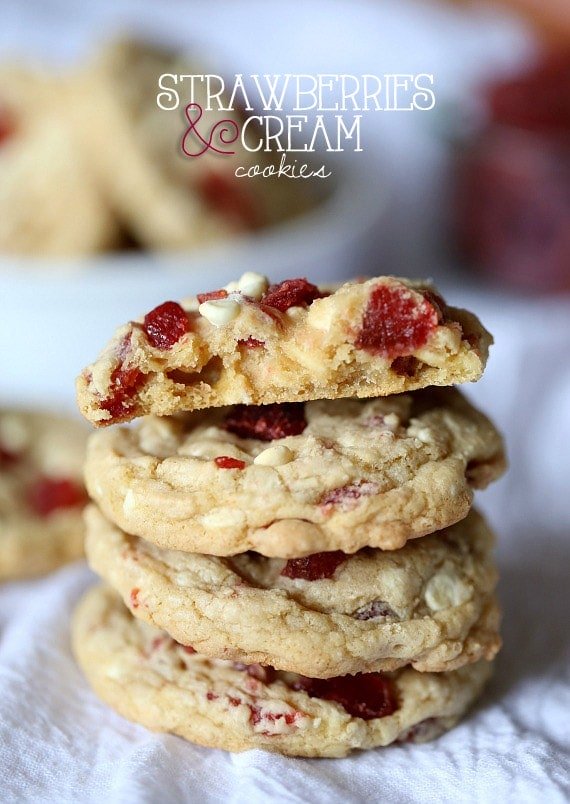 These Strawberries and Cream Cookies are so easy, but perfectly sweet with fun bites of strawberry and white chocolate.
I have to say, adding fruit into my cookies isn't the "norm" around here.
I firmly believe that fruit has no business in dessert.
Well, I USED to believe that was a truth.
But really, as long as there is the appropriate amount of sugar and butter added, fruit is TOTALLY acceptable in desserts.
I mean, I do love me a good fruit salad, don't get me wrong, but it isn't a substitute for cake.
Got me?
So adding these dried strawberries into cookies started out as an experiment…
I couldn't perfect a cookie with real strawberries baked in..I tried…and didn't get the results I was looking for.
But DRIED strawberries are a different story.
They are the perfect chewy, sweet addition to a cookie…and I even found myself wishing I added more to the batter.
Am I a changed woman or what?
So let's talk about these cookies that you need in your face now.
And I mean it..you need these. I am a little obsessed with them.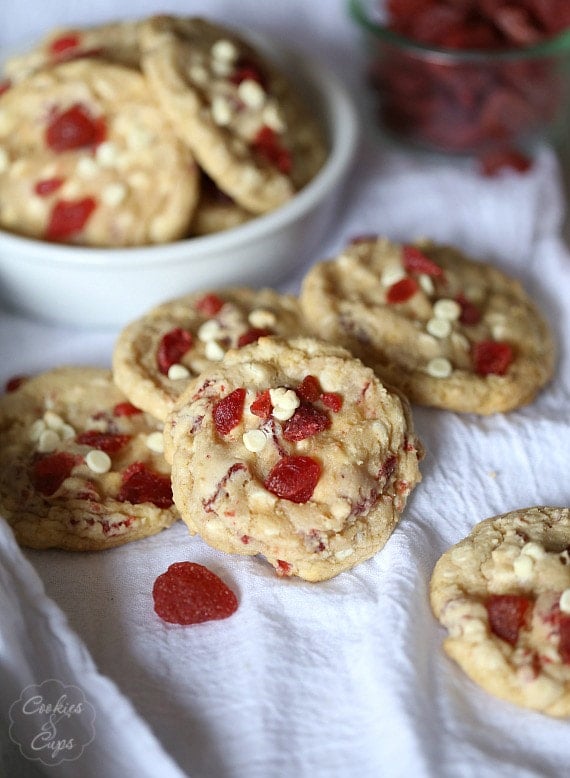 The dough is a fairly straightforward one, but I played around with some of the ratios of ingredients and believe I came up with the most PERFECT recipe for a chewy, thick cookie. NO cornstarch or chilling needed.
AND I found that even 3 days later they tasted perfect. Pound it!
Start with your dried strawberries…NOT freeze dried, folks…just dried.
They are chewy and sweet, a little like a gummy. I found them in the bulk section of my supermarket, but I've seen them at Target near the raisins and all.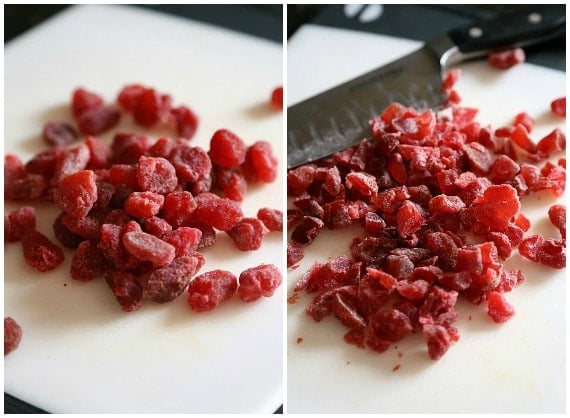 Anyhow, I chopped them up into smaller bits.
I also used by beloved mini white chocolate chips…but you could absolutely use regular sized white chips.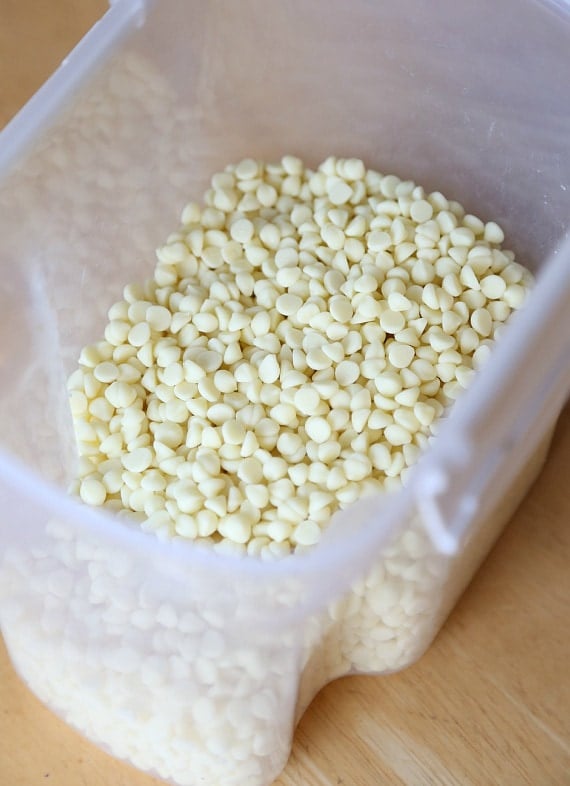 I mixed those into the batter.
Now, the batter itself is simple..but I used 1 egg and a yolk to help with the chewy consistency and I also used baking soda AND baking powder. The combination of the two makes these cookies the perfect height and consistency!
I am actually going to try this base dough for a regular chocolate chip cookie base. Can't wait!
I placed a few chips and strawberries on top of my dough scoops to make 'em purty…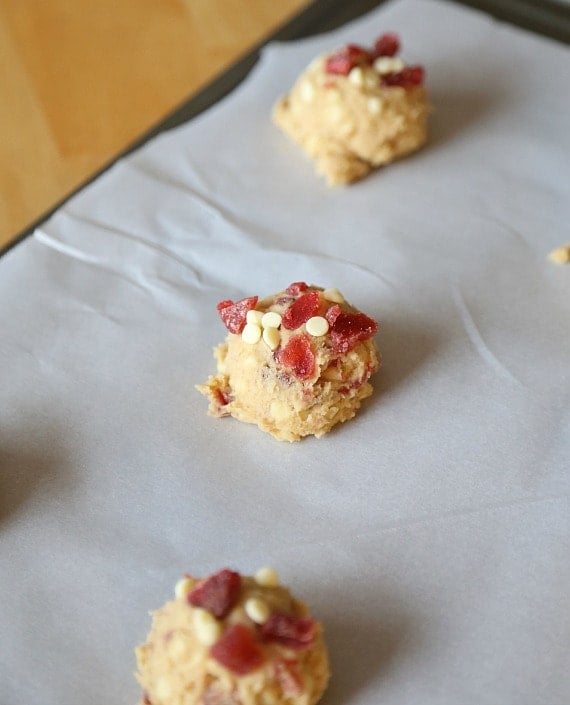 And when they're baked they will look like this…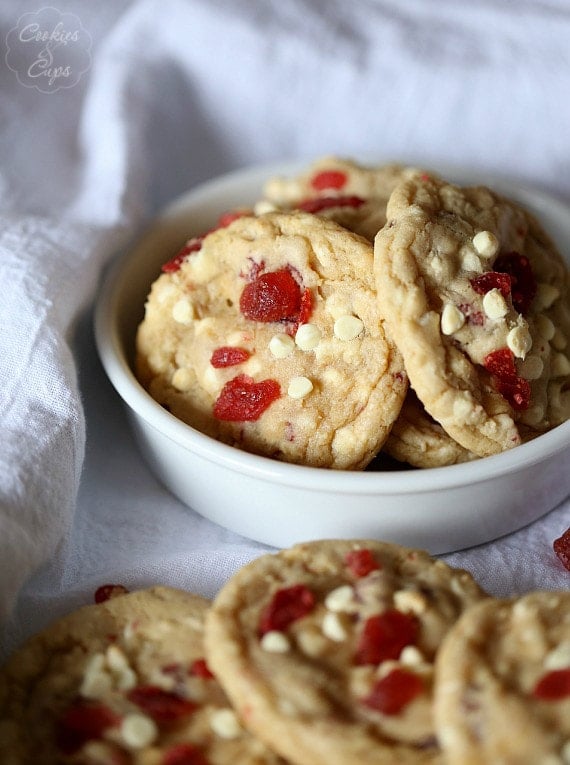 Like I said, they are a quick cookie that I couldn't be prouder of!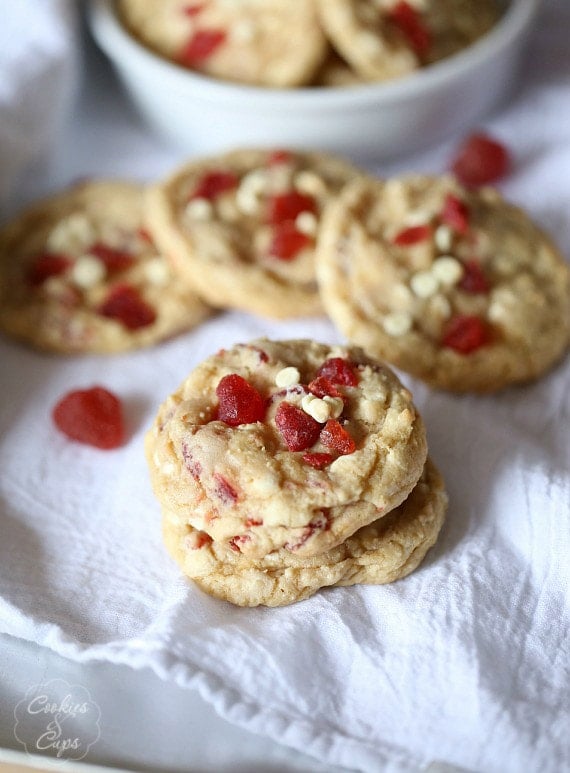 They are so chewy and delicious…can't wait for you to try these!
Print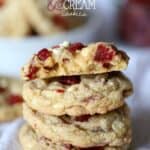 Strawberries and Cream Cookies
---
Description
makes 24 cookies
---
Ingredients
1/2 cup

butter, room temperature

1 cup

light brown sugar

1

egg, plus 1 yolk

2 tsp

vanilla

1/2 tsp

baking soda

1/2 tsp

baking powder

1/2 tsp

salt

2 1/4 cup

flour

1 cup

chopped dried strawberries

1 cup

white chocolate chips
---
Instructions
Preheat oven to 350°
IN bowl of stand mixer cream butter and sugar together until light and fluffy, about 2 minutes. scraping sides as needed.
Add in egg and yolk and beat until mixed well. Add vanilla.
With mixer on medium mix in your baking soda, baking powder and salt. Beat for 30 seconds until combined.
Turn mixer to low and mix in flour until evenly incorporated.
Stir in strawberries and white chocolate chips.
Place by heaping tablespoon or cookie scoop onto a parchment lined baking sheet and bake for 9-11 minutes until edges are lightly golden.
Allow to cool on a cookie sheet for 3 minutes before transferring to a wire rack to cool completely.
---
Notes
store airtight for up to 3 days