Soft-baked Strawberry White Chocolate Chip Cookies are sweet and chewy, filled with bright pops of dried strawberries and creamy pockets of white chocolate. These quick cookies are the perfect strawberry dessert, and they're so easy to make!
My strawberry white chocolate chip cookies are the best way to enjoy strawberries any time of the year, even when fresh strawberries aren't in season. This recipe is a strawberries and cream twist on chocolate chip cookies, and it's AMAZING.
Dried strawberries are the secret to these homemade strawberry cookies. The tartness balances the sweetness and creaminess of the white chocolate chips, for an absolutely addictive treat. The contrasting textures and flavors are impossible to resist!
If you love Strawberry Cake Mix Cookies (don't we all?), wait until you try this strawberry white chocolate chip cookie recipe made from scratch. These soft, thick cookies are bursting with strawberry flavor – no cake mix required.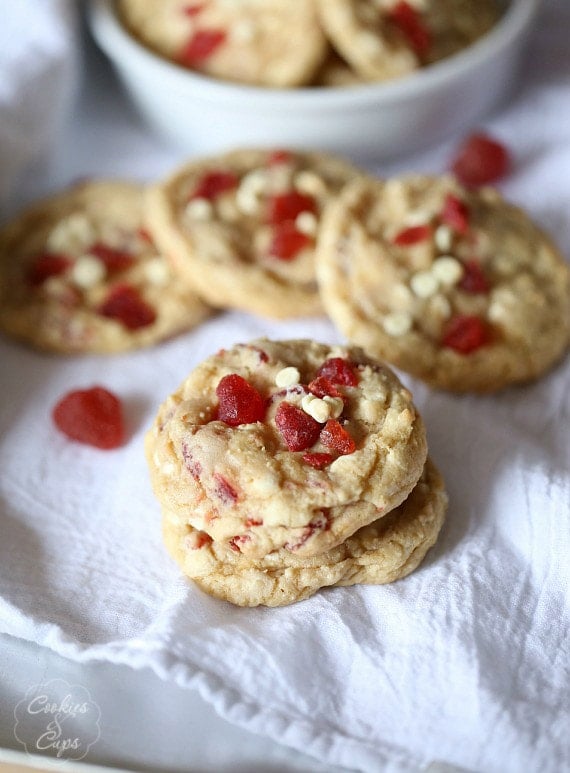 Red is the color of love, and I'm wholly in love with these cookies and their bright red chunks of strawberries. Here's what sets these strawberry white chocolate cookies a cut above the rest:
Soft-baked. These chocolate chip cookies come out of the oven slightly under-baked, with thick, chewy centers and buttery, caramelized edges. They still taste perfect days later!
Scrumptious flavor. Strawberries and chocolate are a hard act to beat (just ask my Strawberry Brownies!). The combination of melty white chocolate and sweet-tart, chewy dried strawberries in these cookies is totally irresistible.
Easy to make. You can whip these easy strawberry cookies up in 30 minutes from start to finish. You don't even need to chill the dough.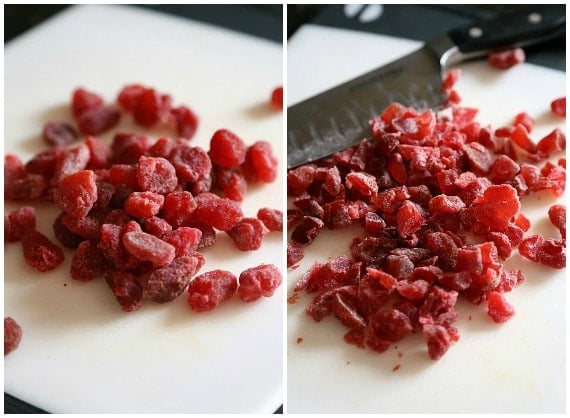 What You'll Need
Like my favorite homemade Chocolate Chip Cookies, these strawberry cookies come out perfectly soft and chewy thanks to a few basic pantry ingredients. Below, I include some quick ingredient notes. Don't forget to check out the full details in the recipe card below the post.
Butter – Salted or unsalted butter, brought to room temperature before you start.
Brown Sugar – I love the rich, caramelized flavor and added moisture that comes from making these cookies with all brown sugar. I use light brown sugar, but regular will also work.
Eggs – I use one whole egg, plus an extra yolk for a chewier consistency.
Vanilla – Skip the artificial vanilla for these cookies and use real, pure vanilla extract. The flavor is much more authentic.
Baking Soda, Baking Powder, and Salt – For leavening. The combination of both baking soda and powder gives these cookies the perfect height and consistency. Meanwhile, if you're using unsalted butter, adding a pinch of salt helps to balance the sweet flavors in the cookie.
Flour – All-purpose flour yields the most consistent results when baking homemade cookies.
Dried Strawberries – I make these cookies with chopped dried strawberries. I buy them from the dried food aisle at my local supermarket, but you'll also find them in stores like Trader Joe's and Target. I don't recommend using fresh berries for these cookies, see below.
White Chocolate Chips – I love the strawberries and cream vibes of white chocolate paired with sweet strawberries. These cookies would also turn out great with chopped white chocolate, or semi-sweet, dark, or milk chocolate chips. Whichever you prefer!
Can I Use Fresh Strawberries?
Don't get me wrong, I love using fresh berries in strawberry desserts wherever possible. Unfortunately, I don't recommend making these strawberry cookies with fresh strawberries. The excess moisture in the berries makes the batter far too wet and the cookies don't bake up nicely. If you've had success with baking cookies with fresh strawberries, let me know!
In place of dried strawberries, freeze-dried strawberries are your next best option. Freeze-dried fruit has a crispier texture than regular dried fruit, with nearly all of the moisture removed. The freeze-dried strawberries rehydrate in the wet batter to become chewy in the final cookie.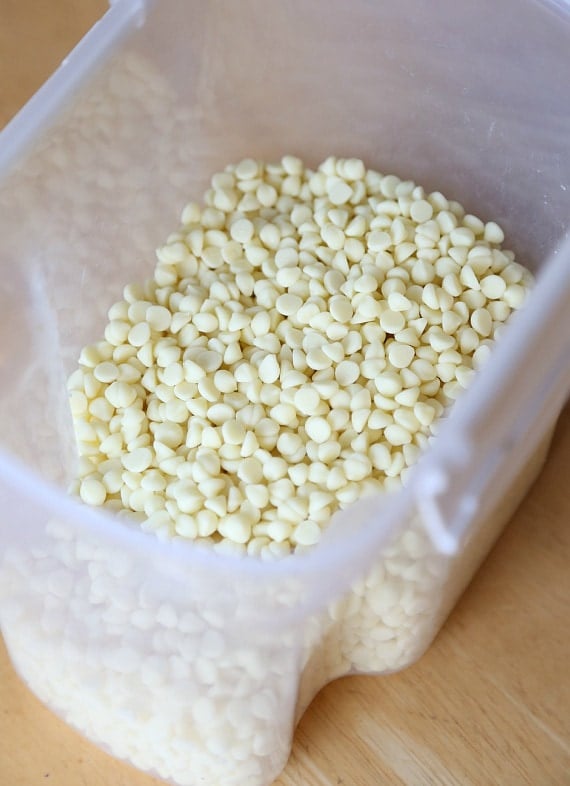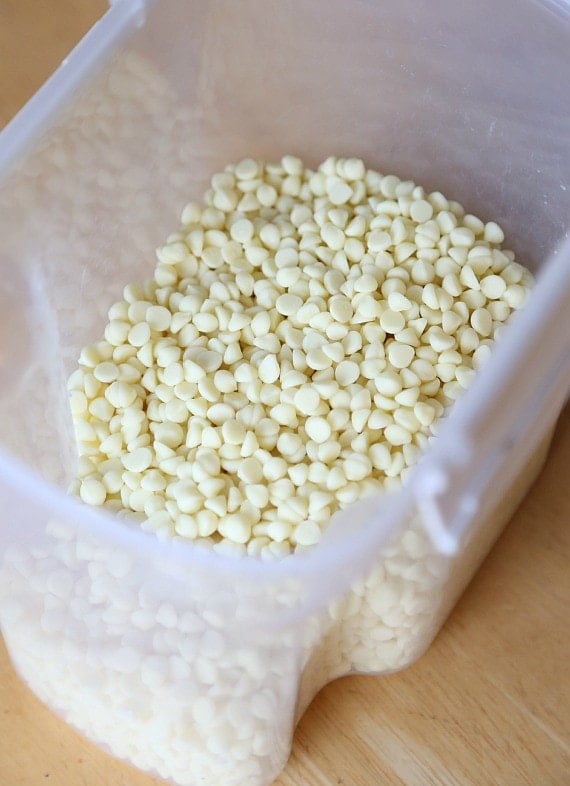 It's sooooo easy to make these strawberry cookies! It's a blessing and a curse. Combined with how easy they are to store and freeze (more on this later), there's absolutely nothing stopping me from whipping up about 12 batches in a week. Here's how quick it is to make strawberry white chocolate chip cookies:
Start with the wet ingredients. Cream the butter and sugar together until fluffy, then add your egg and yolk, followed by the vanilla.
Add the dry ingredients. Next, sprinkle in your baking soda, baking powder, and salt, and beat to combine. Mix in the flour to form the dough, and, finally, fold in the dried strawberries and chocolate chips.
Portion the dough. Use a cookie scoop or a spoon to drop heaping balls of cookie dough onto a parchment-lined baking sheet.
Bake. Bake your strawberry white chocolate cookies for 9-11 minutes, until they're slightly golden at the edges. It's fine if the cookies look a little underdone coming out of the oven. They'll set up further while they cool, so be careful to not overbake.
Cool. Leave the cookies to rest on the baking sheet for a few minutes, then move them to a wire rack.
Definitely. This strawberry white chocolate chip cookie dough can be made in advance, portioned into balls, and then refrigerated airtight or frozen for last-minute cravings! The unbaked cookie dough will keep in the fridge for up to 2-3 days, or frozen for up to 3 months.
You can even bake these cookies straight from frozen. Simply add an extra minute or two to the baking time. See further down in the post for details on storing and freezing your strawberry cookies after they're baked.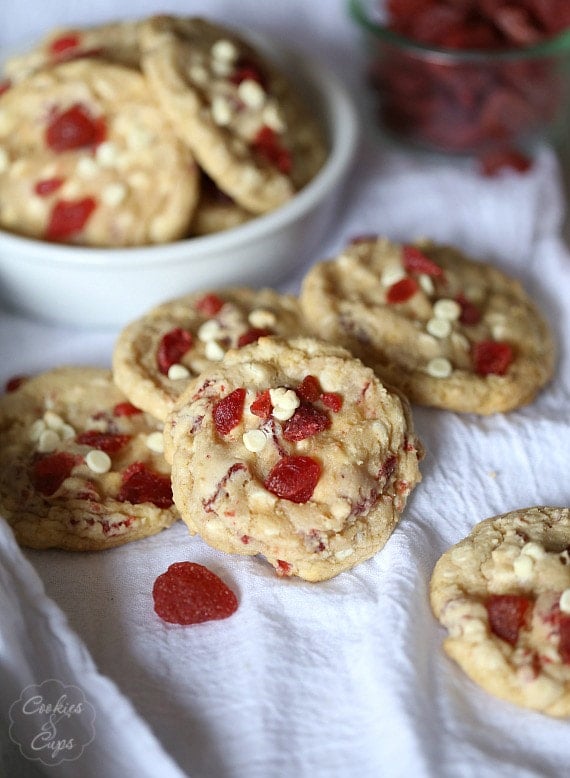 Tips for Success
Don't you just love a straightforward drop cookie recipe? Mix, scoop, bake. Voila! Here are some additional tips for the best strawberry cookies (ever):
Don't overmix the cookie dough. Over-mixing is a leading cause of tough, dense cookies due to gluten development. Only mix the dough until the ingredients are just combined.
These cookies have lots of texture. There are plenty of lumps and bumps thanks to the strawberry chunks and chocolate chips. It's totally normal if they aren't all uniform in shape.
If you find that your cookies spread too much, about halfway through the baking time, take the cookies out and use a spatula to gently push the edges of the cookies back into shape. Return the cookies to the oven afterward to finish baking.
For photo-ready strawberry cookies, top your portioned dough balls with additional white chocolate chips and dried strawberry pieces before baking.
Enjoy leftover dried strawberries sprinkled over oatmeal, with yogurt, or with overnight oats. Or just as a snack by the handful!
If you'd prefer to bake these cookies without dried fruit added, white chocolate chip cookies are also delicious. Though you might just find yourself missing those bright pops of berries!
In addition to the tips above, let's hit on some common questions related to these strawberry white chocolate chip cookies:
Should I chill the cookie dough before baking?
Chilling isn't necessary for this strawberry cookie dough recipe. If you've made your cookie dough ahead and refrigerated it, take the dough out of the fridge prior to baking to let it come to room temperature.
What's the secret to chewy cookies?
The key to soft and chewy, thick chocolate chip cookies (whether or not they have strawberries!) is to leave them slightly underbaked. Let the baked cookies firm up on the baking sheet for a few minutes afterward.
Can I use freeze-dried strawberries?
Yes. I mentioned it earlier too, but freeze-dried strawberries are fine to use as a substitute for regular dried strawberries in these cookies.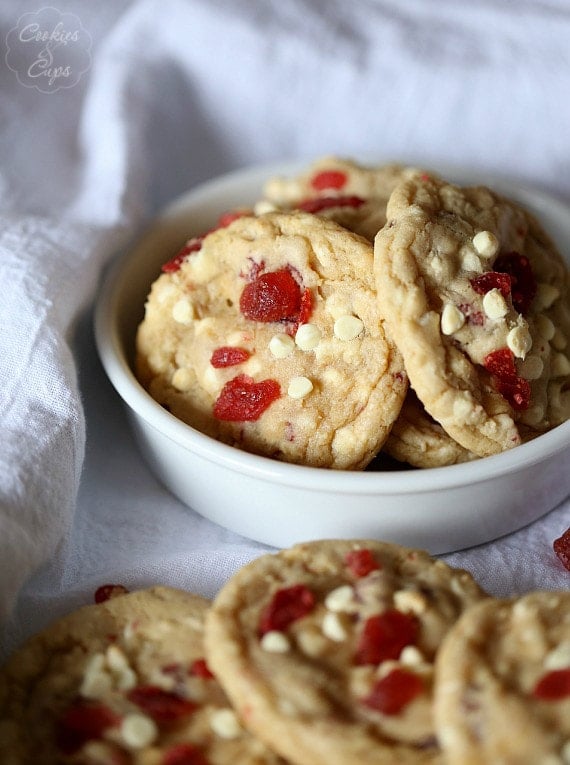 Variations to Try
I'm all about making a recipe your own! Here are some ideas for possible recipe variations for your strawberry white chocolate cookies:
Different Chocolate: Make these strawberry chocolate chip cookies with dark chocolate chunks or milk chocolate chips in place of white chocolate.
Another Dried Fruit: If you'd like to make these cookies with another type of dried fruit, try dried blueberries or dried raspberries.
Lemon Zest: Want to give these white chocolate chip cookies a summery strawberry-lemon vibe? Mix some fresh lemon zest into the dough. For an extra boost of flavor, stir in lemon extract.
Chocolate Drizzle: Melt down some additional white chocolate chips and drizzle melted chocolate over the tops of your cookies for a bit of extra pizzazz.
Ice Cream Sandwiches: Not so much a variation as a must-try serving idea! Smear homemade 2-Ingredient Ice Cream between two strawberry cookies for a delicious summer dessert.
How to Store
Store your baked and cooled strawberry white chocolate chip cookies in an airtight container at room temperature. The cookies will stay fresh for up to 3 days. Bonus Pro Tip: Storing a slice of white bread inside the container with your cookies will help to keep them soft for longer.
I don't recommend storing chocolate chip cookies in the fridge unless it's absolutely necessary, as it tends to dry them out.
Yes! Once your cookies have cooled, store them airtight in a resealable freezer bag and stash them in the freezer for up to 3 months. Thaw the cookies at room temperature before serving.
More Easy Strawberry Desserts
Print
Author:

Prep Time:

10 minutes

Cook Time:

10 minutes

Total Time:

20 minutes

Yield:

24

cookies

1

x

Category:

Dessert

Method:

Oven

Cuisine:

American
---
Description
These soft-baked Strawberry White Chocolate Chip Cookies are sweet and chewy, studded with bright pops of dried strawberries and creamy white chocolate chips.
---
1/2 cup

butter, room temperature

1 cup

light brown sugar

1

egg, plus 1 yolk

2 tsp

vanilla

1/2 tsp

baking soda

1/2 tsp

baking powder

1/2 tsp

salt

2 1/4 cup

flour

1 cup

chopped dried strawberries

1 cup

white chocolate chips
---
Instructions
Preheat oven to 350°
In the bowl of your stand mixer, cream the butter and sugar together until light and fluffy, about 2 minutes. scraping sides as needed.
Add in egg and yolk and beat until mixed well. Add vanilla.
With the mixer on medium speed, mix in your baking soda, baking powder, and salt. Beat for 30 seconds until combined.
Turn the mixer to low and mix in flour until evenly incorporated.
Stir in strawberries and white chocolate chips.
Using a cookie scoop, place heaping tablespoons of dough onto a parchment-lined baking sheet and bake for 9-11 minutes until the edges are lightly golden.
Allow to cool on a cookie sheet for 3 minutes before transferring to a wire rack to cool completely.
---
Notes
Store airtight for up to 3 days
Nutrition
Serving Size:
Calories:

124

Sugar:

10.4 g

Sodium:

124.4 mg

Fat:

4.7 g

Carbohydrates:

18.9 g

Protein:

2.4 g

Cholesterol:

13.1 mg
Keywords: strawberry cookies, strawberry cookie recipe, white chocolate chip cookies
Want To Save This Recipe?
Find more recipes like this: