I'm digging back into the archives today to share 25 Sweet Treats For Your Valentine!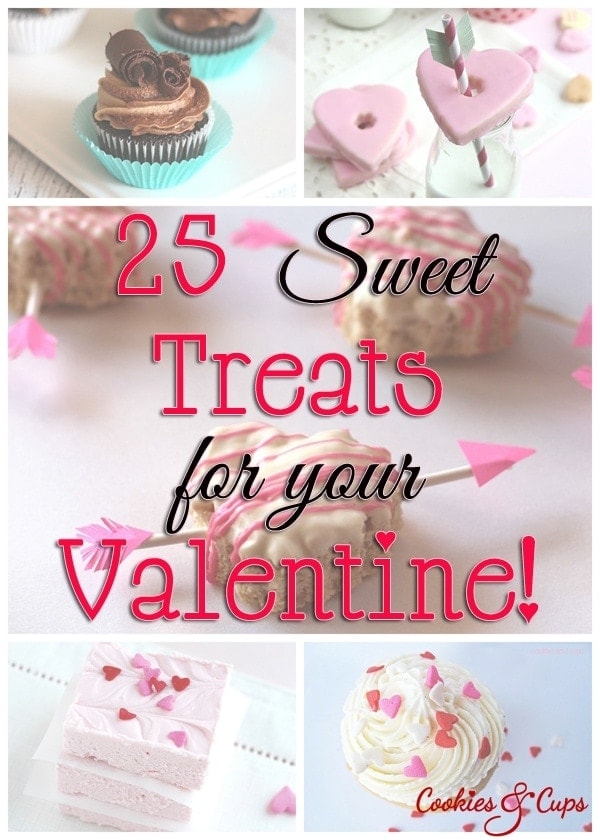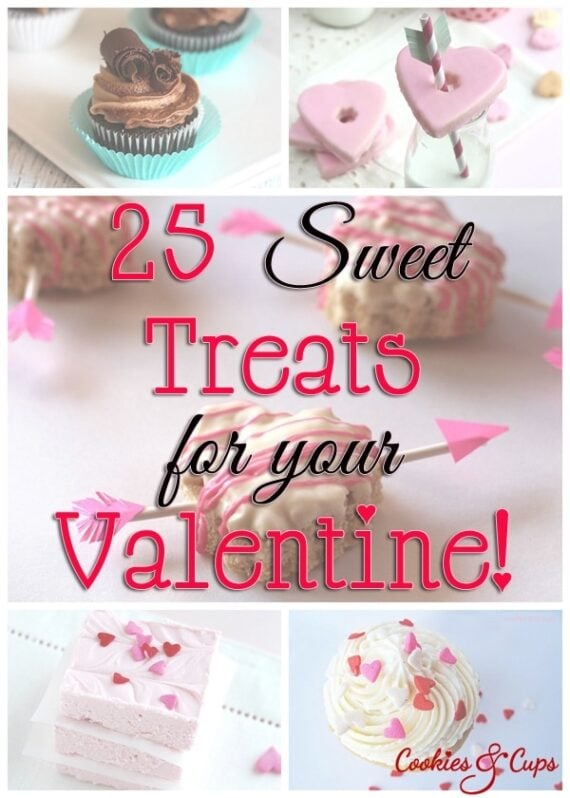 Valentine's Day is a-comin.
Whether you're a celebrator or not, there is absolutely no reason that you can't use this holiday as a reason to indulge your sweet tooth. I mean, let's tell it like it is.
I share Valentine's Day with one of our kid's birthdays. SO basically that means no Vday for me..which is ok. Although I wouldn't be UPSET to be surprised with jewelry or other love-gifts, ie-Tory Burch, Kate Spade etc…
But in the case that doesn't happen, let's talk about treats that you can surprise your tummy with.
Let's start with Strawberry stuff.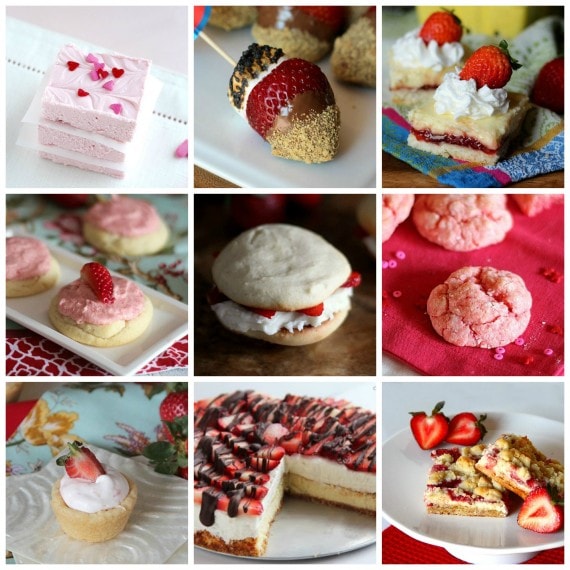 2 Ingredient Strawberry Fudge: This one is super easy and great for kid's parties. It's INTENSELY sweet, so a little goes a long way!
Strawberry S'mores: I love these guys….they are so yummy and pretty when they are put together. Plus they're on a stick, and we all know food is better on a stick.
Strawberry Lemon Cheesecake Bars: I could eat infinity of these and never get full. That's a truth.
Strawberry Shortcake Cookies: Simple, sweet and pretty. That's Valentine's Day in a nutshell.
Strawberry Shortcake Whoopie Pies: These are gorgeous and delicious. Slightly messy, but one of my favorites!
Strawberry Gooey Butter Cookies: I love how easy and addicting these are! Made them last year and they quickly became a year-round favorite! They also start with a cake mix, which is a huge time saver!
Strawberry Mousse Sugar Cookie Cups: Another old-time favorite of mine. These are the prettiest cookie and super impressive looking. BUT they are SIMPLE. Love desserts like that!
Chocolate Covered Strawberry Cheesecake: This is the recipe where I overcame my fear of baking a cheesecake. Plus it's AMAZINGLY delicious. Make this.
Strawberries and Cream Bars: These are a simple bar, that starts with a cake mix that can be enjoyed at breakfast as easily as dessert!
Up next let's hit on Red Velvet…
Whoopie Pie Cupcakes with Red Velvet Frosting: I just made these pretty recently, but I LOVE them! There are so many possibilities with that frosting!
Red Velvet Popcorn: The perfect little snacking treat! Cake and Popcorn together in one place!!
Red Velvet Cake Krispie Treats: Another really easy, but amazing treat. Perfect no-bake dessert for your kid's Valentine's party!
Pink Velvet Fruity Pebble Whoopie Pies: These aren't' technically red velvet, but they are pink! And the Fruity Pebble Filling is outrageously good!
Now, of course we have to talk chocolate…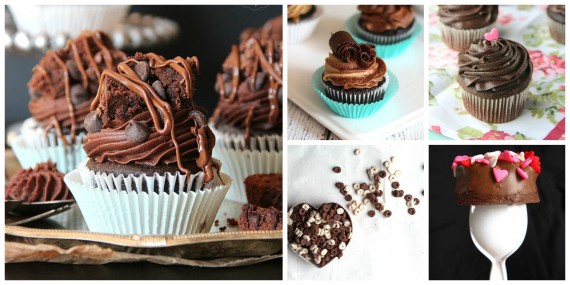 Blackout Cupcakes: Well, these are everything. They are a Devil's Food Cupcake with Brownie Batter Filling topped with a Whipped Chocolate Ganache Frosting, Brownies and chocolate ships and drizzle. Out. Of. Control.
Karamel Sutra Cupcakes: Well, doesn't the name say it all? These cupcakes have a few steps, but are completely worth it! They're based on the popular Ben and Jerry's Ice Cream flavor!
Chocolate Covered Cheerios: These guys are addicting! Covering the Cheerios in chocolate was no small feat, but I was THRILLED with the results!
Hot Chocolate on a Stick: I made this SO many years ago, but it's still such a fun recipe to revisit! The name says it all!
Other randoms…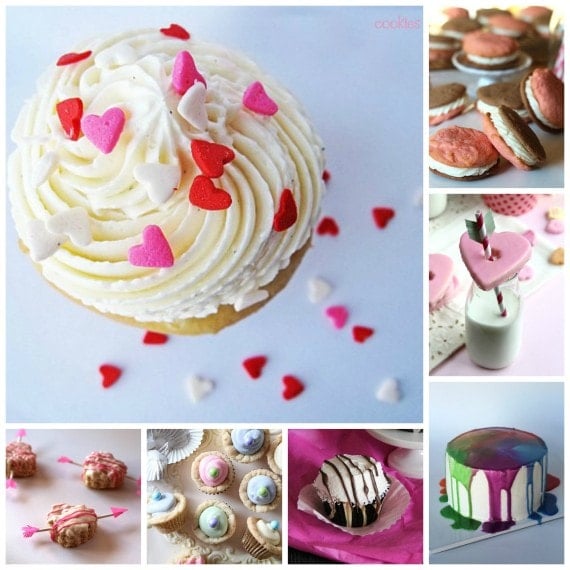 Swiss Meringue Buttercream: Valentine's Day is the perfect time to try out this super rich and buttery frosting. It's my "special occasion frosting".. I mean, if that's a thing!
Neapolitan Cookie Sandwiches: These are such a fun…chocolate, strawberry and vanilla. Kids LOVE these! Plus, I flavored the cookie dough with Hershey's Syrups. Boom!
Glass Topper Valentine's Cookies: These simple cut out cookies are made even prettier with a poured frosting! Love cutting a hole in the center and using them for a glass topper!
Rainbow Ganache Cake: This cake is so simple, but looks stunning! The step by step instructions will walk you right through the process.
Zebra Cake Cupcakes: These aren't necessarily Valentine's-ish… but the black and white make them pretty, don't you think?
Buttermint Sugar Cookie Cups: The pastel colors on these easy cookie cups is what made me decide to include them. Also, SUPER EASY!
Heart Shaped Krispie Treats: These would be so fun packaged up and given as gifts. Love a krispie treat!
Hope you have a fantastic Valentine's Day! Eat up!