Instant Pot Chicken Piccata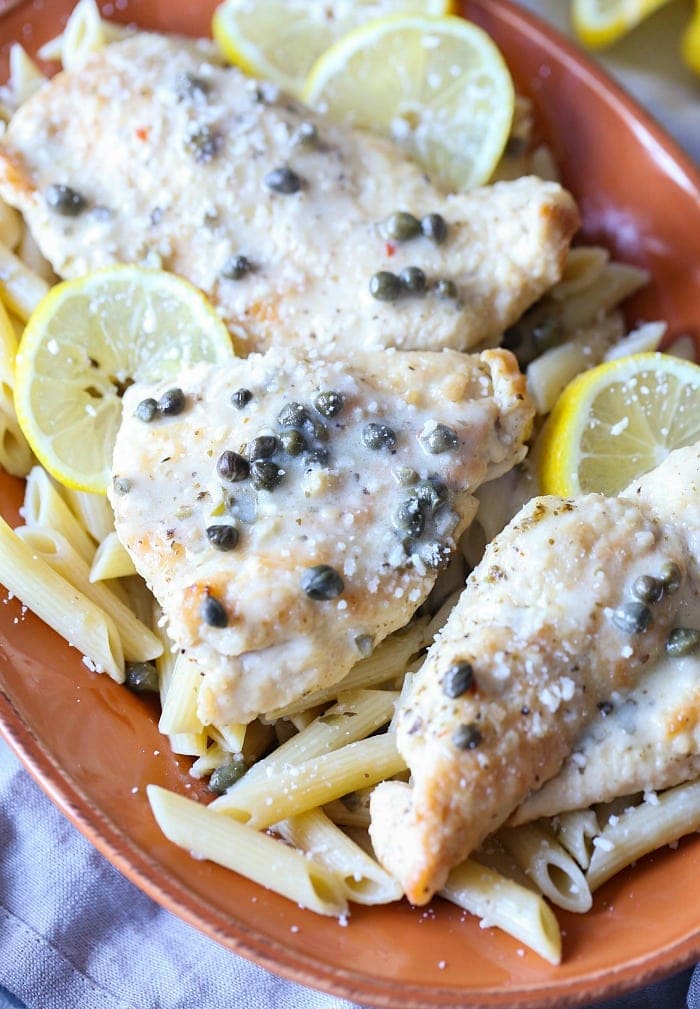 This Chicken Piccata Recipe was made in my Instant Pot and it's SO easy and packed with flavor! You can also easily make this in a skillet too, the versatility is amazing.
Ok, so last week I hit you guys up with a little round up of 25 Instant Pot Recipe Ideas for your arsenal. If you're new around here, I bought my Instant Pot in December and have been using it pretty much all the time ever since. It's basically a 7-1 cooker…it pressure cooks, slow cooks, sautés, steams etc. I have been using the pressure cook feature mostly, but am glad to say that it has now completely replaced my old slow cooker and I've loved steaming rice in it as well. I got mine on amazon in case you were wondering.
Anyhow, today I am using it for a meal that yes, can just as easily be done in a skillet…so if you don't own an Instant Pot no worries here. BUT I wanted to see if making meat in the pressure cooker that I did NOT want to shred was an option…like to make a chicken breast that actually stays in breast form. Make sense?

MY OTHER RECIPES
Well. It worked. AND I am happy to report that making this Chicken Piccata in the pressure cooker gave me the most delicious, tender chicken I have ever made. It was soft, but not shreddable, which to me is the perfect texture for a dish like this one!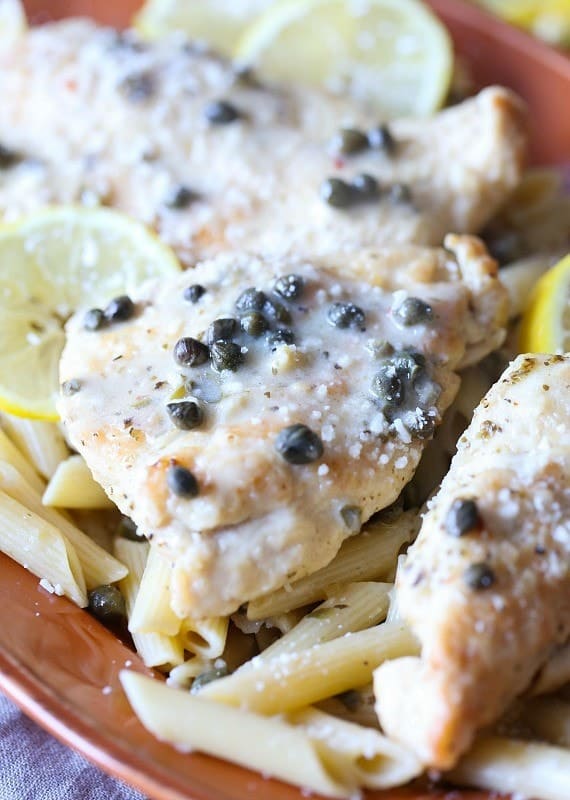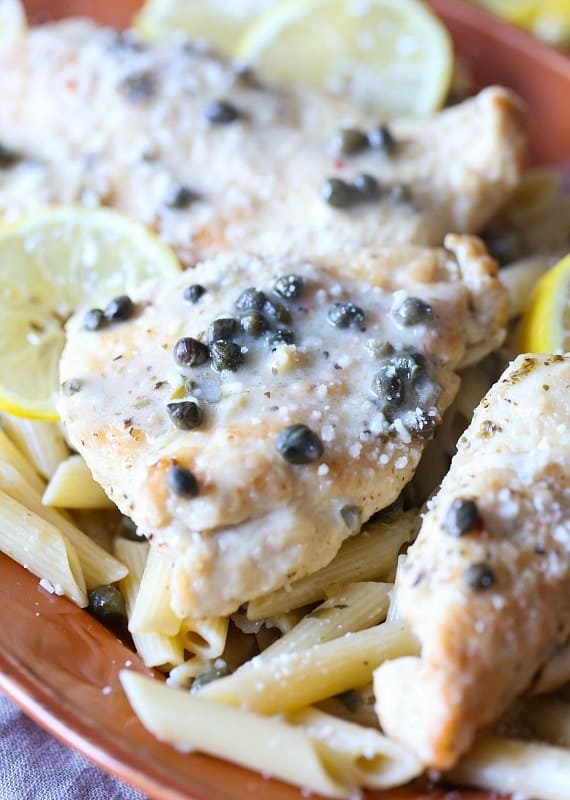 Let me also tell you that Chicken Piccata is one of my most favorite chicken dinners. It's not one I make that often at home because I have children who *claim* they don't like lemon. Meanwhile they have no problem with Sour Patch Kids, lemonade or basically any other artificially flavored lemon item. BUT if they see me squeezing lemon into any baked good or dinner item they suddenly become allergic. It's intensely annoying.
But I am gong to keep trying. Eventually I will wear them down…it's a skill my husband tells me I have a black belt in.
Let me walk you through how I made this using my Instant Pot, but like I said before using a skillet will work just as easily.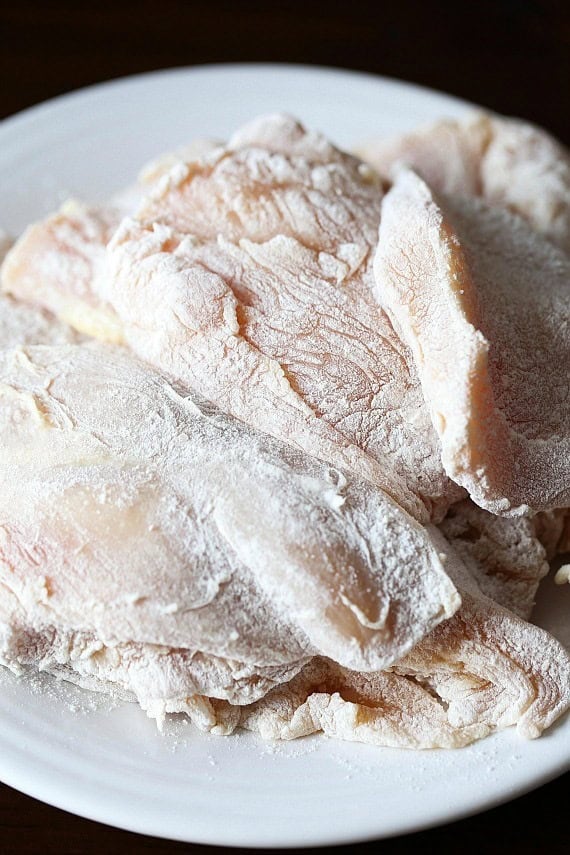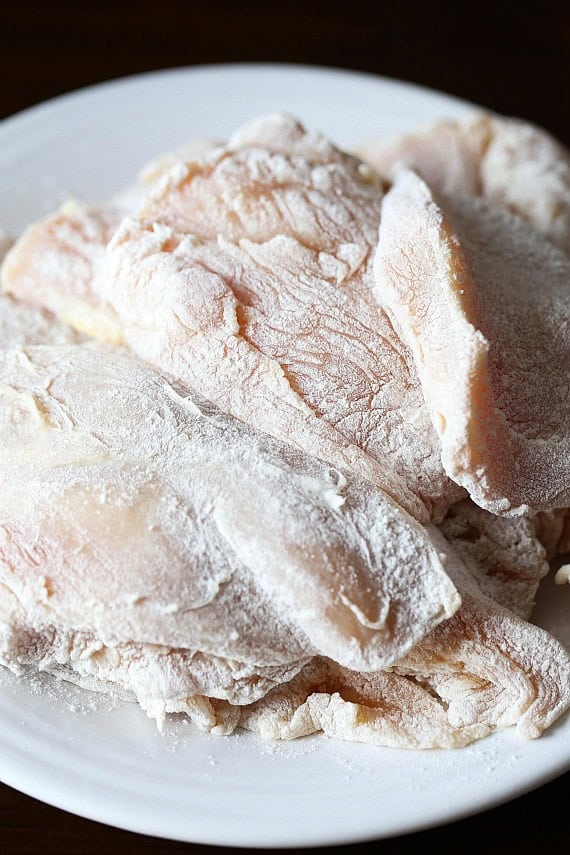 Just coat your chicken breasts lightly in flour.
You're going to brown the chicken using the sauté setting on your pot (or in a hot skillet)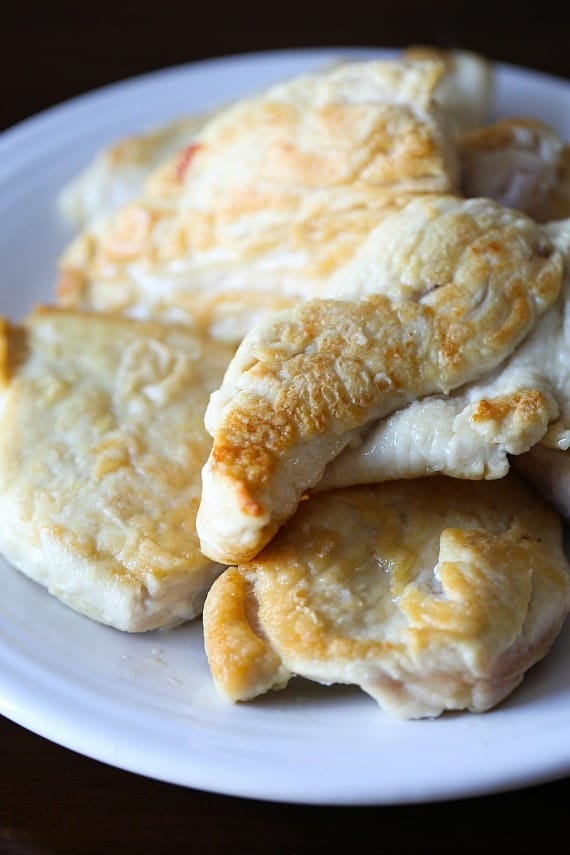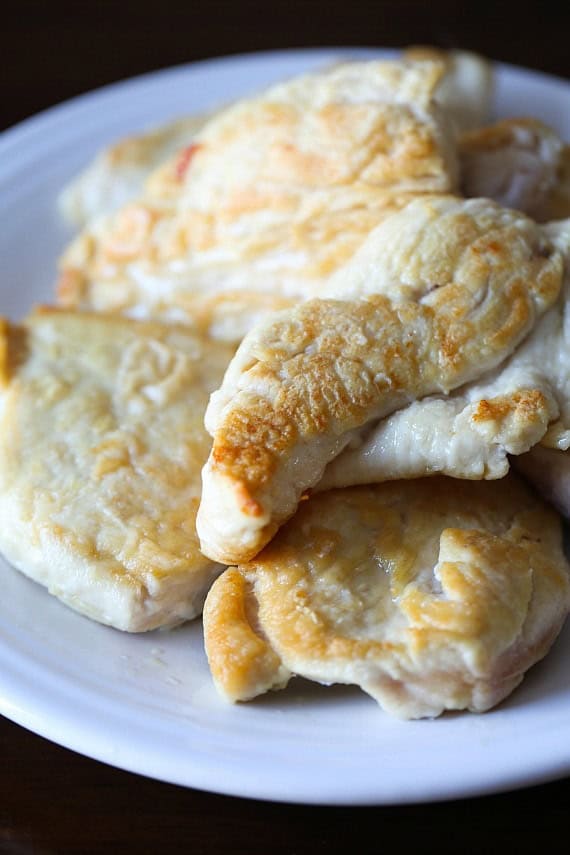 This is where my kids bow out…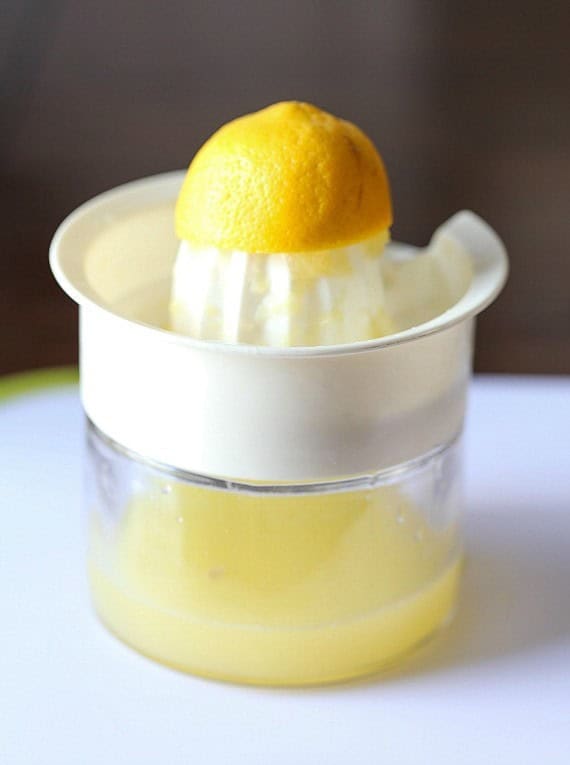 Oh yeah, and here too…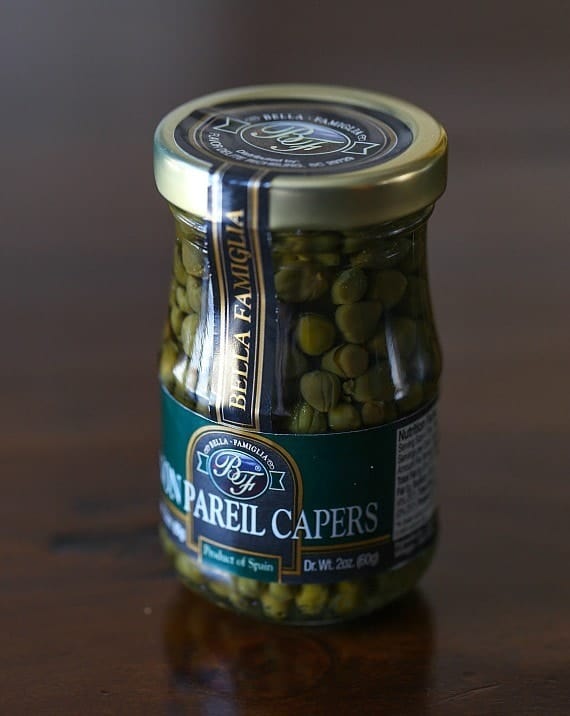 Just place the browned chicken in the pot and pour in a simple lemon sauce and capers…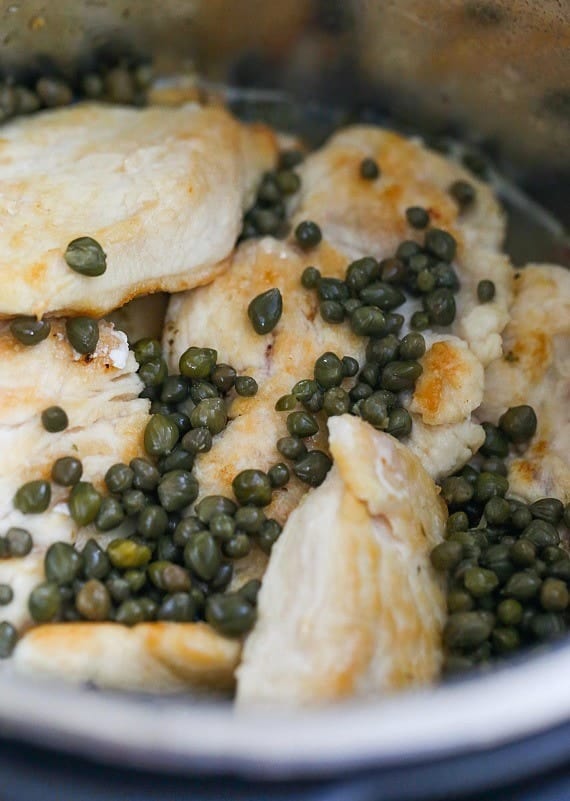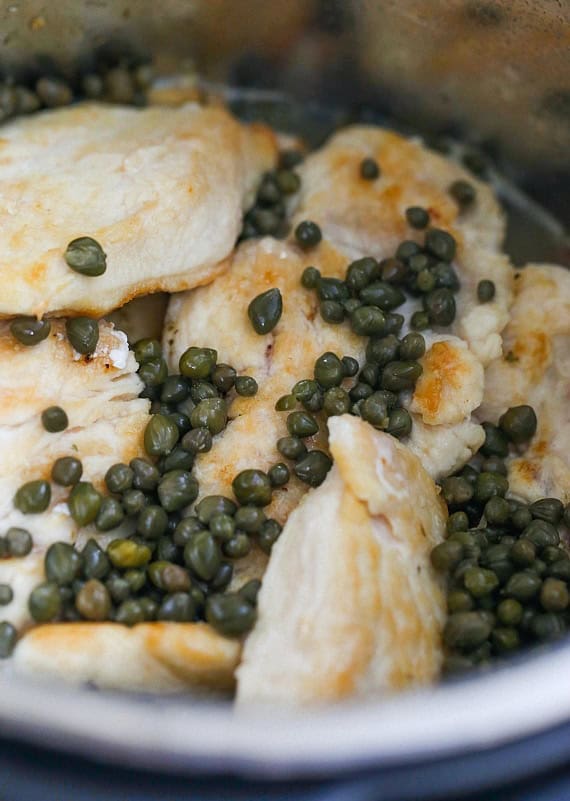 You're going to add in a little sour cream at the end of cooking to make the sauce lightly creamy. It's a great trick. You can absolutely use light sour cream here.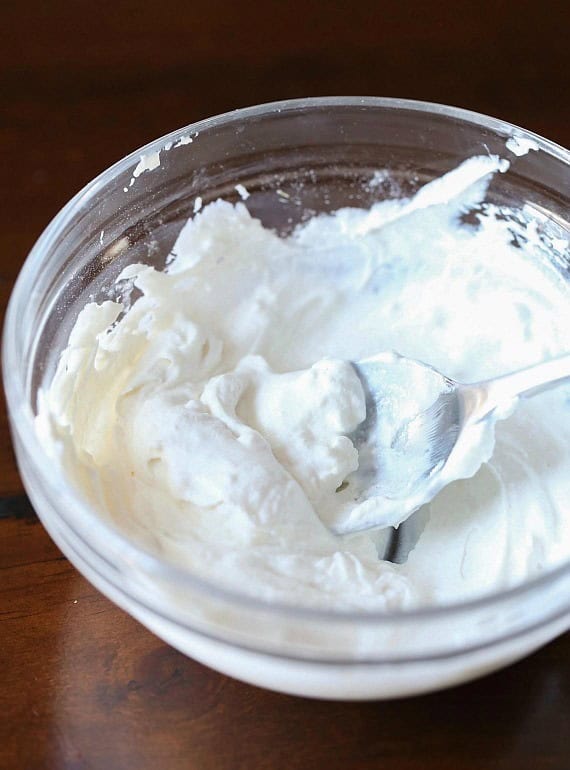 You can serve this on top of pasta (so good) or on it's own (also good).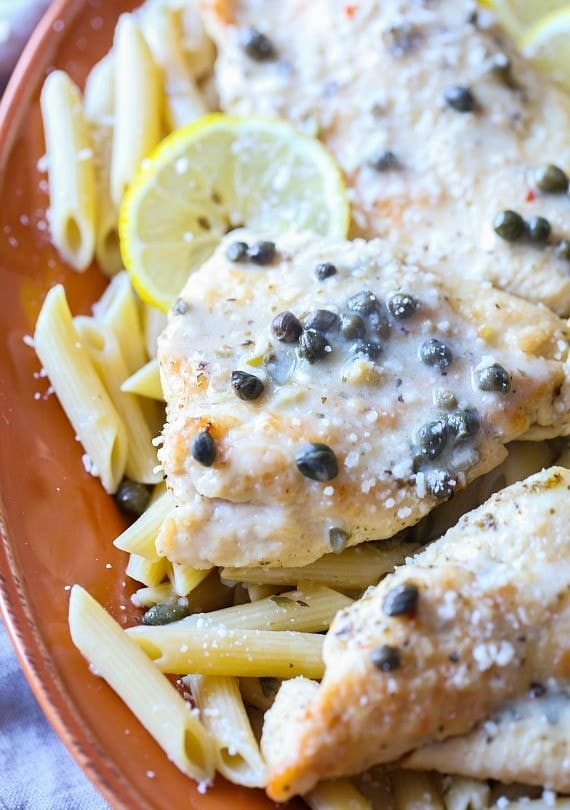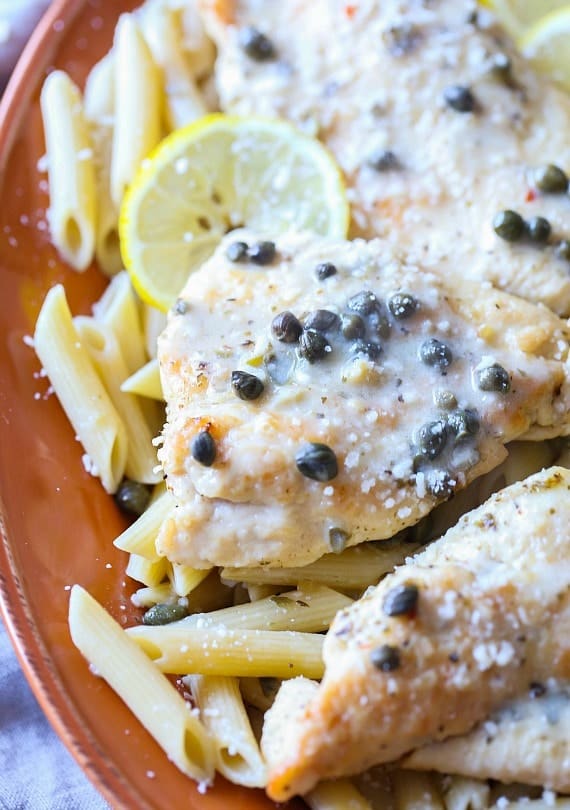 I feel like this recipe makes enough sauce for about 8- ounces of pasta, depending on how "saucy" you like your pasta!
Enjoy!
Again, I got my Instant Pot on Amazon.
Print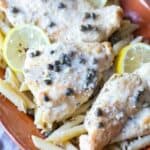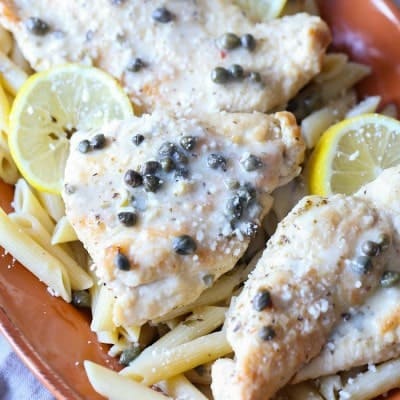 Instant Pot Chicken Piccata
Author:

Yield:

serves 4-6
---
Description
I've included skillet directions as well
---
Ingredients
1 1/2 pounds boneless chicken breasts, trimmed (6 breasts)
1/2 cup all purpose flour plus 1 tablespoon, divided
2 teaspoon kosher salt, divided
2 tablespoons olive oil
3 cloves garlic, minced
3/4 cup chicken broth
1/3 cup fresh lemon juice
2 tablespoons cooking sherry
1 teaspoon dried basil
1 teaspoon dried oregano
3 ounces capers, drained
1/4 cup sour cream
lemon slices for garnish
---
Instructions
Place 1/2 cup flour and 1 teaspoon salt in a large zip-top bag.
Place the chicken breasts in the bag and shake to coat in flour. Shake off any excess flour and transfer to a plate.
Heat your Instant Pot to saute for 30 minutes. When the pot comes to temperature coat the bottom of the pot with olive oil. Working 2 pieces at a time brown the chicken breasts on both sides. When browned, transfer to a clean plate.
When all the chicken is browned add the garlic to the pot and cook until softened (about 1 minute) stirring constantly. Add in the chicken broth, lemon juice, sherry, basil and oregano. Add the chicken back to the pot and nestle into the liquid. Top with the capers.
Place the lid on the pot and set to pressure cook on high for 10 minutes.
While the chicken is cooking mix together the sour cream and remaining 1 tablespoon of flour in a separate bowl. Set aside.
When the 10 minutes is up release the pressure and remove the chicken from the pot placing on a serving platter.
Whisk in the sour cream to the liquid and cook for 1 minute. The liquid will be very hot, you don't need to heat the pot.
Pour the sauce over the chicken and serve warm over pasta if desired.
---
Notes
Optional Skillet Directions:
Follow all the directions for the Instant Pot, except brown the chicken in a large skillet over medium-high heat. Continue steps with garlic and adding the liquid to the skillet. Nestle the chicken back in the skillet, top with capers and cover the skillet. Turn the heat down to medium-low and simmer for 10 minutes, or until chicken is cooked through. Follow the remaining instructions as directed above.
adapted from food.com