These Sweet and Salty Brownies will finally end your search for the ultimate fudgy brownie recipe. A simple homemade salted caramel is baked right into the brownies, leaving them extra rich and decadent. A sprinkle of flaked sea salt on top is the perfect garnish!
The Ultimate Fudgy Brownies Recipe
I have made a LOT of brownie recipes here on my site. A.Lot. My Fudgy Brownies Recipe is the classic, and my Kid's Favorite Brownies are ALWAYS a hit. But of course I am ALWAYS up for a new brownie. I mean, it's kind of my job. And my favorite type of brownie is a thick, dense, fudgy, stick-to-your-teeth situation. And today we are going full send. Sweet and Salty Brownies are everything you cold possibly want a brownie recipe to be.
The secret to this brownie recipe is the easy caramel sauce that you bake right into the brownies. It's almost undetectable, but gives them SO much flavor and texture. You won't get a chewy caramel layer, it LITERALLY bakes right into the batter…leaving a deliciously gooey, brownie, with some salty bits, and caramelly bits, but will leave people who aren't in the know asking, what IS that?
My mouth is literally watering thinking about them. So let's stop talking, and get to it!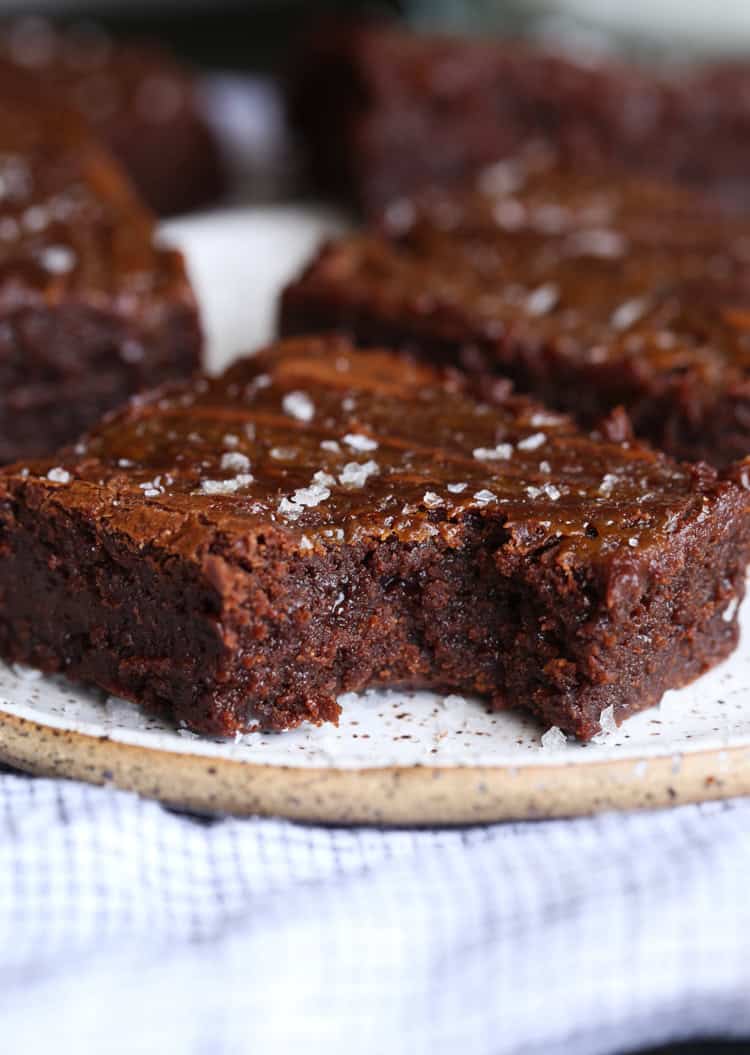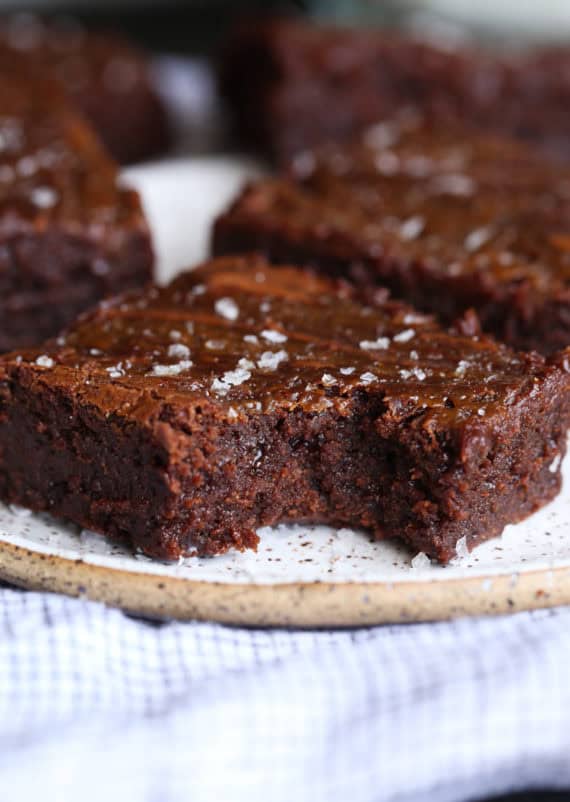 How to Make Sweet and Salty Brownies
Ok, let's first, let's get this out of the way…these are "Sunday" Brownies. They need a minute to prepare.They aren't a one bowl brownie recipe. However, they are worth the extra few minutes that they take. SO worth it. AND they are actually better the next day, so go ahead and make them a day in advance, and let the magic happen overnight as all the flavors meld together.
Don't let me scare you though…this is NOT a difficult brownie recipe. It will just a few extra minutes longer than, say, opening up a boxed mix and getting down to business.
First yes, you have to make the salted caramel sauce. And yes, you can buy it jarred, but it won't be as good. Trust me on this, I have tried it.
And yes, you should use nice chocolate to melt to create the brownie base. Don't use chocolate chips. Buy a big bar of dark chocolate, and chop it up.
I say in the recipe that flaked sea salt is optional, but that is not entirely true. Certainly if you have a salt sensitivity you can gauge how much you use, but it's really such a gorgeous addition to the brownie, to amp up the salty/sweet flavor. Even a tiny sprinkle will do the trick!

Do you Have to Make the Caramel From Scratch?
Like I said above, yes. Go the extra step and do this. The caramel recipe here is perfectly suited to be baked inside the brownie batter, making it flavorful and moist, but not chewy like a typical caramel would be once it cools. If you don't know, you might not even be able to identify that there is caramel baked in. It's a really special recipe.
The secret addition of sour cream in the caramel adds richness and smoothness, without being detectable to the taste.
The caramel is another step that you can do ahead of time. You want the caramel to be cooled, but not cold, so if you do make this ahead, bring it back up to warm-room temperature before adding it to the batter.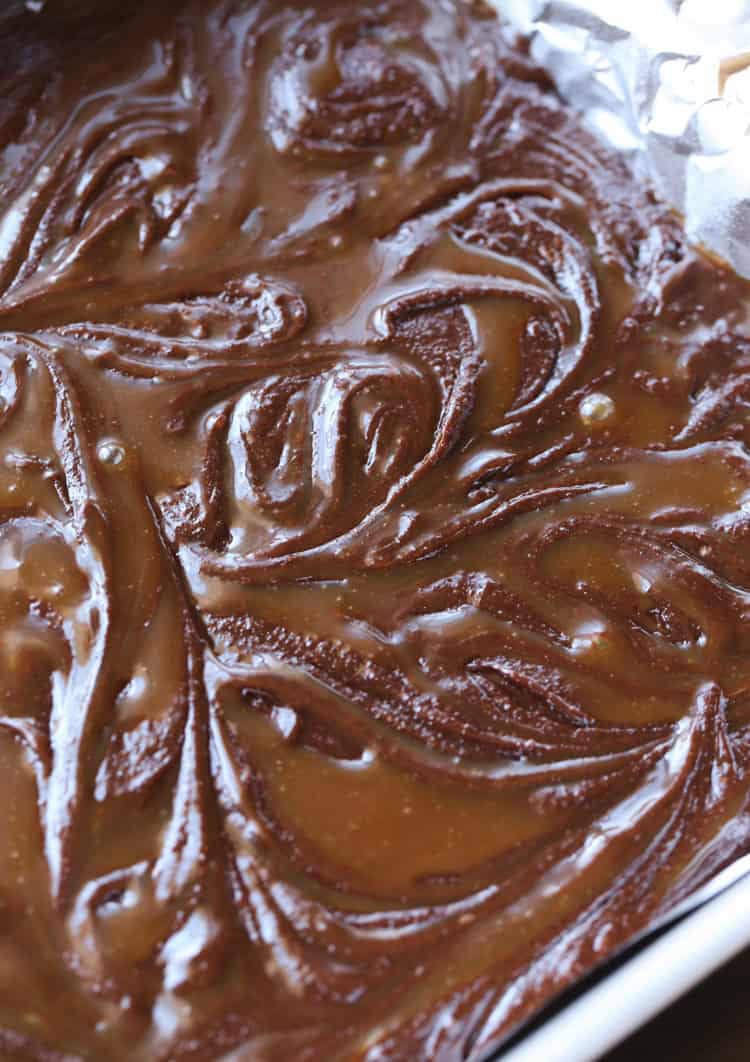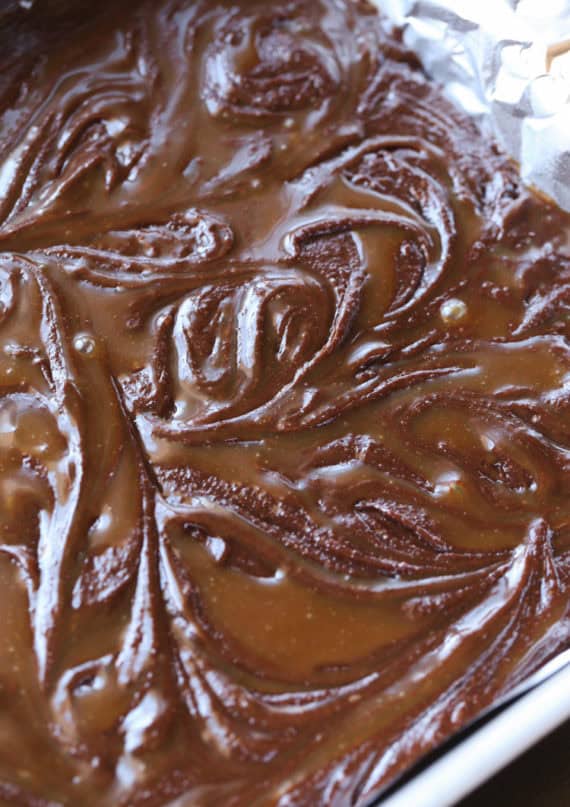 Like I said above, you might not even know that there is caramel baked into the brownies. The richness and sweetness it adds is by far what makes these brownies so special.
You layer 3/4 cup of the caramel sauce on top of half of the brownie batter. Then you spread the remaining batter on top of the caramel. You will have about 1/2 cup caramel remaining, to save for your ice cream…OR I sometimes like to swirl an additional 1/4 cup on top of the brownie batter (as shown above). The extra caramel on top makes them slightly more gooey, and enhances the caramel taste…which certainly isn't a bad thing, but it's not necessary.
*NOTE* In the brownies pictures, I used all the caramel sauce, inside and on top of the batter before baking. See more details in the full recipe card.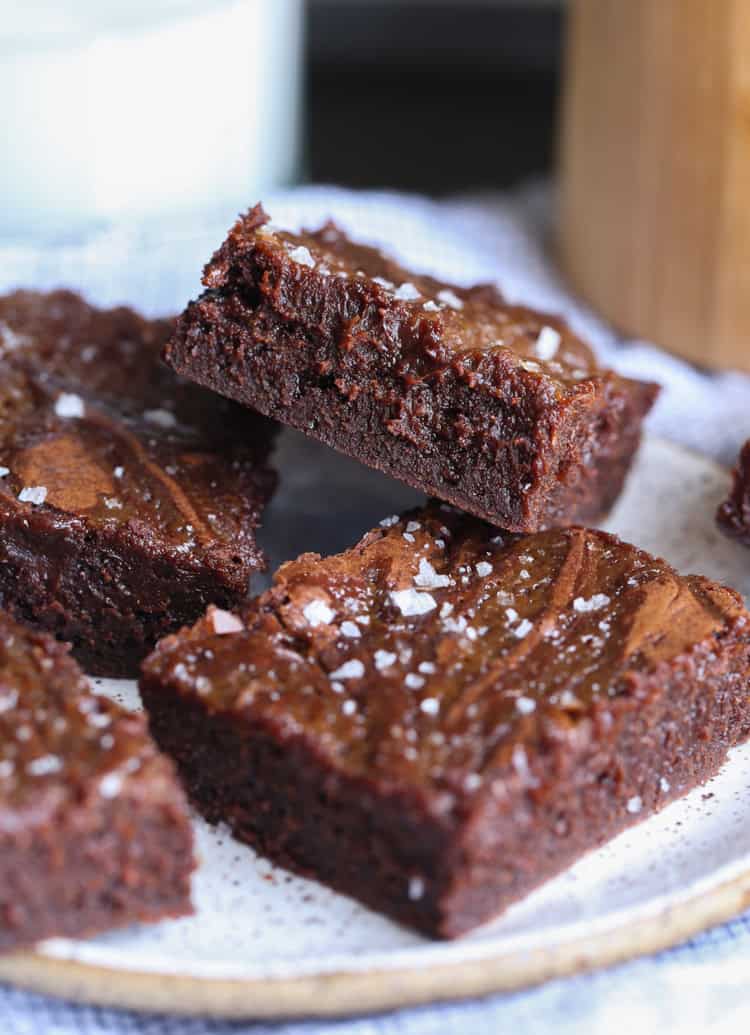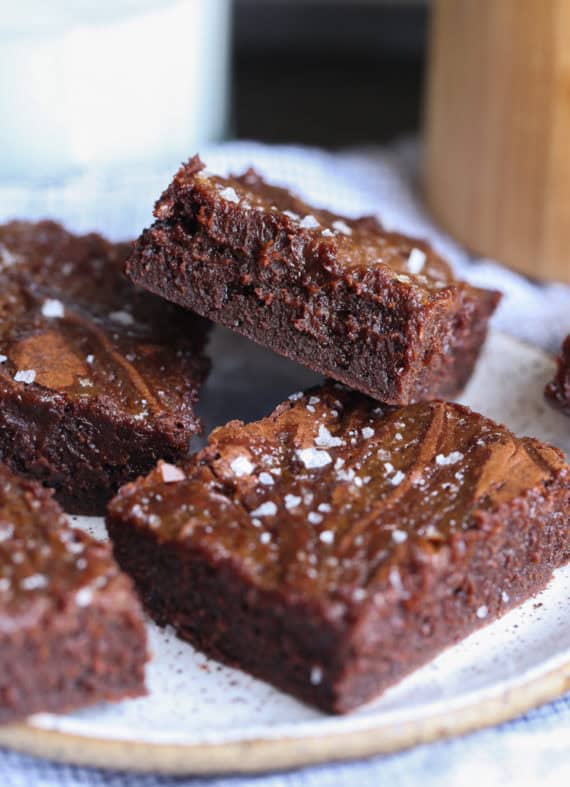 Can You Freeze Sweet and Salty Brownies?
Yes, you can absolutely freeze these brownies! Either cut them into bars, or freeze them whole in the pan. Here are some tips:
If you freeze them as bars, Bake them and let them cool completely. If you let them site overnight, even better, as they will be more sturdy. Cut the brownies into bars. Line the bottom of a large airtight container with parchment paper, and place the brownies into the lined container. When you have to create a second layer, place another piece of parchment on top of the brownies and repeat until the container is filled. Freeze for up to a month.
If you choose to freeze them in the pan they were baked in without cutting them, let them cool completely, cover with plastic wrap, pressing the plastic wrap against the brownies to remove all the air. Cover the pan again with foil, and then freeze for up to a month.
Allow the brownies to come up to room temperature before eating, or slicing.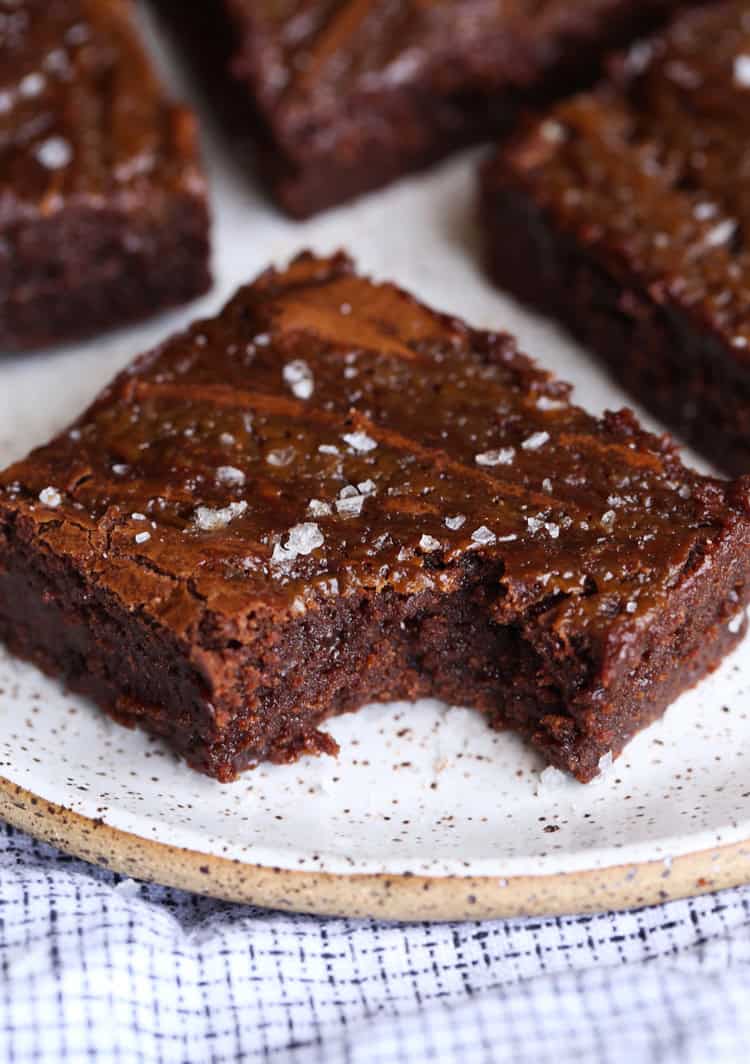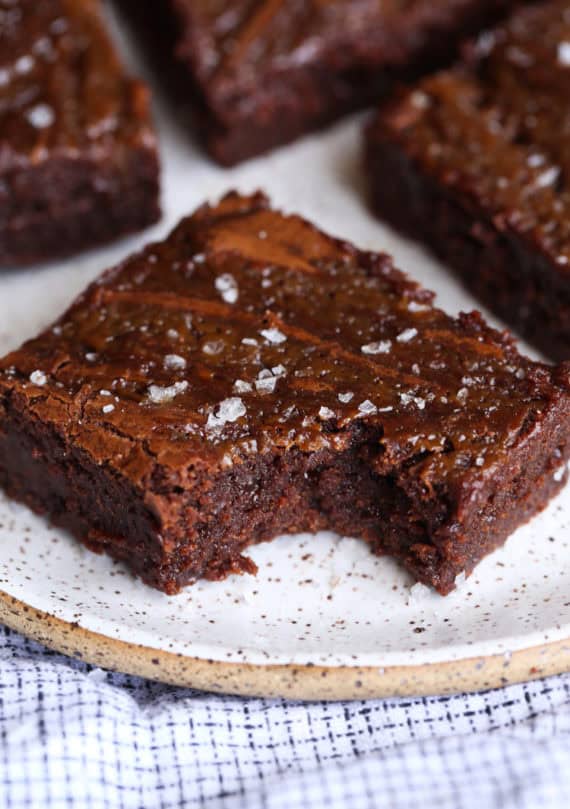 Other Decadent Brownie Recipes
This recipe was originally published in 2013, but I updated the pictures and recipe in 2019. Hope you love seeing some of my old favorites fresh and new!
Print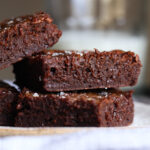 Sweet and Salty Brownies
Author:

Prep Time:

20 minutes

Cook Time:

30 minutes

Total Time:

50 minutes

Yield:

30

brownies

1

x

Category:

Dessert

Method:

Oven

Cuisine:

American
---
Description
These Sweet and Salty Brownies will finally end your search for the ultimate fudgy brownie recipe. A simple homemade salted caramel is baked right into the brownies, leaving them extra rich and decadent. A sprinkle of flaked sea salt on top is the perfect garnish!
---
Salted Caramel Filling
1 cup

granulated sugar

2 tablespoon

light corn syrup

1/4 cup

water

1/2 cup

heavy cream

1 teaspoon

flaked sea salt

1/4 cup

sour cream
Brownies
1 1/4 cups

flour

1 teaspoon

kosher salt

2 tablespoons

cocoa powder

12 oz

dark chocolate, coarsely chopped

1 cup

butter

1 1/2 cups

granulated sugar

1/2 cup

dark brown sugar

5

eggs

2 teaspoons

vanilla
optional – 2 teaspoons flaked sea salt for garnish
---
Instructions
Caramel Filling
In a medium saucepan combine sugar, corn syrup and water, stirring together. Cook on medium high heat until candy thermometer reads 350°F OR until mixture turns a dark amber color, about 8 minutes.
Remove from heat and stir in heavy cream (it will bubble up) and the sea salt. Whisk in the sour cream and set aside to cool.
Brownies
Preheat oven to 350°F. Line a 9×13 pan with foil or parchment paper and coat with nonstick spray, set aside.
In a large bowl whisk together flour, salt and cocoa powder. Set aside.
Over a double boiler melt together the dark chocolate and butter, stirring occasionally until melted.
Remove from heat. Whisk in both the sugars until combined.
Next whisk in eggs and vanilla until JUST combined.
Pour the chocolate mixture into the flour mixture and fold in with a spatula. Mix until just incorporated.
Pour half the batter into the prepared pan.
Drizzle 3/4 cup of the caramel on top of the brownie batter. Gently spread the caramel over the brownie batter with an offset spatula about, leaving about an inch at the edges to prevent the caramel from burning on the edges of the brownies. Pour the remaining batter over the caramel and spread evenly making sure it covers the caramel layer. Drizzle 1/4 cup caramel on top and lightly swirl into the batter. *See note.
Bake for 30 minutes until the centers are set and toothpick comes out mostly clean.
Sprinkle brownies immediately with flaked sea salt, if desired.
Allow brownies to cool completely before cutting.
---
Notes
You don't have to drizzle 1/4 cup on top of the brownies, feel free to save this for a bowl of ice cream. I like to use the extra to give them a swirled top, but it's completely option. If you add more than 1/4 cup on top the brownies will be too gooey and never completely set up.
Store airtight at room temperature for up to 3 days, or airtight refrigerated for up to 5 days.
Nutrition
Serving Size:

1 brownie

Calories:

247

Sugar:

24.5 g

Sodium:

95.8 mg

Fat:

13.1 g

Carbohydrates:

30.6 g

Protein:

2.7 g

Cholesterol:

53.1 mg
Keywords: best brownies recipe, easy brownies recipe, homemade brownies recipe, brownies recipe from scratch, fudgy brownies recipe, fudgy brownies, caramel brownies, salted caramel recipe
Want To Save This Recipe?
Find more recipes like this:
PIN for later: