My extra Easy Fudge Recipe is creamy, soft, rich, and utterly delicious. Everything homemade fudge should be! I use two kinds of chocolate for the perfect fudgy flavor and melt-in-your-mouth texture.
Homemade Fudge Recipe
Homemade fudge is synonymous with the holidays in my house. It's one of those simple, special treats that I only seem to make once the Christmas lights are up! Yet every time this chocolate fudge is literally melting in my mouth come Christmastime, I wonder how I always wait all year to make it.
This old-fashioned fudge recipe is ultra-rich, creamy, with the perfect chocolatey taste. With the added bonus of being SO easy to make. No candy thermometer, secret ingredients, or elaborate techniques (or holidays!) are required, making it truly a no bake recipe. It's pure decadence that's rich, soft, and flawless every time!
What You'll Need
The thing I love most about this homemade chocolate candy is that it stays soft, thanks to a few simple ingredients, listed below. Of course, there's the balance of sweet milk chocolate and semi-sweet chocolate to really amp up the chocolate factor! Here is what you'll need, and be sure to check the recipe card for the full amounts:
Butter: Give your butter a chance to sit out at room temperature for a while before you start. You can use salted or unsalted butter. If you do use salted butter, you may want to consider leaving out the salt that comes later in the recipe (to avoid overly salty fudge!).
Milk Chocolate: I like to use Hershey's or Dove milk chocolate and chop it up into manageable pieces.
Semisweet Chocolate: Either chopped chocolate or semi-sweet chocolate chips. I recommend using nice quality chocolate here, like Guittard or Ghirardelli.
Marshmallow: Use either marshmallow creme or marshmallow fluff. The marshmallow in this recipe helps to keep the sugar from crystallizing, for fudge that's totally smooth and not grainy.
Sugar
Evaporated Milk: You'll need one can, for thickening up the fudge and adding creaminess. Make sure you're using unsweetened evaporated milk, not to be confused with sweetened condensed milk!
Pinch of Salt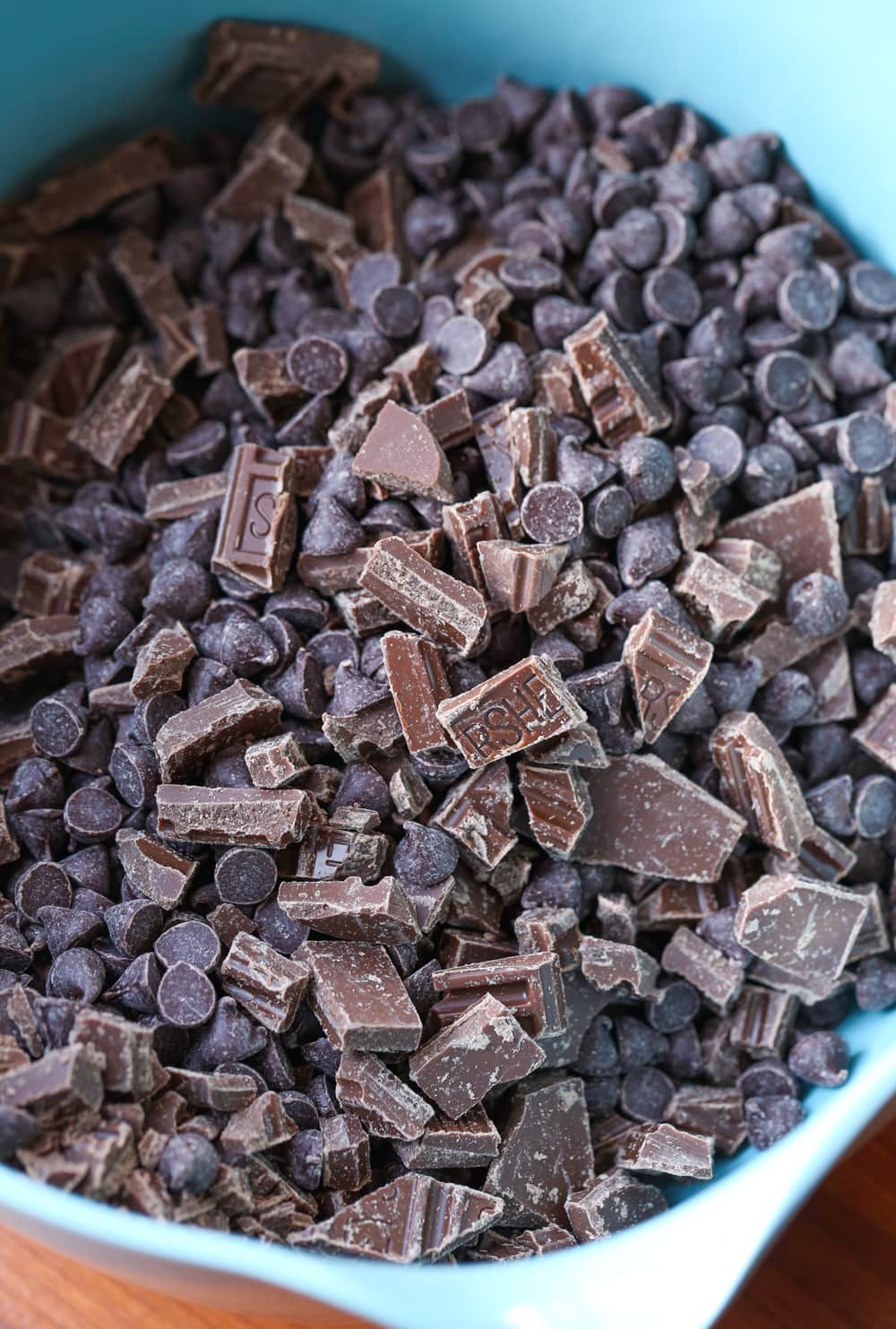 How to Make Chocolate Fudge
There are a few simple techniques to this old-fashioned fudge. It's by far the quickest and easiest fudge recipe I've ever made! Before you start on the fudge itself, get out a 9×13-inch pan. Line it with parchment paper, then spritz the whole thing with nonstick spray.
Prepare the Chocolate: First, combine the butter with both types of chocolate as well as the marshmallow. Give this a good mix with a wooden spoon.
Heat the Sugar Mixture: Separately, in a saucepan, we're going to bring together sugar, evaporated milk, and a touch of salt. Heat this until the mixture boils, and keep it boiling for a few minutes. Remember to stir!
Combine: Take the milk mixture off of the heat. Go ahead and slowly stir in the chocolate mixture from earlier. The texture should be silky smooth when you pour it into your prepared pan.
Set: Cover the pan with the fudge tightly and let it cool. It will need to be set completely before you can cut the fudge to serve it. This will take several hours (or even overnight) at room temperature. If you're pressed for time, or simply cannot bear the thought of waiting so long (relatable), placing the fudge in the fridge will speed up the setting process!
Tips for Success
Here are some added tips for fail-proof fudge:
Use a Wooden Spoon: Yep, that's right. Make sure you're using a wooden spoon when making fudge! Along with wood being safe for stirring at high temperatures, another reason comes down to a bit of candy-making science. The short explanation is that metal spoons conduct heat, and heat in weird places = uneven cooking. And uneven cooking = sugar that doesn't dissolve properly. So stick with wooden spoons, or otherwise a silicone spoon or spatula that can withstand high heat.
Use Real Butter: When butter is concerned, this fudge recipe calls for the real deal. Butter alternatives like margarine won't set correctly.
High quality chocolate does make a difference. I don't mean you have to go out and buy super expensive chocolate, but a creamy, quality chocolate will just make your fudge better. Think of it like this, if wouldn't enjoy snacking on the chocolate you're using, choose another. I use Callebaut semi-sweet chocolate and Dove milk chocolate most often. Trader Joe's chocolate bars wrk great too.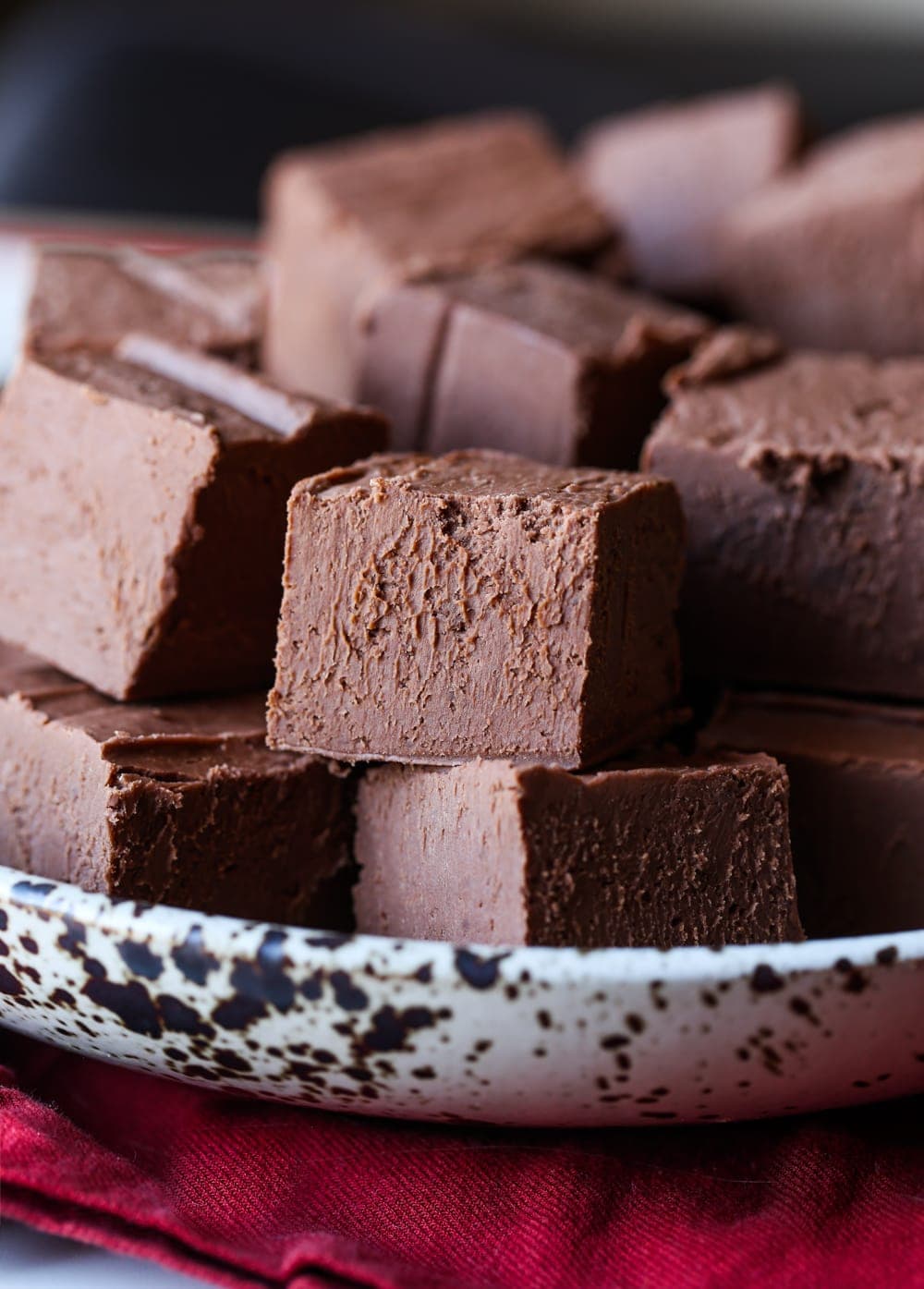 Variation Ideas
No matter the occasion, there are tons of ways you can make this fudge unique! An important thing to note when choosing mix-ins for your fudge is to pay attention to the water content of some add-ins. For best results, avoid ingredients that add moisture or liquid to the fudge (ie. fresh fruit). Here are a few variation ideas to try:
Dark Chocolate: For an even richer, bolder chocolate flavor, swap out half of the semisweet chocolate in this recipe for dark chocolate instead.
Caramel: Stir chunks of salted caramel or toffee bits into your fudge, or sprinkle them over top (try the homemade toffee from my Butter Crunch Cookies recipe!). You can also drizzle this fudge with Homemade Caramel Sauce for easy chocolate caramel fudge.
Malted Milk: For an even creamier fudge texture, bring malted milk powder into the mix to make Malted Milk Fudge. Topped with malted milk balls, obviously!
Add in a little vanilla extract to amp up the depth of flavor. It's a subtle flavor addition, but it's delicious.
Nuts: Chopped pecans and walnuts are a great way to bring a bit of crunch to a fudge recipe. I'll often go with walnuts over pecans, as I prefer the softer texture. But you do you! Other good options are macadamias, hazelnuts, peanuts, and pistachios.
Peppermint: Add in drops of peppermint extract and some white chocolate chips or mint chocolate fudge! You can also play around with other flavorings like orange extract, cinnamon, rum, and maple.
Candy: Once it's chopped up, most candy will work in this recipe! Try it with Reese's Peanut Butter Cups (hello, chocolate peanut butter fudge!), Snickers, Peppermint Patties, or M&M'S.
Edible Cookie Dough: In case you missed it, Cookie Dough Fudge is a thing. And it's awesome. Try adding Edible Cookie Dough into this recipe – it's made egg-free and with heat-treated flour so that it's totally safe to eat!
Add cookies: Chop up Oreo cookies to add in for easy Oreo Fudge! Of course, you could always go all out with Cookies and Cream Fudge. Or try this recipe with other cookie varieties like Nutter Butters and Chips Ahoy.
Dried Fruit: Add in raisins, dried cranberries/Craisins, or dried cherries for a fruity twist.
Recipe FAQs:
What ingredient makes fudge harden?
Fudge firms up due to the ratios of liquid to sugar and the time and temperature to which is it cooked. You need to allow the fudge to come to the temperature
What is the secret to perfect fudge?
Using high quality chocolate and cook time are two of the most important factors in making fudge. If you heat the fudge too long, it will form sugar crystals which will make your fudge hard and grainy. If the fudge is not cooked long enough all the moisture will not evaporate leaving you with runny fudge.
Why did my fudge get too hard?
The most common reason that fudge gets too hard is heating the evaporated milk and sugar to too high a temperature causing sugar crystals to form. Another reason is over-beating/mixing the fudge when the chocolate is added. Just mix until the chocolate is smooth and glossy before spreading it into the pan.
What temperature does fudge need to reach?
The sugar and the evaporated milk need to cook on the stovetop for 4 minutes, or until the temperature on a candy thermometer reachers 234°F to 237°F (112°C to 114°C).
What can I substitute for evaporated milk in fudge?
Unfortunately no. In most recipes you have several options as substitute for evaportaded milk, like heavy cream , half and half, or even regular milk. But in fudge recipes there is no substitute for evaporated milk.
Why didn't my fudge get hard?
Fudge will stay soft if there is too much liquid to the amounts of sugar/chocolate. This will occur if the recipe wasn't followed, or if it wasn't heated to a high enough temperature. The sugar and the evaporated milk need to boil for 4 minutes to allow the water in the milk to fully evaporate and ensure it reaches temperature.
How can I fix runny fudge?
You can add a few teaspoons at a time of cornstarch or powdered to help thicken up fudge that is runny. You can also add the fudge back into a heavy bottomed saucepan and reboil to reach the temperature 234°F. This isn't ideal, as it won't produce as smooth a fudge, but it works.
Can you double a fudge recipe?
Yes you can. depending on the recipe you use, simply double the ingredients. I find it's most times easier to just make the fudge recipe twice, instead of doubling.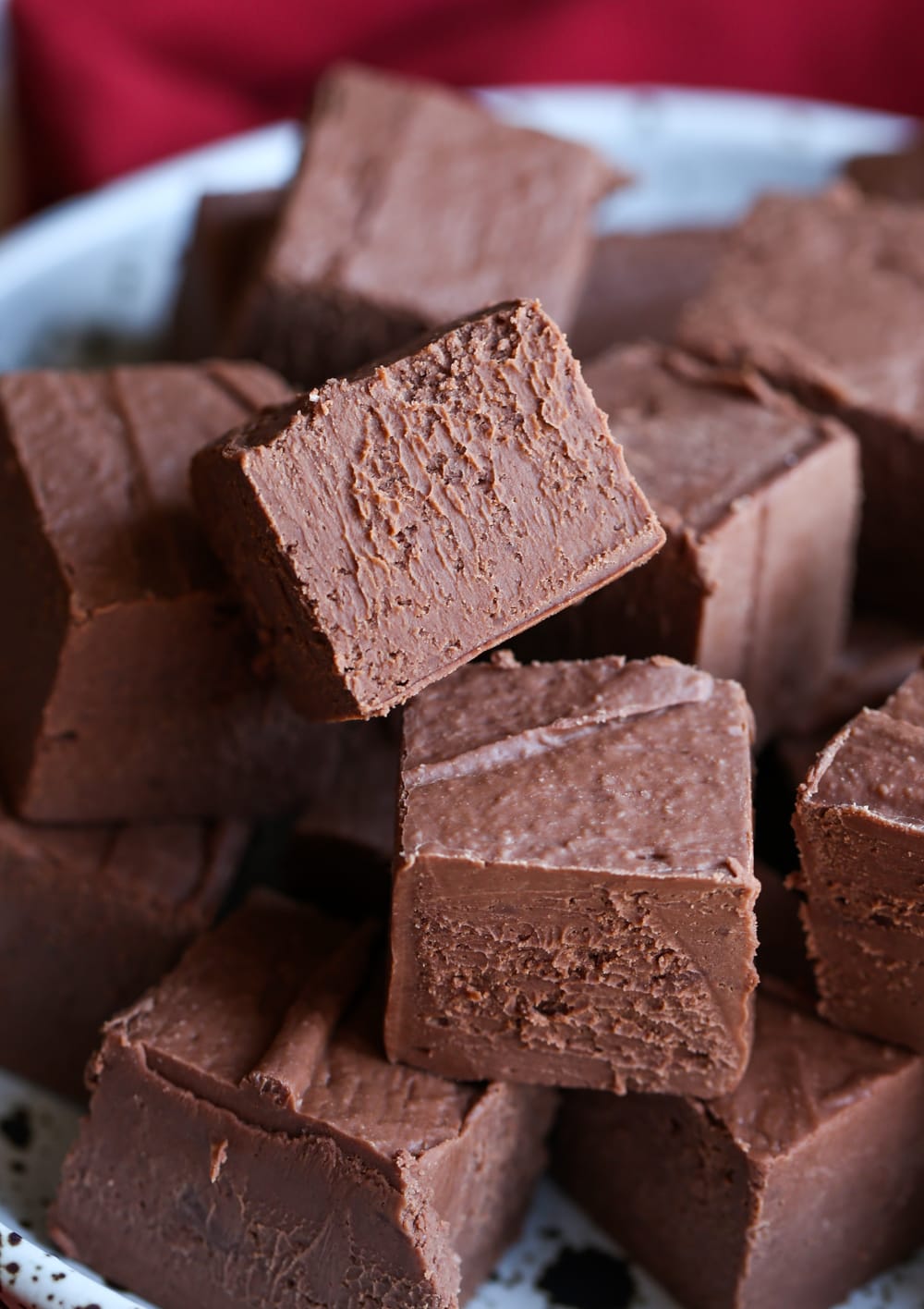 Fudge Makes The Perfect Sweet Gift!
Whether it be at the holidays, or anytime of the year, this recipe yields a large amount of fudge, making it the perfect sweet treat to gift. Package it up in a decorative container, or arrange it on a pretty dish or platter and share with friends or neighbors.
Storage Instructions:
This chocolate fudge can be stored in an airtight container at room temperature for up to 2 weeks, or in the fridge for up to a month! A zip-top bag works well too.
Does Fudge Freeze Well?
If you're wondering whether or not homemade fudge can be frozen, the answer is yes! It will keep for up to a month when stored tightly wrapped in cling wrap and then aluminum foil or a ziplock freezer bag. Thaw it out at room temperature and you're good to go!
I often don't recommend freezing sweets/baked goods like fudge for longer than 30 days. Mostly as this guarantees the best freshness. However, if your family members are anything like mine, this chocolate fudge never sticks around for long!
More Of My Best Fudge Recipes:
Print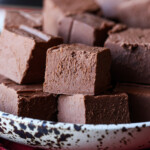 Easy Fudge Recipe
Author:

Prep Time:

5 minutes

Cook Time:

10 minutes

Total Time:

15 minutes

Yield:

48

pieces

1

x

Category:

Candy

Method:

Stove Top

Cuisine:

Dessert
---
Description
This might be the BEST chocolate fudge you'll ever make! This Easy Fudge Recipe is rich, creamy, and melt-in-your-mouth delicious. Everything homemade fudge should be!
---
1/2 cup

butter, room temperature and cubed

16 ounces

milk chocolate, chopped

24 ounces

semi sweet chocolate (chips or chopped)

7 ounces

Marshmallow Creme (or Fluff)

4 1/4 cups

granulated sugar

1

(12- ounce) can evaporated milk
pinch of salt
---
Instructions
Line a 9×13 pan with parchment paper. Coat lightly with nonstick spray and set aside.
In a large bowl, combine the butter, milk chocolate, semi-sweet chocolate, and marshmallow cream mixing as well as you can with a wooden spoon. Set aside.
In a large saucepan over medium heat stir together the granulated sugar, evaporated milk, and pinch of salt. Bring the mixture to a rolling boil, and boil for 4 minutes, stirring very frequently.
Remove the mixture from the heat and slowly add to the chocolate mixture stirring until smooth.
Pour the chocolate into the prepared pan and spread evenly.
Cover the pan tightly and allow the fudge to set up completely before cutting into squares. At room temperature it will take several hours or overnight for the fudge to set up. Alternately you can place the pan in the refrigerator to set up more quickly.
---
Notes
Store airtight at room temperature for up to 14 days.
Store airtight in the refrigerator or freezer for up to 30 days.
Nutrition
Serving Size:

1 piece

Calories:

232

Sugar:

33.4 g

Sodium:

19.4 mg

Fat:

9.1 g

Carbohydrates:

37.3 g

Protein:

2.3 g

Cholesterol:

7.4 mg
Keywords: chocolate fudge, homemade fudge, easy chocolate fudge
Want To Save This Recipe?
Find more recipes like this:
PIN for later: