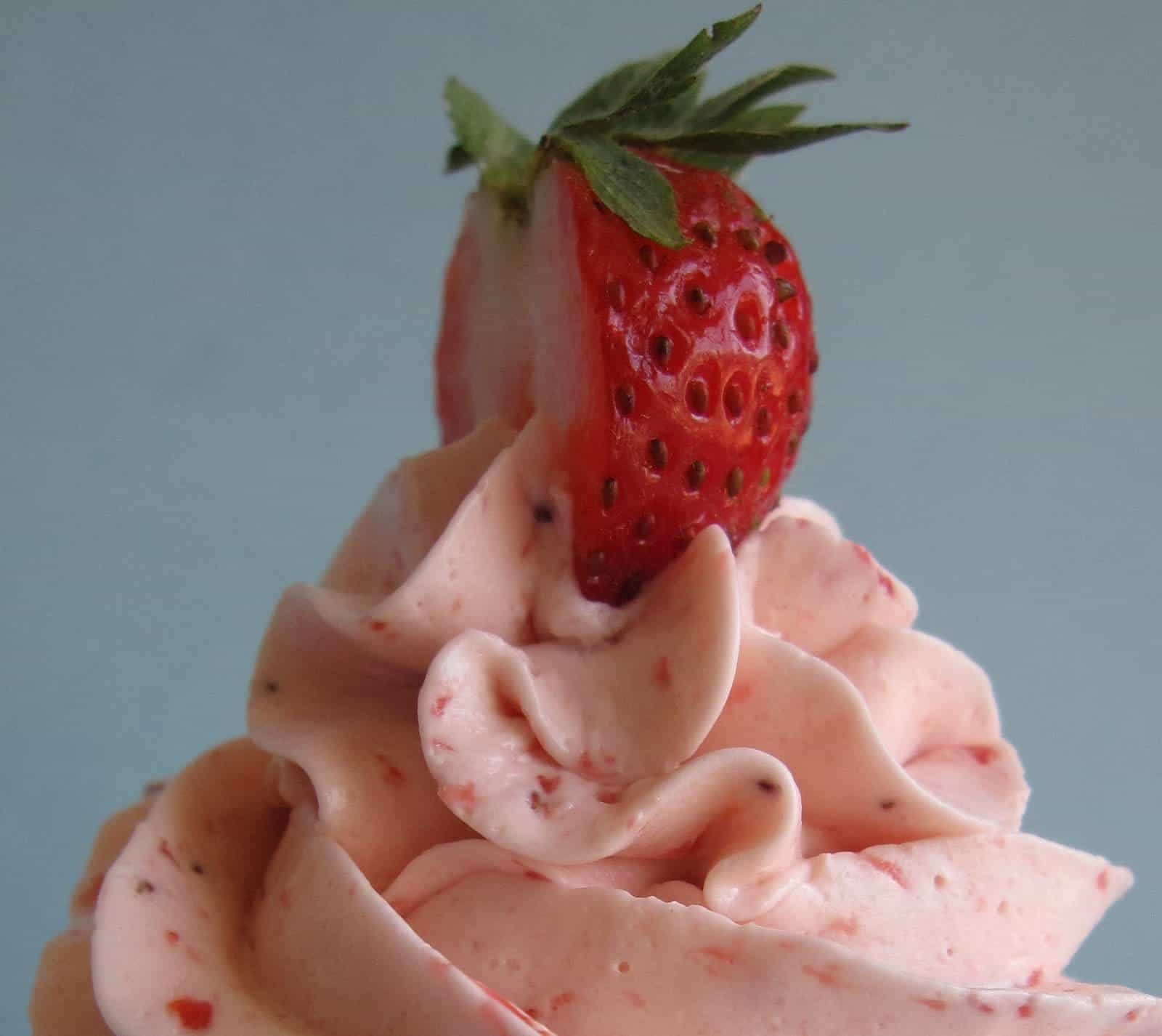 I have never been a huge proponent of fruit in dessert. I mean I love most fruit, but to me
fruit = healthy. The idea of dessert is an indulgence and fruit somehow doesn't fit into that mold. Before you comment, I
know
I am missing out (or so I'm told), but
for me
it's just not the ideal. There are obvious exceptions: apple pie, cheesecake topped with fruit compote and…well…I've drawn a blank. It's not to say that all those fruity desserts out there aren't BEAUTIFUL and look amazing, it's just I'd rather a nice slice of cake ~ sans the fruit filling over a chocolate covered strawberry any day of the week. Being a contradiction, though, fruit salad is one of my most favorite things in the summer…but I classify this by its name…a
salad
, right? Still room for that cake!!
Now, with all that said, take a look at these beauties. They are the kink in my armor…or maybe the beginnings of me spreading my dessert wings.
Here is a gorgeous vanilla cupcake with coarse chopped fresh strawberries baked in topped with a silky strawberry Swiss meringue buttercream. The frosting was so good you could eat it with a spoon…it tasted like strawberry shortcake in every yummy lick! Ok, Ok…Strawberry shortcake is good too 😉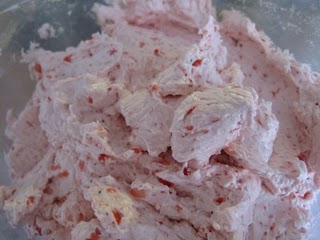 Here was my dilemma, though. I bought these sweet little strawberry marshmallows a few weeks ago and have been looking for something to do with them.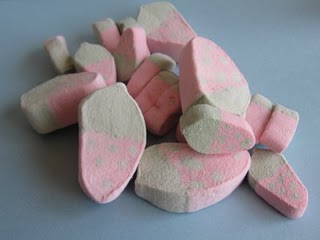 Aren't they precious?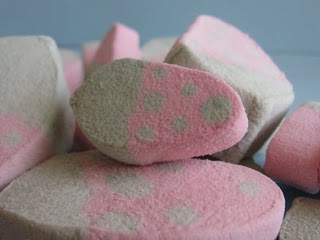 I thought this would be it, but when I topped the cupcake, it was cute…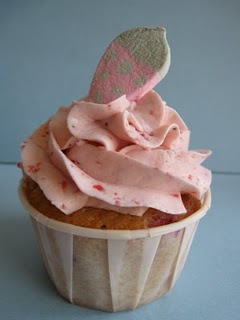 BUT…then I topped it with a fresh strawberry and it was perfect.

I mean the cupcake is so full of strawberry freshness that the marshmallow just didn't go.
Maybe next time cute little strawberry marshmallow.
Strawberry vanilla cupcakes:
makes approx 16 cupcakes
adapted from Martha Stewart
1 1/3 c. AP flour
1/4 cake flour
1/2 T. baking powder
1/2 t. salt
1 stick room temp butter
1 1/8 c. sugar
1 t. vanilla
2 eggs + 1 egg white
1/2 c. milk
1 c. finely chopped strawberries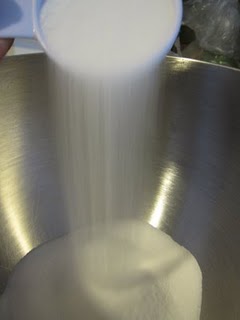 1. Preheat to 350 and line muffin tins with liners
2. Sift dry ingredients together and set aside.
2. Cream butter, sugar and vanilla in mixer on med-high until light and fluffy
3. Add eggs and white one at a time mixing after each. Scrape down sides of the bowl when necessary.
4. Add flour mix and milk over low speed in alternating batches beginning and ending with flour until all combined.
5. Fold in chopped strawberries by hand.
6. Fill cupcake liners 1/2 – 3/4 way full
7. Bake for 20-25 min turning once until toothpick comes out clean.
8. Cool on wire rack and top with Swiss Meringue ButtercreamSwiss Meringue Buttercream:
1 1/2 c. fresh strawberries rinsed, hulled and coarsely chopped
4 egg whites
1 1/2 c. sugar
3 sticks butter, room temp cut into tablespoons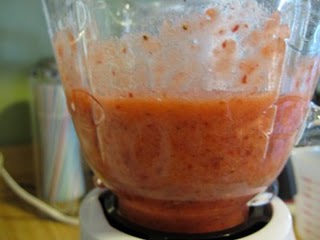 1. Puree strawberries in blender or processor.
2. Combine egg whites and sugar in double boiler…OR use Martha's trick of using the heat proof stand mixer bowl over a pot of simmering water (good one Martha!)
3. Whisk continuously until sugar has dissolved into egg whites and mixture is warm, being not grainy when rubbed between your fingers
4. With your stand mixer, using whisk attachment start on low and mix egg white, sugar mix incresing speed to med-high until stiff peaks form, and mixture is fluffy and glossy. About 8-10 minutes, mixture will have cooled.
5. Now with paddle attachment fitted onto mixer add the butter 3 T. at a time, mixing well in between each addition. Scrape the sides down when all butter is combined and smooth and then reduce speed to low continue mixing for 2 min.
6. Add pureed strawberries and beat in on medium until all is combined and then stir with a sppon or spatula until smooth.
Keep at room temp if using same day or refrigerate for 3 days.Now I am prepared for some backlash here on my fruit vs. dessert debate, so bring it! I would love to hear your input or suggestions on how I could be swayed!