Banana Cupcakes with Peanut Butter Frosting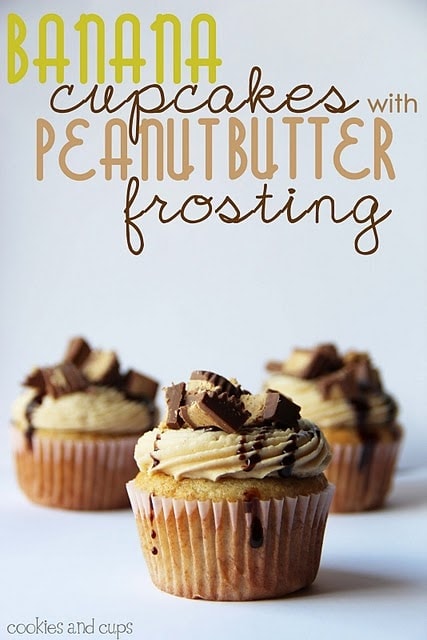 Some days do you feel like you have dropped the ball on parenting?
Well, come to my house because it is happening now.
At this very moment.
Today has been a series of unorganized parenting blunders.
Let's see…
My 7 year old wore a not-entirely-clean baseball uniform to his game.
Alright, it was dirty.
I dug it out of the hamper.
I meant to wash it. Truly.
And there was the 2nd grade homework that I helped my kiddo complete.
It got returned as incorrect.
As in with big red "X"'s on it.
Apparently 2nd grade math is a challenge for me.
Then there was dinner.
Sometimes cereal is appropriate for dinner, right?
I mean Lucky Charms has to have some sort of nutritional value…please say yes.
Then I caught my child in the corner with a spoon and a tub of sour cream.
Maybe it's some sort of strange vitamin deficiency (see above) that's causing this strange craving for dairy, or maybe he just has an odd obsession with sour cream…either way I'm thinking it can't be good.
Adding to the day, we discovered a plant growing under the dishwasher in my kitchen.
I'll say that again…a plant was growing UNDER MY DISHWASHER.
Last time I checked plants weren't supposed to grow under there.
We are thinking that a lone seed from an "everything" bagel got trapped and sprouted.
I can't keep a plant alive to save my life, yet rogue seeds grow on their own in entirely ridiculous places.
Note to self, remember to clean UNDER the dishwasher.
I feel very overwhelmed.
Maybe a cupcake will help.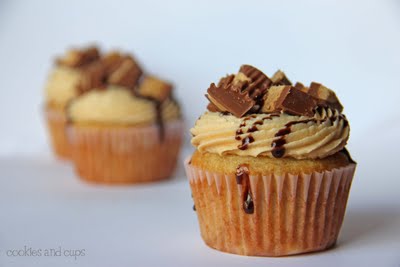 Banana Cupcakes with Peanut Butter Frosting
Print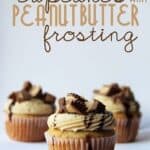 Banana Cupcakes with Peanut Butter Frosting
---
Ingredients
Cupcakes:
1/2 cup

vegetable shortening

1 1/4 cup

s sugar

2

eggs

1 tsp

vanilla

1 1/2 cup

s mashed ripe bananas

1/4 cup

buttermilk

2 cup

s all-purpose flour

1 tsp

baking powder

3/4 tsp

baking soda

1/2 tsp

kosher salt
Frosting:
1/2 cup

butter, room temp (

1

stick)

1 cup

creamy peanut butter

6 cup

s sifted powdered sugar

1/4 cup

milk (you can add more if your prefer a creamier frosting)
Garnish *optional
Chocolate syrup for drizzle (I used Hershey's)
Reese's Peanut Butter cups, chopped
---
Instructions
Cupcakes:
Preheat oven to 350°
Cream shortening and sugar together in mixing bowl.
Add eggs, vanilla, buttermilk and bananas.
Mix until combined thoroughly.
On low speed add flour, baking powder, baking soda and salt.
Stir together until combined.
Line muffin pans and fill with batter about 2/3 full.
Bake for 15-20 minutes until cupcakes are set and a toothpick comes out clean.
Remove to wire rack and let cool completely before frosting.
Frosting:
Combine butter and peanut butter and mix on medium speed until combined.
Slowly add powdered sugar mixing until incorporated.
Add milk slowly until desired consistency is reached.
Pipe frosting on cooled cupcakes and garnish with chocolate syrup and chopped up Reese's Cups (if desired)
Helpful tip… Out of buttermilk?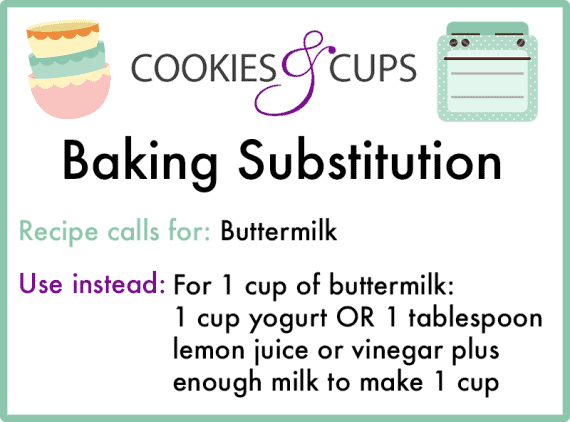 Save