A fun look back at my most popular recipes of 2013!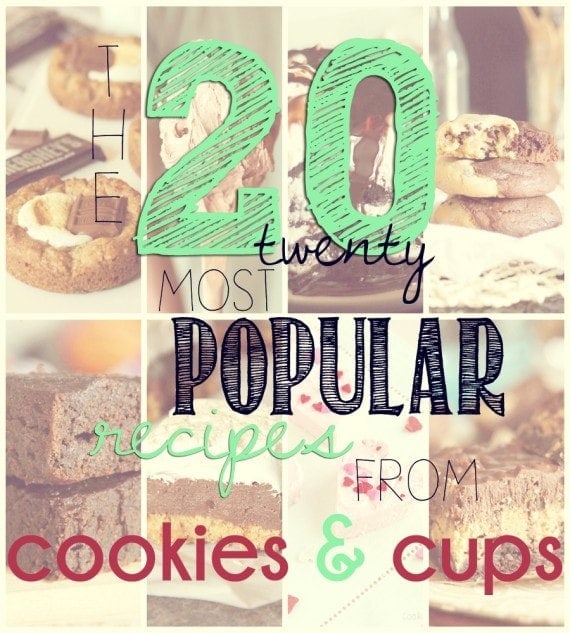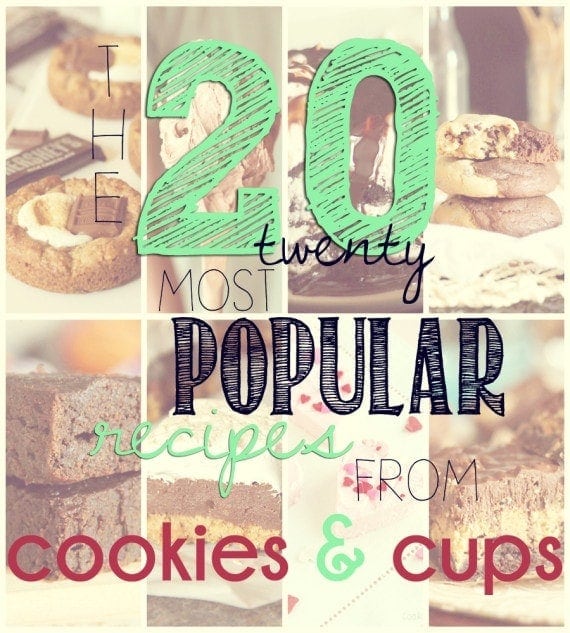 So it's going to be 2014 in a few days.
Can you even believe that nonsense?
The other day my kids and I were watching Back to the Future Part 2, you know, where Marty goes into the future and there are hoverboards and holograms everywhere?
Seriously, the future Marty went to was 2015. THAT'S ONLY ONE YEAR AWAY!
When will flying cars and automatically lacing sneakers become real? WE ONLY HAVE YEAR LEFT!
Alls I'm saying is that a lot needs to happen in 2014 to make all that possible. Get working science people!
Feeding garbage in your gas tank to fuel your car. Seriously…I need the future to hurry up.
In the meantime, let's take a look back on what you guys liked around here in 2013.
There are some old ones, that continue to be favorites, as well as some of my new recipes that have made the list, which makes me very happy!
Counting down from 20…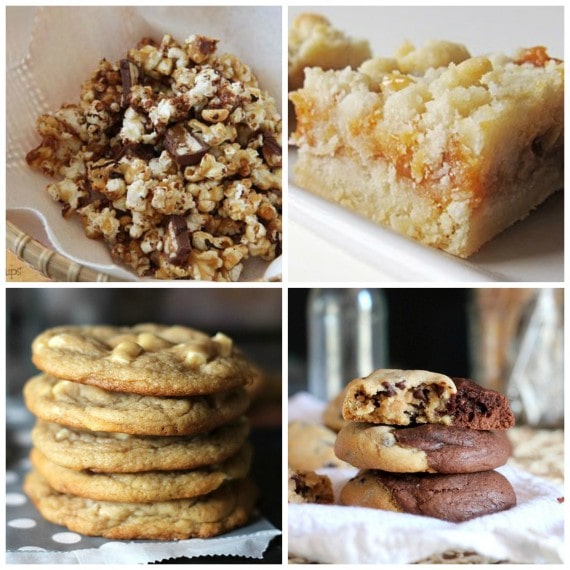 #20 turned out to be a recipe I posted not too long ago, The Brookie Cookie. It got loads of pageviews over the past few months. LOVE these, and apparently you guys do too!
#19 was a new recipe this year too! And I have to say another tried and true favorite of mine. My husband LOVES white chocolate, so I made these with him in mind. They are really the Best White Chocolate Chip Cookies if you ask me!
#18 is one of my all time favorites. I have made these Salted Caramel Butter Bars so many times I can't even tell you. Everyone LOVES them. They're perfect to bring for a special occasion as well as a backyard BBQ. The buttery shortbread crust balanced out with the sweet and salty caramel filling is tough to beat!
#17 proves that you guys love your snack food. My Snickers Popcorn recipe is a few years old, but I continuously get messages from you guys on how much you love it. Me too!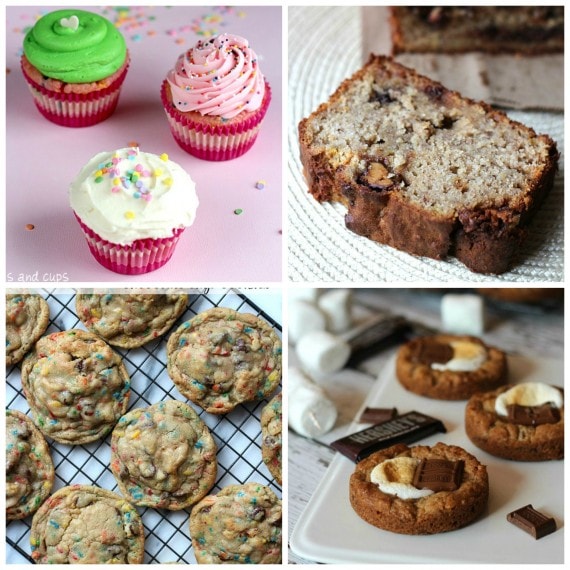 #16 turned out to be a new recipe that I posted over the summer…Deep Dish S'mores Cookies. I have to say that you guys got this right. These are some of my favorites and have made them many many times over the last few months! I make them deep dish as well as regular drop cookies. Love that the recipe works perfectly both ways!
#15 is a recipe I posted over the summer. They are Birthday Cake Chocolate Chip Cookies and they are some good stuff. The batter alone is worth making these for. The addition of cake mix and Birthday Cake Oreos really amp up the cake flavor. You can always sub in Golden Vanilla Oreos for the birthday Cake ones if you have trouble finding those and they still taste phenom!
#14 is another oldie, but goodie. My Peanut Butter Cup Banana Bread has been made over and over and overrrr. You guys are pretty sold on anything that I add a peanut butter cup to!
#13 is a recipe I made as an after-thought. These Soda Can Cupcakes were an idea that I saw on Pinterest and I decided to give it a try and document the process. Turns out you guys loved them, as they are only 2 ingredients and also totally delicious!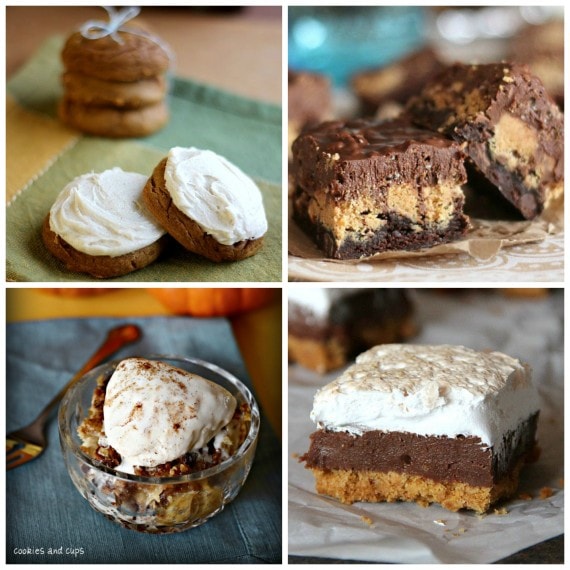 #12 on the list are my favorite from the year…my S'mores Fudge Bars. If you haven't made these yet, stop what you are doing and go gather you ingredients. Insanity, I tell you!
#11 proves you guys love your pumpkin. It's the first of 3 pumpkin recipes that made it to the list. Pumpkin Dump Cake. I haven't met anyone who doesn't love this easy recipe!
#10 is another peanut butter cup recipe. They are Peanut Butter Cup Crack Brownies, and they are a recipe that I adapted from Better Homes and Gardens. I put my own spin on the recipe and the results were fantastic!
#9 are my 2 Ingredient Pumpkin Cookies. You guys love your 2 ingredient recipes and this is the second of the pumpkin recipes that made the list. These cookies are a staple in my house around the holidays. You can whip them up in a matter of minutes!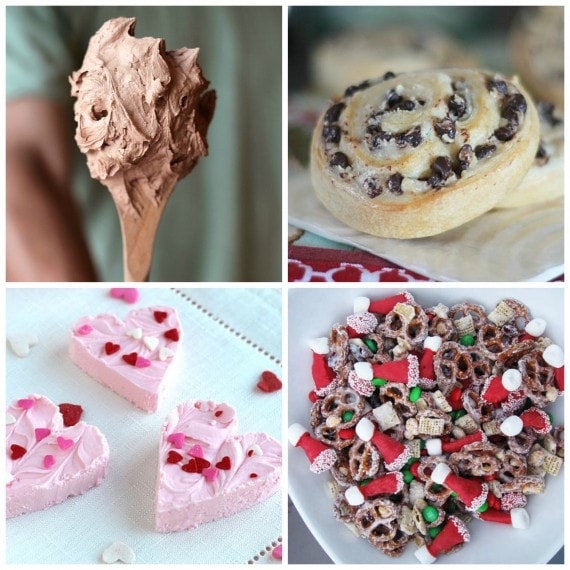 #8 is one of my most popular recipes of all time, if not THE most popular. It's Santa Hat Party Mix, and it's proof that people like cute food.
#7 is the first recipe of my that really went "viral". 2 Ingredient Strawberry Fudge took off after I posted it a few years ago and has solidified the fact that 2 Ingredient Recipes should be a staple on my site! Also, who knew that a can of frosting and some white chocolate chips could be so cute and tasty?
#6 I made these Chocolate Chip Cream Cheese Breakfast Cookies in 2012, and I see them on the internet and facebook recipe sharing pages all the time. It was a recipe that I came up when I was short on time one day, and who knew you guys would love them so?
#5 This Easy Chocolate Buttercream recipe was more of an experiment than anything else. I simply couldn't believe that just butter and melted chocolate could create a frosting. Well, it did, and it's flipping fantastic. Try this one for sure! (Also, another 2 ingredient recipe!)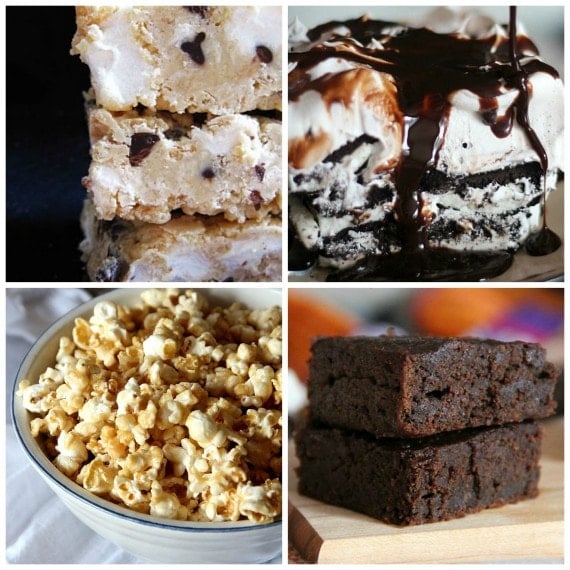 #4 are my 2 Ingredient Pumpkin Brownies. People love to love or love to hate these guys. I personally love them for what they are. No, they aren't typical brownies. Make them and decide for yourself!
#3 My Salted Caramel Popcorn Recipe surprised me. I knew it was delicious, how could it not be? But the amount of positive feedback I got on this one blew me away! Love that!
#2 Oreo Icebox Cake. You guys went bananas for this one. I knew it would be popular, but I had no idea how much! I see it all over Pinterest consistently, either my recipe or a copycat version. Only a few ingredients thrown together for this one. Yummy and easy!
#1 And finally the top post! This surprised the heck out of me…it's one of my oldest posts dating back to January 2010. Avalanche Bars. I came up with this recipe after I tried the delicious bar version from Rocky Mountain Chocolate Factory. I'm quite certain I nailed it and this recipe is one of my top searched recipes of all time. Please excuse the odd picture too. I'd like to think my photography has gotten a touch better since 2010!
So there you have it! I want to thank all of my readers for being so loyal and awesome.
In 2014 I plan to mix things up a bit by adding in some dinner/savory ideas along with the desserts! I like to keep my brain parts functioning properly and that means eating the occasional non-sugary item. Shocker, I know.
I would love to hear if there is anything you'd like to see me do next year!
I just love all you internet friends so so much.
Happy New Year!