You guys know how much I love me some peanut butter! So let's have a look at some of my favorite Peanut Butter Desserts here on Cookies and Cups!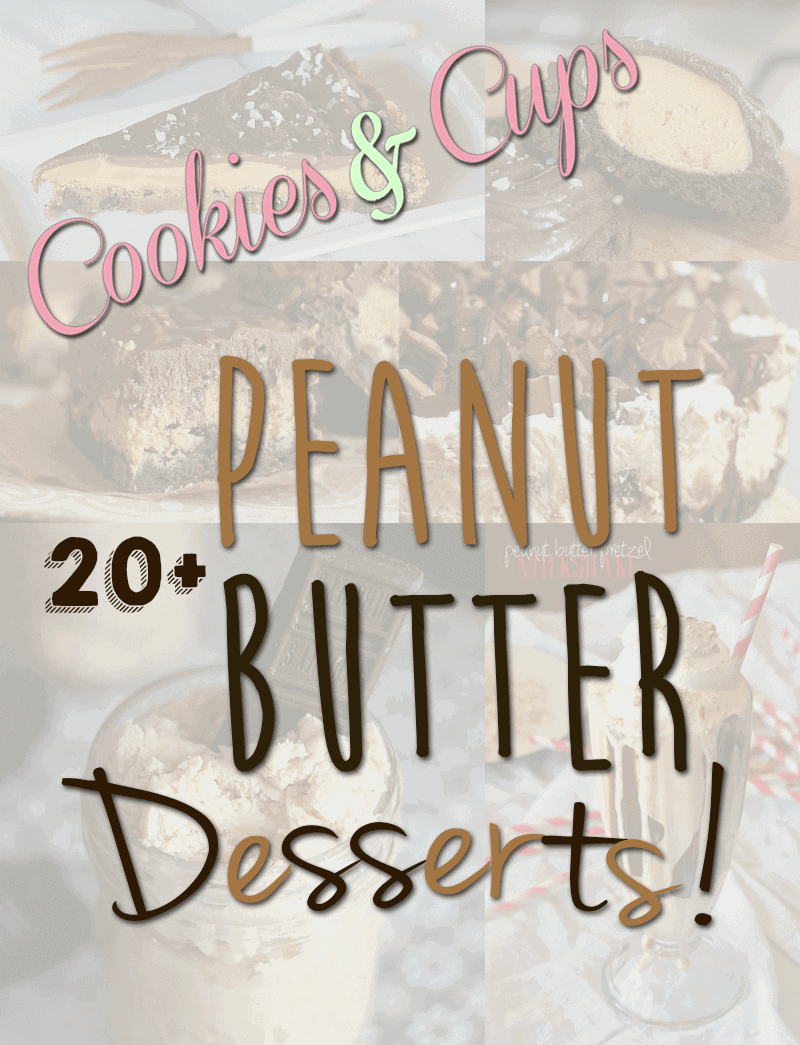 Yep, I'm a peanut butter girl.
And I've recently have gotten into making my own peanut butter in my blender. Just dump in some honey roasted peanuts and blend.. it's flipping amazing.
But of course, I am a sucker for good old Jif any day of the week..especially those new Whips?! Have you tried them? omg so so good.
Anyhow, today I am putting some of my favorite peanut butter desserts all in one place. Like a resource you can come back to time and time again when you need your pb fix.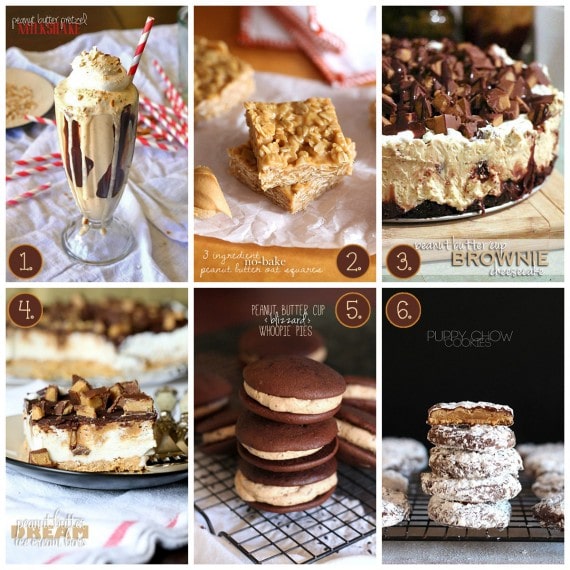 1. Peanut Butter Pretzel Milkshake ~ I made this one earlier in the summer…and omg I love a peanut butter milkshake. Adding in the pretzels gives it a salty kick. This one is a keeper.
2. 3 Ingredient No Bake Peanut Butter Oat Squares ~ This is my version of "healthy-ish". You could use all natural peanut butter and be even better 🙂
3. Peanut Butter Cup Brownie Cheesecake Yeah, this is a special occasion dessert if I ever saw one. And my special occasion, I mean Monday, Tuesday, Wednesday…
4. Peanut Butter Dream Ice Cream Bars My kid's most favorite thing I have made recently. AND it's SUPER easy.
5. Peanut Butter Cup Blizzard Whoopie Pies ~ Oh hey, let's crush up some peanut butter cups and mix them into frosting. Yep, good idea.
6. Puppy Chow Cookies ~ I am obsessed with these cookies. So so so soooo good.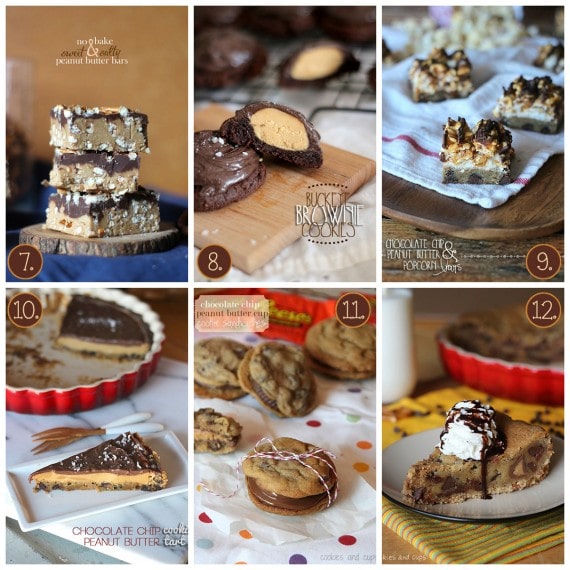 7. Sweet and Salty No Bake Peanut Butter Bars ~ Everyone loves a no-bake recipe. And these are salty/sweet perfection.
8. Buckeye Brownie Cookies ~ I adore these cookies. A giant Buckeye ball is baked right inside!
9. Chocolate Chip and Peanut Butter Popcorn Bars ~ Adding popcorn to these bars adds a crunchy dimension that I love! And these bars are totally adaptable to different flavors 🙂
10. Chocolate Chip Cookie Peanut Butter Tart ~ Silky smooth peanut butter filling…chocolate chip cookie base and a chocolate ganache on top. Yeppp.
11. Chocolate Chip Peanut Butter Cup Cookie Sandwiches ~ Hey y'all..let's take 2 warm chocolate chip cookies and stick a peanut butter cup in the center so it melts them all together. Good idea.
12. Pretzel Crusted Peanut Butter Cup Blondie Pie ~ One of my all-time favorites.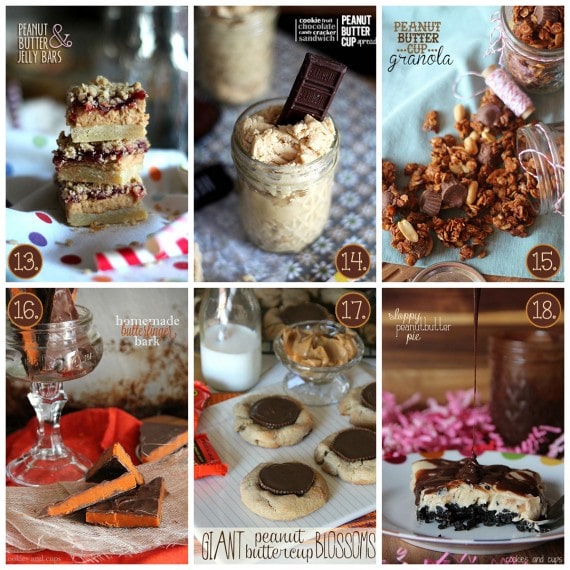 13. Peanut Butter and Jelly Bars ~ I adore these bars…They turn out perfectly every single time!
14. Peanut Butter Cup Spread ~ Ever want to just stick your face in a bowl of peanut butter cup filling? Yeah…
15. Peanut Butter Cup Granola ~ We love granola in my house and this easy one brings mini peanut butter cups to the party. Oh yeah!
16. Homemade Butterfinger Bark ~ This is just a fun one. It looks cool, the kids will love it and it will surely give you a toothache if you eat too much!
17. Giant Peanut Butter Cup Blossoms ~ Regular size peanut butter blossoms are a thing of the past in my house. Just make your cookie bigger and use a regular size peanut butter cup. Major duh!
18. Sloppy Peanut Butter Pie ~ Here's a quick dessert that you can have together in a pinch. And it's amazing.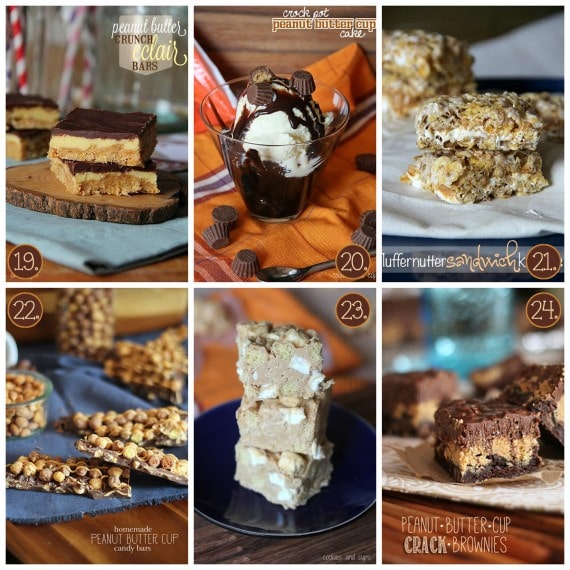 19. Peanut Butter Crunch Eclair Bars ~ These are a fun fun layered bar. Tons of flavors and they're no bake!
20. Crock Pot Peanut Butter Cup Cake ~ Love this one for a dessert you can make in advance. But beware..all crock pots cook a little differently, so watch it towards the end so it doesn't burn!
21. Fluffernutter Sandwich Krispies ~ Simple.
22. Homemade Peanut Butter Cup Candy Bars ~ No bake. And I used Reese's Puffs, which is the best cereal EVAH!
23. Peanut Butter Cap'n Crunch Clusters ~Another omg so easy one. Love Cap'n Crunch so much.
24. Peanut Butter Cup Crack Brownies ~ One of my most popular recipes. The end. Also, no crack was involved in the making process.
So there you go.
24 Epic Peanut Butter Desserts in your face. Bookmark it, PIN it, share it…you'll want to make all of these!