Over 20 Creative and Delicious Rice Krispie Treats Recipes!
Love all these Rice Krispie Treat Recipes…you should try them all!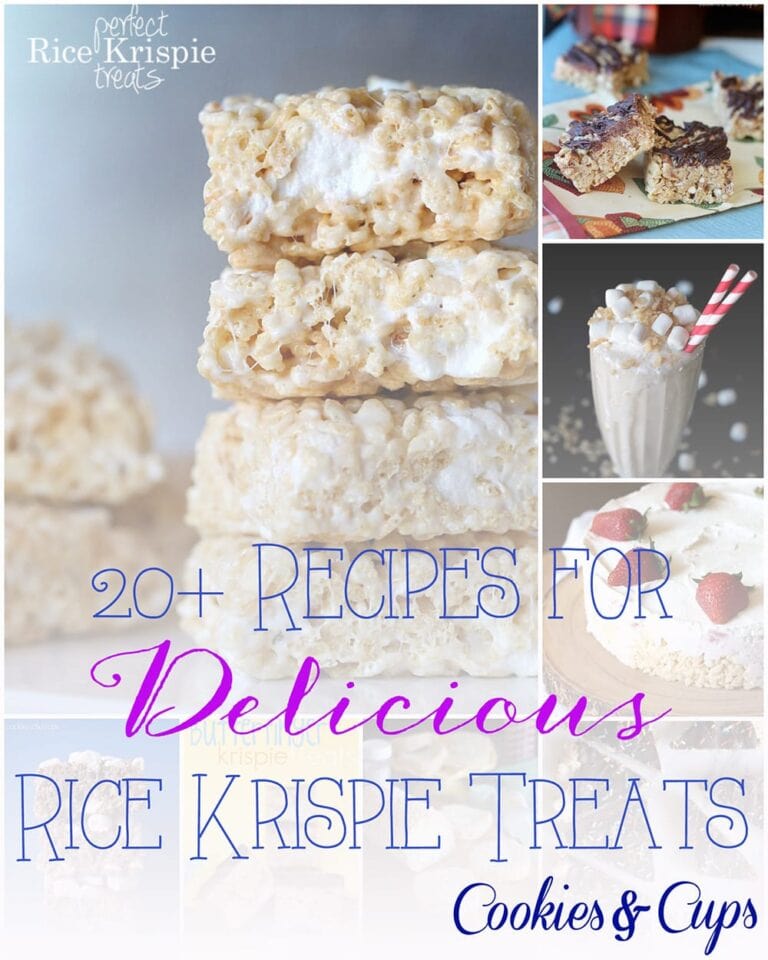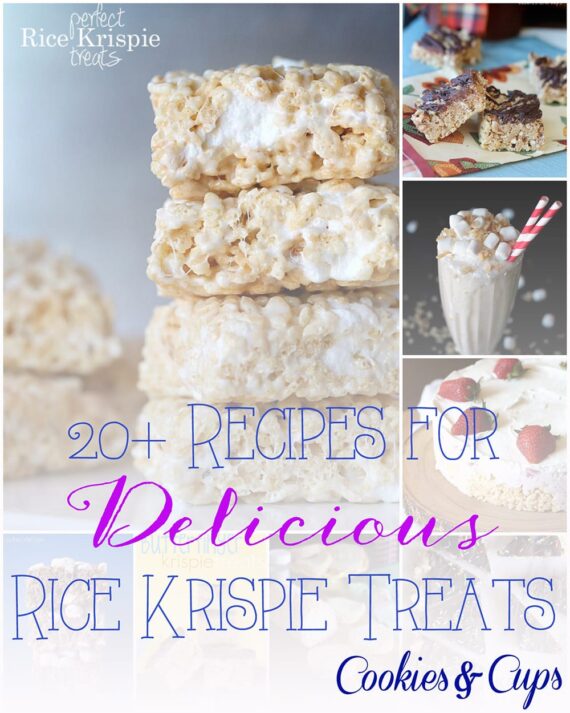 You know I love me a Rice Krispie Treats! So today I put together a fun little list of all my favorites…which is basically like choosing a favorite child.
Dramatic? Yes. Worth it? Yes. Let's have a look at what I've got going on .
Before I start, you must know that my husband is NOT a krispie treat lover. (Yes, I married him anyway)…but there are a few on this list that even he stands behind. He claims he doesn't like marshmallows…which is basically the most idiotic thing I have ever heard. Sorry husband.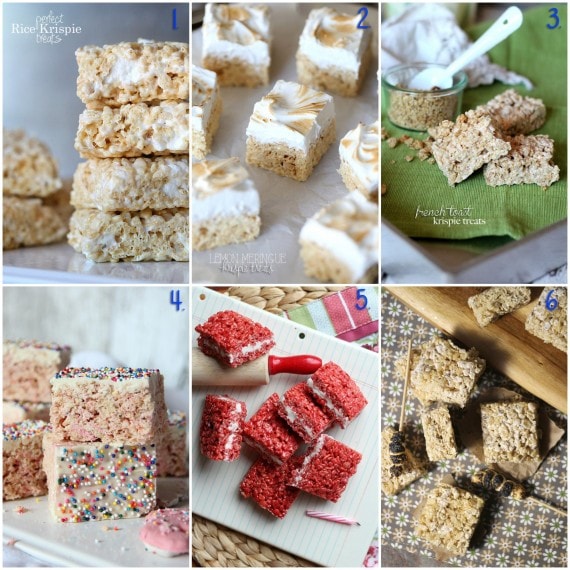 1. The Perfect Rice Krispie Treats. I must start the list off with this basic, delicious recipe. This guy doesn't need any fancy add-ins. He is perfect on his own. Memorize this recipe.
2. Lemon Meringue Krispie Treats. These krispies are fancy looking but super easy…They're flavored with dry pudding mix, which is a super easy short cut!!
3. French Toast Krispie Treats. I used a special French Toast Granola in these.. but don't worry if you can't find that..just use vanilla granola, it will give you the same effect. It's all about the browned butter and maple syrup 🙂
4. Circus Cookie Krispie Treats This was a recipe sent into me from a reader…love those frosted circus cookies…and LOVE these krispie treats!!
5. Red Velvet Cake Krispie Treats. My little guy invented these. He's basically a genius.
6. Toasted Marshmallow Krispie Treats. OMG you guys…just a simple change to the usual krspie…toast the marshmallows instead of melting them makes these treats out of control yummy!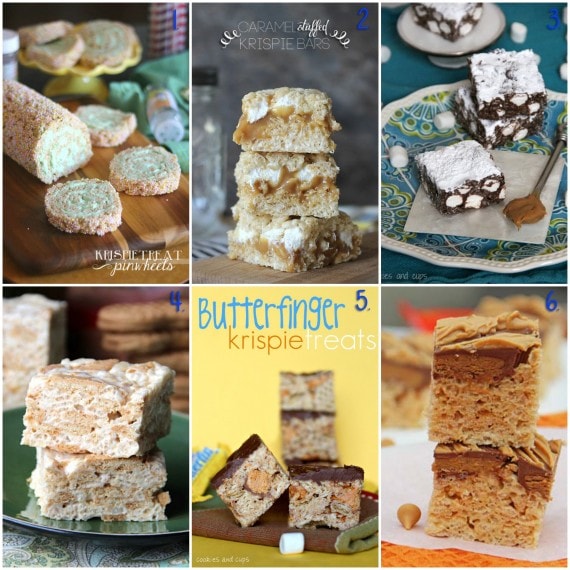 1. Krispie Treat Pinwheels These krispie treat roll-ups combine my two favorites in life. Krispie Treats and frosting. WIN.
2. Caramel Stuffed Krispie Treats These outrageous kripie treats were another recipe sent in from a reader. CRAZY good!
3. Puppy Chow Krispie Treats. Love Puppy Chow? You'll love these. Simple as that.
4. Nutter Butter Krispie Treats. I haven't made these in quite a while and after looking at the photos again I will be whipping up a batch this afternoon. Nutter butters…sigh.
5. Butterfinger Krispie Treats Butterfingers and krispies are the perfect crunchy combo.
6. Peanut Butter Cup Krispie Treats Anything is better with a peanut butter cup, yes?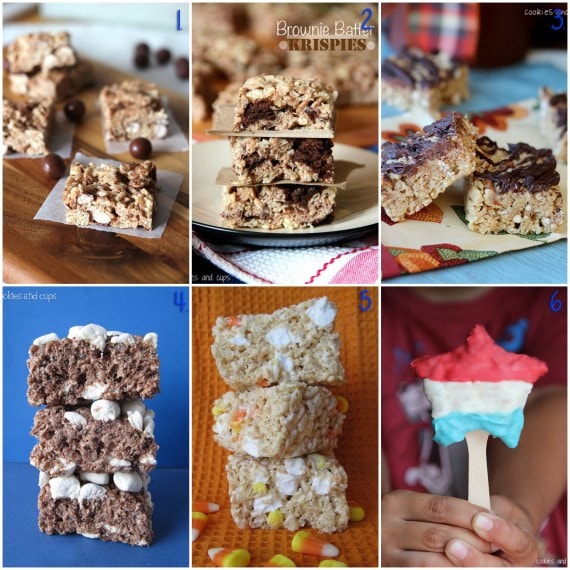 1. Malted Milk Ball Krispie Treats. Whoppers are like my crack…and mixed with a krispie treat is just makes sense.
2. Brownie Batter Krispie Treats. I came up with these a few years ago…mixing brownie mix with krispie treats…and throw in in a few brownies. I am telling you…
3. Peanut Butter Pretzel Krispie Treats. Salty/Sweet. Yasss.
4. Hot Chocolate Krispies. Another one that is just as simple as a few changes. I used cocoa krispies, added extra marshmallows and added some hot chocolate mix.
5. Candy Corn Krispie Treats. Candy Corn…love it or hate it is just works in a krispie treat!
6. Patriotic Krispie Treats. These require a bit of work, but how CUTE are they??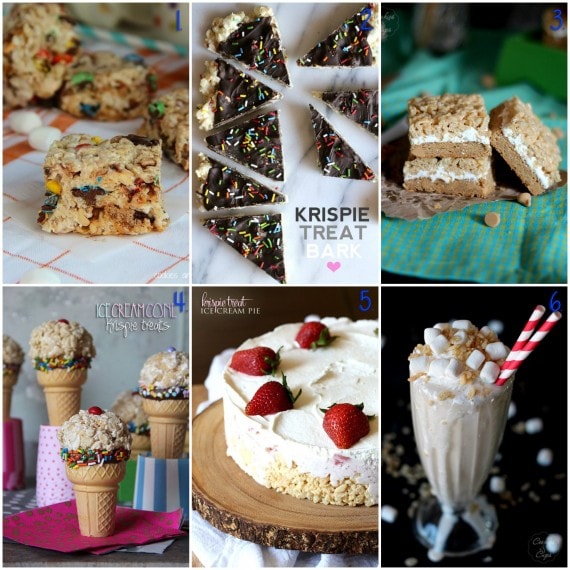 1. Trail Mix Krispie Treats. Such a simple idea, makes these krispie treats a filling snack! Great for lunchboxes!
2. Krispie Treat Bark. Crazy delicious. Make it quick quick quick!
3. What a Cluster Bars. Made these based on the popular Ben & Jerry's flavor. It was a good idea.
4. Ice Cream Cone Krispie Treats. Adorable krispie treats. Love it.
5. Krispie Treat Ice Cream Pie This one is so fun.. I made it this summer and besides being yummy you can pretty much pick the slices up with your hands. Umm yes.
6. Krispie Treat Milkshake. Milkshakes + Krispie Treats. You get the idea…
Hope this has given you some inspiration to get in your kitchen and get creative with your rice krispie treats recipes!